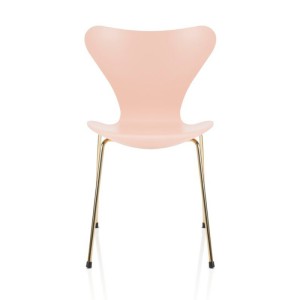 PRODUCT
Series 7 Special Edition
MATERIAL
Pale Pink shell with gold-plated legs (24 kt)
FROM
Fritz Hansen
DESIGNER
Arne Jacobson
MADE
Denmark
MEASUREMENTS
20.0″w 20.5″d 31.7″h 18.3″seat ht
PRICE
$ 843.00 USD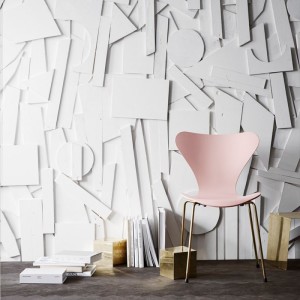 DESCRIPTION
Originally designed in 1955, the classic Series 7 chair has been recoloured for it's 60th anniversary in a stunning 'of the moment' combination of pink and 24kt gold.
Practical, classic, original design in a fresh new light. Let me just say, I would be more than happy to have these around my dining table. It should come as no surprise though, really, that I am a huge fan of this soft, romantic shade of pink.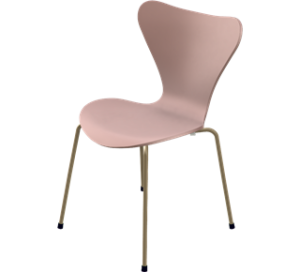 The Series 7 is the most sold chair by Fritz Hansen in the history of the company by a landslide. The armless design is stackable, and the iconic shape was a result of Arne Jacobsen's experimentation with lamination techniques, and further development of the 'Ant Chair'.
If I'm being honest, this manifestation I am favouring is only half of the 60th anniversary celebration. While this is considered the 'feminine' option, there is also a 'masculine' option available in a rich navy blue with burnished legs. They were designed to work together or create interesting combinations:  "While the deep dark blue and the pale pink may contrast each other, they also interact to create a calm and elegant look, attracting and complementing one another." – FritzHansen.com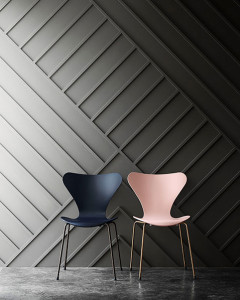 This colour combination is limited edition, each chair is numbered and features a golden place mounted on the bottom of the shell with the 60th anniversary celebration notated. They will only be sold in 2015.
YUMMY FACTOR
"Yummy" – fun fact, I thought it would be amusing to use Denmark's native tongue for this yummy factor, but as it turns out, Google's translator tells me that 'yummy' is the same in English and Danish…