---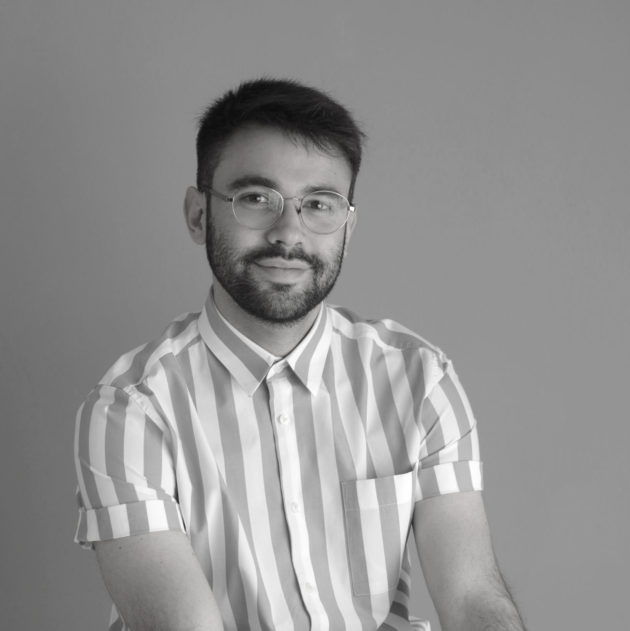 ---
Agustín Gagliano
---
Agustín Gagliano is without a doubt one of the most sought after illustrators of our time.  With an architectural background from his native country of Argentina, and a keen eye to convey strong messages with images, Gagliano has been invited to work for the ONU – United Nations developing illustrations to represent gender equality and woman & girls empowerment, as well for the Inter-American Bank of Development.
Since an early age, Agustín's main companionships have been paper and colour pencils.  Drawing was an escape for him from an early age.   Through his parents he learned to observe the world that surrounds him in detail.  This is an aspect that is reflected and really unique about Gagliano's work.  Even if the messages he illustrates are strong there is still beauty in them.
You might wonder why I am interviewing an Illustrator when I usually interview interior designers.  The reason is because as a multidisciplinary designer, I am also a fanatic for good design of any kind but my heart always goes to illustration work. I thought it was important to showcase all kinds of good design work in the blog.  Since I discovered the work of Agustín Gagliano on Instagram I have been addicted to the beauty and clarity of how he convey strong messages with a very unique and personal style, and I  had an imminent need to share this with you.
---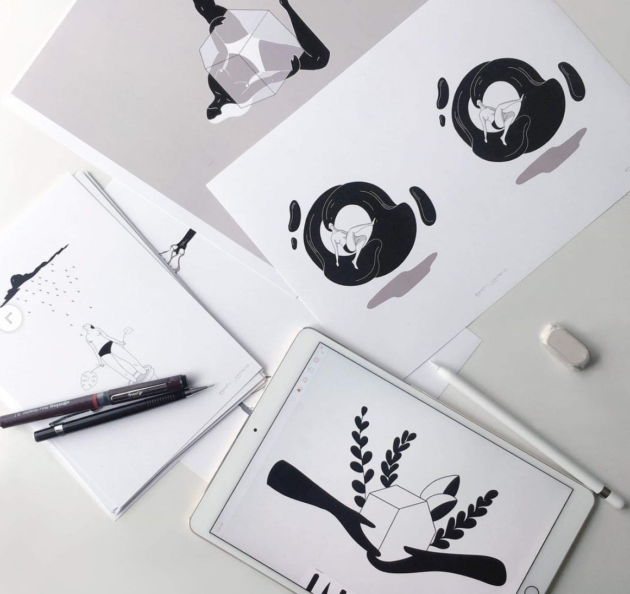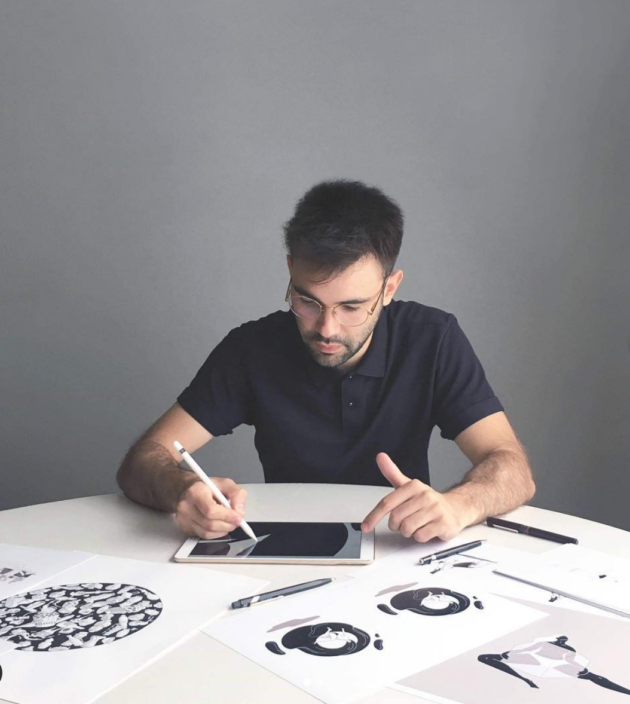 ---
Agustín Gagliano in Action
---
Iván Meade – What was your first experience with design?
Agustín Gagliano – I have been drawing since I was a child. Drawing has been a platform that helped me to connect with myself, to express feelings, emotions and questions that I had that I couldn't find another way to convey through just words.
When I was in elementary school I started going to the Beauty Arts School. I just enjoyed drawing and experimenting by myself. In secondary school I was fully aware that I needed to direct my efforts to the arts. For me drawing has been a sorts of therapy, I usually felt better at the end of the day when I completed a piece of work, I felt that it was my creative outlet, and this is a habit I repeat everyday. I need to draw something everyday, even if it is just lines to get the structure of an idea.
---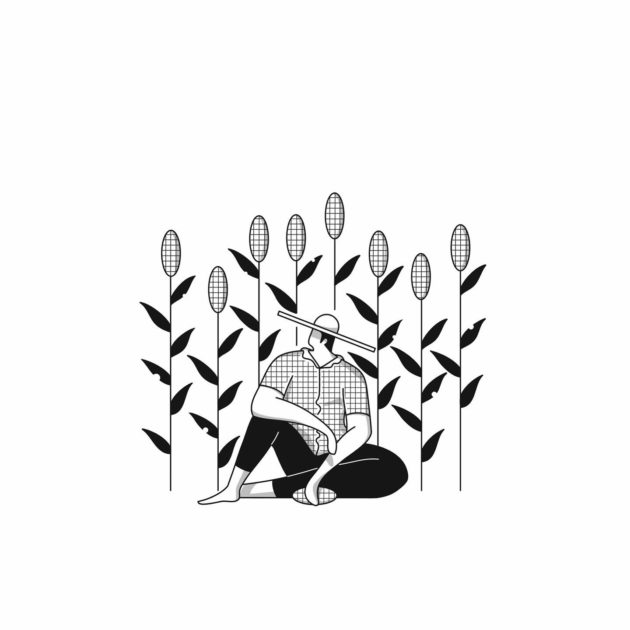 ---
The Corn Field – Illustration by Agustín Gagliano
---
Iván Meade – You have accomplished something very unique in the illustration world; creating a strong, extremely well recognized and beautiful signature style – In this same manner however, your style keeps evolving – How or where do you find your inspiration?
Agustín Gagliano – My inspiration is a very organic process. I am a curious person by nature and I try to nurture myself with everything that surrounds me. I like to review the art work of great artists, like Magritte or Escher, that always interplay a game where the perception of the observer is of great importance and with only a couple lines can convey a very deep message. I also find inspiration in my every day life, the simple things, even just the fact when I am moving throughout a city. In a city everybody is an actor of sorts, this fact is a fountain of inspiration. Other times I found inspiration in introspective or reflective moments. I try to find the relationship between 2 worlds the exterior and the interior.
---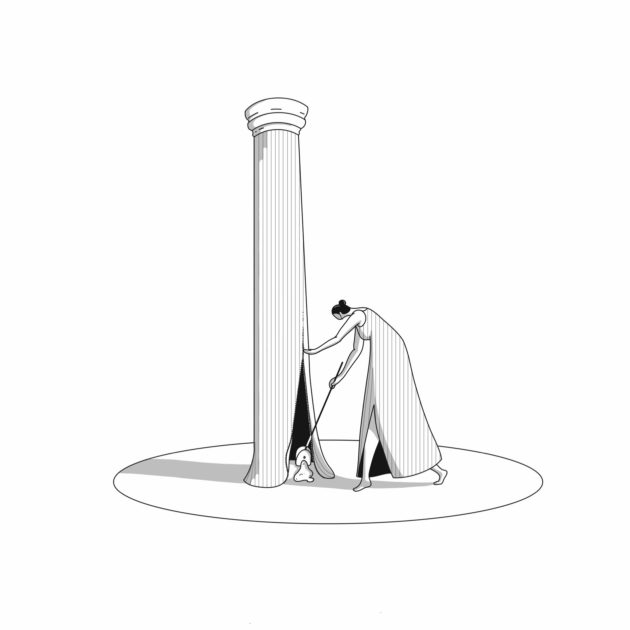 ---
Appearances – Illustration by Agustín Gagliano
---
Iván Meade – I think one of your greatest strengths is your ability to maintain and adapt your signature style to be unique to each of the designs you create. What can no "Agustín Gagliano Project" be without?
Agustín Gagliano – I enjoy tranquility, silence, being calm and it is my goal to be able to transmit this through my artwork. The search is always the balance in a piece. I work with the goal that my designs are pure and clean as much as possible. Saying a lot with less. I want my designs to be friendly, without artificial fireworks. More based in an emotion or interior reflection. Always with a ludic and innocent spirit.
---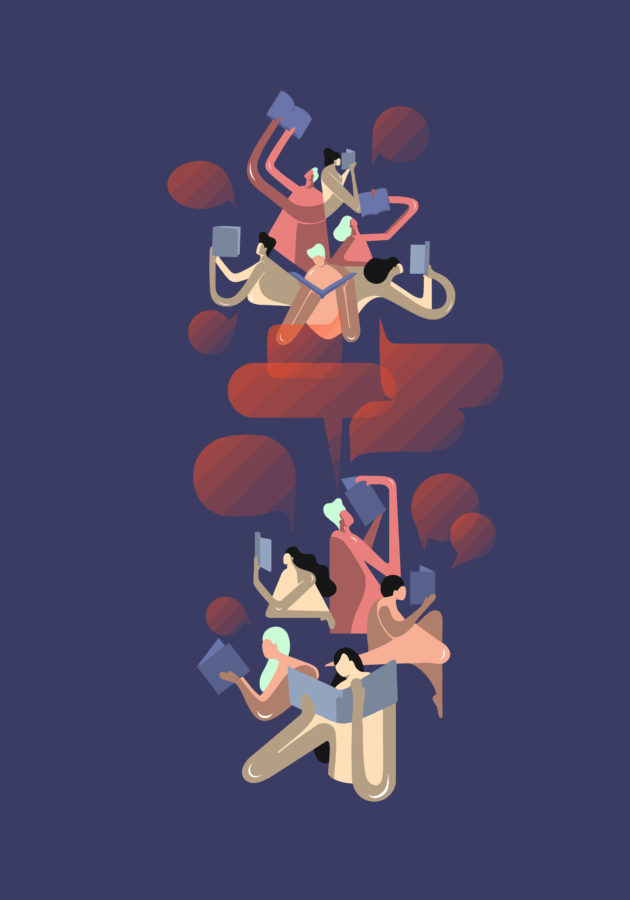 ---
The Book Club – Illustration by Agustín Gagliano
---
Iván Meade – As a multidisciplinary individual – What do you enjoy about being an illustrator and what do you enjoy about being an architect, and how these disciplines complement each other?
Agustín Gagliano – As an illustrator I enjoy proposing an image with an idea, as this is the best way to communicate a message. Communicating with a graphic without words is a passion with a challenge. The world of words is beautiful, but sometimes words have double meanings that create cultural barriers. I feel an illustration can be a bridge that can help to connect ideas. My architectural background has giving me a new perspective as all the principles like space or synthesis, have giving me tools to that I have incorporated all these years and have helped me to developed my signature work.
Complementing these disciplines is something I am still learning how to work.
---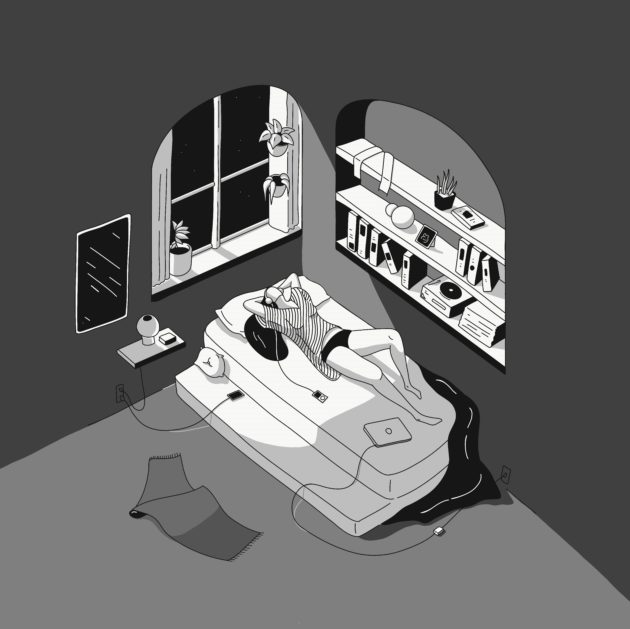 ---
The Room – Illustration by Agustín Gagliano
---
Iván Meade – What is the best advice you have received, and what will be the best design advice you could give to somebody who is new in the world of design?
Agustín Gagliano – I was very fortunate to learn to observe since an early age. I do remember since I was child my parents taught me to look and understand shapes like the leaves on the trees, to see the movement of the thunder in the storms, and to understand how diverse and unique is our world. I also think that another key aspect of the design is how you structure your sensibility and ways to interpret your surroundings. This is a kind of luggage that you carry overtime, a luggage full of tools that enrich like a designer and artist.
---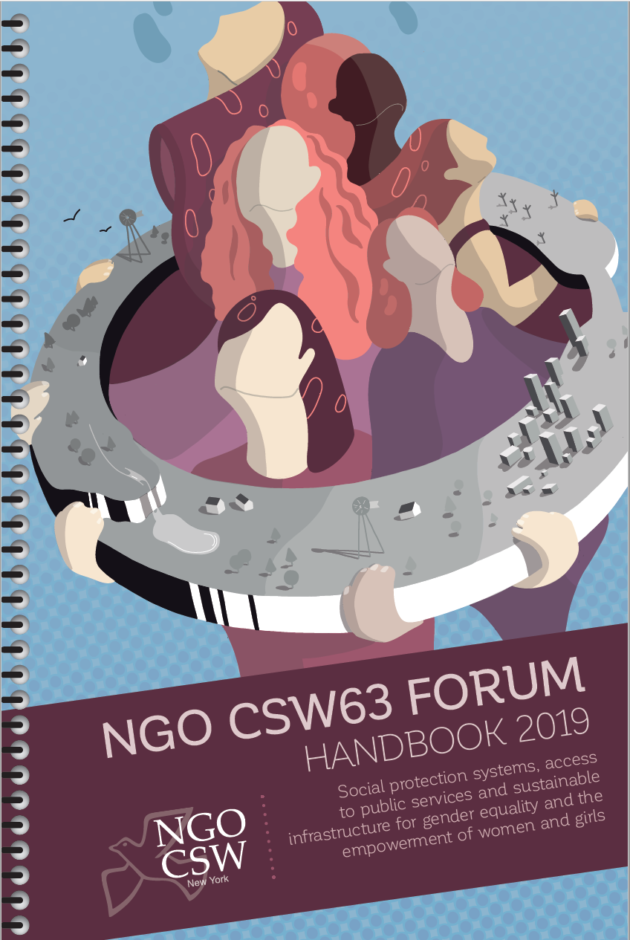 ---
NGO Forum – Illustration by Agustín Gagliano
---
Iván Meade – What is your current favourite topic for illustration, and why? (podemos hablar aqui acerca de Igualdad de género, empoderamiento)
Agustín Gagliano – My illustrative topics vary a lot. I like to be in constant challenge. This was the case of the NGO-CSW contest where my illustration was the cover of the handbook for the 2019 forum. This is the biggest event organized by the ONU in which they talk about gender equality and woman and girls empowerment. The importance to have the opportunity to speak with a universal image is a challenge that I took with all the responsibility, as this opportunity enriched my own perspective of the topic. Later on I had the pleasure that the Inter-American Bank of Development chose a design for a contest under the thematic "The future of work". All these, are actual topics that are present and involve everybody making an interesting wave of information. New ways of thinking give you the opportunity to relate to the rules of the game and how they are changing.
---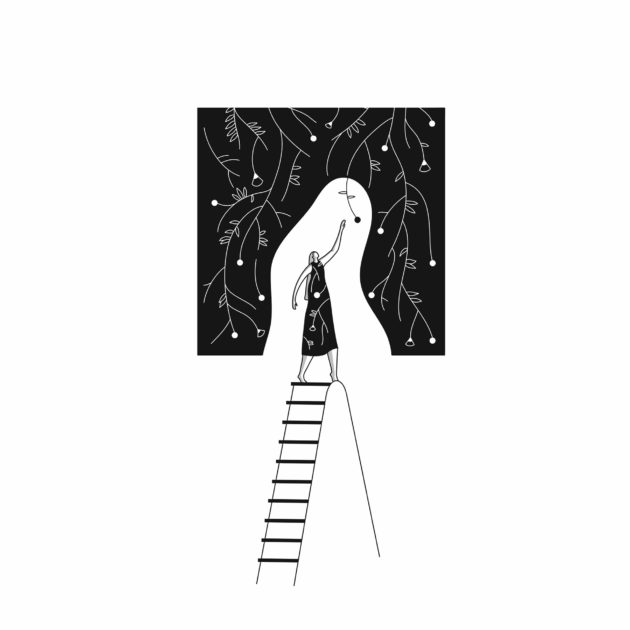 ---
Looking for – Illustration by Agustín Gagliano
---
Iván Meade – What are you excited about right now in the world of design?
Agustín Gagliano – I am excited because this is a new stage in my career, a time to explore and consciously find what keeps me motivated. Not too long ago I started to present myself as a professional illustrator. It used to be a hobby but now it is part of my every day. I am just excited about the new opportunities coming my way and learn from each one.
---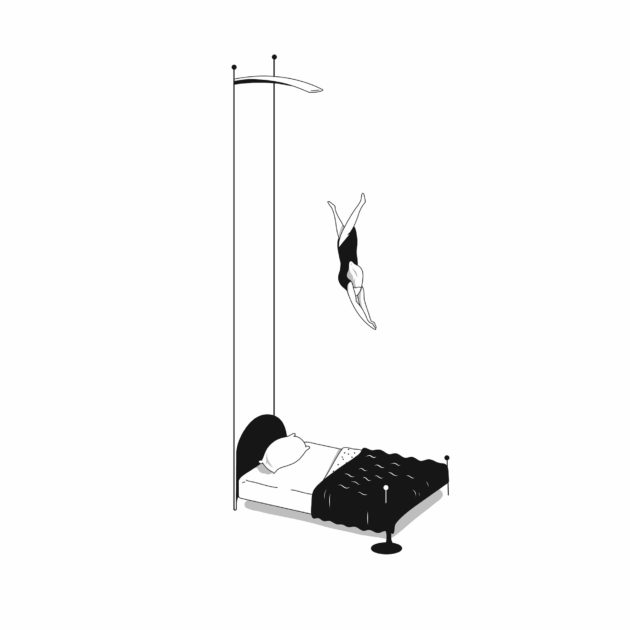 ---
Weekend Vibes – Illustration by Agustín Gagliano
---
Iván Meade – Do you have any self-imposed rules that you live by?
Agustín Gagliano – I have a couple rules that I hold myself to; one is to be very strict with my work and to be a perfectionist.
---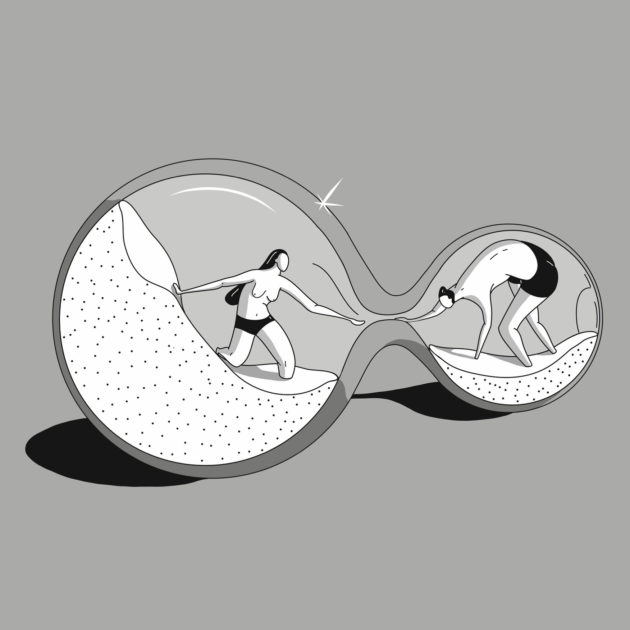 ---
The Time – Illustration by Agustín Gagliano
---
Iván Meade – Living and working in Córdoba, Argentina – What is your favourite part about living in this city?
Agustín Gagliano – To somebody who grew up in a small city, like in my case, when I moved to a bigger city I was confronted many challenges. Córdoba has a very define identity. It is a big city, it is dynamic, with a new industry and full of university students, but without the craziness of the the country's capital. The city has a young spirit still, it is rebellious which has made it in many ways a source of new politic cultural movements. I feel that Córdoba wants to show how great it is to the world. There is a very strong need to show that we are here and we actually have something to give to the world. Without a doubt it is a process that will take time, but with time it is my hope that all the city's inhabitants will be able to convey this message.
---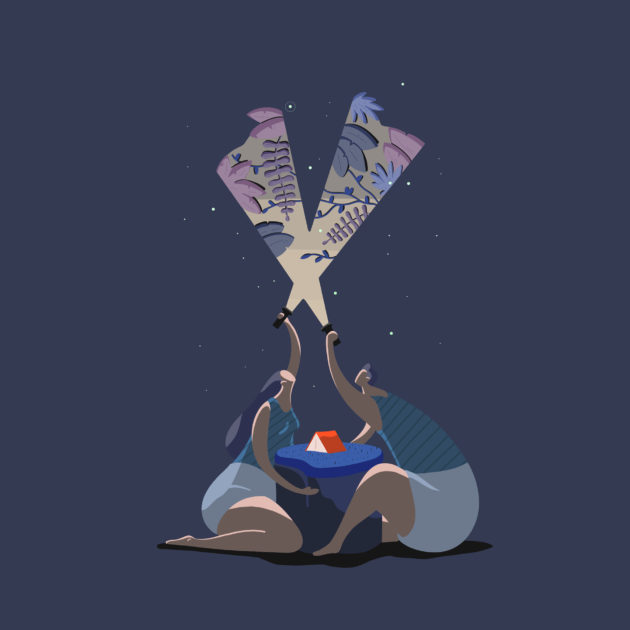 ---
Camping – Illustration by Agusting Gagliano
---
Iván Meade – What would be your dream project?
Agustín Gagliano – This is a great question, this is something that is going to change constantly. Today my goal is to continue on this path, and do my work the best I can. I want to work in the editorial world or collaborate in advertising. These are fields that have always interested me.
---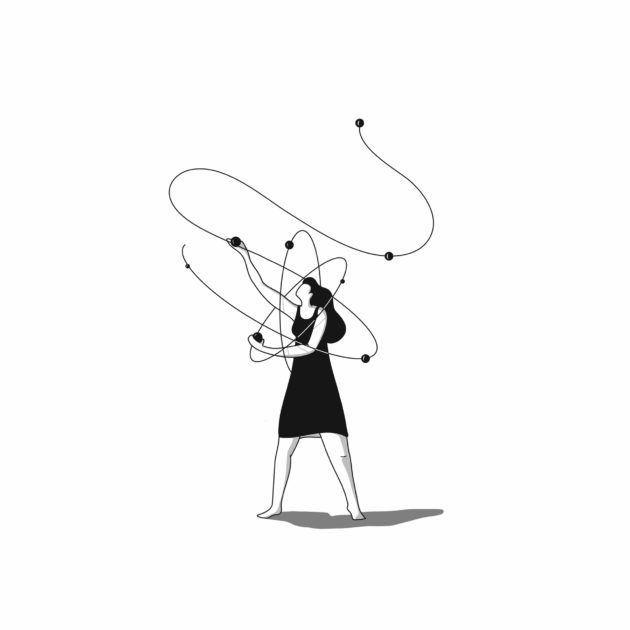 ---
Expanding – Illustration by Agustín Gagliano
---
Iván Meade – Lastly, you have already created a stunning body of work with many mediums and styles. What would you like your legacy to be?
Agustín Gagliano – I still have a long path ahead of me and many things to explore and work on. Maybe it is a bit earlier to think what my legacy will be. What I can answer now is that I want to be constant and work with ethics while showcasing my sensibility as an artist. I think that is my path!
---
I invite you to follow Agustín Gagliano in his instagram account and discover his amazing body of work:

---