---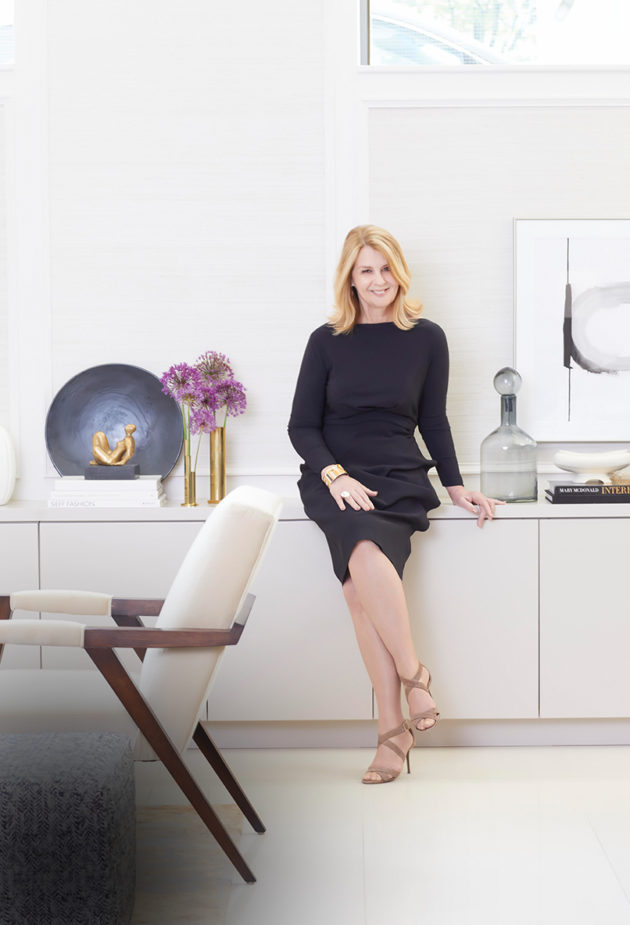 ---
Elizabeth Metcalfe
---
One of the interior designers that I most admire is without a doubt Elizabeth Metcalfe.  The attention to detail of her work is a case study in its own for anybody interested in design. The correlation of  function and aesthetics of her award winning designs are not just functional, but an exercise in restraint, class and beauty.  Elizabeth has defined what modern luxury is, not only in Canada, but worldwide.
Elizabeth's thoughtful designs, and imminent respect for quality underly a unique design philosophy.  Her interiors create memorability; a quiet drama of sorts that becomes addictive to the eyes.  You cannot stop looking at Elizabeth's rooms, they have an approachable luxury, understated elegance and unquestionable beauty.  Every element is so well thought out that a simple glance is never enough.  The art of her projects is when you start discovering the intrinsically complex design layers and the relationship of the materials, colours and textures used in her projects.  The Torontonian design star's work has graced recently the pages of Andrew Martin Interior Design Review, as well  renown magazines like The World of Interiors,  House and Home,  Holland and Sherry,  amongst others.
When you received an interview like this, not only with beautiful work to complement it, but when every answer is a lesson in design is a truly privilege to me to share it.  I can't wait for you to dive into Elizabeth's take on her thoughts about design, the current design scene and her process, please read on to get in on the conversation…
---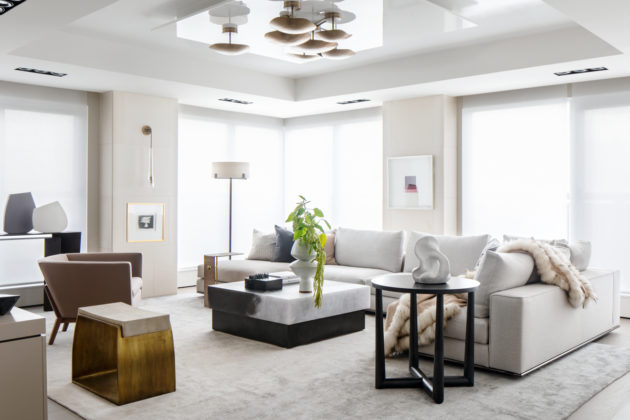 ---
Interiors by Elizabeth Metcalfe
---
Iván Meade – What was your first experience with design?
Elizabeth Metcalfe – I believe we are all born with unique gifts, a heightened awareness that comes to us naturally. Appreciating, acknowledging and pursuing our true talents leads to us living our most fulfilling and authentic life.
Some of my earliest memories are with my father who would sit for hours teaching me how to draw. He encouraged my love of art by enrolling me in a Time Life program that sent me a monthly book about a famous artist. It opened up a world of possibility for me and I somehow knew that it would play an important role in defining my life. Many of our life changing moments seem insignificant at the time and only through reflection we realize their importance.
The moment that had a lasting impression on me and ultimately changed my life happened when I was about eight years old during a school visit to the Royal Ontario Museum in Toronto. As soon as I saw their beautiful collection of ancient Greek vases I fell in love.  I was too young to understand their historical significance but their beauty spoke to me in a way that still resonates with me to this day. Their fluidity of line and simplicity are elements of beauty that I carry forward and continue to influence my work.  I love Greek art, sculpture and architecture and was pleasantly surprised when I discovered that along with being predominately of British and Scandinavian descent, I am 6% Greek.
---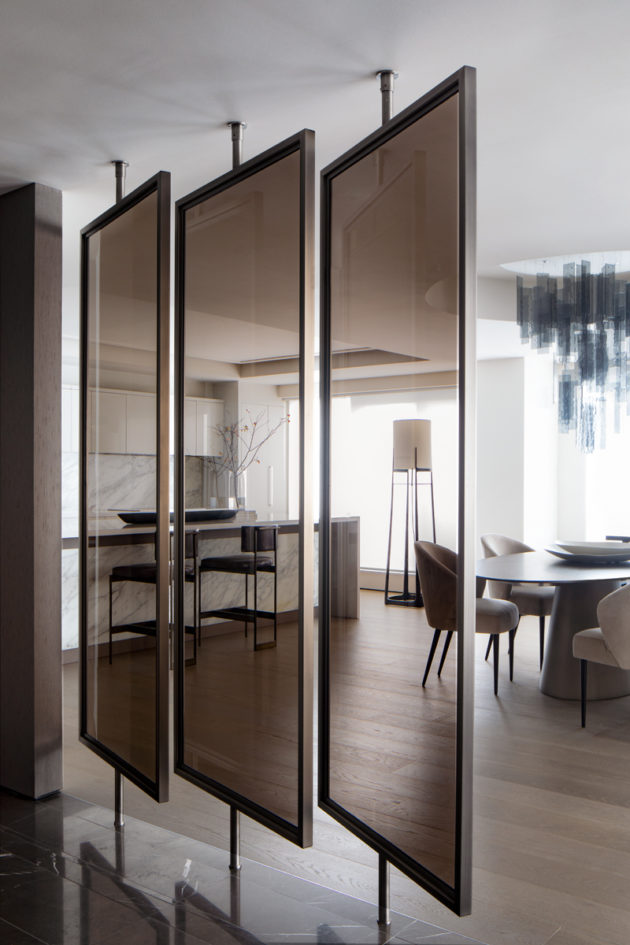 ---
Interiors by Elizabeth Metcalfe
---
Iván Meade – You have accomplished something very unique in the interior design world; creating a strong, extremely well recognized and beautiful signature style – In this same manner however, your style keeps evolving – How or where do you find your inspiration?
Elizabeth Metcalfe – To be good at anything, you have to be true to yourself. I love simplicity of line, strong silhouettes, classical proportions and complex colour palettes. Serenity and beauty for me are connected and I am constantly aware of seeking it out.
Designers are very lucky – beauty is our life. We have trained our eye to 'see' the world very differently. I believe that the ability to recognize beauty is the first step to learning how to create it. I find traces of it everywhere and with reverence translate it into our work with respect and dignity. I have been incredibly fortunate to travel to some of the world's most beautiful cities and visit art galleries, museums, classical architectural sites, famous homes and beautiful gardens.
I'm continually reading, learning, observing, and experimenting. I have a self-awareness and understanding of why I am drawn to something and how it advances my ever-evolving understanding of what beauty means to me. It's important to our growth to explore new paths and experiences, to challenge our pre-conceived ideas of who we are, and what we love and are capable of creating. I've just read Veere Greeney's book, "A Point of View", and his point, that interior design does not stand still, is completely true. If designers aren't constantly being inspired and in a state of change, stagnation will destroy our creativity.  We are lucky to live in a world where so much is available to us. I've always been fascinated by artists and how they see and interpret their world.
Right now, I'm reading a lot of books based on artists that have influenced me. Cy Twombly, Ellsworth Kelly, Henry Moore, Henri Matisse, Alexander Calder, Agnes Martin, Pablo Picasso, Alberto Giacometti and Lucio Fontana are some of my favourites. They keep my love of design growing and changing and I have found as I have grown older, simplicity, harmony and order speak to me more than ever. The underlying threads of my signature style have always remained, but how I use them is being examined. As my taste has become more refined and edited I am experimenting with modern and Danish influences that I've always loved, to have a greater presence in my work.
---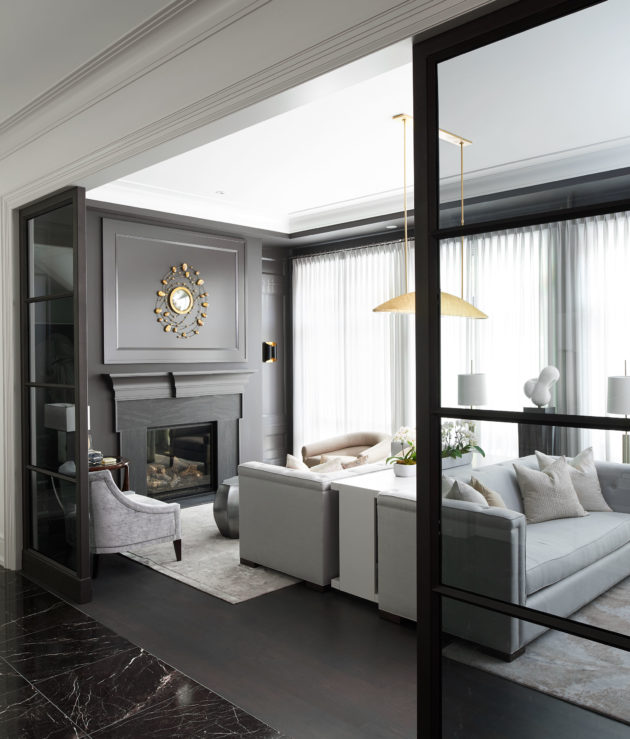 ---
Interiors by Elizabeth Metcalfe
---
Iván Meade – A sense of uniqueness, restraint, clarity and atmosphere are clearly the foundations of your work. How do you adapt these principles to the clients' needs and what the space is demanding?
Elizabeth Metcalfe – Restraint, clarity, serenity, balance and harmony are at the core of our work. I believe that we all respond deeply to beauty even though we might not be aware of how it has been achieved.
Generally, we are hired by clients that appreciate refinement, luxury, simplicity of line and form and ultimately want us to create something special.
Balancing what's best for the space and what's best for the client can be challenging. It's important to give clients the confidence to take chances and to push their boundaries, but we are conscious of the fact that as designers we have to listen, analyze and ensure that our designs feel connected to how our clients want to live and feel in their space.
At the start of a project, our mission is to define the interior architecture, lay out the beginnings of the floor plan, consider the style and scale of furnishings, assemble a preliminary colour palette, and most importantly discuss how we can add details that will define our design work as exceptional. It might go against how most designers work, but we start with creating a beautiful envelope.
A truly beautiful room is beautiful long before it's decorated. Once we are satisfied with our foundation, we look at the functionality of a space. It sometimes involves a high level of creative problem solving, but the end result is always worth the effort.
---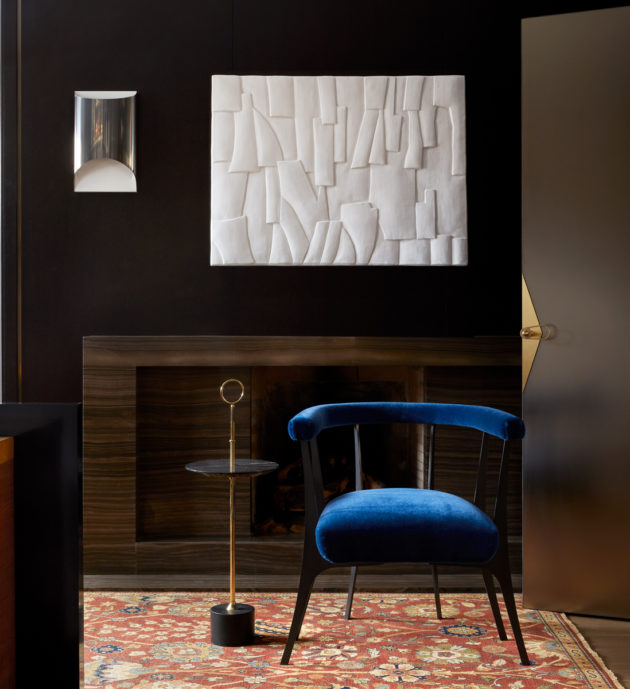 ---
Interiors by Elizabeth Metcalfe
---
Iván Meade – Something that really impresses me about your work is that your designs are a constant pursuit of excellence with unique attention to detail. As we know, good design is in the details. How do you sell these unique ideas to your clients?
Elizabeth Metcalfe – I have always believed in the immense value of the smallest of details. It's never about a singular element; it's always about the interaction of objects, textures, and colour. The juxtaposition of light and colour; the relationship between negative and positive space; the importance of shape and silhouette, to create interiors that are intentional, confident, and harmonious. It's difficult to relate these ideas to a client that isn't visual or doesn't have previous experience working with a design professional.
We work extensively as a collaborative team in our studio. When we are presented with a new project, we brain storm ideas. I firmly believe that as a team we are stronger and better than our individual selves and our clients are the beneficiaries of our approach. We all bring something different and unique to the discussion. There are no egos or attitudes.
My very talented design team is comprised entirely of senior designers that continue to bring with them an ever-increasing wealth of knowledge, experience and love of design. We talk endlessly about what we've seen, or read, or discovered. It creates a great environment to learn and pass on innovative and creative approaches to every design. After our initial creative meeting, floor plans are produced that are highly detailed. They drive the entire design process and help to create a three-dimensional grid structure that is central to developing the details. We present visual images, finishes, and elevation drawings to our clients, that help to explain our concepts and most importantly the theory behind our decisions.
While, I know many of our clients find it difficult to visualize concepts, our enthusiasm and explanation go a long way to instill a trust that our designs have been fully analyzed and detailed to create something that will be original, functional and always beautiful. We are starting to add 3-D images of concepts that many of our clients find very beneficial.
---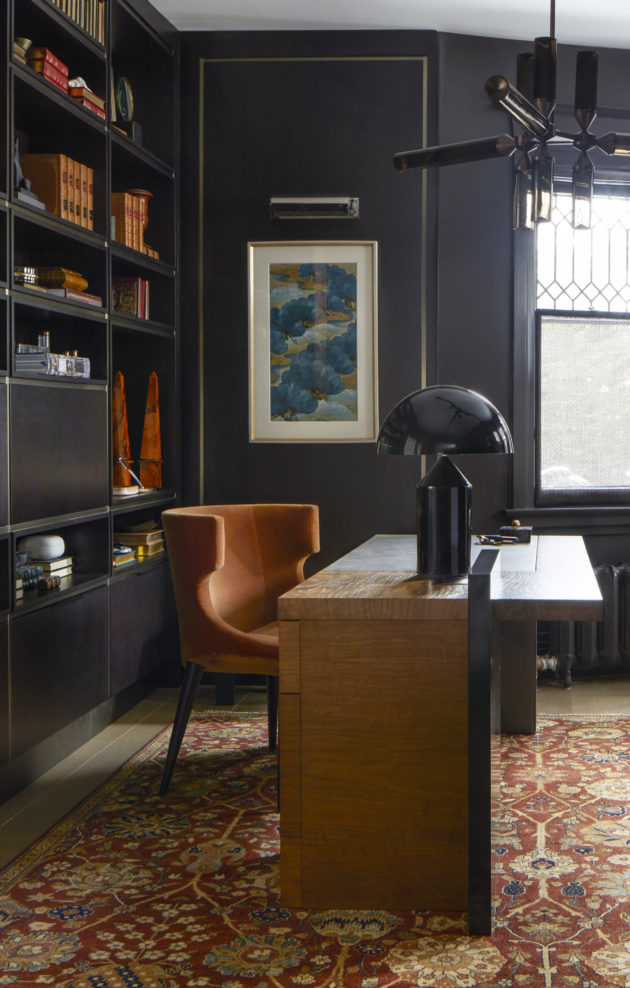 ---
Interiors by Elizabeth Metcalfe
---
Iván Meade – I think one of your greatest strengths is your ability to maintain and adapt your signature style to be unique in each project. What can no "Elizabeth Metcalfe Project" be without?
Elizabeth Metcalfe – While we work on a broad spectrum of styles, all of our designs have one thing in common – originality. Our designs haven't been copied from Pinterest, Houzz or an Instagram post. I admit, I love Instagram. It's a great resource to find inspiration and to be introduced to the creativity of designers from around the world that have a different point of view. There's a lot of blurry ethical lines around images on social media when clients ask designers to copy or duplicate some one else's work.
Downloaded images are useful when our clients bring us a collection to visually guide our understanding of their vision, but 'copy and paste', formula design, and the over-use of a studio's standard 'go-to's' in the design industry is becoming far too prevalent and accepted. I strongly believe, that as design becomes more mainstream, our industry will fall into two categories.
Designers will either become facilitators creating interiors that tend to be more generic and trend based, or they will cater to a clientele that increasingly request interiors that are special, and are willing to invest time, energy and the financial resources to create their unique story.  There is a large market for designers that specialize in helping clients shop and offer great advice. There is nothing wrong with that approach and I'm certainly not putting it down.
RH and Wayfair have found that there is a strong niche of customer that loves the convenience of retail and on-line shopping and doesn't necessarily want or need to have a home that curated by a well experienced design professional. Although, at this point in my career, I definitely will follow my heart and passion and work with clients that want originality and respect the creative process.
Our clients want custom pieces of furniture, innovative concepts and singular designs that they haven't seen before; and, a trust that they are paying for a design that has been tailored specifically for them. I'm proud that our firm starts each and every project with a new vision. We continually challenge ourselves to raise the bar and search for new lines, products, and artists, both at home and internationally to differentiate our firm in a marketplace where repetitiveness is accepted and promoted far too often. We are not a retail experience, where you can buy from a pre-selection of furniture and lighting that in most cases, is cheaply made and vastly over-priced for its quality. Re-using drawings, relying on fabrics, finishes or furnishing combinations from previous projects goes against everything that we believe.
Over the years we have established a clientele that allows us the time and freedom to be creative, to push their boundaries and to design interiors that are beyond their imagination and preconceived scope of possibility. It's a wonderful feeling to present to a client an interior space that we know is exceptional, original and is everything that they wished for and more. Great design isn't based on a formula or a trend; and it's certainly not based on copying someone else's work; it's authentic, real, unique, innovative and custom.
---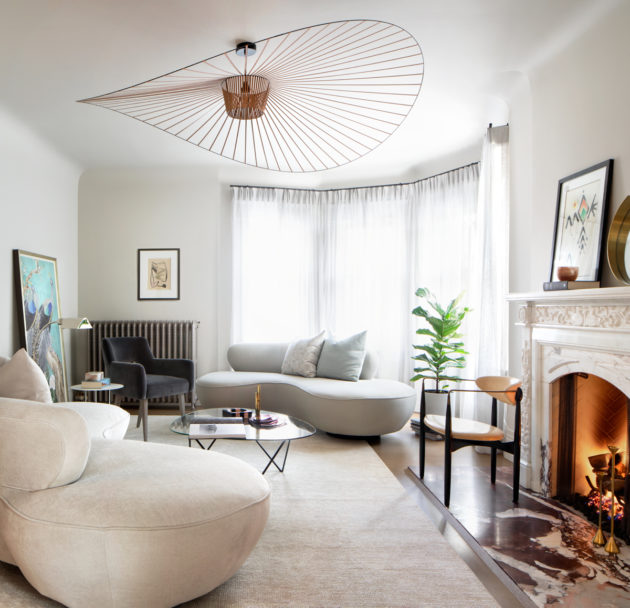 ---
Interiors by Elizabeth Metcalfe
---
Iván Meade – Your designs propose a resolutely contemporary and innovating approach to luxury. What is luxury to you?
Elizabeth Metcalfe – Custom, hand-made, artisanal pieces that have the fingerprint of a human. I believe in supporting artists and the art of craft. Mass produced furnishings have their place, but to create a truly beautiful home, I choose original art over decorator printed replicas; natural fibers over synthetics; bench-built upholstery over an assembly line production; custom over mass retail; hand printed over digital reproductions; and always, real over faux.
Working directly with artists and artisans brings a special quality to our work. I have a philosophy that imperfections are beautiful. It is often imperfections that make something unique and luxurious. I'd much prefer the fingerprint of a craftsman that tells me that this piece was hand made over something perfect made from a machine. I've been fortunate to visit bronze and metal foundries, weaver's, glass makers and a host of artisan studios. I've seen what goes into developing and manufacturing small lines of light fixtures, area rugs and furnishings. People putting their life's work into making beautiful objects bring an essence into a home that cannot be bought in a shopping trip to a retail environment. They have a pride in their product that is tangible. I hope the world holds on to these artists that give so much of themselves to create objects in our home that are appreciated every day and will eventually pass on to future generations.
Luxury is a quality that is hard to define, but our Hermes furniture representative believes that it is defined by an item that is made to be repaired and last not only our lifetime but many more.  We are firmly committed to supporting the arts community whenever possible.
---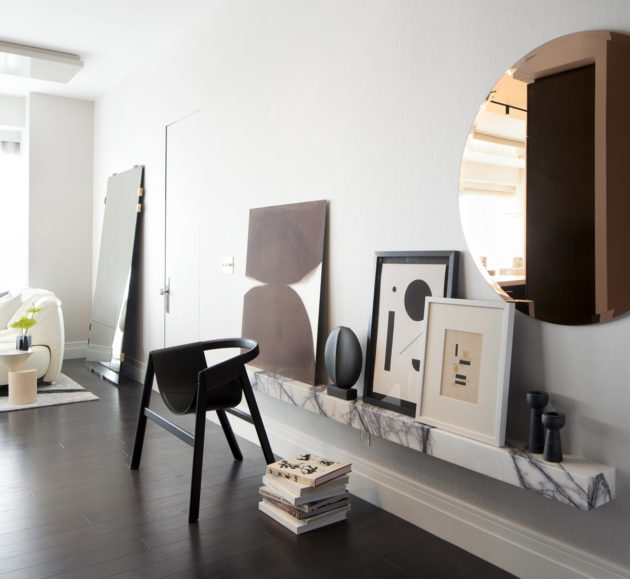 ---
Interiors by Elizabeth Metcalfe
---
Iván Meade – What is the best advice that you received, and what will be the best design advice you could give to somebody who is new in the world of design?
Elizabeth Metcalfe – My advice to all graduates in the field of interior design is simple and straightforward. It takes years to become experienced, knowledgeable and cultivate an educated eye that understands design on a level that only comes with a relentless pursuit to know more.
I recommend that all new graduates commit to building a design library, one book a month, and learning from the greats such as Albert Hadley, Billy Baldwin, Sister Parish, Dorothy Draper, John Saladino, Vicente Wolf, Nancy Lancaster, Nina Campbell, David Collins Studio, David Hicks, Barbara Barry, Thomas Pheasant, Timothy Corrigan, Christian Liaigre, Michael Smith, Nicky Haslam, Victoria Hagan, Bunny Williams, Alexa Hampton, Andree Putman, Ralph Pucci, Jean-Michel Frank, David Kleinberg, and Alberto Pinto to name some of my favourites that have informed and influenced my work. New designers should also be on your list – Ryan Korban, Jean-Louis Denoit, Charles Zana, Kelly Wearstler, Michele Bönan, David Hicks, Francois Catroux, Jacques Grange, Tara Bernerd, Ray Booth and Francois Champsaur will amaze you. Learn everything you can about historical references – Robert Adams, Andrea Palladio, Antoni Gaudi, Philip Johnson, Mies Van der Rohe, John Russell Pope, Frank Gehry, Le Corbusier, I.M. Pei, Zaha Hadid, and Frank Lloyd Wright. Furniture greats such as Ray and Charles Eames, Harry Bertoia, Gio Ponti, Warren Platner and Florence Knoll will teach you more than limiting yourself to the lines that big box furniture stores carry.
I could name a hundred more, but this is a great start to building a knowledge base.  It's important that you read and absorb the text and respect the gift these wonderful designers and architects have given and contributed to the world of design. Analyzing, understanding and the ability to integrate a wider field of awareness into your design vocabulary is the reward.  This is a daunting list, so focusing on one book or subject at a time is key. It's taken me decades and there's so much more I want to discover and learn.
I'd also highly recommend that you visit beautiful hotels, restaurants, art galleries, historical homes, museums, gardens and churches. Ask yourself questions – how does the space make me feel; how are the elements and principles of design incorporated; is the colour palette interesting or an unexpected play of pattern and texture; does the light affect the space; what have I noticed that attracts my attention and why; how have they treated the planes of the room; are there details that are especially interesting that require additional attention; and, what can I learn and take away with me for future reference.
---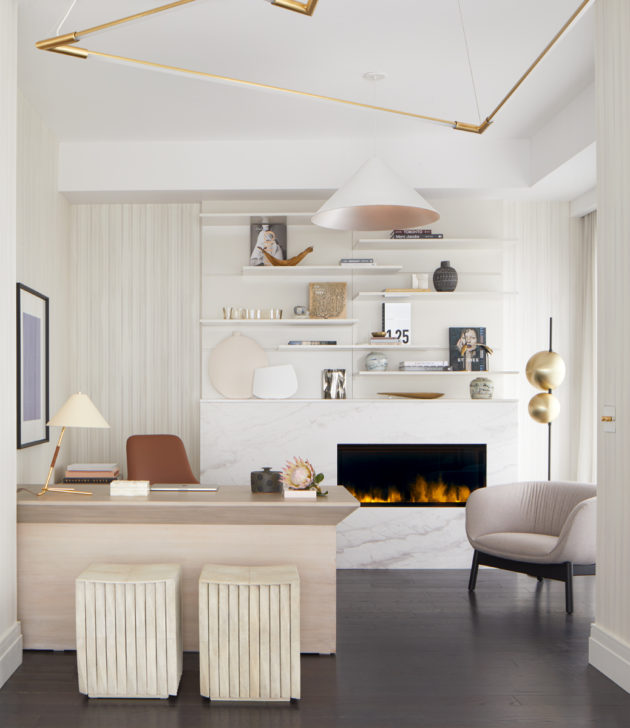 ---
Interiors by Elizabeth Metcalfe
---
Iván Meade – With also a background in graphic design, I can see how your design spaces have almost an invisible grid. Every space you create is a beautiful composition. I know you use all the principles of design, but I wonder if you still carry on concepts of graphic design into your projects.
Elizabeth Metcalfe – It's funny you should say that! I believe all great music, poetry, architecture and design all begin with an underlying structure that adds rhythm, harmony, unity and balance. The structure that I use for interiors is an invisible three-dimensional grid that becomes the foundation to build upon.
When I started out in design, I read a great book by British designer, Kelly Hoppen. She introduced me to this concept, that seemed to work well for my thought process. It made sense to build up a space that I could analyze and revise until I was sure it was right. To think of an empty space as an invisible grid helps me to work out scale, balance between horizontal and vertical planes, the integration of layers, and the importance of connecting lines that direct the eye to important elements of the space. A grid allows me to simplify elements into shapes and focus on composition, which is always the foundation of a design.
Composition is at the core of being a good graphic designer – composition of layouts, text, and photography were part of my life for many years.  These lessons were easily transferable to my work in interior design. Furnishing plans should be as interesting as a beautifully composed and well-thought painting, or the rhythmic pattern of a beautiful poem. In interior design, there has to be an underlying thread, a subtle rhythm of shapes, scale and line that form the underlying structure of a design. A confident and intentional design is never haphazard, awkward, or random. It's a great exercise for any student of design, to walk into a great hotel lobby, cathedral or restaurant and visualize it stripped down to a grid of horizontal and vertical lines. Only then you will see how the designer, has played with lines, shapes, and forms to create a space that feels balanced and unified.
---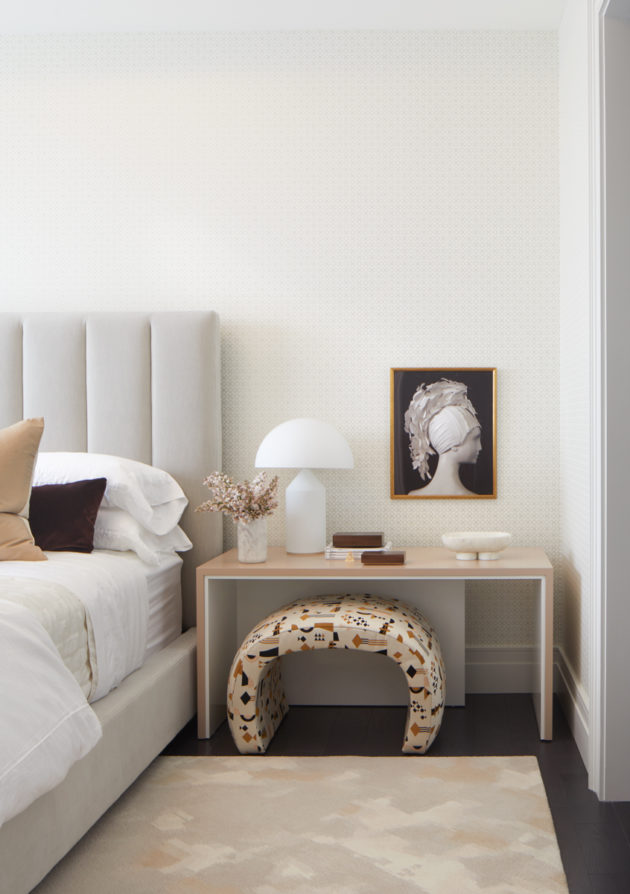 ---
Interiors by Elizabeth Metcalfe
---
Iván Meade – What is your current favourite material, and why?
Elizabeth Metcalfe – Without question, there's nothing more beautiful than luxurious fabrics. Silk, mohair, cashmere, wool, linen, alpaca, and velvets have an indescribable beauty. There's really no substitute for natural fibers – how they feel, their ability to take on incredible dyes, and their power to transform a room. Some of my favourite lines are Dedar, Lizzo, Hermes, Jim Thompson, Metaphores, Christopher Farr, Holland and Sherry, Great Plains, Rosemary Hallgarten and Pierre Frey.
---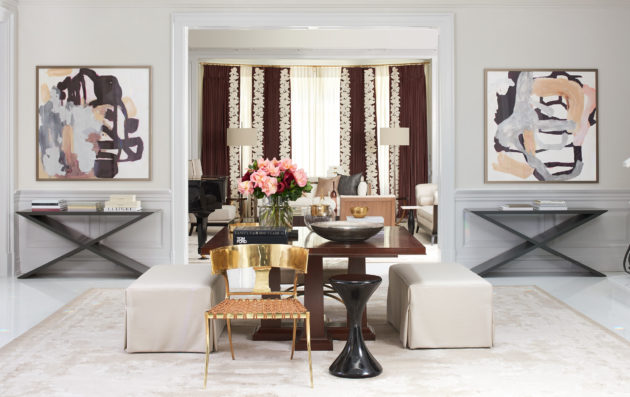 ---
Interiors by Elizabeth Metcalfe
---
Iván Meade – What would be your dream project?
Elizabeth Metcalfe – It's hard to narrow it down to just one, but high on my list would be a contemporary custom home for an art collector.  Someone that is open to new ideas, appreciates quality and craftsmanship, processes the trust and respect to be able to step away from day-to-day decisions, extends the gift of creative freedom, allows time to develop plans without constraints, values great lighting, has no budget restrictions; and, above all is kind, trustworthy, approachable and pleasurable to work with.
---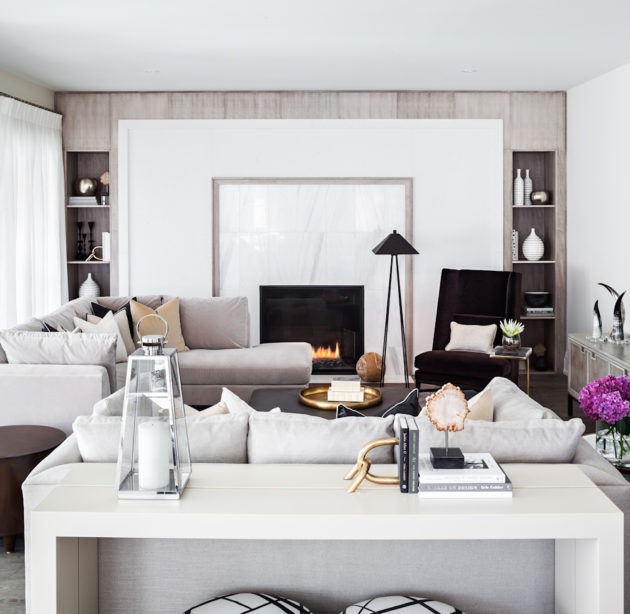 ---
Interiors by Elizabeth Metcalfe
---
Iván Meade – Living in Toronto, Canada's capital of style and fashion must be an incredible experience. What is your favourite part about living there?
Elizabeth Metcalfe – I love working in Toronto, where I have found the design community open, welcoming and supportive of one another. We are also very fortunate to have a vast network of wonderful shops, suppliers, talented artisans and experienced trades on our doorstep.  Toronto has one of the most culturally rich communities in the world with over two hundred languages spoken. This diversity opens a world of opportunity for a design company. We honour and respect our clients who ask us to thoughtfully weave their heritage and ethnicity into the design of their home within a contemporary framework, adding meaningful elements in a fresh, modern and innovative approach.
---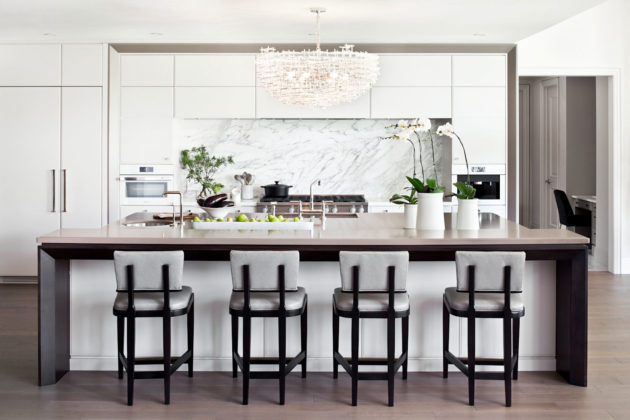 ---
Interiors by Elizabeth Metcalfe
---
Iván Meade – Lastly, you already created a stunning body of work with many mediums and styles. What would you like your legacy to be?
Elizabeth Metcalfe – To be given the opportunity to design and create beauty is a privilege that I am forever grateful for. It has shaped who I am in a profound and meaningful way. It is a gift that I am able to follow my dreams in an industry that I am so passionate about. My work has allowed me to create interiors that are authentic to my personal sense of beauty and given my client's homes that have positively enriched their lives. I see the world as a place of immense beauty to be enjoyed and valued. This is what I was meant to do and I'm extraordinarily lucky to have been allowed to share it with others. I hope that I have helped mentor a new generation of designers and given to them, what many designers through the years have graciously given to me.
---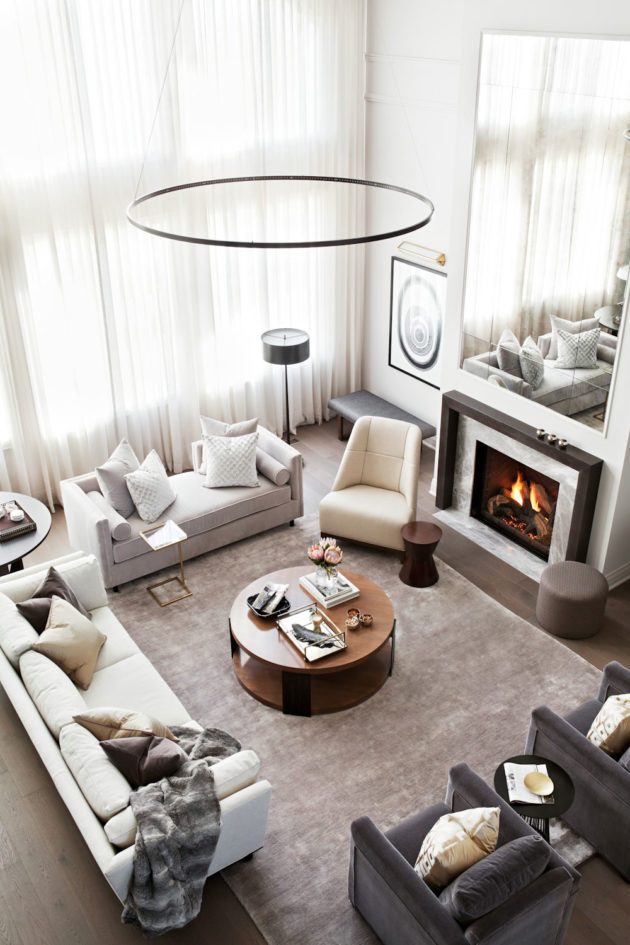 ---
I invite you to visit the incredible design work of Elizabeth Metcalfe at her website:

---