We've all been there, your best friend announced she's pregnant, your sister gets engaged, or your hubby is celebrating a milestone birthday. Guess who gets to throw the party?
On top of the stress from creating a guest list, juggling the VIPs calendars for the best date, and keeping everyone entertained and well-fed, you want the venue to look great too.
Here are my favourite tried-and-true, quick and easy event décor items. To be honest, some of ideas just take some creative planning and you can kill a few birds with one stone.
My advice: pick a colour scheme and/or theme, and run with it! Maybe you can even put some of these into action for your New Year celebrations – mixed metallics would be absolutely gorgeous!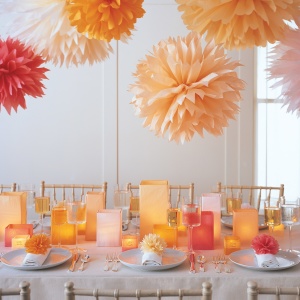 1. TISSUE PAPER POMS – My dear friend Martha is always there for me in times of need. I picked up this fun décor technique for my wedding 5 years ago. Some inexpensive tissue paper and something fun to watch while you fold is all you need! If you have some girlfriends and a fun cocktail, you can make a party of it!
(image courtesy of marthastewart.com, link is to a tutorial)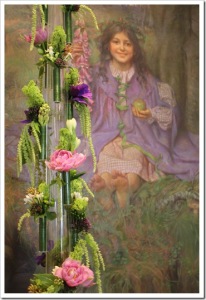 2. FLORALS – Florals are an easy way to infuse a colour scheme or theme into any event. This image was from one of our Meade Design Group events; a launch of fabric inspired by the designer's travels to Asia. Both the colour scheme and simple style of the arrangements mixed with bamboo not only added a beautiful scent, but enhanced the overall theme of the event in a sophisticated, subtle way.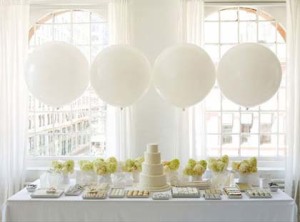 3. BALLOONS – Don't underestimate the power of the classic balloon. Try to incorporate them in new ways, I am currently obsessed with this new giant style, filled with helium.
(image via Amy Atlas Events)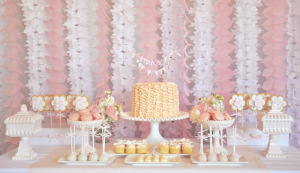 4. FOOD – Anyone who doesn't make the food part of the décor is crazy in my books. This shower for a baby girl captures the theme perfectly – from the frilly cake to the playful candy bar. If it's a country party, serve sliders and beef jerky, if it's a greek party, serve souvlaki. Oscars party? Have a gourmet popcorn bar!
(image via Amy Atlas Events)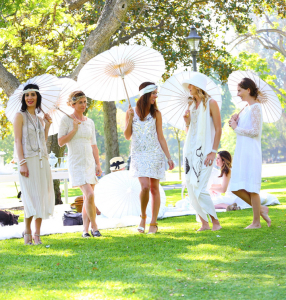 5. ATTIRE – Everyone knows this trick when it comes to costume parties, but it makes for beautiful photographs with any event.
In Victoria, BC (like many other places), an annual white party is held where everyone comes dressed completely in white. The result: an elegant affair with minimal host effort required!
(image via SydneStyle)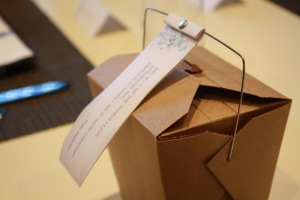 6. FAVOURS – Guests love being able to leave with something to remember the event by. Don't do childish goodie-bags, and don't go overly generic either. Do something to enhance the event. Shown is a favour for a meet-and-greet event for a design personality who would blog about her love for a good cup of tea. We included a tag (designed to match the invitations and place cards) with a quote from one of these blogs. When they went home, guests found tea samplers of different local blends.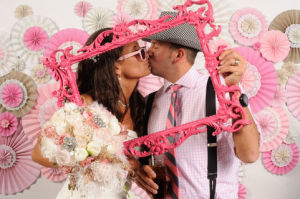 7. BACKDROP – If you can, incorporate a backdrop. This not only provides a great background for photos, but several variations can also act as a guest-book, or keep younger guests entertained. If it is a corporate event of course, it's a chance to show your branding.
(image via DecorByToria)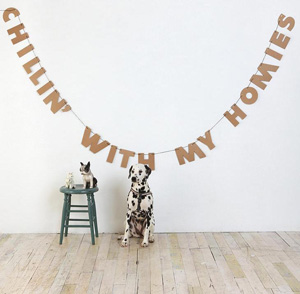 8. PERSONALIZE IT – Another classic, the banner is always a fun memento for the star of the event, and is an easy way to incorporate your scheme or theme. It doesn't need to be your standard phrase – I like the cheekiness of this example from Urban Outfitters.
(image via Urban Outfitters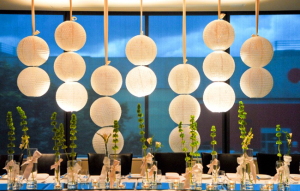 9. LIGHT – Never underestimate the beauty that comes from ambient light. Paper lanterns and candles are great ways to do this on a budget. Avoid basic, artificial light whenever possible.
(image via Amini Concepts)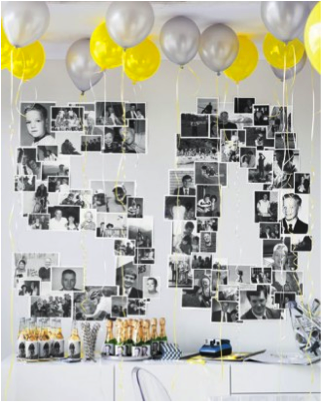 10. PHOTOS – Pay tribute to the guest of honour with a photo collage of their best memories (just be sure to show their good side!) if it's a baby shower – ask guests to bring a photo of themselves and make a game of it, or of the mom and dad's childhoods. For a wedding, a timeline of the couple is always fun for guests to look at while they are signing the guestbook. This example is a great idea for an anniversary.
(image via Martha Stewart)
What is your no-brainer event staple? Let us know in the comments below!