Many years ago, I had the opportunity and honour to show the city of Victoria, Canada to one of the  greatest Mexican architects and renowned art collector, the late Joaquin Zendejas.
In our city tour, I had the opportunity to ask him many questions about design.   One I asked was "What was good taste for him, and how to keep improving it?" His answer still resonates with me: "Good taste is a cultural product", he said, "In order to refine your taste, you must see and understand your surroundings, learn a great deal about art history and architecture in general, and always be proud and knowledgable about your culture, and the most important thing is to see, see not just with your eyes but with all your feelings, and observe in a methodical way as much as you can from your colleagues and peers.  They have already gone through a similar process, so once you learn how to really see, you can grow on their ideas and concepts using your own culture to develop and season your own concepts."
At that time the only way to see the work of my colleagues and peers was to purchase their design books or the occasional TV show.  Now-a-days with the internet, and the explosion of social media (Pinterest and Instagram specifically) – You can really exercise the lesson of seeing.  Last week one of my best friends asked me who my favourite designers to follow in Instagram are, and this gave me the idea to share my personal list with you.
These are interior design colleagues that I admire for many different reasons. Some of them, I have had the opportunity to interview, so I know a little bit more about their work.  The way they see the world inspires me everyday, and motivate me to constantly improve my craft.
1.  Ryan Martin
Ryan is a Principal and Co-Founder of one of my favourite  design firms in Canada – Croma  Design.  Ryan has an amazing and detailed eye to see and capture the world around him.  His eye is so refined that he captures photographs that could easily be Art Photographs.  His style is very crisp yet elegant.
I had the pleasure of meeting Ryan many years ago in Toronto, and since then we have kept in touch via social media.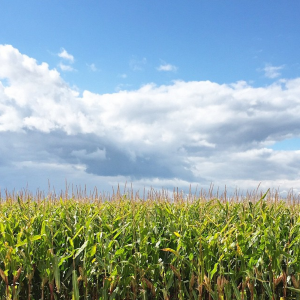 2.  Ashley Hicks
The son of the late great british designer David Hicks, who Ashley worked for briefly, before starting his own design practice.  With his trained trained eye at the Architectural Association in London and an amazing gene pool, he has created a name for himself with his own work.
Over the time I have followed him on Instagram I have seen incredible architectural details, an amazing design process day by day for a wonderful hand-painted murals in his dining room, I have also fallen in love with his hens Barbara, Lucrezia and Lulu.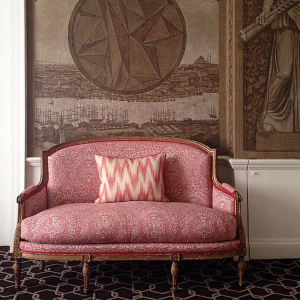 3.  Arren Williams
Arren is the Creative Director of Home at Hudson's Bay.  If you have been to Hudson's Bay lately, you will notice a drastic and uber cool shift.  As a stylist, editor and trend reporter you can easily learn from him what is going on in the design scene.
I have travelled with him (well, through his posts) to Denmark, Portugal, England and many other places in his constant quest to discover what is next, and what to bring to us lucky Canadians.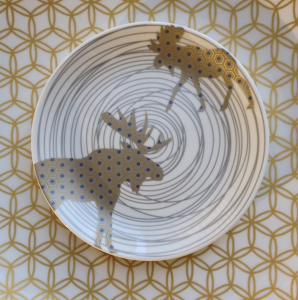 4. Kelly Wearstler
This woman never stops impressing me.  She is unstoppable and a creative genius.  Her design process is really fun,  always looking for unexpected beauty and how to use it.
Bold decisons make memorable moments and this instagram account will give you lots to think about.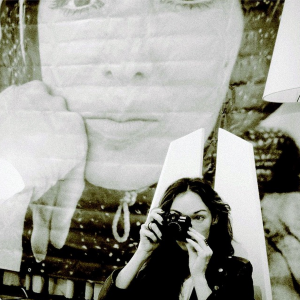 5. Phillip Mitchell
As one of the most recognized Canadian Designers, Phillip Mitchell has taken instagram by storm.  I love how his eyes find beauty in every architectural design, his sketches and design concepts are so strong that you can see the end result.
To all of those who love pups you can also see the adventures of little Jacko and Waylo.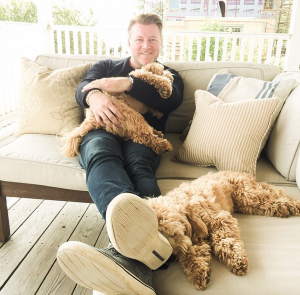 6. Brooke Giannetti – Velvet & Linen
Robin is to Batman as Tommy Smythe is to Sarah Richardson.  This gentleman is not just a great designer, he has an incredible sense of humour and the way he sees the world around him is something you need to experience.
Also, I have to mention that he has the best hashtags in the village.  If you want to see something extraordinary and for dessert, a smile on your face, you need to follow this gent.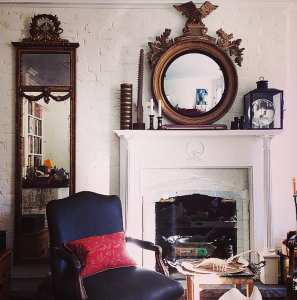 8. Grant K Gibson
Grant is somebody that knows what he likes, and knows how to make it a reality.  His custom furnishings are a dream to the eyes and the way he selects materials for his projects always result in classic, timeless aesthetics, but with some unexpected ingredients.
His philosophy is that a home should be the ultimate reflection of personality: interiors are about the people who inhabit them and each interior is unique.   Grant really knows how to showcase his design philosophy via Instagram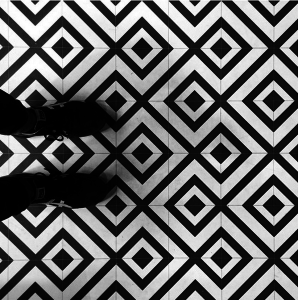 9. Curtis Elmy
Curtis is one of the talents behind the award winning Saskatoon company, Atmosphere Design (alongside Trevis).  Winners of the best designer of the year by Western Living, you can see through their Instagram posts why they are the "Kings of Style".
Thanks to the powers of instagram you can see Atmosphere's design process, beautiful autocad drafting, their luxe condo (which is to die for), and their trips to NY.  You cannot expect less than the best from this very down to earth and glamourous duo.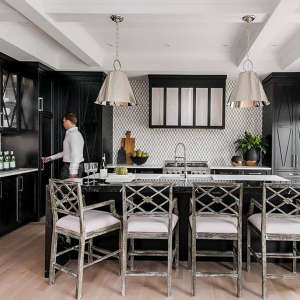 10. Ross Cassidy
You may remember his name from the cast of the Million Dollar Decorating Show.  Ross had and has a very prolific career as a model, but he is also a great designer.   His posts are full of energy and his favourite colour is kelly green.  This is always evident with his famous #instagreen hashtags.
His pictures show what is cool and new out there, his design process, and a great lesson in how to live every day the best you can.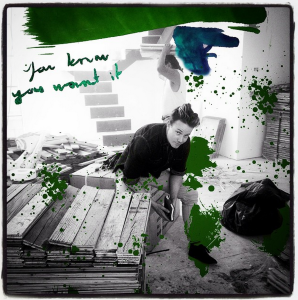 11. India Hicks
India is also the daughter of the late David Hicks, and her mother is Pamela Hicks, daughter to the Earl and Countess Mountbatten of Burma. The gene pool of style and design talent are more than evident on her lifestyle shoots.
When it is cloudy and gloomy on our west coast, seeing images of India's Caribbean lifestyle are definitely a treat.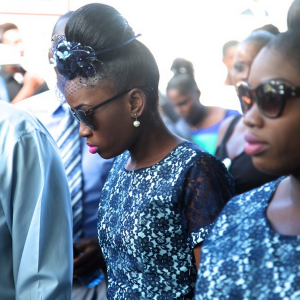 12. Michelle Morelan – A Schematic Life
Michelle is a dear friend of mine, and in my humble opinion, she is the best interior design sketch artist in North America.  Her work, which is commissioned by interior designers from all around the world, gets displayed in her posts. We also share a profound love for Nespresso, so you will see lots of everyday work scenes that include a delicious cup of joe.
Her lake house is really inspiring and she is one of the few persons that has really captured what the West Coast Life is like in Canada, as she grew up on Vancouver Island.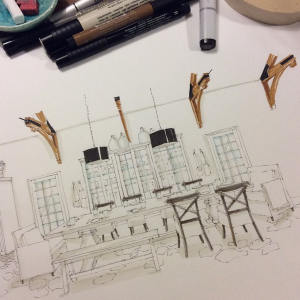 13. Lorenzo Castillo
Being named the best interior designer in Spain by Architectural Digest has been the latest honour that this gentleman has received.  Lorenzo is without a doubt somebody that I admire.  His work is classic, timeless, yet playful.
With a background in Antiques and a clear understanding of what truly is beautiful, you can see images of his boutique hotels and restaurants around the globe, and a glimpse of his sophisticated lifestyle in Madrid – Olé!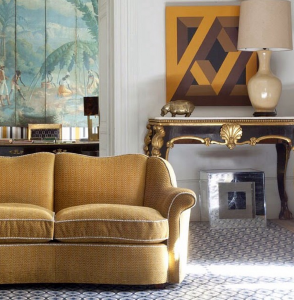 14. Falken Reynolds
This duo of extremely talented designers in Vancouver are masters of creating what contemporary design truly is, how to create inviting spaces for intelligent living.
Their approach is uncomplicated, yet methodical and the results are in their photos for all of us to enjoy.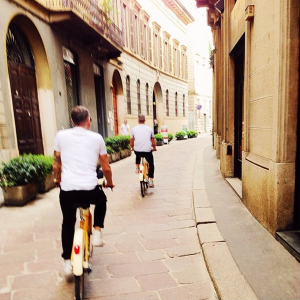 15. Jonathan Adler
He is without a doubt one of the most fun, entertaining and talented designers out there.  I always have a smile when I read his entries.
His design philosophy says it all: build a timelessly chic foundation, then accessorize with abandon.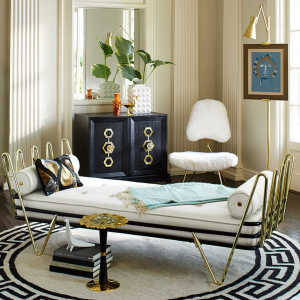 …And if you want to follow us we will be more than happy to share our world with you  🙂