Love our fabrics, but not quite sure where to use them?  We've teamed up with SwitzerCultCreative (our premiere Vancouver showroom/supplier of Ivan Meade Fabrics) to help you learn more about where to use Ivan Meade fabric in your space.
Let's start with the basics for all of our printed fabrics: Each one is printed on a made-to-order basis – the great thing about this is, if you want a tweak to the design, give us a call – anything is possible! We can adjust colours to better suit your scheme; or scale, to better suit your application. We even do custom fabrics from scratch as one of our design services.
As another added bonus, all of our fabrics are made using eco-friendly processes and with minimal energy consumption and water-free methods, non-toxic/biodegradeable inks and minimal waste since all of our fabrics are made to order. Our silk and cotton/linen fabrics are also 100% natural fibres.
Now for the fun part – what should you use and where??
---
Ultra suede is a great substitute for suede leather – it is a synthetic microfiber fabric that feels like natural suede.  It has a woven fabric surface, but resists pilling or fraying because it is combined with a polyurethane foam in a non-woven structure.  It is also resistant to stains and discolouration and can be washed in a cold and gentle cycle (but don't iron!!).  This fabric is truly multifunctional!  Use it for anything from upholstery to drapery.  
Here's a sampling of the ultra suede fabrics and pillows within the Ivan Meade line (and stay tuned for our next launch – we're working on some stunners):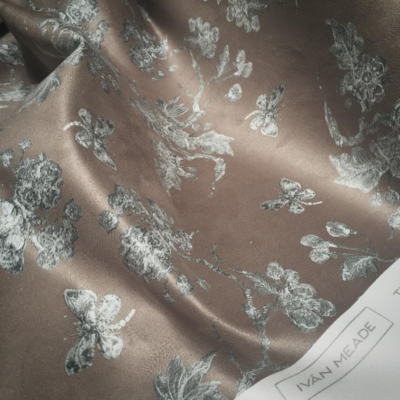 We suggest mixing this material with other luxe textures, like silk and velvet. The combination of tactile sensations and sheens is sure to result in a sophisticated design.
We love this fabric type most with bold patterns, so using it amongst solids makes for a balanced aesthetic. Here's a sample vignette using Pirita:Crema as the upholstery with velvet piping, and a silk and velvet signature pillow – we've contrasted these soft textures with angular lines and crisp black and brass furnishings.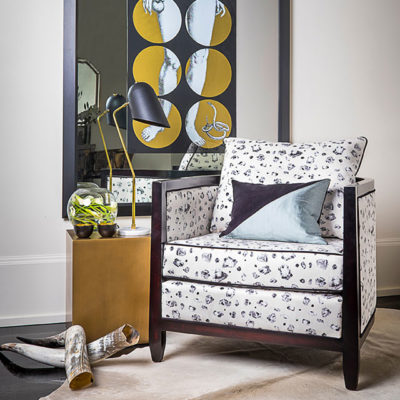 ---
Linen/cotton blends are an ideal combination because each fibre brings its own natural beauty and unique qualities.

Linen is known to be the world's strongest natural fibre.  It is crisper than cotton with a recognizable texture, however it does become more supple through handling.  Conversely, cotton is very soft and flexible to the touch.  The strength of cotton is achieved through spinning multiple fibres into yarn and weaving the yarn into fabric.
Together the blend of linen and cotton has a beautiful hand, making it the ideal choice for many of our patterns.  Our linen/cotton blend can be used for making pillows, drapes, bedding and decorative borders.  It can even be used in light upholstery once lined.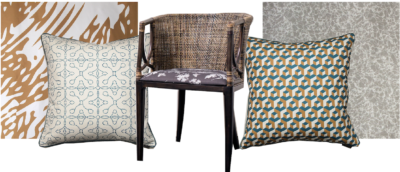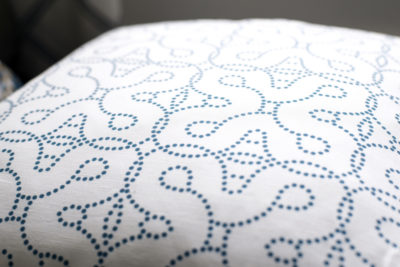 With the natural texture and slubbing of this weave, it lends itself very well to a more casual setting. The drape of this material is also magnificent – rigid enough to hold a form but soft enough to do it loosely and naturally, making it a great option for window treatments.
Since our linen/cotton blends are all printed with patterns, they pair particularly well with solids and textures. One of our favourite fabrics to highlight patterns with is textura II; it has a bit of interest on it's own with it's subtle, multi-coloured, yet chunky weave but definitely doesn't overpower the prints and create a great tactile experience. The image below shows a pillow in Vista Hermosa:Miel atop a chair that has been upholstered in textura II:cielo in the SwitzerCultCreative Showroom in Vancouver. I think we can all agree it looks pretty darn good next to that woodgrain and chrome too!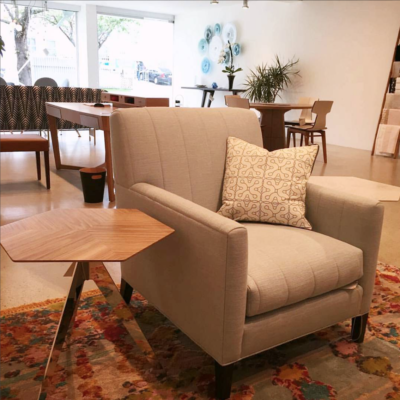 ---
Silk is a natural fibre that has a unique texture due to random slubs and variation.  This adds natural beauty in colour, shading and uneven textures. These are not considered flaws but part of the natural beauty of 100% silk – and let's not neglect to mention that gorgeous level of sheen.  It is recommended to dry clean only and iron at a medium temperature only if necessary.   Ivan Meade 'Seda' (silk) can be used for window treatments (but we recommend avoiding in areas with constant direct sunlight) and pillows. It is only available as a solid, but this natural beauty needs no adornment.
We also offer crepe de chine, which is also 100% silk, but much more regular which allows for crisper printing. It is much finer so it needs to be lined, but makes for beautiful accent pillows or fashion items. We would consider the most classic and refined of our printed materials.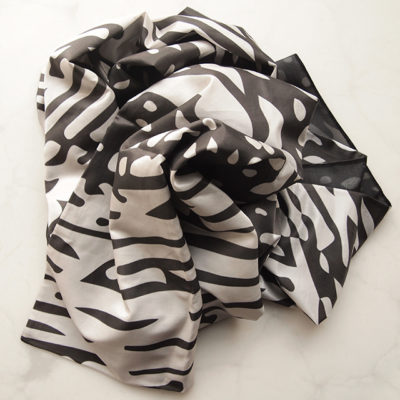 This material goes with nearly everything, but it's really about how luxe you want to go – a couple of gorgeous throw pillows here for a touch of elegance and there, or striking full drapery panels for the ultimate in sophistication.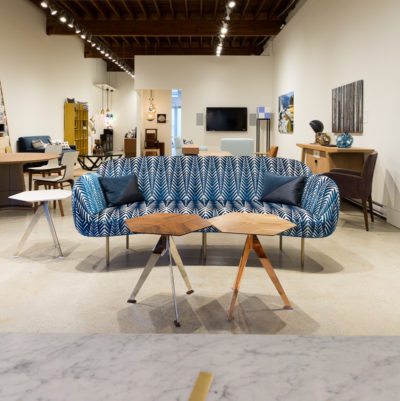 ---
Velvet in the Ivan Meade fabric line is a high quality polyester velvet.   This synthetic option is an excellent choice for the users wanting a velvet that shows little wear.  Polyester velvet is more resilient to fading from sun and will have less variation from one dye lot to another.   It can be used on many applications such as upholstery, drapery and bedspreads.
The hand of Ivan Meade velvets is incredibly soft with minimal nap. As with our ultra suede, it is incredible as upholstery and arrives to our customers knit-backed and with a heavy-duty rating. It's quite a work horse!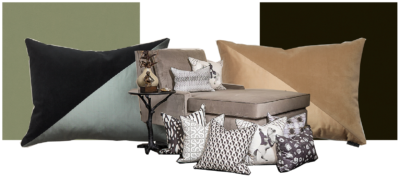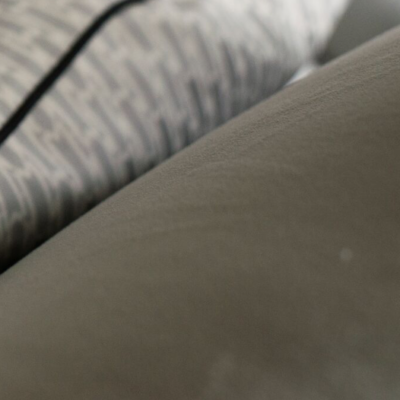 We love seeing our velvets juxtaposed with the silk (as seen on the 'Signature' pillow), as drapery and of course, upholstery (as seen on this sofa in the SwitzerCultCreative showroom in terciopelo:marino). It is so inviting to curl up into and snuggle in with a good book and a hot mug. It plays so well with other patterns with it's matte, solid colouring.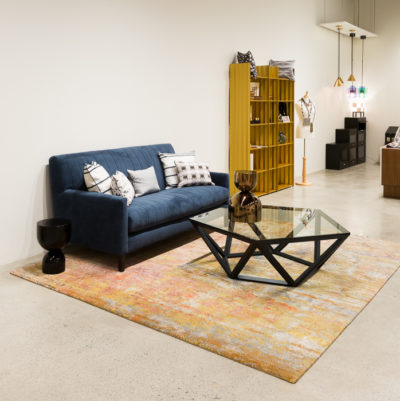 ---
So what will you do with your Ivan Meade Fabrics? We want to know! Comment with you ideas and we may even feature your application!
Ivan Meade Fabrics can be viewed/purchased at Meade Design Group Studio in Victoria BC or SwitzerCultCreative in Vancouver BC.