PRODUCT
Wabi in Bone by Calico Wallpaper
MATERIAL
Printed on Type II Substrate, which is fire-rated A according to ASTM E84. It is washable, scuff resistant and can tolerate moisture and heat.
FROM
Bespoke Global
MEASUREMENTS
Customized to fit project dimensions and appears seamless when installed.
PRICE
$ 32.00 per square foot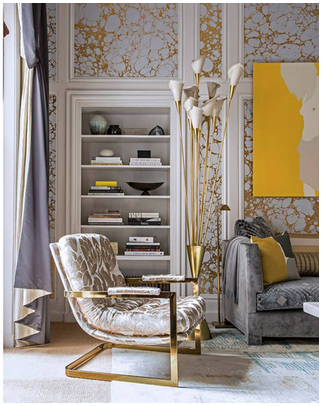 DESCRIPTION
This is the wallpaper of Ivan and my sweetest dreams right now…
Totally on trend with it's metallic golden design mixed with organic movement, this paper makes an elegant but impactful statement. It is the perfect option to loosen up a traditional space or create interest in a clean and modern one.
Although the website's description of the product describes it as mimicking flowing water, it looks more like a graphic and contemporary take on natural marble veining to me, and I love that it is open to interpretation that way.
The danger of this paper is that it can come off as being a bit busy, but if used properly it is most-definitely a jaw-dropper!
"The origins of the Wabi collection are found in the landscapes of the ancient East conjuring the feel of water flowing over pebbles. This fantastical marbled paper pays homage to the ancient arts of Suminagashi and Ebru. "
– Bespoke Global
YUMMY FACTOR
Sumptuous!
[images via bespokegolbal.com]