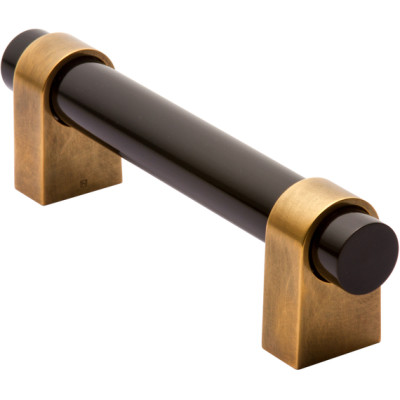 PRODUCT
No. 6810 Cabinet Pull
MATERIAL
Black Powdercoating and Antique Gold (others available)
FROM
Nanz
MADE
New York
MEASUREMENTS
From 8″ – 18″ Long
PRICE
Varies with options – contact for pricing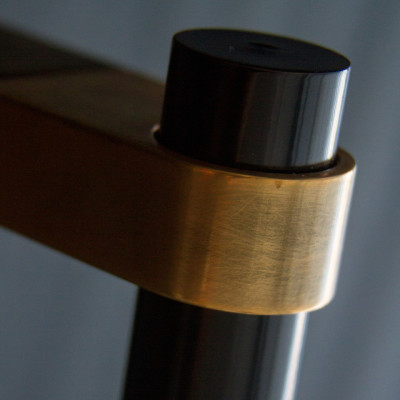 DESCRIPTION
Let's all just take a moment to marvel at this gorgeous pull in all of it's chunky glory.
As much as I am in love with this black and gold combo, the options are endless for both finishes and sizes. I am also a big fan of Nanz's green initiative and quality control. This striking piece would be at home in a very contemporary, mid-century, or even an art deco project.
"The modern No 6810 pull is inspired by Bauhaus elements. It's bold, cylindrical rod is clasped by two subtlyflaring rectilinear posts. The pull is commonly specified in 8", 10" and 12" lengths center to center. It can also range up to 60" for full-sized, shower, and refrigerator doors and can be used in back-to-back configurations. A smaller version, the No 8810, is available in 3-1/2", 4-3/4" and 6" lengths suitable for cabinetry. Please note, the desired diameter and the length will determine if the pull is solid or hollow. "
– Nanz.com
By the way, have I mentioned how stunning this would be when used alongside their 2106 lever?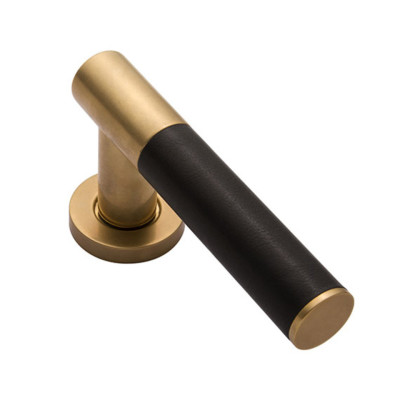 YUMMY FACTOR
"Decadent"