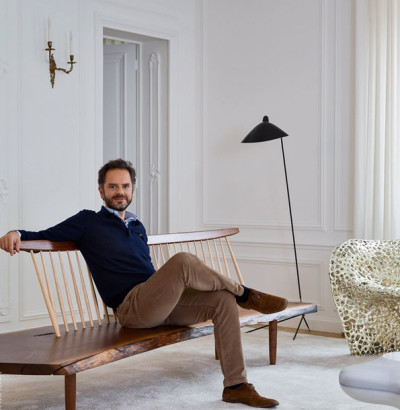 ---
Alireza Razavi
---
I discovered Alireza Razavi's work during my latest trip to Paris this Spring while browsing the latest  Architectural Digest Collector. A photograph of one of his living rooms showcasing a chair by Mathias Bengtsson really resonated with me.  The  extraordinary mix of furnishings from different eras add a sculptural quality while maintaining the existing architecture of the space; this is one of my favourite ways to decorate, so I was hooked.  For me, the enchantment didn't stop at the magazine spread, once I started browsing his site, learning about his accomplishments and discovering his work is when I realized what a massive talent he is. I was thrilled when Alireza kindly accepted an interview for the blog.
Alireza Razavi founded STUDIO RAZAVI ARCHITECTURE in 2008, one of the most prestigious and recognized architectural and design firms in the world.  With offices on both sides of the Atlantic, his Paris and New York studios offer his deserving clientele not just extraordinary designs, but the reassurance that the historical and architectural context of the spaces will combine a tailored approach with major attention to detail.
Alireza Razavi is a registered architect in France and in the US. He also holds a Master's Degree from Columbia University in New York, and a Master's Degree from the Ecole Nationale des Arts Décoratifs in Paris in addition to being a member of the American Institute of Architects.
The work of STUDIO RAZAVI ARCHITECTURE rests on a fundamental principal: the mediation between engineering & architectural cultures. It is their belief that successful designs can only materialize by fully synthesizing building technology and architectural sensitivity. Their approach to space is hence determined by a rigorous understanding of existing relationships between technique and culture, free of stylistic limitations, open to context. Studio Razavi's work has been shown at the Pavillon de l'Arsenal in Paris and published in DETAIL magazine, Architecture Créé, d'architectures and The Plan amongst other publications.
Alireza's work is truly inspiring,  keep reading to get in on the conversation…
---
Iván Meade – What was your first experience with design?
Alireza Razavi – My father and grand father were trained as engineer and architect. Never really engaged them directly on design but as a young boy my dad was my partner in building scale models of mid-century aircrafts which I find are such a great equilibrium between design and performance.
---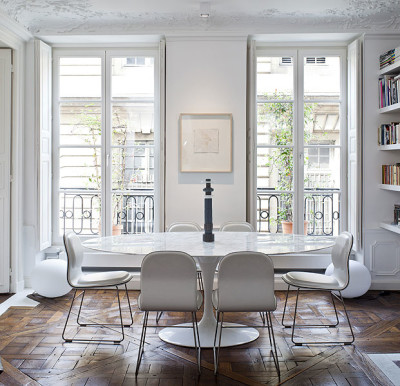 ---
Dining Room by Studio Razavi
---
Iván Meade – When did you know you wanted to be an architect?
Alireza Razavi  – When I was about 16 or 17. It became (unconsciously) clear that architecture was mid-way between science and art, that it would best respond to my own perception of the world. An art form through scientific knowledge, the expression of objective constraints (gravity, program, budget, size…) through the poetry of forms and materials. In other words a transformative way of seeing and understanding
---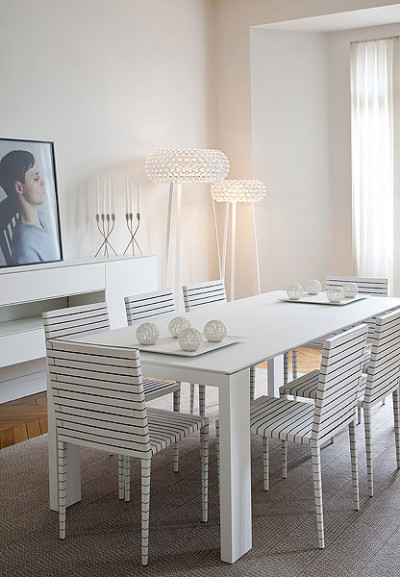 ---
Interiors by Studio Razavi
---
Iván Meade – What is the best advice you could give to somebody who is new in the world of design?
Alireza Razavi – To not be afraid of going slowly.
---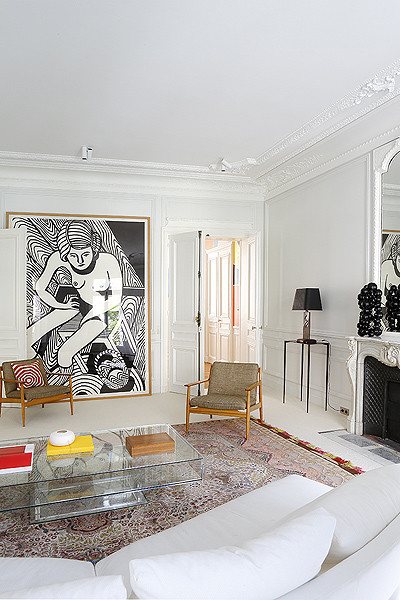 ---
Interiors by Studio Razavi
---
Iván Meade – How much of your design work is influenced by your own taste, and how much by your client's?
Alireza Razavi – The situation is as follows: we listen to our clients and then offer solutions. They accept/reject them and/or ask us to revise them. But we remain the driving force, we try and push as much as we can for what we feel is right. I believe this is what we are paid for: provide a service that best responds to a great variety of constraints, within the larger context of our architectural culture.
---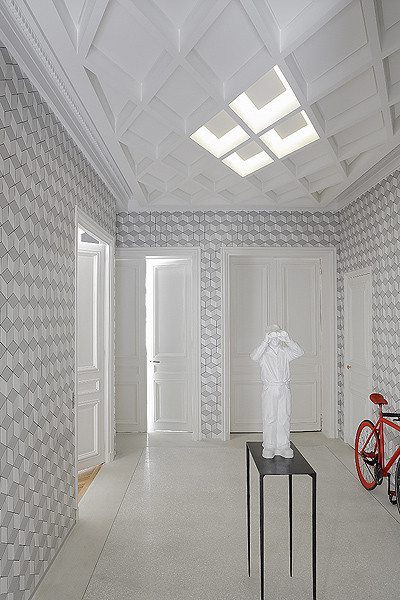 ---
Interiors by Studio Razavi
---
Iván Meade – The work of STUDIO RAZAVI ARCHITECTURE rests on a fundamental principal: the mediation between engineering & architectural cultures.  Can you please share your thoughts on your work philosophy?
Alireza Razavi – Design in the larger sense had always been deeply associated with the ability to actually build/fabricate one's concepts, therefore strongly relying on craftsmanship and expertise. The industrial revolution contributed creating two distinct professions, Designers & Engineers and in the past 20 years computers further distanced them. My goal, to the extent possible, is to approach design through the experience and consciousness of an ultimately built form. In other words, form as a departure only, materiality and experience as an end.
---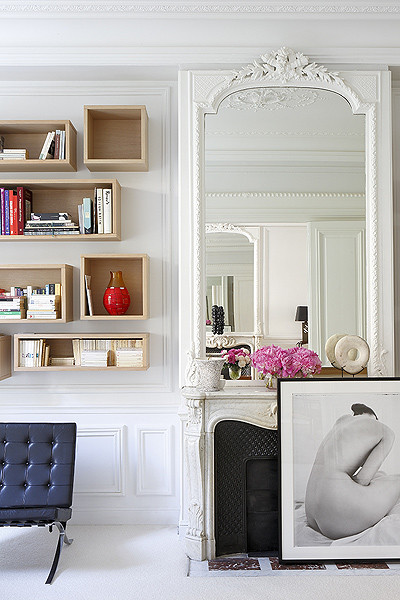 ---
Interiors by Studio Razavi
---
Iván Meade – Your designs are very clean, but still the materials and design forms convey a more understated approach to luxury – What is luxury to you?
Alireza Razavi – In architecture, luxury is the imperceptible presence of a designer that composed space for a given use at a given time. Luxury is providing a client with the deepest knowledge and experience of one's career, travels, readings and specific interpretation of what he or she is after.
---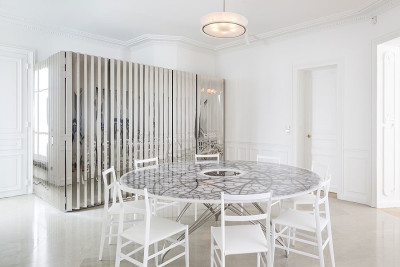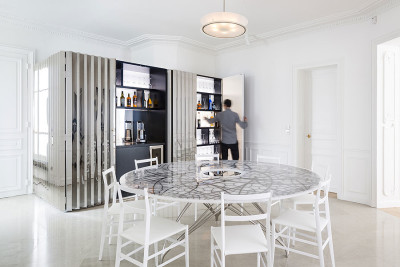 ---
Dining Room Design by Studio Razavi
---
Iván Meade – You have a big array of incredible projects under your arm. It looks like everything you do, you do right, from architecture, public spaces, interior design, furniture, etc – What is your favorite type of project and why?
Alireza Razavi – Our favorite type of project -but also the most challenging- are the ones in which clients trust us the most. Being responsible not only for a client's budget but also for the entire environment in which users will eventually live, work, play, learn etc. brings the best out of us.
---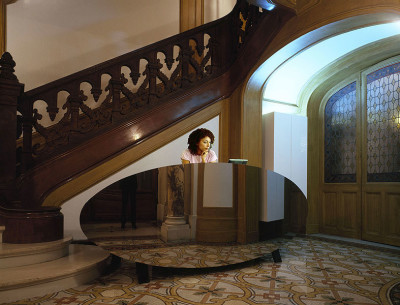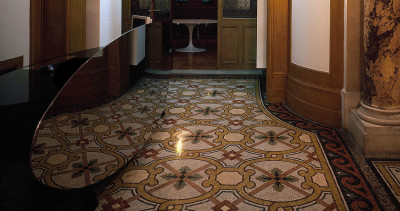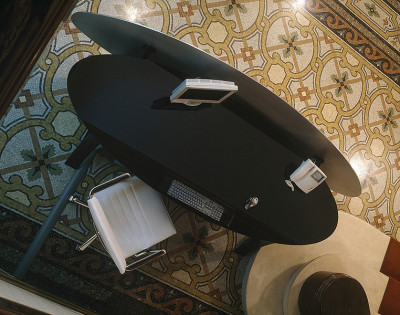 ---
Desk Design by Studio Razavi
---
Iván Meade – What is your current favorite material, and why?
Alireza Razavi –  Different materials have of course different properties but how they age and how they perform structurally interests me the most. A phenomenological experience to buildings is key, at a very unconscious level I think we all somehow need to understand how things are put together so they generate meaning, a sense of what they have been designed to respond to. Favourite material then is one that was used in the most critical and compelling way.  I think the built work of Peter Rice best describes this.
---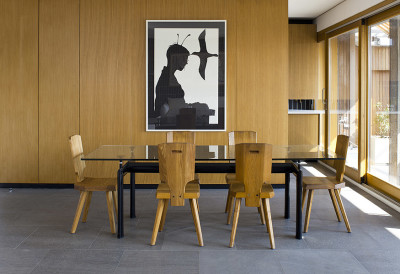 ---
Dining Room by Studio Razavi
---
Iván Meade – What is the main element that in your opinion, any home should have?
Alireza Razavi – Small, darker rooms opening up to larger, light filled ones. Contrast is key to appreciation and experience.
---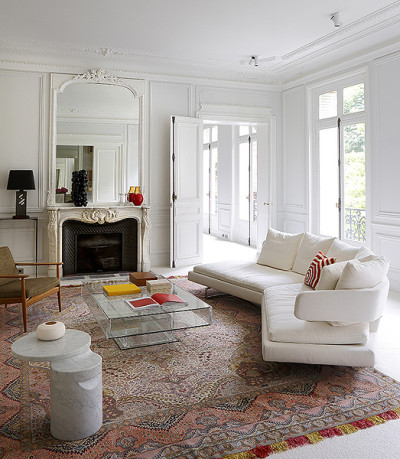 ---
Interiors by Razavi Studio
---
Iván Meade – In your opinion, what is the most beautiful object you have ever seen?
Alireza Razavi – Lately I would say a bronze chair by Mathias Bengtsson but always a soft spot for Japanese ceramics, ancient and contemporary. Objects are part of a given phase of our sensible life, then we move on to new ones.
---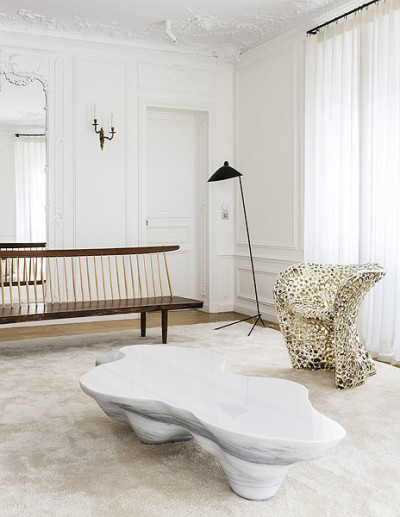 ---
Interiors by Studio Razavi
---
Iván Meade – What is your favorite project, and why?
Alireza Razavi – The one project that keeps me awake with excitement is an all concrete building in NY, currently at permitting stage. I look forward to tackling construction documents because it relies on a seldom used double concrete wall system we've devised with a great team of structural engineers, Eckersley O'Callaghan in New York. Some projects are also unique because of the people you meet and we're currently collaborating with Annabelle Selldorf on the Paris headquarters of Christie's which has been such a great experience. Working with her has taught us a lot.
---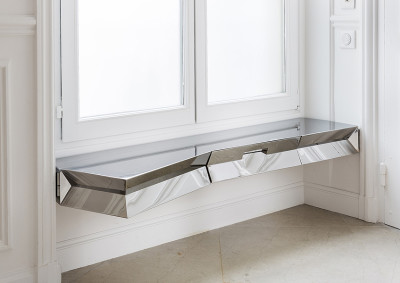 ---
Steinless Steel Custom Piece by Studio Razavi
---
Iván Meade – Living and working in Paris and New York, the world's capitals of style and culture must be an incredible experience – What is your favorite part about living and working in these cities?
Alireza Razavi – New York is about diversity and change. At times with brutal impact but always challenging and invigorating. Paris has chosen a more static path for itself: blanket preservationism peppered with controlled and limited regeneration. Working in both cities is a (tough) privilege and always mind opening. 
---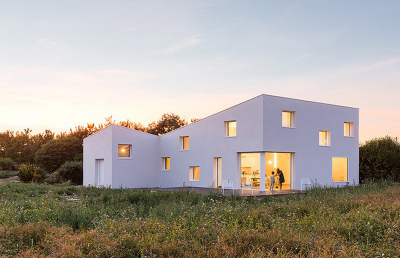 ---
Architectural Project by Studio Razavi
---
Iván Meade – Lastly, you have already created a stunning body of work.  What would you like your legacy to be?
Alireza Razavi – There are so many levels at which to perceive and understand an architect's work. I would like for our designs to still make sense in the future. Stylistic obsolescence is acceptable as long as new generations can associate meaning to past designs.
---
I invite you to visit Alireza's stunning body of work at his studio website:

Alireza Razavi image via Architectural Digest Russia