---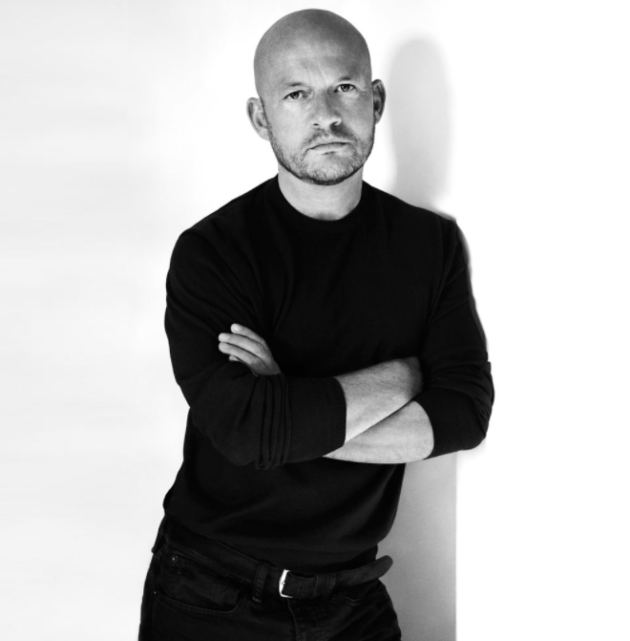 ---
Vincent Van Duysen
---
Belgian architect and designer Vincent Van Duysen has already left a strong imprint on the world of design.  Van Duysen is internationally recognized for his pure and clean use of lines, tactile and voluminous constructions,  and sensual use of light that complements his spaces with the incorporation of natural materials. Van Duysen's architecture is not just an individualistic form, but an emotional connection between person and space.
Van Duysen did his architectural schooling at the Architecture Institute Saint-Lucas in Ghentstarted, then he worked as an assistant to Aldo Cibic in the Milan studio of Ettore Sottsass.  By 1990, at the age of 28, he went on his own, and established his renowned studio in Antwerp, Belgium.
Van Duysen's philosophy has always been to create a complete architectural product with subtle transitions between architecture and interior design, combined with a spatial design attitude that always searches the essence .  If you are a fan of good architecture, you must take a look at Van Duysen's monograph by Thames & Hudson – Vincent Van Duysen: Complete Works .
Functionality, durability and comfort are the prime components of Van Duysen's work. An architectural language which does not shy away from aesthetics, but resists fashion and trends.
Without further ado, let's dive right into his thoughts on design. Please, read on to get in on the conversation…
---
Iván Meade – What was your first experience with design?
Vincent Van Duysen – My parents educated me across many different arts as a child – architecture, painting, theatre – and my father had incredibly intuitive artistic skills. These were the primary influences for my appreciation and understanding of beauty and, from a young age, fostered a natural talent for creativity. Also, within my parent's circle of friends there was a professor from the Sint-Lucas School of Architecture in Ghent who explained to me that the enduring quality of architecture was that it covered so many aspects of all of the applied arts I had been exposed to.
---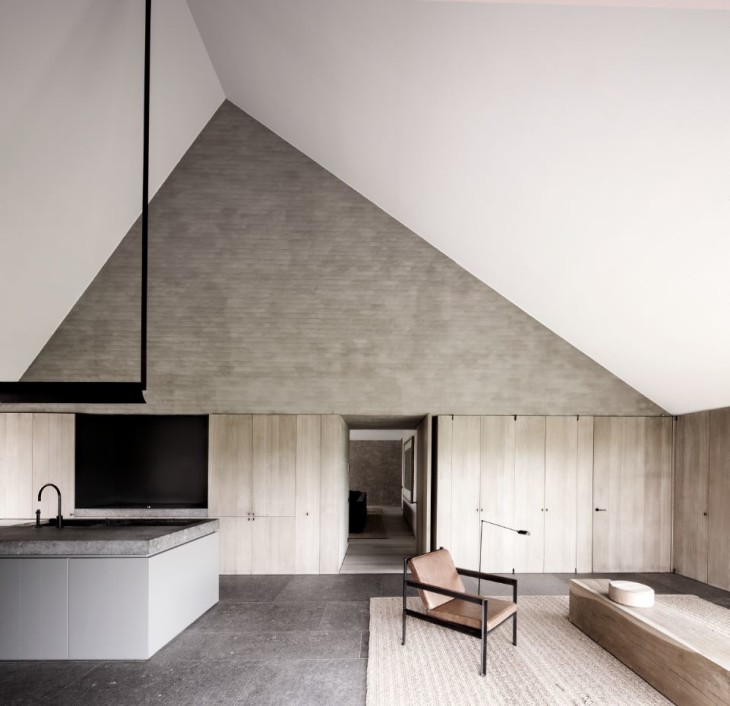 ---
BS Residence by Vincent Van Duysen
---
Iván Meade – What do you think has had more of an influence on your work, your Belgian background or your travel abroad?
Vincent Van Duysen – I think that my studies during the emergence of Postmodernism and my time with Sottsass Associati in Milan gave me an appreciation for essential and pure forms but the application of materials, such as linen, natural stone, and oak, is influenced strongly by my Belgian heritage. However, through my travels I was inspired by, and attracted to, the ideas, forms, and customs of tribal and nomadic cultures.
---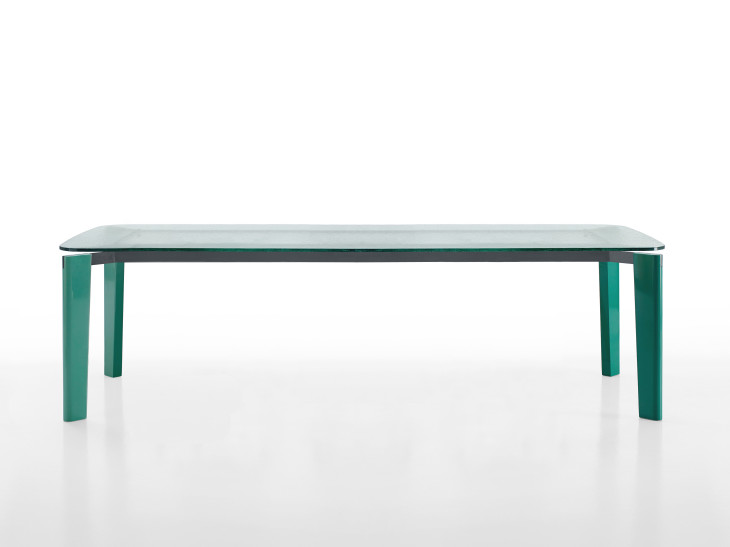 ---
Oskar Table [ B&B Italia ]  by Vincent Van Duysen
---
Iván Meade – Your design work is really pure and clean lined – that being said, I believe your designs are beyond minimalism – You have used the term 'essentialism' to describe your work, what does 'essentialism' mean to you?
Vincent Van Duysen – To me, essentialism means undoing the clutter and getting to the core – achieving an authenticity, simplicity, and purity. Essentialism within the architecture and design I create is typically of a monolithic nature or archetypal in a sense that it has a classic proportion or familiarity. It can be at once refined, solid, and brutal, or, if it is light and airy, it is usually somehow connected to nature.
---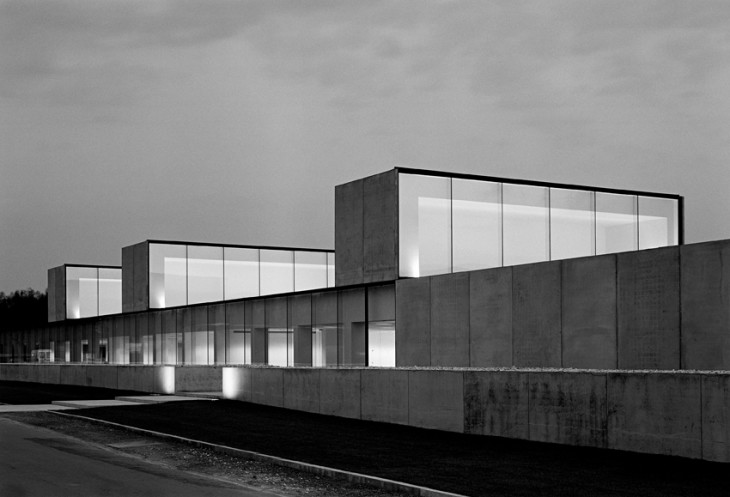 ---
Concordia Office by Vincent Van Duysen
---
Iván Meade – Your work is very memorable, I would say that it is individualistic – How do you evoke emotions in your work?
Vincent Van Duysen – I find the evocations to my work are always very personal. I'm not a mathematical architect or designer – more instinctive and intuitive – and the experience of working for and with different people, and their personalities, gives each project a unique context. Also, I think a significant part of the emotion in my work comes from my consideration for the materials within a space. I believe the work goes strongly against the soulless clichéd ideals of minimalism.
---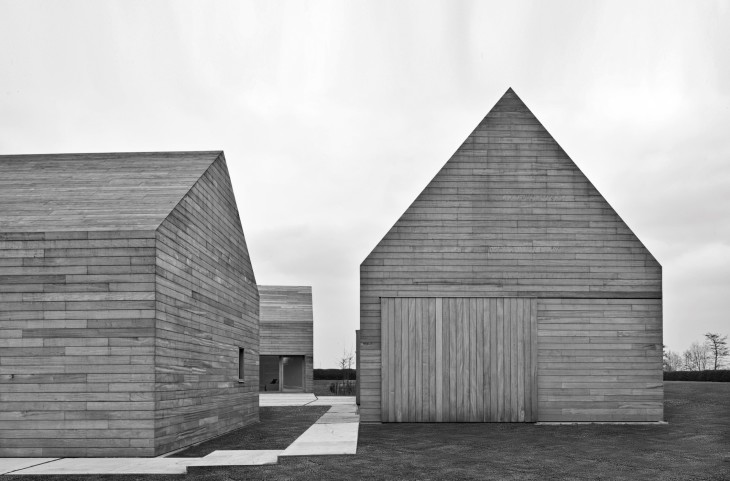 ---
DC II Residence by Vincent Van Duysen
---
Iván Meade – As a Mexican designer, I can see certain references within your work reminiscent of renowned Mexican architect, Luis Barragán.  Of course, your work has a more warm and contemporary approach with innovative uses of materials, and adaptations to our modern-day needs.  In other words, you are able to create a really strong dialogue between person and space.  Some contemporary architects abuse the use of space, making the person feel insulated; but in your work, the architecture brings the focal point to the person.  How do you achieve this?
Vincent Van Duysen – Firstly, I am a huge admirer of Barragán both for his work and for his character. As I mentioned, the most important dialogue for me is between the personality of the client and the space – they really have to fit. I am a modernist at heart so I always try to avoid clutter and artificiality and express the solidarity of the architecture and its relationship to familiarity and simplicity. Through this simplicity, I try to achieve a sense of well-being which is directly related to the inhabitant their experience within the space.
---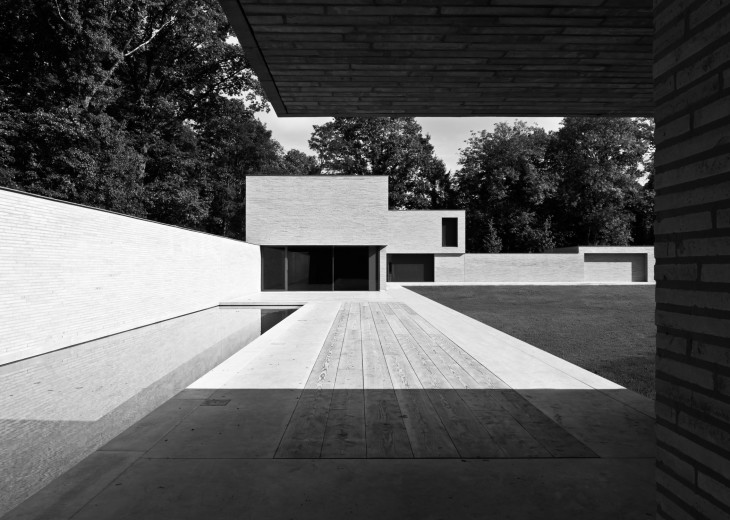 ---
VM Residence by Vincent Van Duysen
---
Iván Meade – Another quality of your work is your incredible use of light – It is very sensual. What is the role that light plays in your designs?
Vincent Van Duysen – To me light is as much a construction material as a brick – the interplay is so important when I design because it is the quality of light that sculpts the emotions you feel within a space. In my architecture it is always a balance between spaces that are bathed in light complemented by spaces that are darker, more subdued, and calming. I feel this is a very human approach to compositing spaces.
---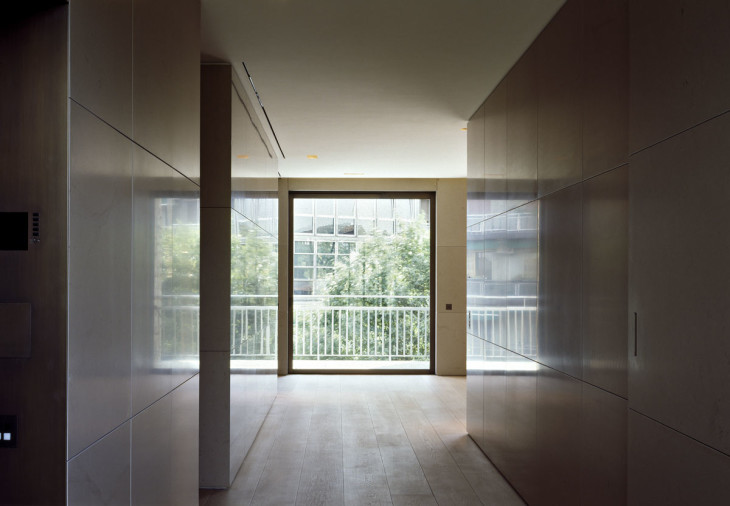 ---
MR Apartment by Vincent Van Duysen
---
Iván Meade – What is your favourite material?
Vincent Van Duysen – My most favorite materials are natural and that express their individual character.
---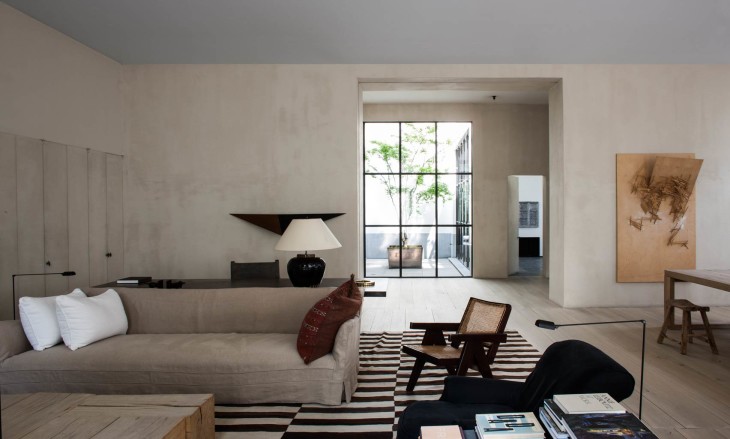 ---
VVD II Residence by Vincent Van Duysen
---
Iván Meade – What is the main element that any home should have?
Vincent Van Duysen – I believe every home should have a fireplace.
---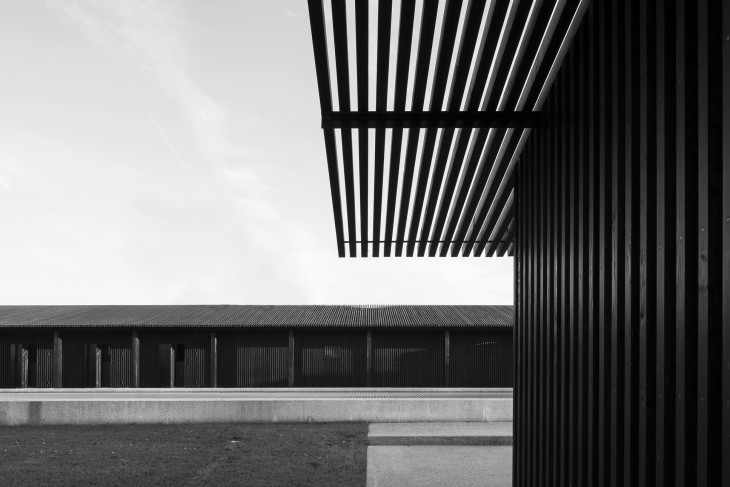 ---
TR Residence by Vincent Van Duysen
---
Iván Meade – In your opinion, what is the most beautiful object?
Vincent Van Duysen – This is difficult – or at least hard to define – there are so many possibilities. I will just say my two Dachshunds, Gaston and Lou Lou.
---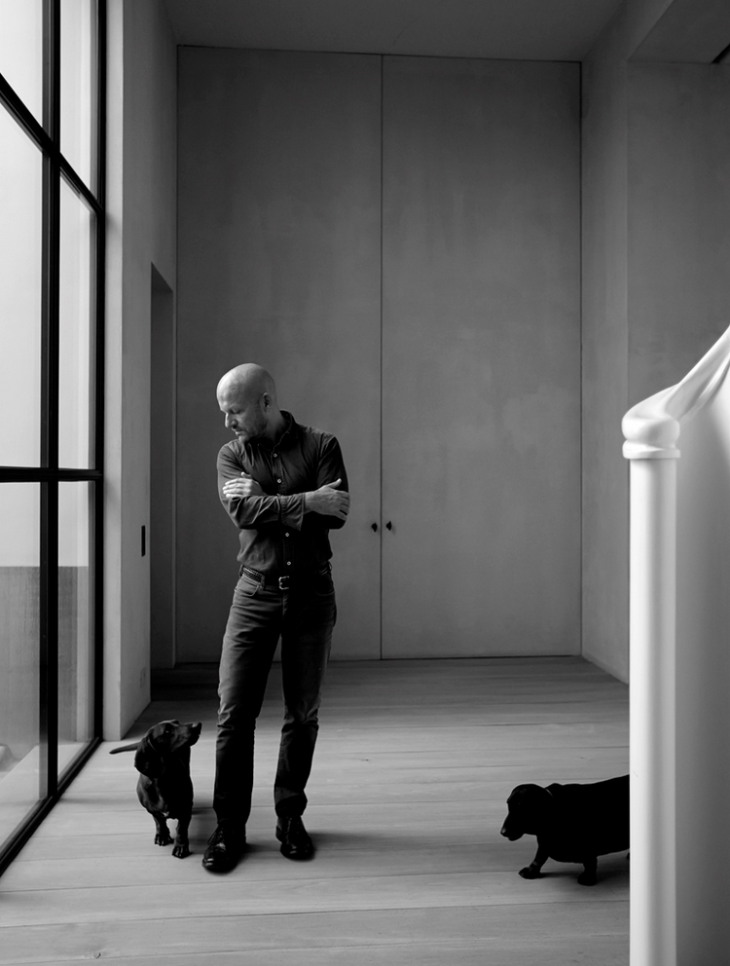 ---
Vincent Van Duysen, Gaston & Lou Lou
---
Iván Meade – In addition, what is your favourite design object from your own collection? Your favourite architectural project?
Vincent Van Duysen – Each project has its beauty and is unique within its context – this is the same for my design objects. Each project is an opportunity to learn and consider new ideas and explore new points of reference.
---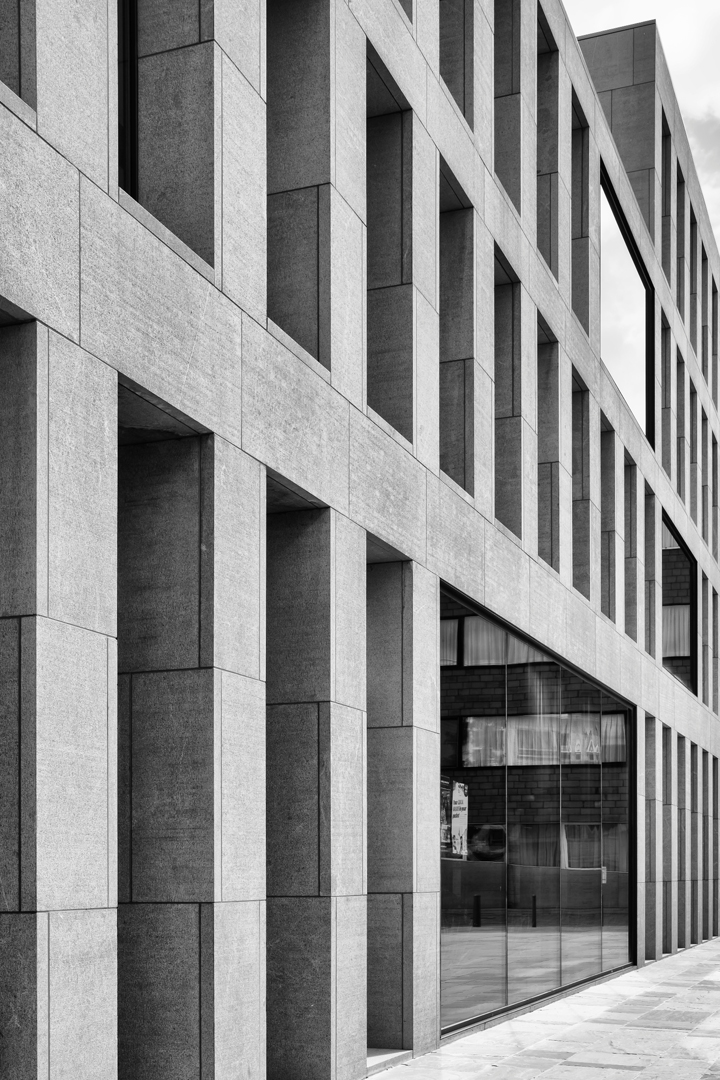 ---
Antwerp Youth Hostel by Vincent Van Duysen
---
Iván Meade – What is your favourite colour and why?
Vincent Van Duysen – My favourite colours are any that are naturally occurring or derived from nature; mud, bone, plaster, dove grey, moss green, or midnight blue.
---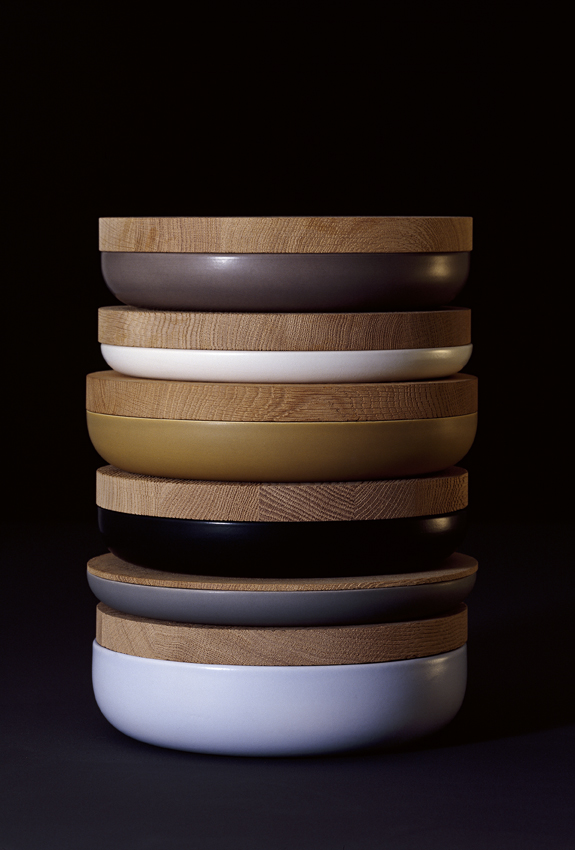 ---
Pottery for When Objects Work by Vincent Van Duysen
---
Iván Meade – Lastly, you have already created a stunning body of work.  What would you like your legacy to be?
Vincent Van Duysen – I enjoy sharing and being inspired and I think it is important to develop a collection of work that demonstrates a progression or evolution of thinking. I like that people refer to my work so far as timeless but it is important to me that work continues to be contemporary, surprising, and reaches people on an emotional level. As for my 'legacy'… that is not for me to decide.
---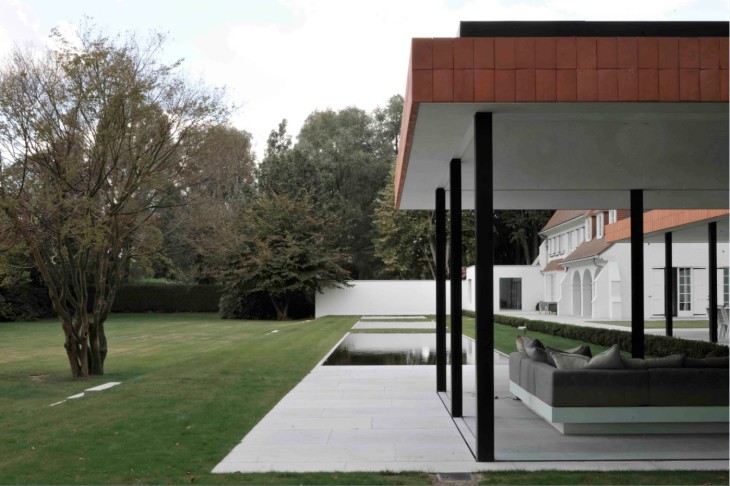 ---
VDC Residence by Vincent Van Duysen
---
I invite you to visit Vincent Van Duysen's incredible body of work at his website:
---

---