Last Tuesday, we successfully launched Iván Meade : A personal narrative in fabrics.
This is a project that started in my head as a dream over 10 years ago, when I had the thought of having my own line of fabric when I could not find a specific fabric that I was looking for to use in a project.  For the last 2 years we have been planning, and the last 8 months designing and testing the line which was an incredible, fun and personal project.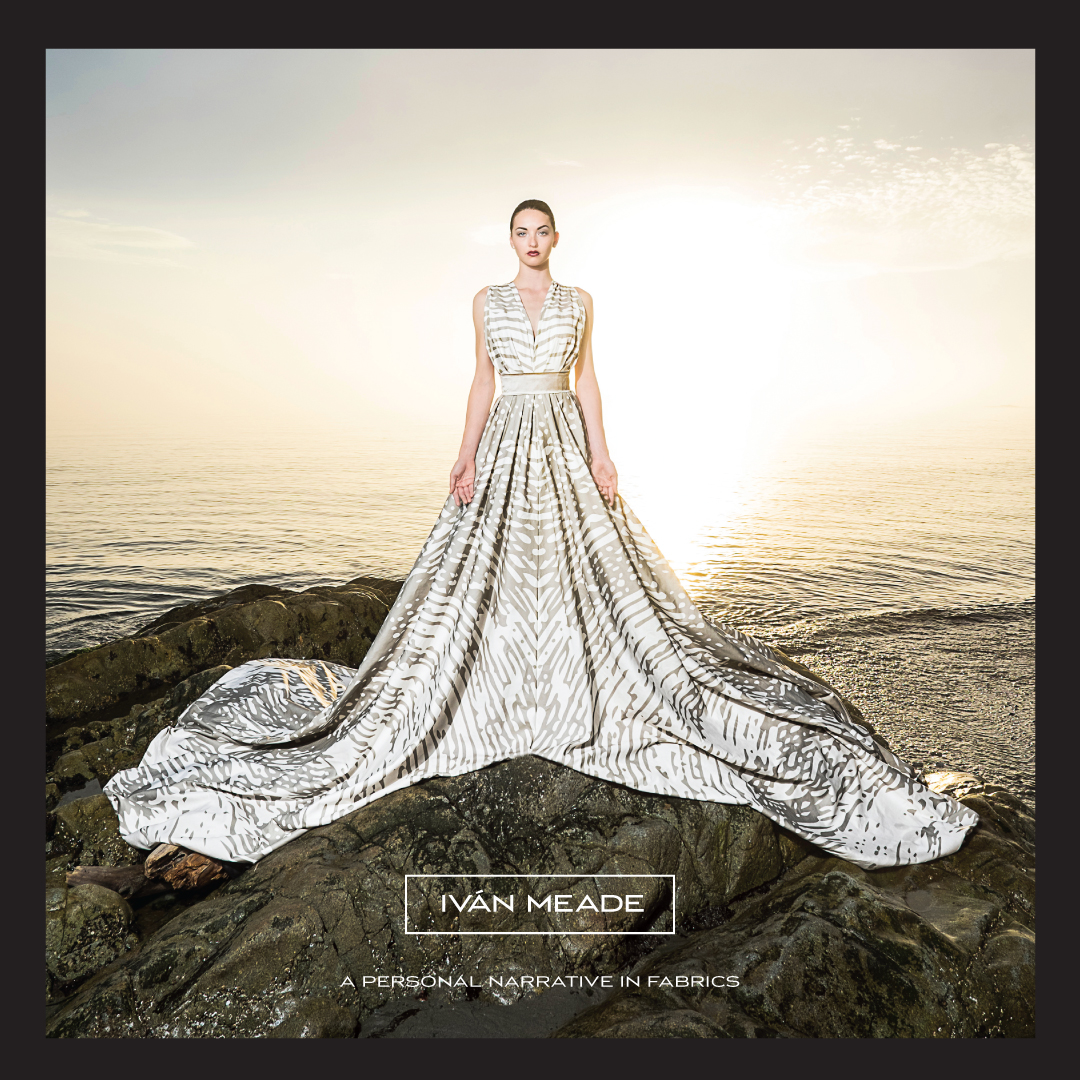 Photograph by Al Smith 
People always ask me how I can do so much, but the reality is that I could never done this project or any of my other projects without the help and enthusiasm of my incredible and talented team at Meade Design Group.  Echo Eaton-Thorne, Jordan Clarke, Jan Pingel, Jeff Michaud and the interns Jordan Mah and Rebecca Thomson –  I could see them getting close to chopping my head a couple of times, when I was being stubborn and coming up with concepts that I wanted to see in my patterns once we thought we were 'done', but I am glad they stuck with me and helped me to achieve our final product line , I am extremely happy with the result.

Meade Design Group team – Photograph by Joshua Lawrence
I was also very pleased with the work that my dear friend, Sarah MacNeill of Carte Studio did for me.  She is the talented photographer who took all of the detail shots of the line for our brochure and website – she also took the handsome photos of myself used throughout the branding.

Photographs by Sarah McNeill
Other than having the big satisfaction of designing and developing the line; one of the best parts of the experience was  to discover how amazing my community is in Victoria.
I wanted to share one of these experiences with you:
When I started planning the marketing for the fabric line I knew I would need an incredible image to be able to showcase a couple of the unique elements of the line –  The fact that the patterns book-match, how beautiful the fabric drapes and the elegance of the patterns. On top of this, I wanted a beautiful and memorable image.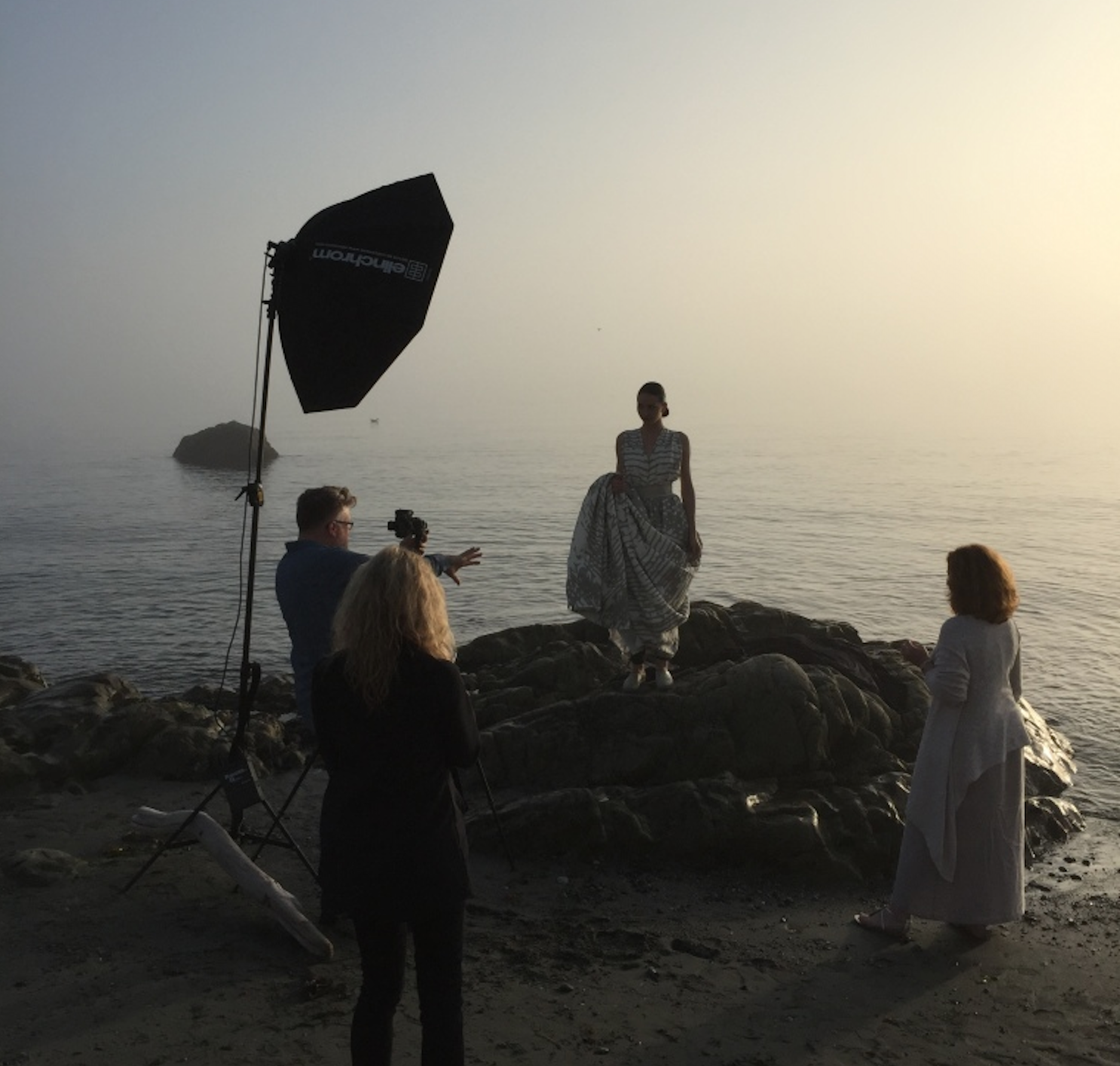 Coordinating the photo-shoot – Al Smith, Teresa Lindsay, Mary Rubin and Monika Kurc
For this image, my first thought was to contact my good friends Al Smith (I could not work with any other photographer for this image I knew he was the one) and his partner, fashion consultant and stylist, Teresa Lindsay from Vic42.   I already had the opportunity to work with them a couple of times, and I knew the playful eye and professional skills of Al mixed with the style and personality of Teresa was the Yin and Yang element I needed for the project.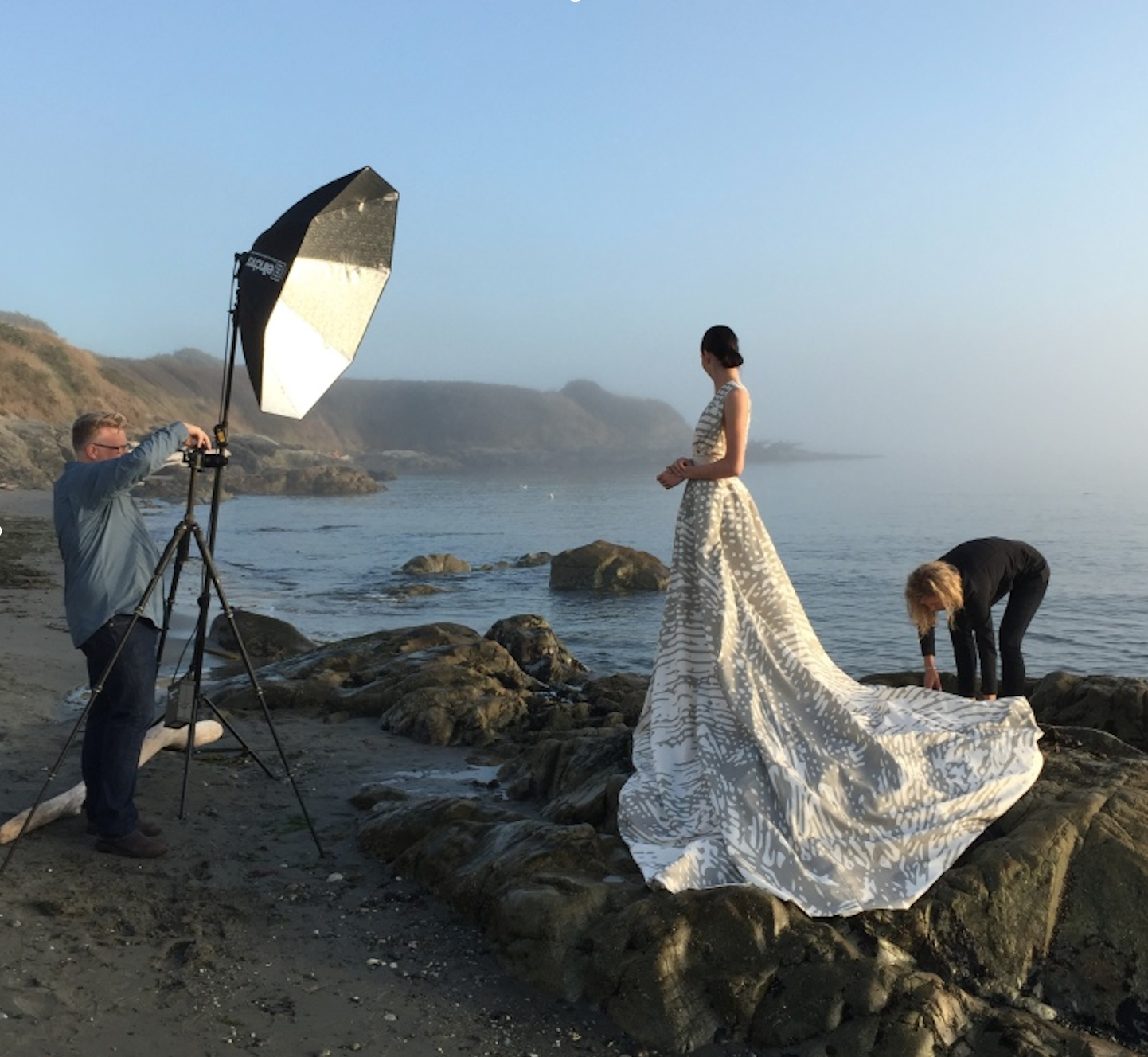 Al Smith & Teresa Lindsay in action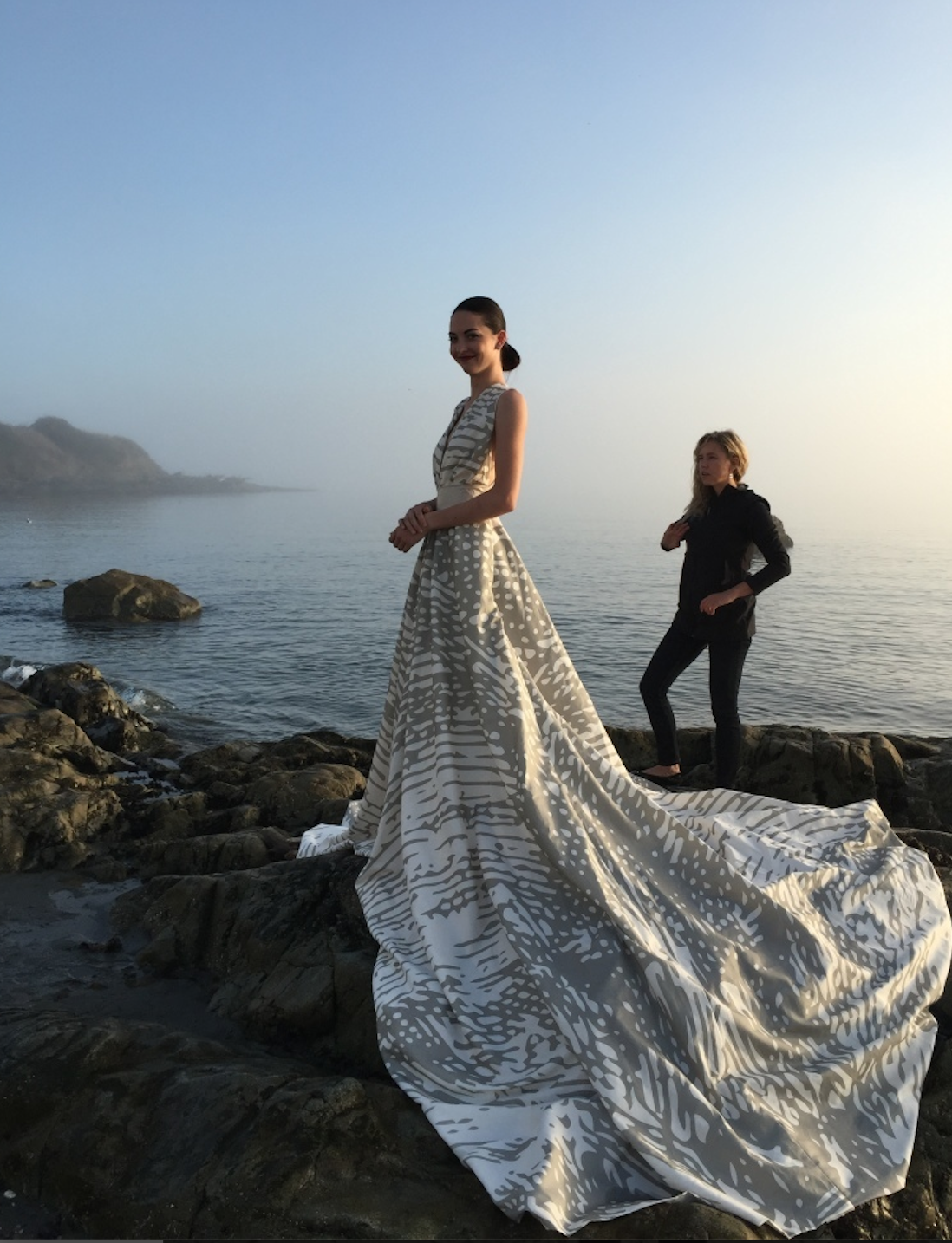 Teresa Lindsay and Mary Rubin getting ready
When I told them the idea for the shoot they where game before I even start telling them what I wanted to do.  It was a long process to come with the concept, but once we had it we were all in agreement that it was the winner.  I knew this was going to be a pretty amazing image.  Teresa rapidly helped me and found a gorgeous, I repeat, GOREGEOUS model – Miss Mary Rubin, an incredible make up artist Melodie Reynolds from Elate, and a flawless and precise hair stylist Renée Lalonde from Lab Salon.  With this team assembled,  I asked the help of my friend and one of the best stylists and haute couture seamstress I know in the city, Monika Kurc.  Honestly, this was the best team and also mother nature that gave us an incredible momento to capture the shoot.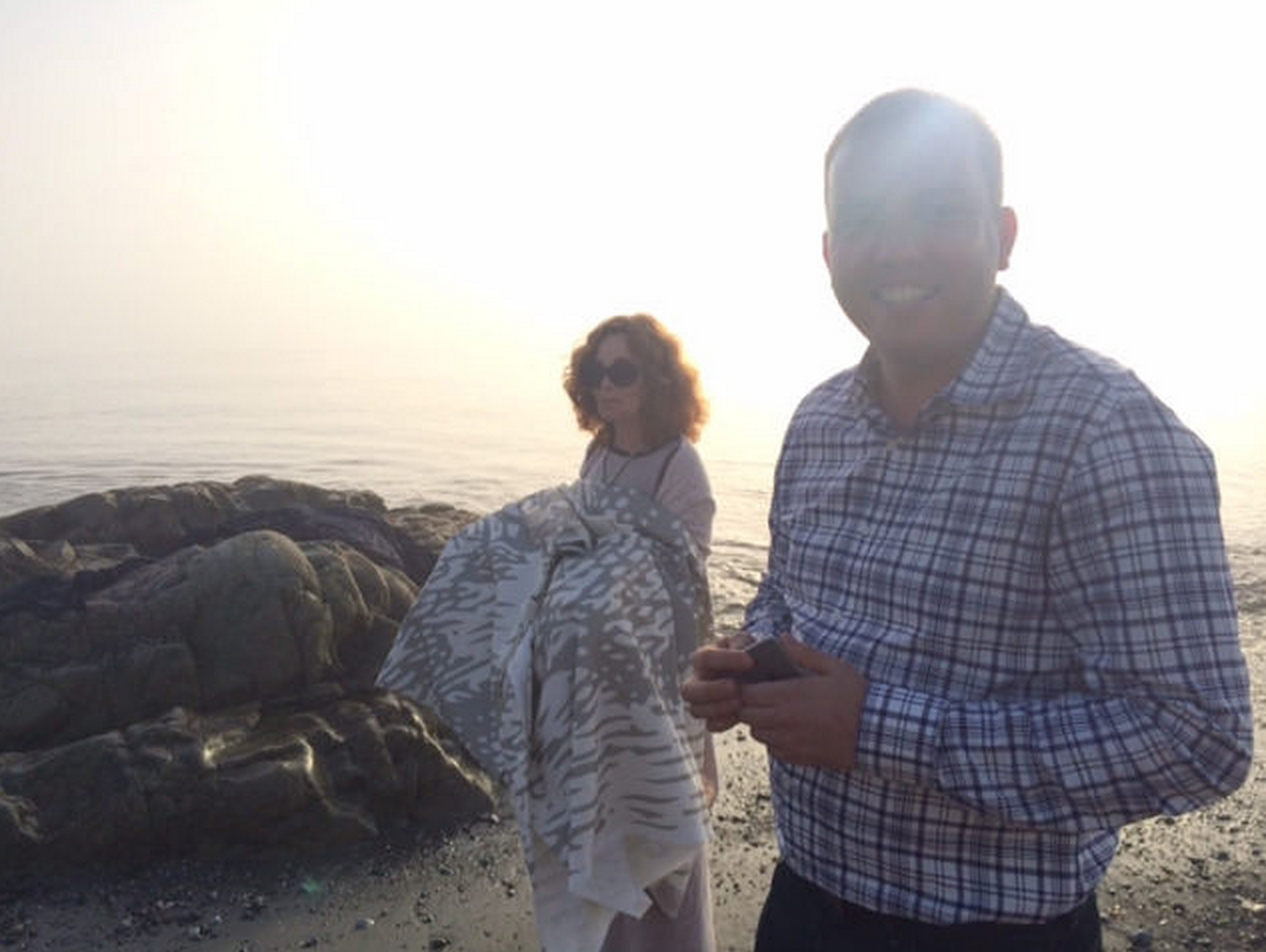 Monika Kurc and myself carrying the dress that was made with 12 yards of Grabado in Paloma fabric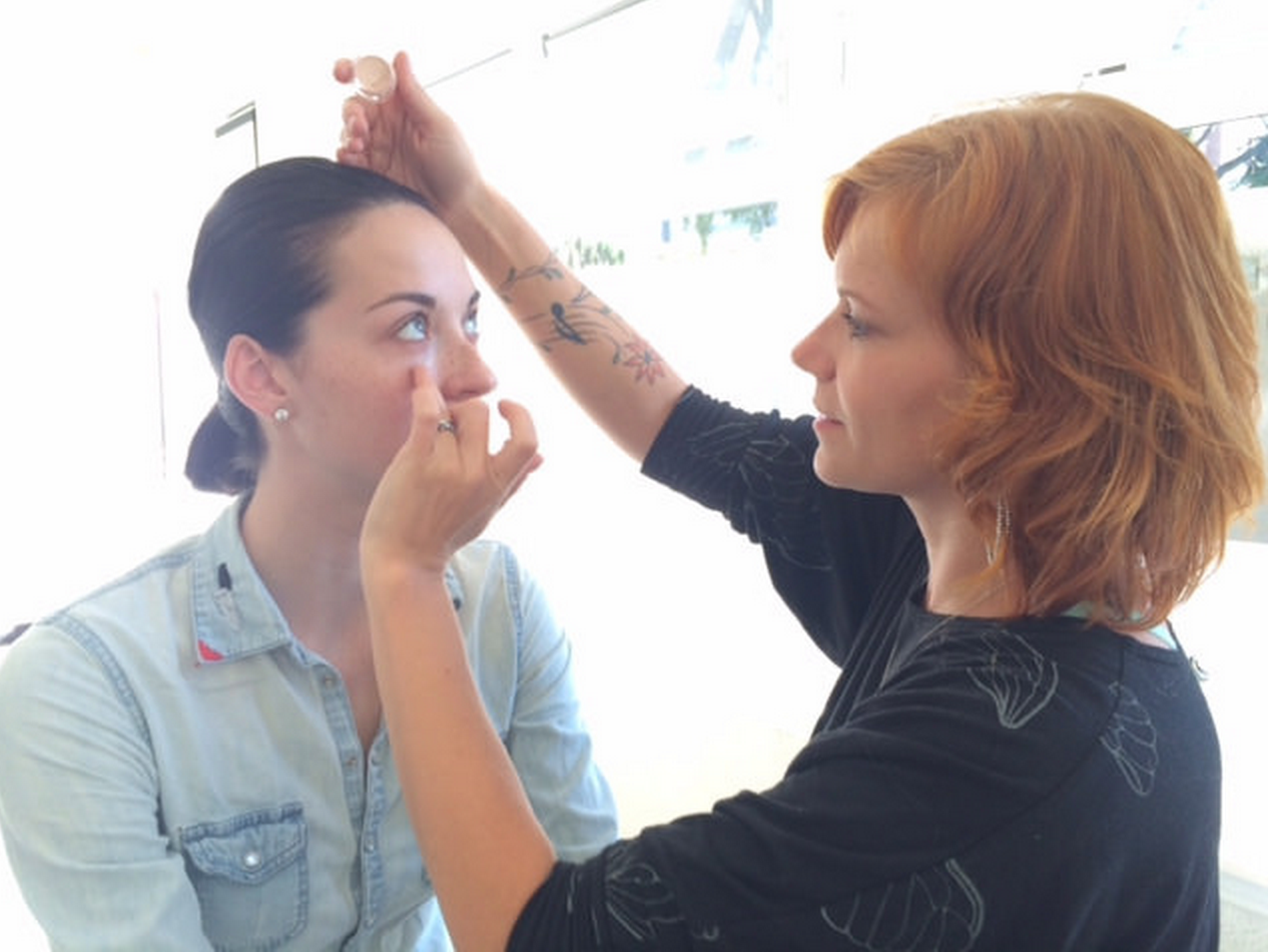 Model Mary Rubin and Melodie Reynolds from Elate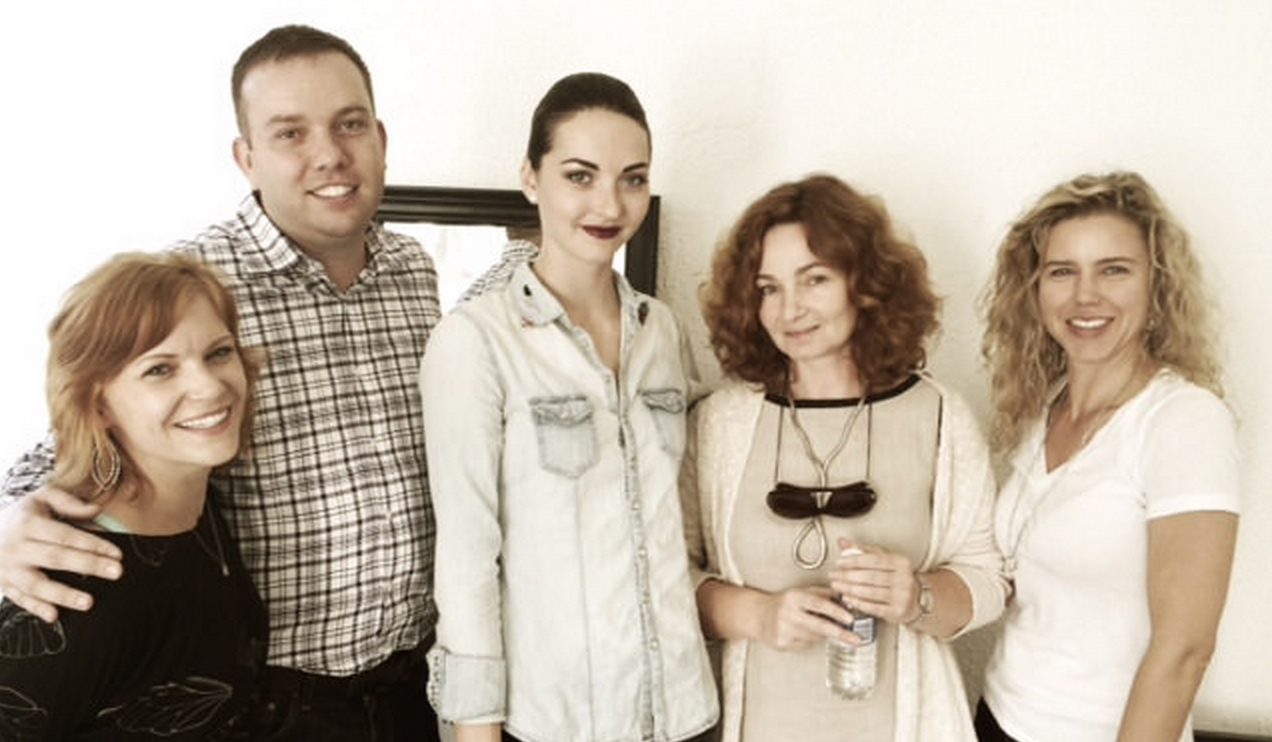 Melodie Reynolds, Iván Meade, Mary Rubin, Monika Kurc and Teresa Lindsay
I am so thankful for all of the encouragement I received, and know that it wouldn't have been possible without each and every supporter.
From the bottom of my mexican heart, GRACIAS! – THANK YOU! again.