---
Duane Ensing
---
As seen in SNAP November, 2011
I had the pleasure of meeting Duane Ensing earlier this year and knew he would be the perfect candidate for our 'In Conversation With…' series because not only is he a very talented and creative individual, he is also a local!
Duane Ensing Landscape Design is the go-to place for landscaping. They can cover the full gambit of landscaping needs, from consulting, to project management, to a full design/build including outdoor kitchens, lighting, drainage/irrigation, patios, water features and more. Duane is getting noticed for his work on a global scale, with features in Architectural Digest, Boulevard, and Homes & Living in addition to local newspapers. His outdoor spaces seem tranquil, relaxing, current, and of course – beautifully maintained.
I can't wait to hear what's next for Duane, please read on to get in on the conversation…
---
Iván Meade – What was your first experience with landscape design?
Duane Ensing – One of the greatest memories growing up in Vancouver was spending time downtown looking at and experiencing urban venues like Robson Square and the life that the landscape can bring to the space around you. I saw how the environment was changed by the use of art, architectural and landscape elements. I also loved the changes in gardens from season to season in successful landscapes. Those are some of the things that first piqued my interest and wooed my imagination.
---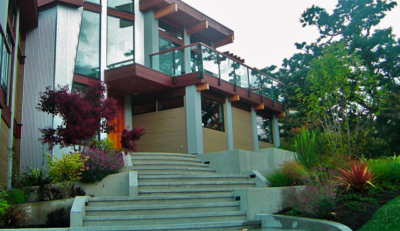 ---
Landscape by Duane Ensing
---
 Iván Meade – Who or what has influenced your style aside from nature itself?
Duane Ensing – Coming out of University with a BFA in Visual Arts has impacted the way I see the world and has allowed me to challenge and explore the limits of design we see everyday. I love architecture and working with it in the landscape to create a permanence that it can bring. Architects like Tadao Ando and Santiago Calatrava to name a couple, move beyond the traditional, but keep the simplicity and effectiveness of the design to the table. I like that, and aim to develop spaces and sculpt the landscape to work together in a cohesive design.
---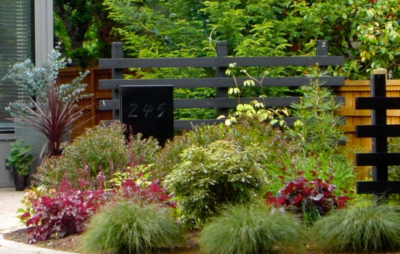 ---
Landscape by Duane Ensing
---
Iván Meade – What attracted you to a career in landscape design?
Duane Ensing – After starting in the landscape industry, I soon decided that a lot of what I saw on landscape plans was really quite generic and mundane to me. I picked up a pen, paper and my arts schooling, and began designing and sculpting landscapes. I found that the transition between creating sculptures at UVIC and creating landscapes were very similar in terms of building three dimensional settings in which to experience life. The time I spent working in a garden centre and installing landscapes aided in the knowledge base of what it takes to make a garden grow and be a successful space, aesthetically and practically.
I love meeting people and the challenge of a new solution to develop. The attraction of landscape design for me is the attraction of art and the creation process. Transitioning a piece of land into a space that inspires, extends your outdoor living environment or engages your senses are all ways to build and cultivate the imagination.
---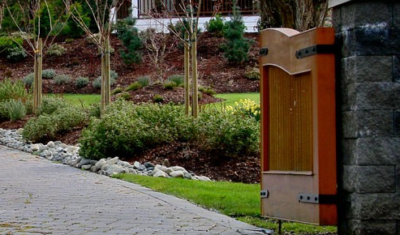 ---
Landscape by Duane Ensing
---
Iván Meade – What are gardens for?
Duane Ensing – When I think about gardens, I see engineering, I see architecture, I see nature. They are structured, complex and yet so simple. They are static and ever-changing. I see a garden as window into a room, a sculpture to examine, a book to read and a painting to engage with.
---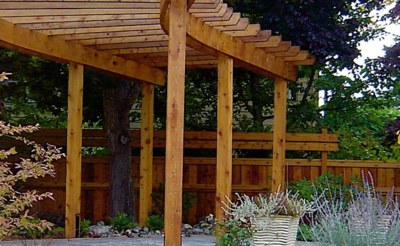 ---
Landscape by Duane Ensing
---
Iván Meade – Your designs are stunningly well balanced, modern yet timeless, spacious but not stark. How do you keep current in the garden design industry?
Duane Ensing – I like to keep up with several digital blogs and magazines, both garden and architectural, but also mix it up with unrelated industries to see if some new seed can be sown as a launching pad for my imagination. I love the surprises that emerge out of the mind.
---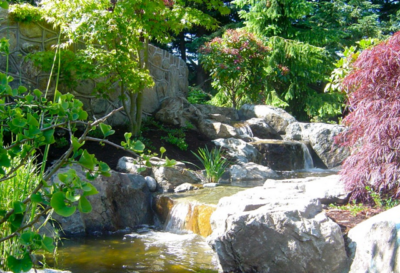 ---
Landscape by Duane Ensing
---
Iván Meade – One of my favourite characteristics on your landscape design is the use of water as a visual element – Why is water so important in your designs, what are your thoughts behind the use of water?
Duane Ensing – Water is everywhere. Life is everywhere. I like to include water in many of our projects to help bring life into the space and to develop an identity that works with the location, nature and our client. Designed right, and executed well, the inclusion of a water feature can establish an atmosphere and presence in a package that delivers for a long time, and with less maintenance and frustration than many people realize.
---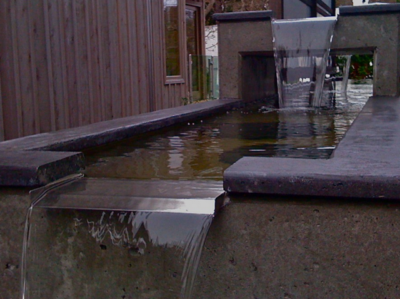 ---
Landscape by Duane Ensing
---
Iván Meade – How do you choose and position sculpture/art in the garden?
Duane Ensing – Art is all about relationship, on so many levels. What it evokes, how people react and interact with it. It can create surprise. It can help you speak. I find the best kind of solutions come through time as we build a relationship with our client. The personality of a client reveals to us what we choose and where it is placed.
---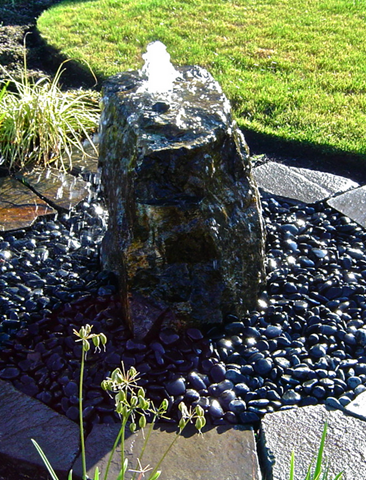 ---
Landscape by Duane Ensing
---
 Iván Meade – What kind of things do you have to keep in mind while creating a landscape design that the client might not realize is important for you to know?
Duane Ensing – I love getting to know my clients. Asking questions and keeping up with how they direct conversation reveals a lot about them, but I've found that moving the conversation to a dialogue unrelated to the landscape has led to many interesting and unexpected comments that have greatly impacted the design.
---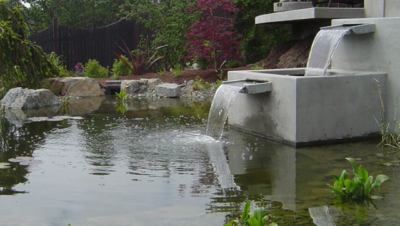 ---
Landscape by Duane Ensing
---
 Iván Meade –  Does your personality come out in your gardens?
Duane Ensing – Absolutely. Exercising my fine arts degree has helped me develop a style that enables me to express myself through what I do. Is it always the same? No, but there are definite elements which repeat that are expressed in the canvas of each landscape. Do I have one particular style? I'd have to say no again; rather its an expression that permeates each design.
---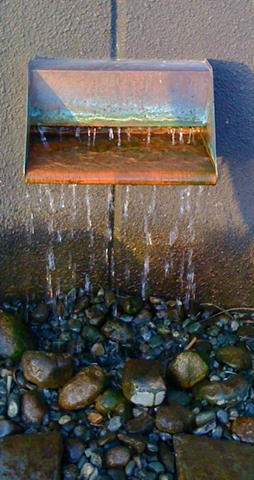 ---
Landscape by Duane Ensing
---
 Iván Meade – How do you want people to feel in your gardens?
Duane Ensing – I want you to look past the plants, and I want you to look at each leaf. I want you to see the landscape, but I want it to disappear. I want you to see natural beauty and I want you to be intrigued by intentional design. At the end of the day, I want our client to have peace with the creation we leave, and be able to relate well to the design intent.
---
---
Landscape by Duane Ensing
---
 Iván Meade – What's the most important lesson you have learned about making gardens?
Duane Ensing – That's a great question, and one that will be different for each designer. I believe as a designer, it would be scale and rhythm. These are two elements that are really uniquely key in any landscape space, but from a personal perspective, developing a trust relationship with a client is key by exercising honour and integrity at every turn on the path we are walking together.
---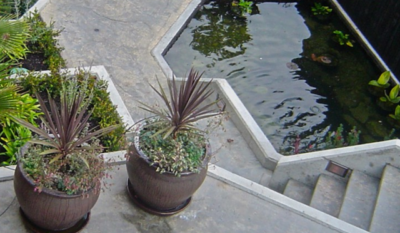 ---
Landscape by Duane Ensing
---
 Iván Meade – What project are you most proud of?
Duane Ensing –   I have pride in each project as it is designed and built, even as it continues to evolve  into the final product, but I'd have to say my proudest was one of the most fun projects as well. Great clients and an open palate to 'paint' with. It was a complex site, but the design and intent was carried out and completed in a way that allowed it to attain the 'People's choice' award, along with several other awards. It was the success of the completed spaces that satisfied me. I look at each space on it's own and treat each on like a separate project. At this site, the house, the landscape, and its context worked really well together in theory and fully built. I like to challenge myself to develop a broader sense of 'landscape' and 'garden' at each turn of the road, and to maintain an open mind to what lies ahead.
---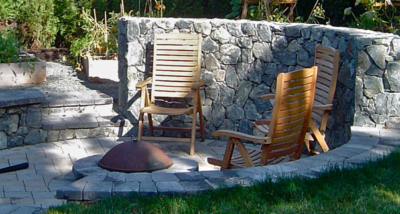 ---
Landscape by Duane Ensing
---
Iván Meade – What's next for Duane Ensing Landscape Design?
Duane Ensing – I have a strong desire and enthusiasm for design, and I so enjoy landscape design, but I also crave spending time re-establishing my own art and sculpture more. I'd really like to involve my children in this too and have them develop a journey and understanding of their own. Working with plants and working in art. Teaching them and leaving a legacy of what relationships and family mean. I'm currently expanding my own artistic palate to include painting – a medium I haven't worked with at school, but have recently found new passion in.
---
I invite you to visit Duane Ensing's website at: