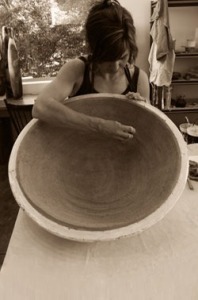 Samantha Dickie
I first met Samantha Dickie earlier this year when she approached Meade Design Group about creating a new graphic identity and website for her artwork, after taking a break to raise her young children. I was in awe of her pieces from the moment she showed them to me. They are delicate, organic, textural, sophisticated and primal all at once. I cannot wait to share her artwork and insight with my readers!
" I choose to work with clay because of its incredible tactility – clay is raw, visceral and versatile. It can be used as a medium in conventional as well as unconventional ways: to create textural and abstract forms and surfaces that entice a sensory experience and create an altered spatial awareness. I love the rich history of ceramics from the ancient remnants of utilitarian objects to conceptual modern installations." – Samantha Dickie, excerpt from her Artist Statement
Samantha has been working with her primary medium – clay – since 1996 and has developed a signature style that has become sought after by art collectors and designers alike. She has had the opportunity to exhibit her work, as well as continually educate herself in her craft throughout Western Canada. I am so excited for Samantha and her return to her beautiful artwork, please read on to find out what Samantha Dickie has in store for her fans…
Iván Meade – What was your first experience with Sculpture?
Samantha Dickie – Studying Inuit sculpture during my undergrad in the artist cooperatives in the Northwest Territories and Nunavut, particularly on Baffin Island.  But the sculpture that has really struck me has been that which I have sought out over the last 15 years in catalogues and galleries across the world.  Sculptural ceramic work by Hans Coper, Peter Voulkos, Rudy Audio, and Marea Gazzard were early inspirations for working with clay in an unconventional way.  The installation work of Dale Chihuly, Ernesto Neto, Anish Kapoor, and Antony Gormley, has blown my mind with the quality of material and intention.  Interacting with their work and the space it envelops is overwhelming when considering and absorbing its scale, its detail, and its ingenuity.  I love how sculpture and installation can create such a demonstrative experience for the viewer.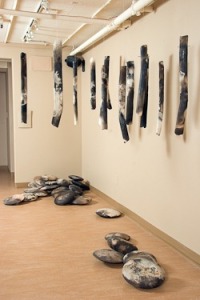 Sculpture by Samantha Dickie
Iván Meade – How would you describe your style?
Samantha Dickie – Contemporary ceramic sculpture and installation using multiple components to illustrate a narrative with an aesthetic that highlights the raw, visceral and tactile nature of clay.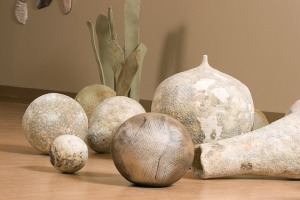 Sculpture by Samantha Dickie
Iván Meade – If you could pick one word to describe your work, what would it be?
Samantha Dickie – Organic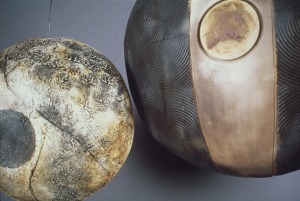 Sculpture by Samantha Dickie
Iván Meade – What made you choose ceramic as your primary medium?
Samantha Dickie – It's tactility.  I think that's what makes every ceramic artist fall in love with the medium.  Working with clay is like playing in the dirt.  It's grounding, and expansive; physical and intuitive.  It's an amazing material to work with.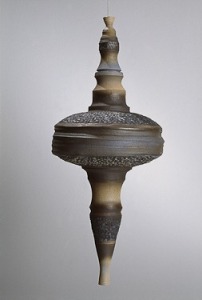 Sculpture by Samantha Dickie
Iván Meade – Why is texture such an integral component of your work?
Samantha Dickie – Imprinting texture into the work, or using textural glazes keeps that same earthy, organic quality to the finished piece that is so seductive in working with raw clay and it's amazing malleability.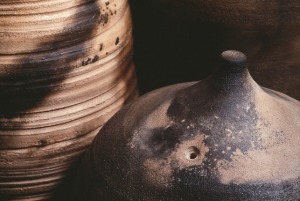 Sculpture by Samantha Dickie
Iván Meade – You have accomplished something very unique when one sees a piece of yours, it doesn't matter if it is a single piece, an installation, they all evoke emotion.  All these pieces have been created by you.  How do you achieve this emotional resonance with your pieces?
Samantha Dickie – Working with simple forms and organic surfaces often evokes a memory, a reminder of a place, a space, experience or feeling that people resonate with.  Perhaps it is a reflection of the process of working with clay, which as I said, can be grounding, and expansive.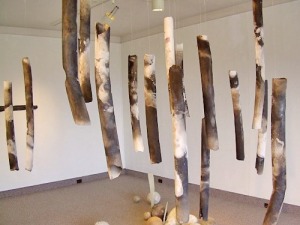 Sculpture by Samantha Dickie
Iván Meade – What do you do to keep inviting the inspiration to come – Do you have other passions that recharge your creative juices?
Samantha Dickie – Travel is a huge source or inspiration for me. It recharges me and stokes me up to be in life, to create, and to observe.  Details of urban spaces, coastal rhythms and natural landscapes all come out in my work.   My list is long for the next places to experience.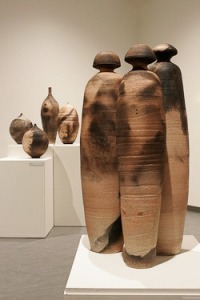 Sculpture by Samantha Dickie
Iván Meade – As a successful artist, are there any words of advice or lessons learned that you can share with working artists ready to take their art to the next level?
Samantha Dickie – Keep inspired, pay lots of attention to detail, and professionally document your work so that you can always present it well.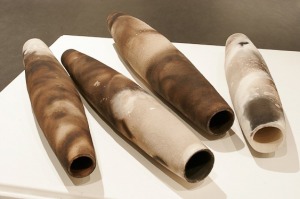 Sculpture by Samantha Dickie
Iván Meade – What are your thoughts about the art scene in Victoria, specifically the ceramic sculpture scene?
Samantha Dickie – I haven't seen a lot of ceramic sculpture, although there are extraordinary internationally exhibiting ceramic artists in and around Victoria (such as Robin Hopper, Meira Matthison, Cathi Jefferson, Wayne Ngan, Gordon Hutchens, and others).  I'm always interested to see ceramic work that is unconventional, and I think that Victoria would greatly benefit from exhibiting more contemporary sculpture, of all media including ceramic, particularly as public installation.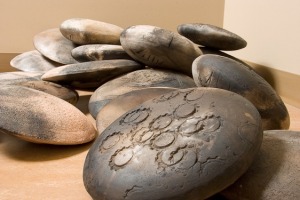 Sculpture by Samantha Dickie
Iván Meade – What are you currently working on, what is the new and exciting with your work?
Samantha Dickie – I'm excited to be working on a new body of work that is just starting to unfold which will include a new installation, as well as individual sculptures, likely some of it intended to be installed outside.  And I'll be focusing my attention this year to new glazes, textures, and photo transfer while I work in a new large reduction kiln that I've installed in my studio.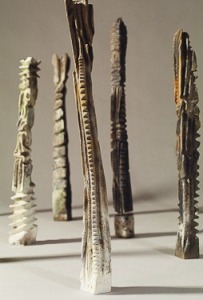 Sculpture by Samantha Dickie
Iván Meade – You have already gone through many transformations with your work and found great success, what would you like your legacy to be?
Samantha Dickie – To work with clay in an unconventional way as a part of an exciting direction and community in ceramics that focuses on the creation of contemporary sculpture and installation.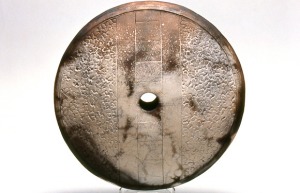 Sculpture by Samantha Dickie
I invite you to visit Samantha Dickie's website at: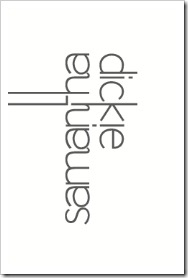 Ivan Meade is a local designer and principal of Meade Design Group, a multidisciplinary interior and graphic design studio in the heart of downtown Victoria –www.meadedesigngroup.com