---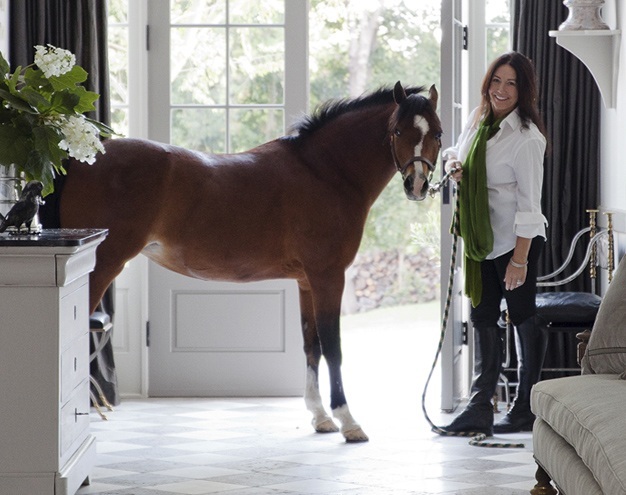 ---
Windsor Smith
---
Master of eclecticism, Windsor Smith has made a name for herself as a "Lifestyle Architect". With a flair for layering different texture, sheen, pattern and style combinations – never without antiques, she achieves an elegant, well lived-in and comfortable aesthetic. Windsor pays special attention to the details – rumour has it she once visited her glass-maker while he was working on one of her projects to make sure the leading would have just the right amount of "wobbling" to mimic glass from days gone by.
Interior designers world-wide are familiar with Windsor's fabric collection for Kravet which is full of crisp linens with geometrics, seersucker, stripes and beautiful solids in a multitude of materials and colours, she also has a collection of furniture including ottomans, chairs, pillows, mirrors, rugs and case goods.  She has also been featured in magazines such as Domino, Traditional Home, House Beautiful, Vogue Living and Veranda. An interview with Style Compass magazine even reveals that Kansas-born Windsor was not only a Roller Dance champion when she was 8, she was also the most profitable girl scout in her region, when it came time to sell cookies young Windsor donned tap shoes and a feather boa to give her a leg up from her competition.
---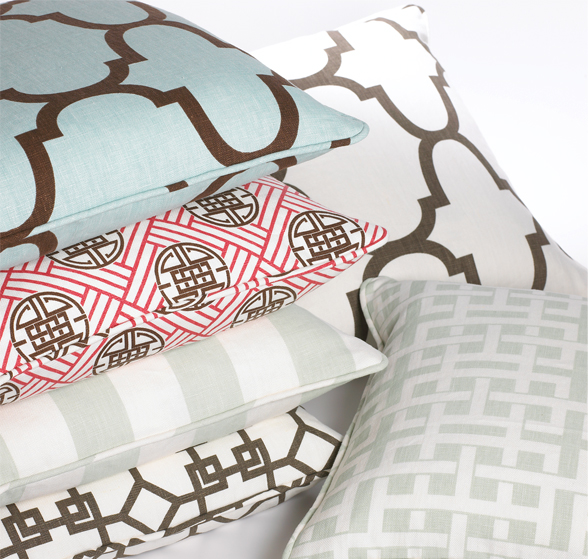 ---
Windsor Smith's Fabrics for Kravet
Windsor's design sense is self-taught, but she has a world of experience in the arts field; previous careers include theatre, dance teacher, and an award winning children's fashion designer (with her friend) of a line called "Baby Duckies". After her success with "Baby Duckies", Windsor wanted to be able to spend more time with her young sons; she had always had a passion for antiques and decided to go to Europe to bring some finds back to California where she opened her own antiquities shop. This move ignited her design intuition and she began creating spaces for clients, eventually moving into design full time – Windsor's studio is now based out of Los Angeles, California where she lives with her husband, two sons, and dogs.
I love the description she posts on her website about why she loves her career: "I like to create libraries where men with names like Howard, Bing and Spencer sat in cashmere sweaters and contemplated the 13th hole on the Bel Air golf course. I am drawn to a simple but elegant time when the women were so legendary that surnames weren't necessary…. Slim, Babe, Coco… I'm so fortunate. Imagine… a career that beckons me to blend architecture and style with the romance of history…. I can't think of anything more delicious."
I am delighted to post this interview and get Windsor's input on design. Please read on to get in on the conversation…
---
Iván Meade – What was your first experience with design?
Windsor Smith – I was designing tap dancing costumes at 5 and incessantly moving around my canopy bed as a child. Either in front of the window where it captured the light,  to the middle of the room, never against the wall, that was too ordinary!
---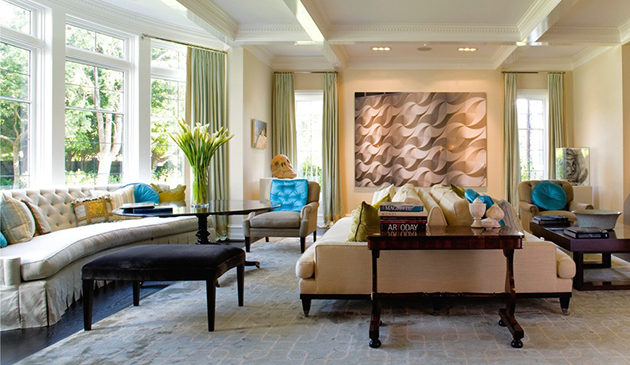 ---
Interiors by Windsor Smith
---
Iván Meade – You always respect the traditional with a fusion of modernity.  I believe this is what makes your style.  How do you achieve this?
Windsor Smith – By adhering to classic principles of design, and then infusing our new lifestyles and sensibilities into them.
---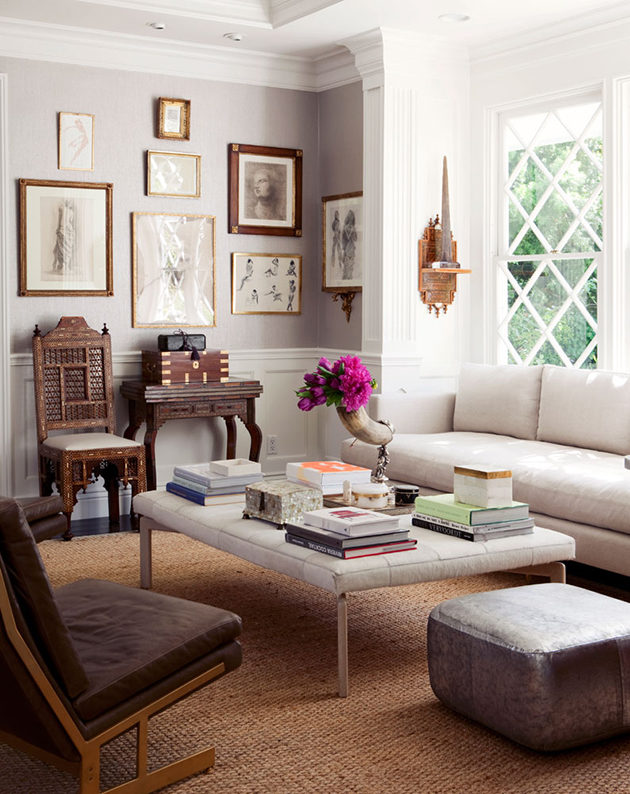 ---
Interiors by Windsor Smith
---
Iván Meade – Your furniture line is exquisite – One of my favourite pieces in your collection is your Entry Round Settee, What inspired you to include a piece that is no longer commonly used in today's homes?
Windsor Smith – It inspired me that is is no longer commonly used in today's homes!!! Its the NEW Victoriana! I love the romance of it and the fact that it can hold 4 handbags or napsacks and a clutch of coats! civilized without the fluff and pomp! I favour it covered in a broad cloth or linen rather than velvet……
---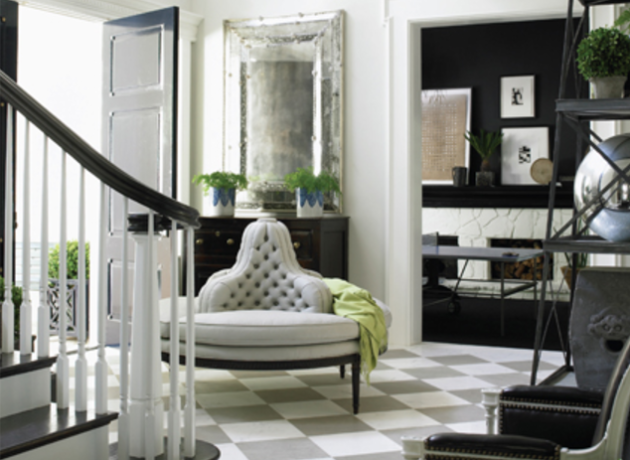 ---
Interiors by Windsor Smith
---
Iván Meade – What do you look for in a furniture piece? Or, in other words, you are very selective in what goes into your designs, what makes a piece important enough to be used in your projects?
Windsor Smith – That if functions well in a space, that its proportions are graceful, that it evokes a mood, and that we know we will look and feel good sitting on it!
---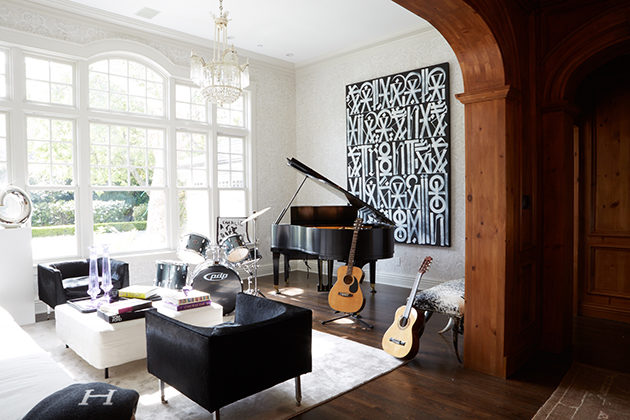 ---
Interiors by Windsor Smith
---
Iván Meade – What is your approach to life style and design?
Windsor Smith – That now more than ever, we must blend the two. A designer must be diligent in ensuring that design supports our lives that are spinning out of balance. We must design how we live through our environments, by providing rooms with purpose. Rooms that actually navigate the energy of the household, and promote togetherness with our families and friends. We are at risk of that which is soulful and romantic in life evaporating with technology driving us all into individual exiles with our computers, blackberrys etc. Our children are socializing virtually, we are texting in the shower, language, folly, and the art of communication must be worked into our rooms. It is more than just beautiful rooms, we need to create sanctuaries, meeting places, dining opportunities that draw us into those spaces thus into those vital experiences. We have put the "living" back into our living rooms!
---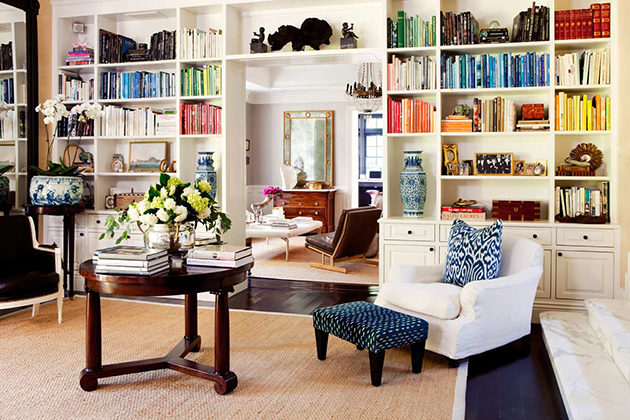 ---
Interiors by Windsor Smith
---
Iván Meade – You have accomplished something very unique with your fabric collection for Kravet – The patterns you have created are obviously inspired by your travel experiences and have become trademarks under your name – How did  you achieve that?
Windsor Smith – I was hungry for simplicity in pattern without losing vibrancy. My first fabric collection really speaks to that desire. Iconic graphic patterns that simply imply their origin. I wanted a collection that was easy on the eyes while inviting us to play! You will see an expansion of this philosophy as I have expanded the collection and am currently designing my new outdoor collection coming out in Spring. Think Tahiti or Acapulco in the 1950's. Glamorous Polynesian but again using simple iconic elements that simply evoke a feeling. Textures that remind us of thatch, palms and block print turtles that look almost like labyrinths, and then there is matte gold and lots of white. My palette is soft shell pink, citrine, verdant green, aqua and sand. It is really a dreamy collection. Also infused with wovens which is new for my line.
---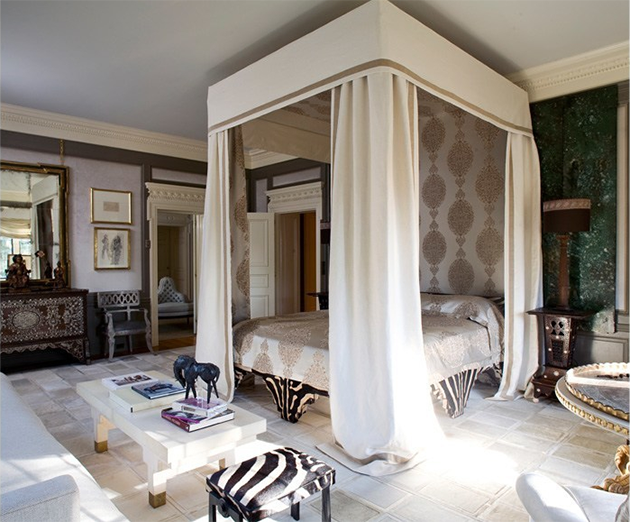 ---
Interiors by Windsor Smith
---
Iván Meade – What is the message behind your title "lifestyle architect"?  I think is a very clever statement but what does this phrase mean to you?
Windsor Smith – I have always felt an awesome responsibility to help build ceremony and opportunity for nostalgia into the architecture of every room. Though I love a pretty room as much as the next designer, we have much more to do than simply that. I believe that the architecture of a room can forge a deeper relationship between siblings, enhance a marriage, designed with thought and care, good design can actually transform lives.
---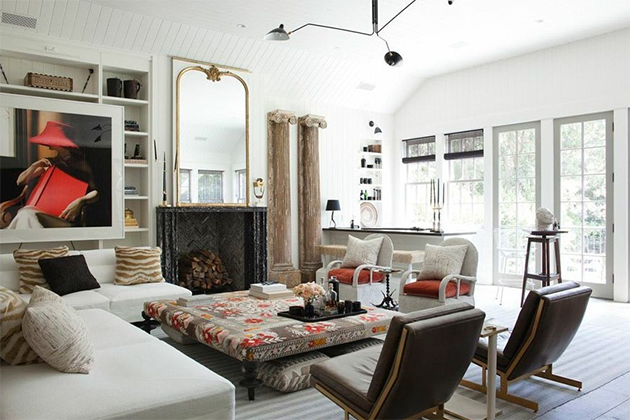 ---
Interiors by Windsor Smith
---
Iván Meade – Who would you like to design something for?
Windsor Smith – I would like to design a school for autistic school children
---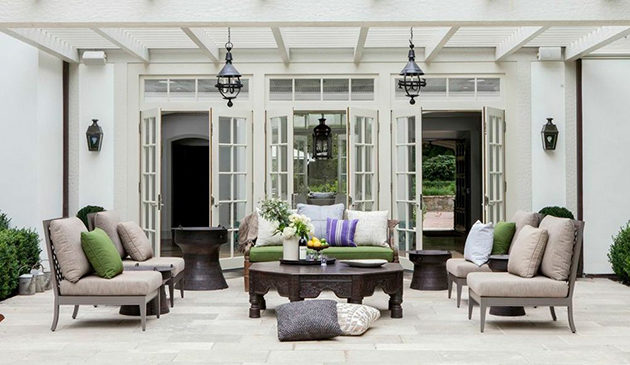 ---
Interiors by Windsor Smith
---
Iván Meade – What is your newest venture in design?
Windsor Smith – I am building an equestrian estate and working on a book that is as much philosophy as it is pretty pictures!
---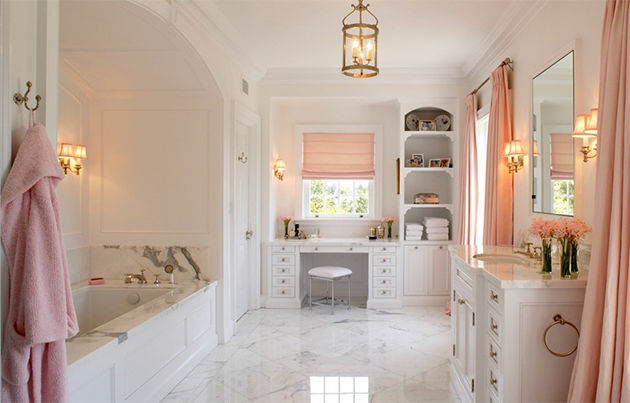 ---
Interiors by Windsor Smith
---
Iván Meade – You have already created a stunning body of work with many mediums and styles, what would you like your legacy to be?
Windsor Smith – That my rooms fill the pages of family photo albums and my furniture is handed down through the generations!
---
Ivan,
Thank you so much for finding my work worthy of your journalism! I am honoured to be among the talents you have illuminated!
Warmest,
Windsor
---
I Invite you to visit Windsor Smith website to discover more of her fantastic body of work.