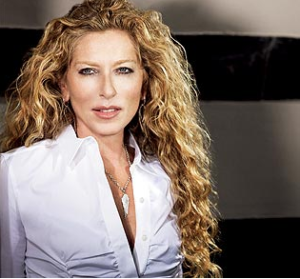 Kelly Hoppen
You can't even have a design conversation without the mention of Kelly Hoppen nowadays; Since starting her business at sixteen and a half years old, the British Designer has created an empire for herself including not only her design services, but also a retail shop where she designs rugs, fabrics, paint, ceramics, shutters and bath fixtures… oh, and did I mention that she is also an author? For heaven's sake, this woman is so accomplished, she even received an MBE from the Queen in 2009!
Tailored, refined, simple, classic, crisp, luxurious, sophisticated, opulent… all are words that come to mind when asked about Kelly's designs. She runs the gambit from residential, commercial, architectural, hospitality, yacht and product design – she has even designed the interior for the first class of British Airways! Of course, each project is different but they all seem to share an aesthetic that is uniquely Kelly Hoppen; featuring clean lines and soft palettes with accents of antiques, colour or texture.
Kelly is so good at what she does that she even has her very own design school, "Kelly Hoppen Design School" is located in her studio at Notting Hill. Students are able to catch a glimpse of Kelly's design process and learn several of her trade secrets and sources. If you can't afford to fly to England to study at the design school, Kelly offers great design insight in her books, "Close Up", "Kelly Hoppen Home", "Table Chic", "East Meets West", "Kelly Hoppen Style" or "In Touch". She has also been featured in countless magazines globally including Metropolitan Home, Architectural Digest, Casa, Harper's Bazaar, Elle, Instyle and Interior Design (US and Japan).
So let's get on with it!, I know you are all dying to dive in so please read on to get in on the conversation…
Iván Meade – What was your first experience with design?
Kelly Hoppen –  My first experience of design was a project for a friend of my father, I designed his kitchen, I think i was around 17 at the time.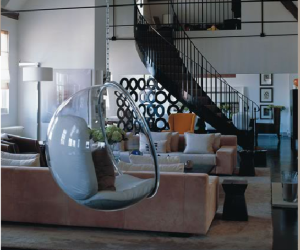 Interior Design by Kelly Hoppen
Iván Meade – What is your approach to lifestyle and design?
Kelly Hoppen –  Design wants you want and love, but design using how you want to live as the inspiration rather than solely aesthetics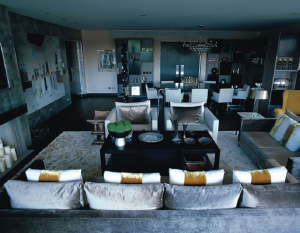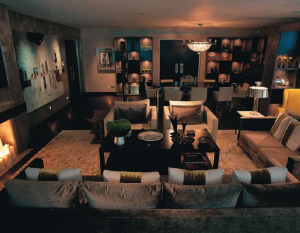 Interior Design by Kelly Hoppen
Iván Meade – You always respect the traditional with a fusion of modernity.  I believe this is what makes your work stand out and remain current.  How do you achieve this?
Kelly Hoppen –  I have always kept true to my design principles rather than being led but a current trend, and this in turn has created the 'Hoppen' style, I want my designs to be timeless and elegant.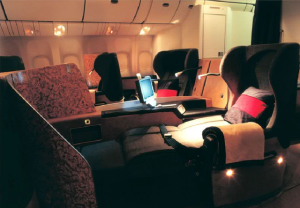 British Airways Design by Kelly Hoppen
Iván Meade – You have accomplished something very unique in the interior design world creating a strong, extremely well recognized and beautiful signature style – In this same manner your style keeps evolving – How or where do you find your inspiration?
Kelly Hoppen –  My inspiration comes from my down time, when I am relaxing it just comes to me.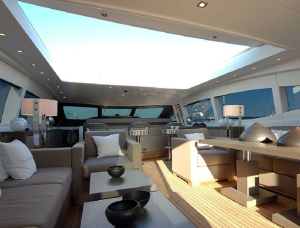 Yacht Design by Kelly Hoppen
Iván Meade – You are also known as the "Queen of Taupe" – Do you have a new colour in your repertoire that is really speaking to you?
Kelly Hoppen –  I do not have an aversion to colour, I just feel that you should design around a base of neutrals that will not date your home and then accent in colour perhaps using fabrics, a star furniture piece or even art.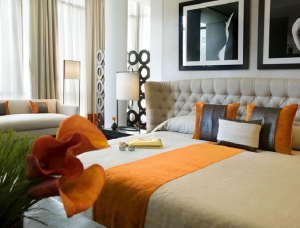 Hotel Murmuri Barcelona designed by Kelly Hoppen
Iván Meade – I had the pleasure of reading all your books, they are not just beautifully designed,  they also contain very valuable information.  Are you planning to write more books?
Kelly Hoppen –  I am currently in the final stages of writing my new design book which will be released in February.  I am also working on a business book as well as my autobiography.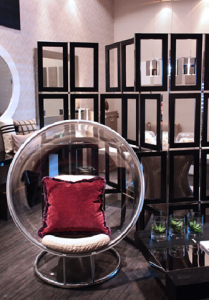 Furniture Design by Kelly Hoppen
Iván Meade – How would you describe the value of design?
Kelly Hoppen –  I feel that design is very important, especially in the home. Home is your sanctuary, it should reflect who you are and how you live your life. It should be the most important place to you.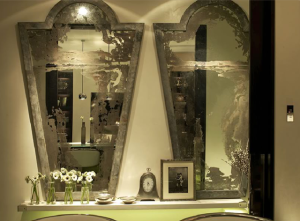 Interior Design by Kelly Hoppen
Iván – Which project are you most proud of?
Kelly Hoppen – My latest project for a private client, the end result is phenomenal.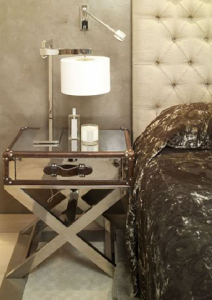 Interior Design by Kelly Hoppen
Iván – Who would you like to design something for?
Kelly Hoppen –  Cheryl Cole, I could create the perfect nurturing sanctuary for her after everything that she has been through in the past year.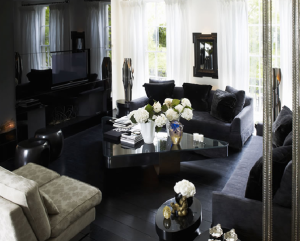 Interior Design by Kelly Hoppen
Iván Meade – What is your newest venture in design?
Kelly Hoppen – I am constantly trying new things, from designing my fashion range with Earth Couture, designing wall art for Graham & Brown, designing a Kelly Hoppen Boat for Pearl Yachts the list goes on!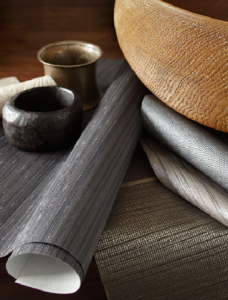 Wallpaper Design by Kelly Hoppen
Iván Meade – You have already created a stunning body of work with many mediums and styles, what would you like your legacy to be?
Kelly Hoppen –  I would like to be remembered for pioneering a style, the 'Hoppen' style. For creating a way for people to live that is timeless, elegant and Taupe 😉