As seen in SNAP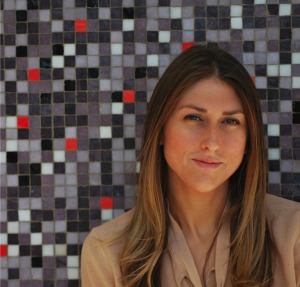 Kyla Bidgood
You may recognize this name around town – and I believe it will only continue to become more recognized as her career forges ahead – the name is Kyla Bidgood, a registered interior designer right here in Victoria BC. Kyla has been featured in local publications, is very active in the design community (including being a committee member for IDIBC: Vancouver Island Chapter) and has done some guest speaking at design events. You may even recognize her from right here on our blog, we had previouslyinterviewed Inoui Design in 2010, but with change in environment comes change in perspective, and I wanted to follow up with Ms Bidgood for a fresh new interview.
She now has her own boutique namesake firm, Kyla Bidgood Interior Design, after years of experience with some of the best designers in the city. I couldn't describe her philosophy better than these words which come straight from her website: "With every project I strive to open my client's eyes to new possibilities, spatially translating their brand or style into an interior that surpasses their initialvision. I create meaningful and enduring environments that perfectly align with both my client's budget and needs".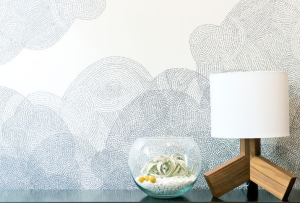 Interiors by Kyla Bidgood
Taking on projects from various fields – residential, commercial, and hospitality alike – she approaches each one with passion which has had award winning results. With her attention to detail, innovative thinking and approachable attitude, it's not wonder Kyla has a long list of happy clients with beautiful spaces.
Ready to find out what Victoria's young design scene is up to right now? Read on to get in on the conversation…
Iván Meade – So, what's new since we featured you last?
Kyla Bidgood – Quite a bit! I tested the corporate waters and worked for a large design firm for 6 months, on a range of large-scale projects including a university, a hospital and several airport concessions. I love commercial work, but what I found most valuable from the experience was re- discovering where my heart truly lies: with highly creative, boutique projects. You can really only have complete creative control with projects of a certain size. So I ventured out solo working under my own name, with a focus on out of the box retail, hospitality, office and residential projects.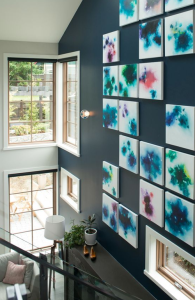 Interiors by Kyla Bidgood
Iván Meade – What are you excited about right now in the world of design?
Kyla Bidgood – No surprise here: I get geek-giddy over colour and pattern. Bold repetition, mixed with the right combination of scales & textures is perfection in my world. Throw in a bright pop of colour in an unexpected place, like hardware or fixtures, and that's the cherry on the cake. I also love incorporating unexpected historic details into modern spaces, like turned wood spindles or abstract patterns tufted into upholstery. But ask me tomorrow and the list would be completely different. I have commitment issues when it comes to design, everyday I'm excited about doing something new.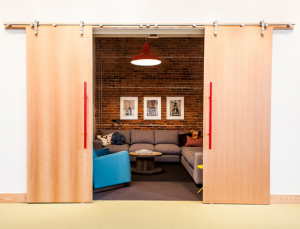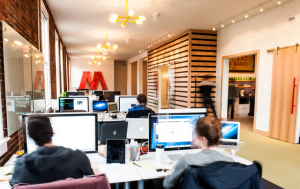 Interiors by Kyla Bidgood
Iván Meade – What is on the horizon for Kyla Bidgood interior Design?
Kyla Bidgood – I've recently started a magical collaborating with the multi-talented and graphically gifted Sarah McNeil. We've pooled our skills and similar aesthetic to seamlessly integrate interior design with window graphics, custom wallpapers & signage for Blenz Coffee in Vancouver. A well-branded company goes beyond a logo, the entire experience from the second you step in their door should communicate a company's culture, values and vibe. Understanding a companies brand and developing their branded interior is something I thrive at.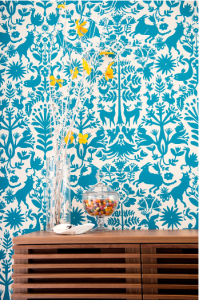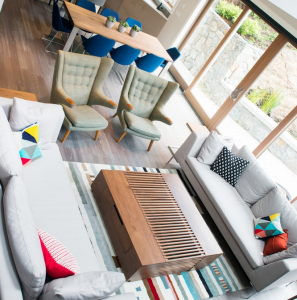 Interiors by Kyla Bidgood
Iván Meade – What would be your dream project?
Kyla Bidgood – I am busting at the seams to do a restaurant. Since I'm hopelessly lazy when it comes to cooking I eat out often, and every time I redesign the restaurant space in my mind. I have so many great ideas banked, I would love to give Victorians and Vancouverites a new dining experience, something buzzworthy, totally out of the box different.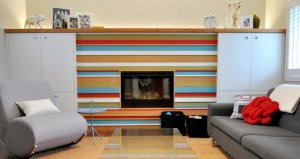 Interiors by Kyla Bidgood
Iván Meade – I find your projects to be consistently fresh, cheerful/playful and sophisticated yet urban. How is this balance achieved?
Kyla Bidgood – Why thank you Ivan! My aesthetic is at a constant tug war with itself. On one hand I adore the simplicity, materials and craft of Scandinavian and mid century modern design, and on the other hand I'm a total sucker for over the top pattern, colour and whimsical concepts. I think the method to my madness is interweaving these two extremes into a refined eclecticism. It's about striking a carefully curated balance without going overboard.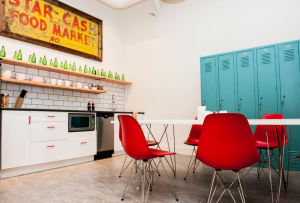 Interiors by Kyla Bidgood
Iván Meade – Now that you are officially flying solo with your firm, how would you describe your style? Feel free to answer this either personally, or as a company – we also won't complain if we get both!
Kyla Bidgood – Fun, modern & eclectic. I think the same can be said for my personal style. My house is a laboratory where I experiment with ideas that might be too bold for some clients. For example, my living room is painted a dark ink-blue and an artist friend of mine Miguel Afonso da Conceicao created a large scale instillation with hot pink yarn covering all the walls, kind of like a non-repeating geometric wallpaper pattern. I also wallpapered the ceiling in my home office with a small-scale white, gold & black triangle print. Experiments paid off, looks amazing!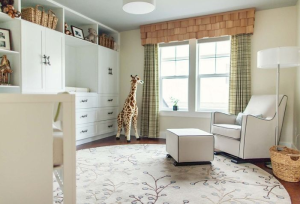 Interiors by Kyla Bidgood
Iván Meade – What is your favorite thing about being a designer?
Kyla Bidgood – Everyday, every project, and every client is so vastly different from the next, no day is ever repeated. I am never bored, always challenged, and constantly being inspired by new things. I heart my job, and I can't imagine doing anything else for a living.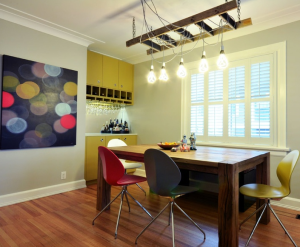 Interiors by Kyla Bidgood
Iván Meade – What is the best advice you have received – design related or otherwise?
Kyla Bidgood – "Worry is a misuse of your imagination" and "Change is the only constant". Truer words were never spoken!
I invite you to visit Kyla's stunning body of work at: