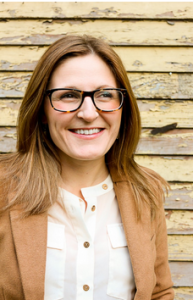 Amber Kingsnorth RID LEED AP
Alas, the Victoria market lost this gem of a designer to the mainland, but Amber Kingsnorth is making a name for herself in the big city with her new design firm, Mak Interiors. After nearly a decade of Vancouver Island based design experience, she's moved on to see what Vancouver has to offer
Not only is Amber a talented, professional, and smart designer – she is also one of the most fun! Her blog and social media pages never fail to make her readers smile. Plus, she is award-winning (2011 IDIBC Awards of Excellence – Silver), a LEED Accredited Professional and a Registered Interior Designer and a very active member of IDIBC to boot.
Amber takes on a wide-range of projects including; hotels, condominium and town home developments, offices, restaurants, healthcare, retail and residential. The connecting thread? She approaches projects with a mind for salvaging the unsalvageable.
We had previously interviewed Amber with Inoui Design in 2010, but with a new firm, new city (Vancouver) and new projects, we wanted to get an update from this spirited design aficionado.
Amber also has a special place in my heart, she is the team captain of the Designer Survivors Tour, an industry team of cyclists raising funds for the BC Cancer Foundation – and she dedicated on of her treks to me when I was first diagnosed – I will be forever grateful for that.
Read on to get in on the conversation and find out what Ms Kingsnorth has been up to…
Iván Meade – So, what's new since we featured you last?
Amber Kingsnorth – After about a year of traveling back and forth between Victoria and Vancouver to see clients, I finally set down roots on the mainland.  That move came with a lot of change and a lot of personal reflection.  This is an industry full of amazingly talented people and no shortage of vision so it was important to me to define what I was bringing to the table.   I believe in bringing value and purpose to bricks and mortar construction and creating spaces that support goals and foster growth.  A store isn't just a place to buy things, it's a way to experience the message behind them.  A doctors office isn't just where you go to see a doctor, it's a place of comfort and care.  Not to get too deep on the first question but it's the basis for my new interior design firm!  Māk Interiors (pronounced 'make') is all about making space work for the people it serves; commercial and residential.  We also have a great team of collaborators who help extend our services into the branding, business development and marketing realms for those commercial clients who need a little help finding their own message.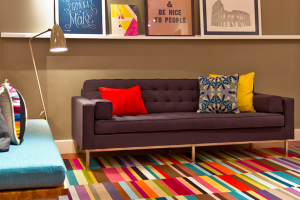 Interiors by Amber Kingsnorth
Iván Meade – What are you excited about right now in the world of design?
Amber Kingsnorth –  Community!  I've always been an advocate for an open and collaborative interior design community and that's crossing into other disciplines as well.  For commercial clients seamless messaging is very important; from business cards, to website, to environment, the feeling needs to be cohesive.  By coming together with graphic designers, web developers, and industry specific suppliers, we can create spaces that are tailored to each client and the needs of their business.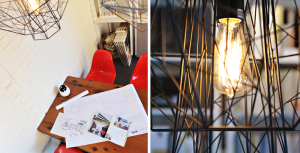 Interiors by Amber Kingsnorth
Iván Meade – What is on the horizon for Mãk Interiors?
Amber Kingsnorth –  We're really carving out a niche for ourselves in the retail industry; helping retailers better define their brand and create engaging spaces that showcase their products in unique ways.  Right now we're just in talks with one of my favorite furniture retailers in the city.  I can't say much right now but I'm very excited to be working with them!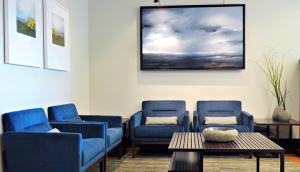 Interiors by Amber Kingsnorth
Iván Meade – I have seen that you've been featured in GRAY magazine for your concept window displays?  What is the process to design a window display and where did you get your inspiration from?
Amber Kingsnorth –  First of all; GRAY is a great publication that your readers should definitely get their hands on!
The feature was of a window display we created for a great local retailer; espace d.  The store itself is a gorgeous modern space (designed by the Office of Marfarlane Biggar) and the owner was looking for a creative way to display his very unique houseware and objet d'art for the holiday season.  He wanted a very provocative display to draw attention to the store so we took a chance and presented a concept that placed his products amongst a pile of discarded ordinary home goods.  The premise being that the quality and unique aesthetic of his offering would really stand out.  He took a risk  (I love a client who trusts the vision!) and it completely paid off.  The installation has outlived the holiday season and is still going strong, attracting new clients and creating a buzz about the shop.
Because they're temporary, window displays offer a lot freedom in design but they also need to showcase the products in a practical way.  Drawing people into the store is a major value to a retailer but only if you're attracting the right people so you really need to understand the brand before diving in.  You want to design something that will have meaning to their target audience – those are the eyes that you need to catch!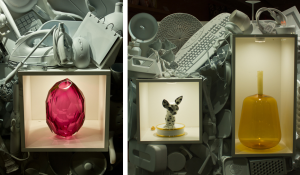 Iván Meade – What would be your dream project?
Amber Kingsnorth – If we're really talking 'Dream' jobs … I would love for Jenna Lyons (President and Creative Director of J. Crew) to call me up asking me to re-design their flagship store, conceptualize a years worth of art installations for their store windows and design her personal home … And then we would become friends, of course 🙂 *
*this will likely come back to haunt me in a future interview … Or if Jenna ever does call!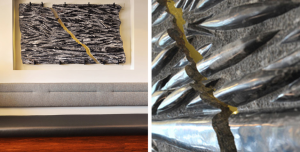 Interiors by Amber Kingsnorth
Iván Meade – You always have at least one stroke of genius in terms of repurposing in your projects – where does that inspiration come from?
Amber Kingsnorth –  This is definitely a product of my childhood!  My Dad can often be heard saying 'Hey! You know what you could do with this?! …' while holding up some construction cast-off.  Well, that turned out to be hereditary 🙂
Seeing the potential in ordinary objects and having that light-bulb moment is something that I've refined through my design work.  What started as a way of achieving impact on a budget, has revealed itself to be an important aspect of my work; giving new spaces a feeling of familiarity and meaning.  These customized touches always end up being the most memorable.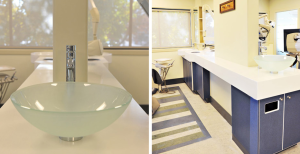 Interiors by Amber Kingsnorth
Iván Meade – Now that you are officially flying solo with your firm, how would you describe your style? Feel free to answer this either personally, or as a company – we also won't complain if we get both!
Amber Kingsnorth – I'd call it Modern With Meaning.  No matter what type of space I design, it must has to strike a chord with those who are intended to use it.  I personally prefer modern spaces with an injection of fun through colour, pattern, or those unexpected touches to keep things from getting too austere or predictable.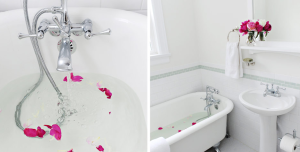 Interiors by Amber Kingsnorth
Iván Meade – What is your favourite thing about being a designer?
Amber Kingsnorth – The parties of course!  I kid 🙂
I have two favourites:
1)  Working both sides of my brain.  Design allows me to test the limits of my creativity and be very analytical and technical at the same time.
2)  Inspiration is on my to-do list.  My job is literally to be inspired by my clients and their stories and to return the favour through my work.  Not bad!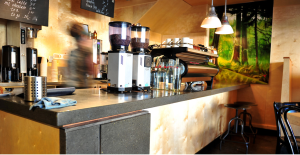 Interiors by Amber Kingsnorth
Iván Meade – What is the best advice you have received – design related or otherwise?
Amber Kingsnorth – When you give, you are never without 🙂
Interiors by Amber Kingsnorth
Iván Meade – Back in 2010 I asked "Do you think Victoria is ready for a change? Where do you see things going in the next ten years?" and you had replied "YES. Since entering the field 6 years ago, we've noticed a huge shift in the design community. Designers are finally seeing each other as colleagues rather than competition, sharing ideas, sources, information, horror stories… and it's great!" How do you feel about your prediction so far? Would you adapt it, agree with it, or change it completely 3 years later?
Amber Kingsnorth – I have to stick with my prediction, see question #2 🙂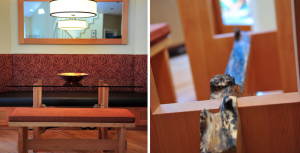 Interiors by Amber Kingsnorth
Iván Meade – Likewise, one final question – would you have changed your legacy from "we just want to love what we do everyday and know that people are enjoying the spaces we've designed"?
Amber Kingsnorth – I wouldn't necessarily re-write that answer but I can add to it; enjoying the space isn't enough, I want my clients to feel that the investment in their space has a measurable return to them.  For my commercial clients that may mean keeping their overhead low by making efficient use of less square footage, better employee retention & workflow, and a greater experience for their own customers or patients.  For my residential clients that could be an increase in the value of their property, or a more enjoyable homelife in a space that supports and encourages what they love to do.  I hope my legacy is that I opened people's eyes to the value of a well-designed space.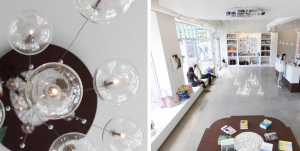 Interiors by Amber Kingsnorth
I invite you to visit Amber's stunning body of work and to read her fantastic blog at: