---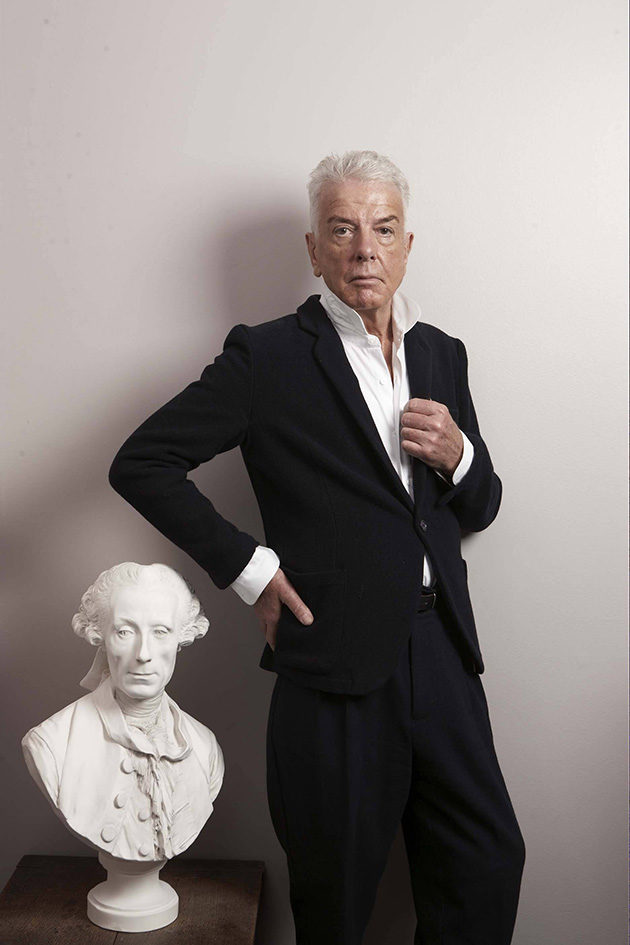 ---
Nicky Haslam
---
Chances are that our readers have heard of Nicky Haslam's highly accredited design firm, NH Design; needless to say, I was absolutely thrilled to receive correspondence from him agreeing to do an interview for our blog! One might recognize Nicky's work from one of the several esteemed publications he has been featured in, including Architectural Digest, World of Interiors, Vogue, House and Garden, Elle Décor and Traditional Home.
Mr. Haslam's work has been revered amongst critics and his clients alike. His style is recognized not only for the beautiful ambiance he creates, with layered textures, sheens and forms, but also for the distinctive and stunning ways he customizes a project with architectural details. From casings adorned with round balls along the perimeter, to massive capitals and decorative trim, neoclassical reliefs in place of a plate rail, wood paneling, tall, upholstered doors with nail head trim, winding staircases with chunky acrylic urn-like silhouettes for spindles and more – the man is creative! The result is always opulent, glamorous, and yet, timeless.
Nicky has been working in interior design for nearly 40 years, after graduating from Eton with high marks in his art related subjects. NH Design's first inception was with his first company in the late 1980's; since then the company has grown exponentially, including the ability to work worldwide, with multinational staff (with projects completed and ongoing in the United States, Barbados, Switzerland, Moscow, France, Italy, Ireland, and throughout England).
The Haslam aesthetic has also been transferred to products such as his line of scented candles, fabric and rugs. He was also a founding member of the successful retail shop for NH Design. He continues to form partnerships with luxury brands to allow some his designs to be accessible to the general public whom admire him so much.
Are you impressed yet? Just wait, there's more – Nicky has also had a slew of additional successful careers in his spare time, including appearances as an actor, cabaret singer, book reviewer, art editor, and memoirist. Not to mention his multiple appearances on Vanity Fair and GQ's best dressed lists, and as a socialite. His watercolour renderings are very lucrative at auctions and have even been featured in both the Victoria and Albert Museum and The Royal Institute of British Architects. He has also penned two books; 'Sheer Opulence' and 'Redeeming Features' and continues to be involved in the world of publishing – including his own blog. And of course, to round out the charm that is Nicky Haslam – he's a philanthropist, and is involved with several charitable organizations.
Please read on to get in on the conversation and find out more about the founder of NH Design….
---
Iván Meade – What was your first experience with design?
Nicky Haslam – As a child I had polio and was holed up in bed for three years. During this time I received an enormous dollhouse, perfect in every detail and mercifully sans little inhabitants. The house could be pulled right up over my bed and, with its facade lifted away, I could endlessly change its rooms, rearrange the furniture, make pictures for the walls, even glue up curtains. I don't know if this toy can be held responsible for what I was ultimately, nearly forty years later, to make my career, but it was certainly the most memorable plaything with which to pass those last, dragging months I had to remain in bed.
---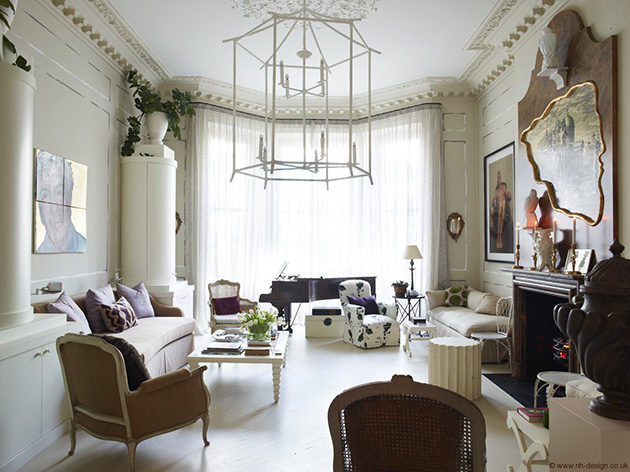 ---
Interiors by Nicky Haslam
---
Iván Meade – You have accomplished something very unique in the interior design world; creating a strong, extremely well recognized and beautiful signature style – In this same manner however, your style keeps evolving – How or where do you find your inspiration?
Nicky Haslam – By shutting my eyes and imagining the perfect room.
---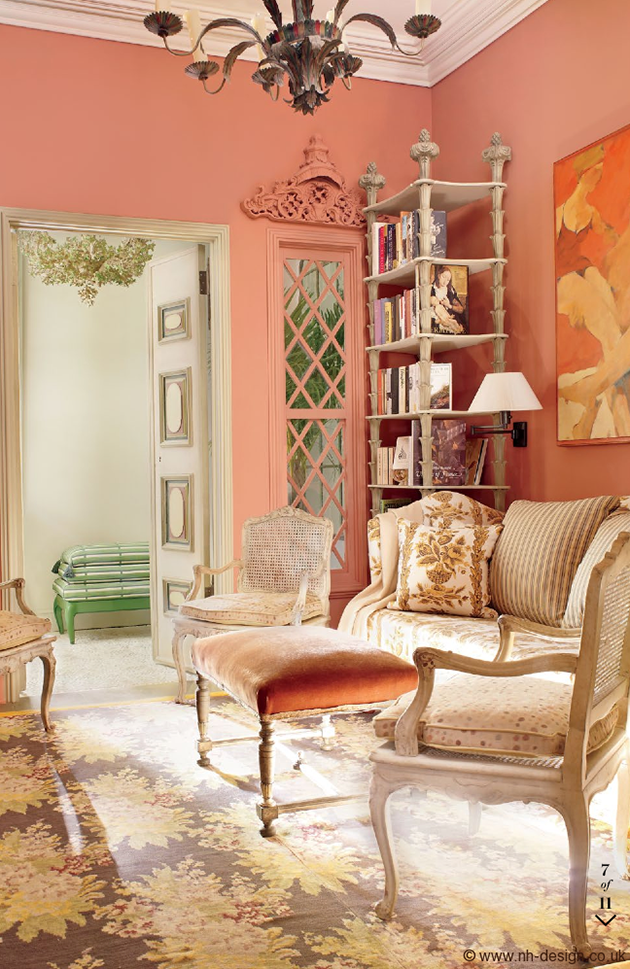 ---
  Interiors by Nicky Haslam
---
Ivan Meade -You have had the opportunity to work with many well-known clients such as Princess Diana, Rod Stewart, Mick Jagger, Ringo Starr, and Rupert Everett; is there anyone that you haven't worked with, but would like to?
Nicky Haslam –Cy Twombly, as he has the most beautiful furniture and objects, let alone his magical paintings!
---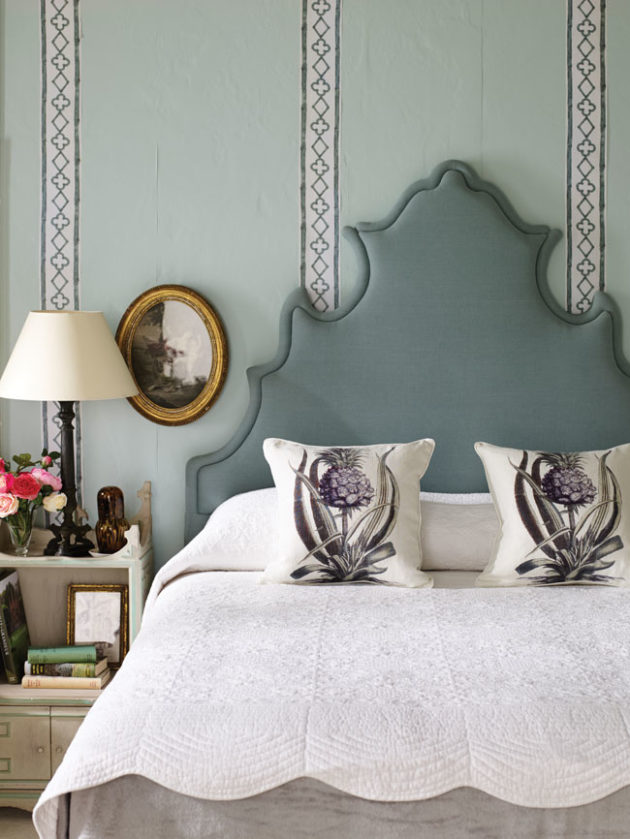 ---
Interiors by Nicky Haslam
---
Iván Meade – Do you ever get star-struck when meeting these clients for the first time?
Nicky Haslam – No, they get star-struck meeting me! And then much hilarity ensues…
---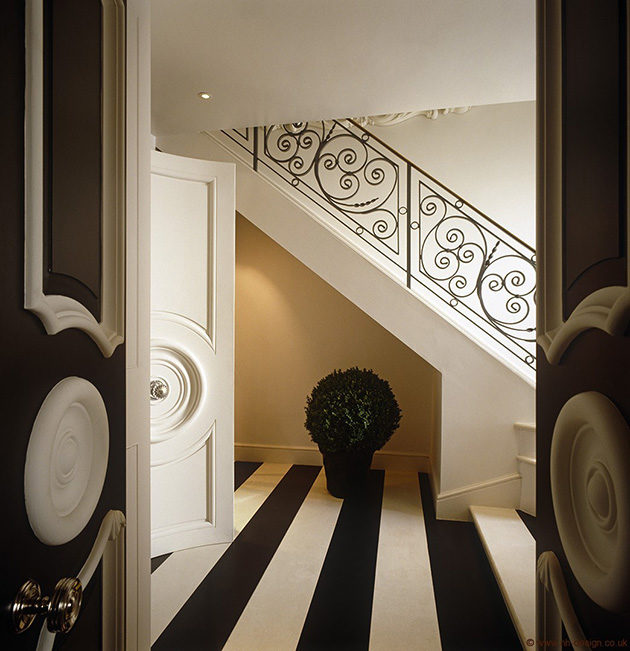 ---
 Interiors by Nicky Haslam
---
Iván Meade – Your design philosophy is to remain true to the spirit of the structure and location of the project – How do you achieve this?
Nicky Haslam – By listening to the building. Listen to what it is saying.
---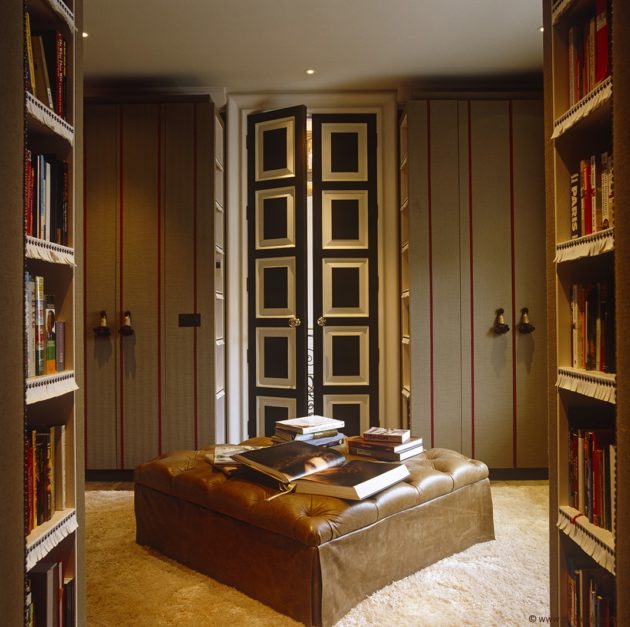 ---
Interiors by Nicky Haslam
---
Iván Meade – What do you look for in a furniture piece? Or, in other words, you are very selective in what goes into your designs, what makes a piece important enough to be used in your projects?
Nicky Haslam – The right piece will sing when you see it.
---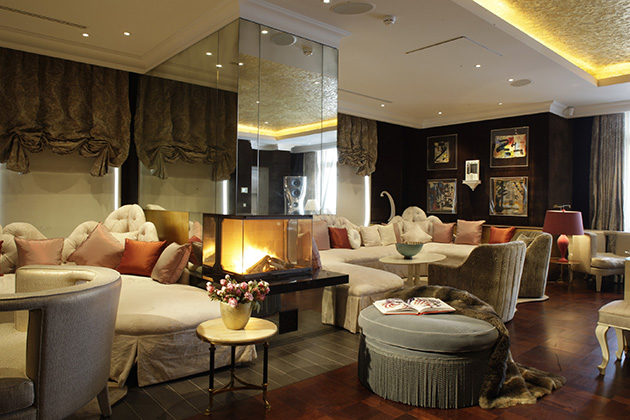 ---
Interiors by Nicky Haslam
---
Iván Meade – What project has given you the most satisfaction?
Nicky Haslam – They all do – even the ones that are more difficult. Because essentially you are doing what you love.
---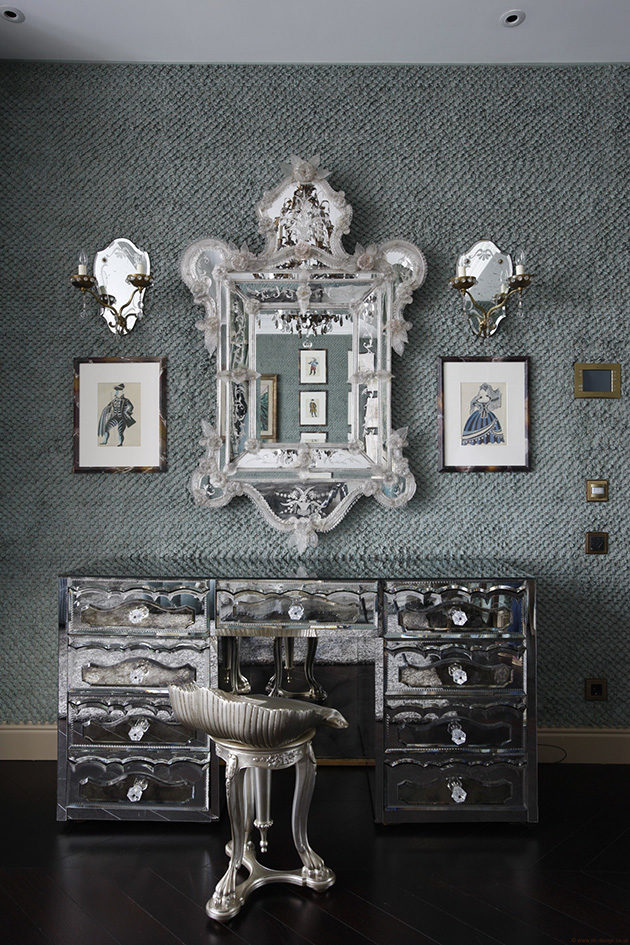 ---
Interiors by Nicky Haslam
---
Iván Meade – Perhaps few people know that besides being a great interior designer you are also a great writer, with articles and columns in some of the most prestigious magazines such as British Vogue, Tatler, The World of Interiors, The Spectator, and many others. Your articles usually describe the lifestyle you can achieve in a beautiful interior – Do you think that interior design is an integral part of one's lifestyle?
Nicky Haslam – Not for some people, but definitely for me.
---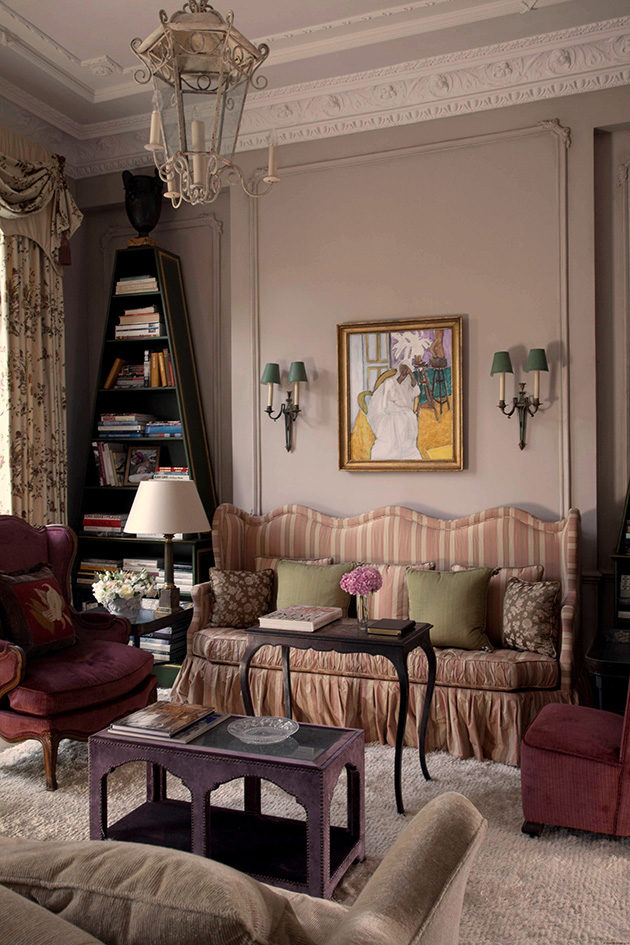 ---
Interiors by Nicky Haslam
---
Iván Meade – Last year you published your highly entertaining memoir "Redeeming Features" which has become a very controversial book – you briefly discuss design but the book is heavier on your love life; Why did you decide to share your personal life with the public?
Nicky Haslam – When one talks about one's life you have to include love and loss, pains and pleasure. It's what has made me who I am.
---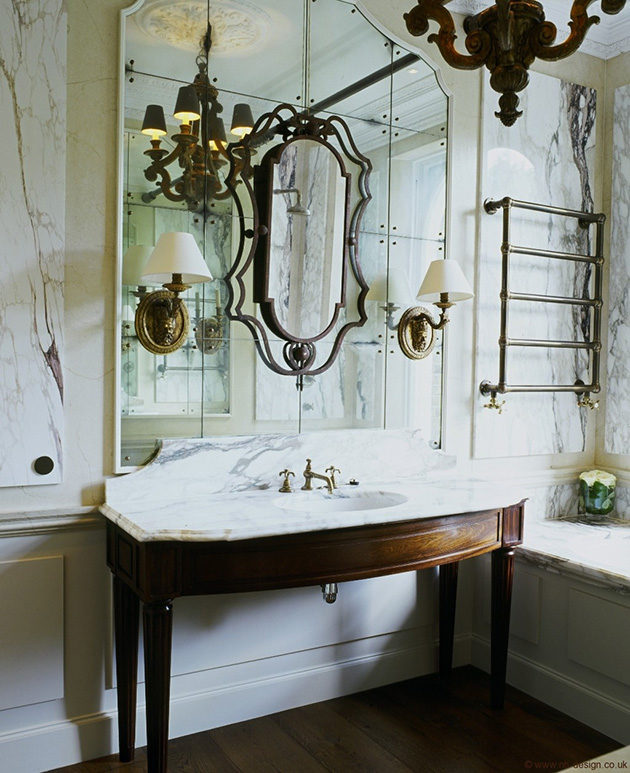 ---
Interiors by Nicky Haslam
---
Iván Meade – What is your guilty pleasure?
Nicky Haslam – My new blog (www.nh-design.co.uk/blog) – it's the perfect platform from which to interact with new people.
---
---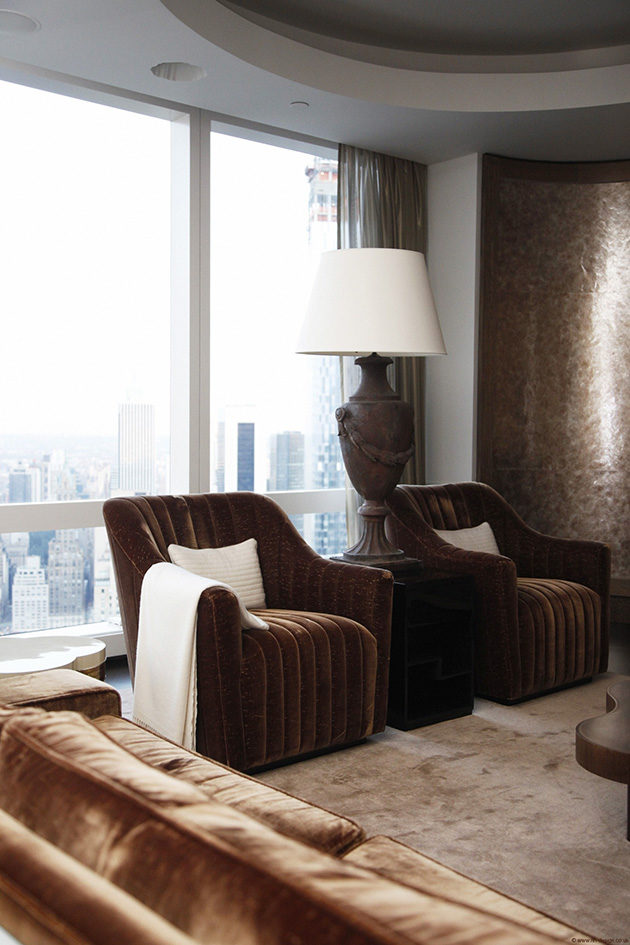 ---
Interiors by Nicky Haslam
---
Iván Meade – Name 5 things you can't live without
 Nicky Haslam – 1. Human interaction, white flowers, violet creams, beauty and black Pekanese
---
---
 Interiors by Nicky Haslam
---
Iván Meade – What are you excited about right now in the world of design?
Nicky Haslam – The return of subtle opulence.
---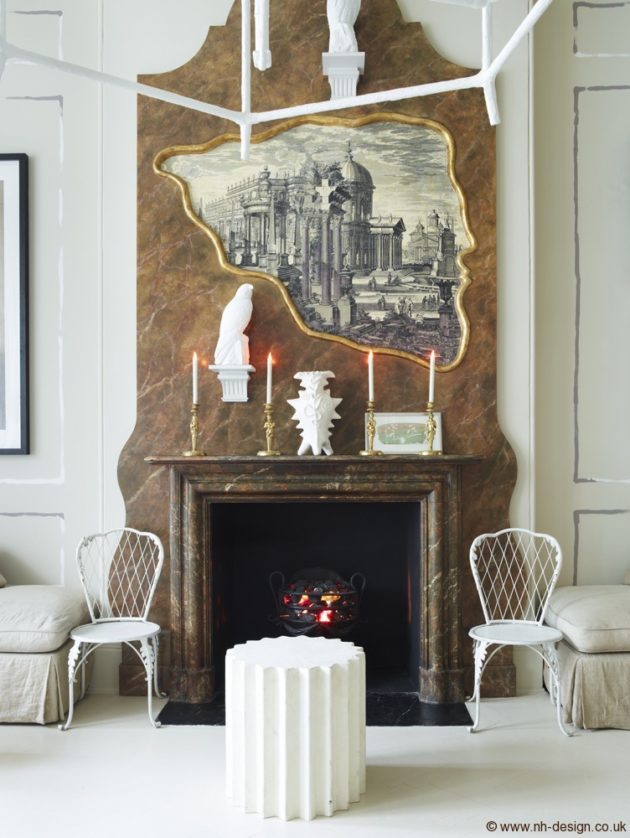 ---
Interiors by Nicky Haslam
---
Iván Meade – Lastly, you have already created a stunning body of work with many mediums and styles. What would you like your legacy to be?
Nicky Haslam – I would love to have one of my rooms moved and assembled, complete, in a museum, like the Norfolk House Music Room in the V&A Museum in London
---
I invite you to visit Nicky Haslam's website and blog at: