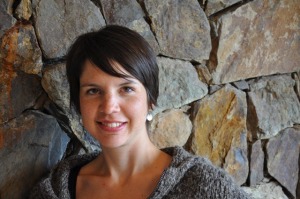 Tara McHugh
Tara McHugh (or "Tarita Tomato" as I affectionately refer to her), was one of my first team members at Meade Design Group when I first started the business and was still working from my own home. She has since been married and had two beautiful children.
It has always been Tara's dream to run her own business in a creative field. She first moved to Victoria from the prairies in 2000 to study interior design, where she worked successfully within the design field for several years. More recently however, Tara has developed her own floral design company – Tara McHugh Flora, which is making her and her clients very happy. As she says on her website, " I am inspired every day by the natural world around us and am grateful to be able to create with the beauty of flowers and share it with others." She is so sweet and personable, a pleasure to work with.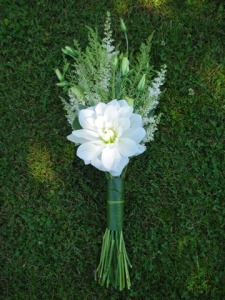 Tara McHugh Flora
Tara specializes in unique arrangements that accent a home. Her experience in interior design is a real asset to her skills as she can easily visualize how to play with colour, texture, scale and proportion to create a perfect vignette or focal point for any space.  I can see Tara McHugh becoming the best flower couturier in the city pretty soon.
Iván Meade – What is your favourite local find? Where did you get this item – how long have you had it?
Tara McHugh – It's so hard to pick a favorite, but about five years ago I purchased a Sarah Pacini sweater from Hughes Clothing store on Yates Street that I love!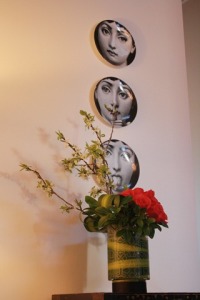 Tara McHugh Flora
Iván Meade – Why is it important/inspirational to you?
Tara McHugh – It's important to me because it was the first time I spent a lot of money on one item of quality clothing.I am always amazed at how long it has lasted me and how I still love it after all these years. So it reminds me to buy quality items in all aspects of my life when I can.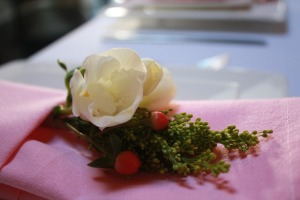 Tara McHugh Flora
Iván Meade –  How does this item reflect upon your personal design philosophy?
Tara McHugh – Clean lines, textural, modern and always use good quality materials!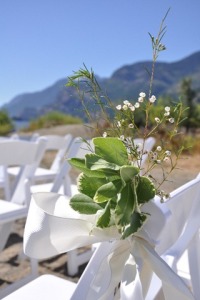 Tara McHugh Flora
Iván Meade – What was your first experience with design?
Tara McHugh – In my early 20's I worked in the film industry in the set decorating department. It was such a fun job! I frequented thrift stores, antique shops and design stores shopping for set pieces.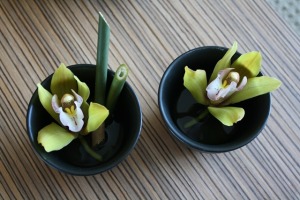 Tara McHugh Flora
Iván Meade – Who or what has influenced your style aside from nature itself?
Tara McHugh – Working in film, Dwell magazine, ikebana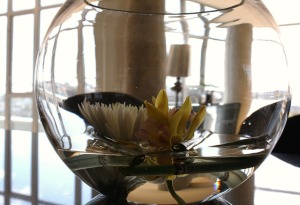 Tara McHugh Flora
Iván Meade – What is the story behind Tara McHugh Flora, how did the company begin?
Tara McHugh – I was about two months pregnant and had just spent a couple years at home with my daughter and was so ready to do something new. I knew I wanted to have my own business which would still allow me to be home with my kids. I also knew that flowers were my love and that I wanted to create. Thus, my life as a floral designer began.
I really like the juxtaposition of your traditional sounding name and locale mixed with your beautiful and contemporary work. Do you feel this is representative of your floral designs?
I think having a balance of classic and modern elements is very important in my designs.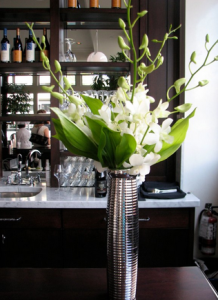 Tara McHugh Flora
Iván Meade – It was very refreshing to find someone in the city who does new and different floral designs. How do you keep current in the floral industry?
Tara McHugh – Books, magazines, and the internet are what keep me up to date with the floral and especially the wedding world.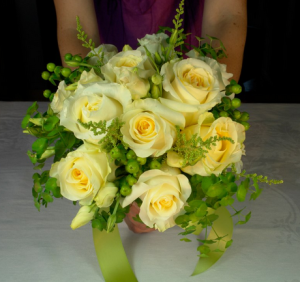 Tara McHugh Flora
Iván Meade – You are well known in the city for being one of the best  floral couturier, what do you feel sets you apart?
Tara McHugh – Thank you. I think the fact that I love to make the vase an integral part of the over all design. Gone are the days of the cheap, generic florist vases. I think the vase should be worth keeping and used again and again. It is an important part of the gift, or in an event setting the vase is expressive of a certain look or mood.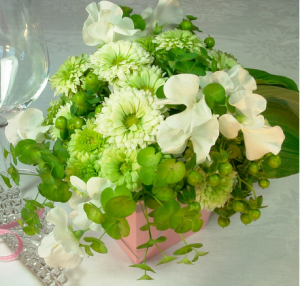 Tara McHugh Flora
Iván Meade – Do you feel that Victoria is ready for a change? Where do you see floral design going in the next 10 years?
Tara McHugh – Sure, change is always a good thing. I think we will see the floral industry become more green, and more sustainable practices will be used.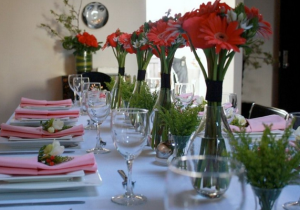 Tara McHugh Flora
Iván Meade – What kind of things do you have to keep in mind while creating a floral design that the client might not realize is important for you to know?
Tara McHugh – The mechanics and the pairing of flowers can be challenging in floral design. Trying to make something organic do what you want it to do isn't always easy.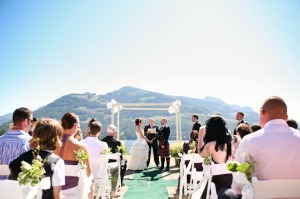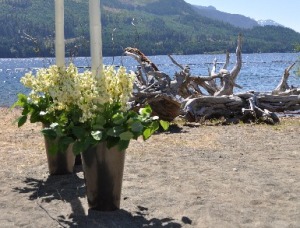 Tara McHugh Flora
Iván Meade – What is the most unusual request that you have ever received from a client?
Tara McHugh – Nothing too unusual has been requested yet…..but I'm taking orders!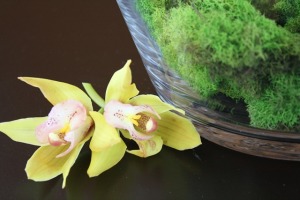 Tara McHugh Flora
Iván Meade – What do you consider to be your greatest strength and weakness?
Tara McHugh – One of my greatest strengths would be my ability to think outside of the box and come up with non-traditional ideas. My weakness would be my memory. Note pads are my friend!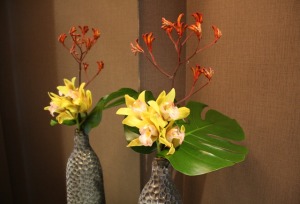 Tara McHugh Flora
Iván Meade – What project are you most proud of?
Tara McHugh – Just this past summer I did a wedding up island with an ivory and green color scheme. I used some spectacular Dahlias which I just love! It took place on the shores of a stunning lake with mountains in the background and the bride didn't want anything too formal. I was very pleased with the end result!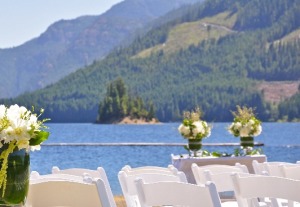 Tara McHugh Flora
Iván Meade – What would be your dream project if you were given carte blanche?
Tara McHugh – I would love to do something on a really large scale, almost like a flower installation of sorts. For the installation to be inside an architectural gem would be a bonus!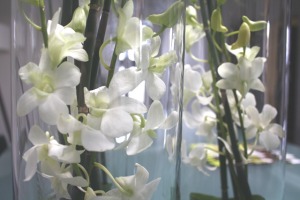 Tara McHugh Flora
Iván Meade – What is your favourite plant to work with?
Tara McHugh – That is something that always changes, especially with the season. I have been really loving tropical greens lately.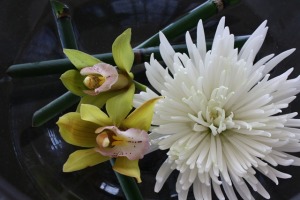 Tara McHugh Flora
Iván Meade – Lastly, you have already created a stunning body of work with many mediums and styles, what would you like your legacy to be?
Tara McHugh – That I was a wonderful mother, wife, friend and business woman.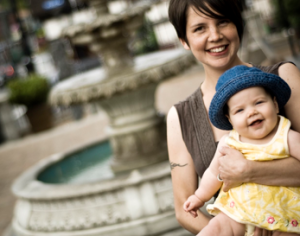 Tarita Tomato & Little Tomatillo
I invite you to discover Tara McHugh's work at her website: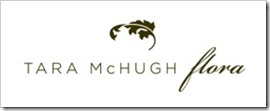 Ivan Meade is a local designer and principal of Meade Design Group, a multidisciplinary interior and graphic design studio in the heart of downtown Victoria – www.themeadegroup.com