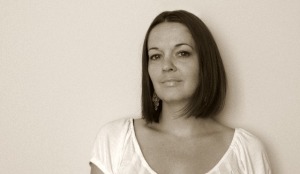 Leah Rourke
Leah Rourke is a prominent fixture in Victoria's design scene; she is an avid twitter-er and facebook-er, you can also look her up on LinkedIn, and find her within several organizations including IDIBC, BNI, and IIDA. You can always count on seeing her friendly face at any designer nights, product launches or networking events. Leah is also a registered designer (which means she has completed the NCIDQ), and has received seven Silver Care Awards for her work in design. You may have already seen some of Leah's work in Kitchen Trends, Bathroom Trends, Style at Home, or the coffee table book BC's 100 New Pioneer Women Entrepreneurs 2008.
Truly BC bred, Leah was born in the Queen Charlotte Islands and raised on the sunshine coast, she then went on to get her education right here on the island at Vancouver Island University (formerly Malaspina University-College) where she graduated with honours in 2003. After receiving her diploma in interior design, Leah worked with a Nanaimo-based design firm where she gained experience with high-profile projects throughout BC and Alberta before making the big leap to open her own business with a colleague in 2005, Pure Design Firm upon receiving an offer to design a BCCF Lottery Home. In February 2008, Leah opened her own firm, Rourke Design Group, with a new 2,200 square foot location which not only houses her studio, but also a new store, "Relish" which is opening very soon. Needless to say, Leah's leaps of faith have led her down a pretty successful path.
Rourke Design Group runs the gamut of design offerings, including residential, hospitality, retail and commercial services. Her team's designs are definitely inspired by her west coast upbringing and feel warm, comfortable and sophisticated.
I'm very pleased to have this interview to promote our local talent; please read on to get in on the conversation….
Iván Meade – What is your favourite local find? Where did you get this item – how long have you had it?
Leah Rourke – An Art Deco Display Cabinet that I found on Used Victoria about 3 years ago.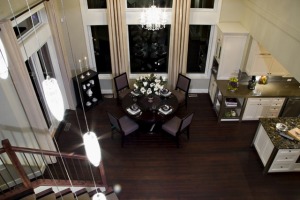 Interior Design by Rourke Design Inc
Iván Meade – Why is it important/inspirational to you?
Leah Rourke – It was a diamond in the rough. I love transforming something from lacklustre to beautiful.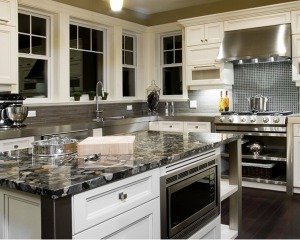 Interior Design by Rourke Design Inc
Iván Meade – How does this item reflect upon your personal design philosophy?
Leah Rourke – It is exactly how I approach interior renovations or refurbishments; by seeing the potential beauty in a space before it is transformed into something amazing.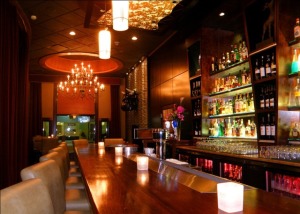 Interior Design by Rourke Design Inc
Iván Meade – What was your first experience with design?
Leah Rourke – It sounds so cliché, but I used to change my bedroom around every week or two. I would stack my bed up on top of two dressers so I had a place to hang out underneath it. I begged my parents to let me cut a hole in the back of my closet so I could get to the next room easier. I was always fascinated by space planning. I won a contest to help design the new high school in grade 8 and even created full sized floor plans of my vision for the new school. It wasn't until I went to an information session at Vancouver Island University in 2000 that I really understood the depth of interior design, and I enrolled in the program immediately.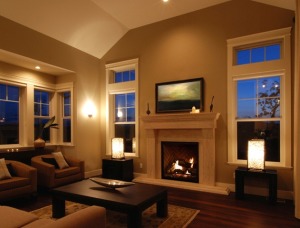 Interior Design by Rourke Design Inc
Iván Meade – Who or what has influenced your style?
Leah Rourke – I take influence from everywhere and everyone. I have never had a favourite designer, and I'm not even sure that I have my own "style" exactly. I like clean, simple designs with a touch of time-honoured elements like my new crystal chandeliers with their traditional form but glossy black finish.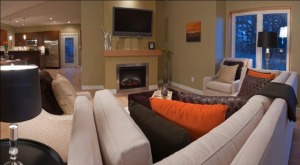 Interior Design by Rourke Design Inc
Iván Meade – What is your approach to lifestyle and design?
Leah Rourke – Lifestyle is the single most important factor when creating a design, in my opinion. Who is the client, how do they live? How will they interact with the space? How will the space reflect them? It is never about my style when I am designing for a client, it is about helping them understand their style and incorporating into their home or workplace.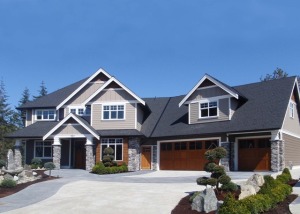 Exterior Design by Rourke Design Inc
Iván Meade – What project has given you the most satisfaction?
Leah Rourke – I had the opportunity to do some conceptual work for a proposed Ronald McDonald House in Victoria that would have been a place for families of sick children to get away from the hospital for a week and enjoy their families. Although it never got beyond the concept stage, I was fortunate enough to get to travel to Calgary to visit a Ronald McDonald House there and meet some of the kids that would have been able to use the house. It is impossible to explain how insignificant you feel when you meet these kids. It puts life into perspective and encouraged me to think about designing interiors from a different point of view. I would love to be involved with a project like that again.
Interior Design by Rourke Design Inc
Iván Meade – What do you think most Victoria homes are missing?
Leah Rourke – Me!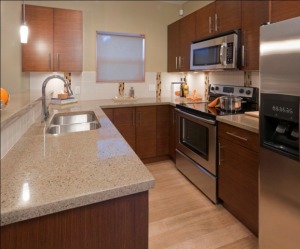 Interior Design by Rourke Design Inc
Iván Meade – Do you think Victoria is ready for a change?  Where do you see things going in the next ten years?
Leah Rourke – I think Victoria is ever changing. It may not be as fashion forward as other Canadian cities, but people are starting to think outside the box. People are finally giving themselves permission to go outside their comfort zones and I think that is very exciting. I would like to see people in Victoria getting more in touch with their personal style – their lifestyle. I would like to see more mixing of genres in order to accomplish that style if necessary. It is one thing to be influenced by the Jones's, but you've got to find a way to make it yours.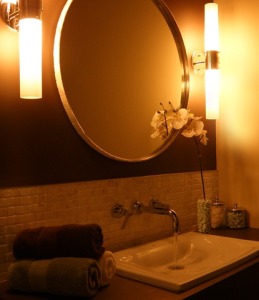 Interior Design by Rourke Design Inc
Iván Meade – What is your newest venture in design?
Leah Rourke – I am going to be opening a furniture and home accessories store this fall. It will feature condo-friendly furniture and an eclectic mix of accessories, toss pillows and bedding. The showroom is going to be called Relish and is located at 1048 Fort Street, near the top of Antique Row. Along with the pieces in the showroom there are oodles of goodies that can be purchased via catalogue. It will also showcase window coverings of every shape, size and colour. This is something I have dreamt about all my life and I am so excited to finally be launching the store.
I am also going to be involved with a very exciting event happening at the Art Gallery of Greater Victoria on September 29th. It is going to be a lecture series held over two days on Interior Design called "Let's Talk Design". My lecture will be called "Life is Too Short for Ugly" and will discuss how good design affects you mentally, emotionally and physically. It's not just a lecture – it will be interactive and fun. Tickets will be $20 and more info will be available through the Art Gallery shortly.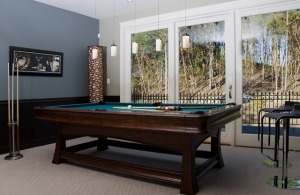 Interior Design by Rourke Design Inc
Iván Meade – You have already created a stunning body of work with many mediums and styles, what would you like your legacy to be?
Leah Rourke –I never imagined myself as leaving a legacy before. I guess I would want people to know that they can accomplish anything as long as they truly believe it and follow their hearts with honesty and integrity.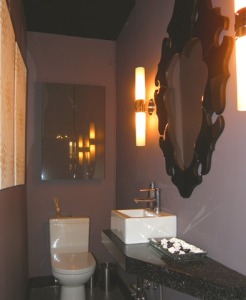 Interior Design by Rourke Design Inc
I invite you to visit Leah Rourke's body of work at her website: