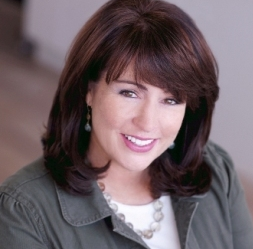 Kimberley Seldon
Toronto-based interior designer Kimberley Seldon is famous for her vivacious personality and presence within the design community. Kimberley's firm, Kimberley Seldon Design Group specializes in a full range of residential and commercial design services across Canada and the US. The projects are always unique, but definitely recognizable as Kimberley's warm and comfortable style.
Interiors aside, Kimberley has become quite a design guru; her award winning, 15+ year career has earned Kimberley the position of Decorating Editor for Style at Home Magazine. She has also penned a couple of books, "500 Ideas for Small Spaces" and "Kimberley Seldon's Business of Design" in addition to being featured in O Magazine, House & Home Magazine, The Tyra Banks Show Website, and the book "Spectacular Homes of Toronto". Kimberley also has a career in television, including multiple appearances on CityLine as a design expert and on HSN to promote her line of home décor products "Kimberley Seldon Home", she has also hosted three television series including "Design for Living with Kimberley Seldon" and has had great success as a public speaker with various seminars and keynote speeches.
Kimberley's interiors, furniture line with Brentwood Classics, media projects and on line magazine (http://www.dabblemagazine.com/) have all come together to form the brand that fans throughout Canada and the US have come to know and trust.
I am very pleased to have the opportunity to gain some insight as to Kimberley's opinions on design, please read on to get in on the conversation…
Iván Meade – What was your first experience with design?
Kimberley Seldon – Frankly, it was painful for everyone in the family. My mother let me choose the new, shag carpeting for our home in LA.  I was 10 years old, so naturally I chose a different colour for every room in the house.  Whoa – was that a mistake!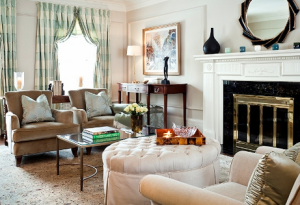 Timeless Beauty by Kimberley Seldon
Iván Meade – You always respect the traditional with a fusion of modernity.  I believe this is what makes your style.  How do you achieve this?
Kimberley Seldon – I like to think of myself as a cerebral designer; with each project as an equation. I factor in the architecture, the site and views, and the client's wishes. Once I have all these elements in place, I know I can create a project that makes sense and style that will last.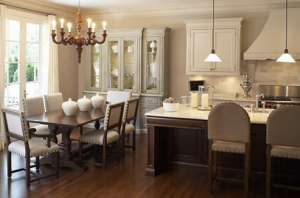 Classic Beauty by Kimberley Seldon
Iván Meade – Your furniture line is exquisite – One of my favourite pieces in your furniture collection is your Skirted Ottoman, What inspired you to include a piece that is no longer commonly used in today's homes?
Kimberley Seldon – What? People aren't using ottomans? That's terrible. Where do they put their feet at the end of a hard day of work?  Where dose the dog curl up when they're reading? Please help me put an ottoman in every home across Canada.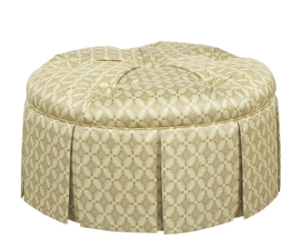 Ottoman 9804 by Kimberley Seldon
Iván Meade – What do you look for in a furniture piece? Or, in other words, you are very selective in what goes into your designs, what makes a piece important enough to be used in your projects?
Kimberley Seldon – I want classic tailoring and flexibility in my pieces. I try to think of a chair or sofa working in a variety of rooms – rather than creating a "living room" sofa which is so dull.
Classic Beauty by Kimberley Seldon
Iván Meade – What is your approach to lifeststyle and design?
Kimberley Seldon – I crave a well-designed life. Productive work, meaningful relationships and soulful "me" time.  Of course, life is not perfect so I'm always falling short of the mark.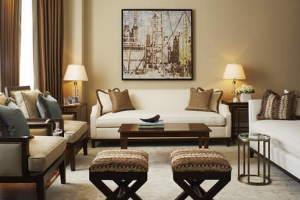 Contemporary Classic by Kimberley Seldon
Iván Meade – I noticed how much you love all things French, what is it that captivates you about France?
Kimberley Seldon – I love how relaxed the French are in their living rooms and their bodies. It's a confidence thing. A French person will never seek your opinion on an item of clothing or a piece of furniture.   They feel they know with certainty what the right choice is. I admire that comfort level.
Classic Beauty by Kimberley Seldon
Iván Meade – You have accomplished something very unique with your design seminars – You have become a strong voice in the community that guides and directs the way the business of design should work.  What is the biggest thing you would like to change in the world of design?
Kimberley Seldon – Thank you for asking this question. I have a dream (sorry, I stole that line). But here's what I wish – that there was a very clear line between those who pursue design as a hobby and those who are passionate professionals. The public (and frankly the design community) are sorely misinformed when it comes to the value that a professional brings to the project.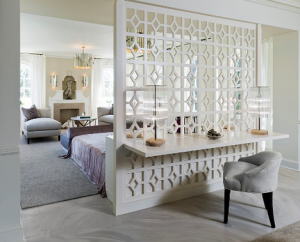 30's Glamour by Kimberley Seldon
Iván Meade – What is the value of design ?
Kimberley Seldon –  Excellent question.  The true value of our work – or the return on the investment if you will – is always this: The client's enjoyment of their home. It's a function of beautiful aesthetics, appealing atmosphere and the ease that comes from living in a well-designed environment.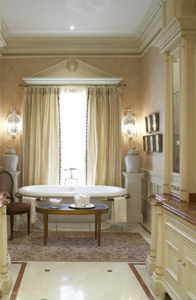 European Charm by Kimberley Seldon
Iván Meade – Who would you like to design something for?
Kimberley Seldon – I'd like to design a hotel. I travel so frequently and I know exactly what an "ideal" hotel would provide its guests.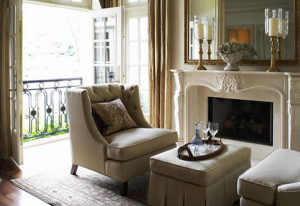 European Charm by Kimberley Seldon
Iván Meade – What is your newest venture in design?
Kimberley Seldon –  We are launching an on-line magazine called Dabble which allows me to focus on the travel-design aspect of my life. It's for home enthusiasts who want to experience the world's best destinations through architecture, interior design, cuisine and fine art.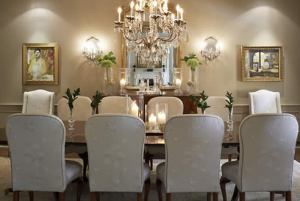 Classic Beauty by Kimberley Seldon
Iván Meade – You have already created a stunning body of work with many mediums and styles, what would you like your legacy to be?
Kimberley Seldon – I'd like to go on record for having lived well into my 150th year.  I have a lot of things I am eager to experience still.
I invite you to visit Kimberley Seldon's website at: