---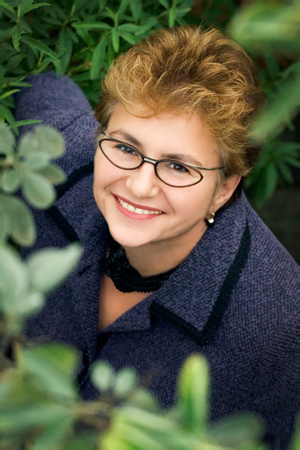 ---
Gillian Ley
---
Local Interior Designer and Artist, Gillian Ley has been creating beauty in Victoria since relocating here in 1979 where she started her career working for an interior design and architectural firm. Her company, Ley Art & Interiors Ltd. was established in 1990. Her prestigious projects include Clive's Bar Lounge in the Chateau Victoria Hotel, The Royal Victoria Yacht Club, The Union Club, The Greater Victoria Harbour Authority properties in addition to various commercial, hospitality and residential interiors. Her interior design work has been featured in The National Post, Western Living, The Times Colonist, Dental Practice Management Magazine and many well known publications. Her style is fun, elegant and striking with bold emphasis on colour, pattern and texture. This is one designer who is not afraid of doing something a little outside of the box. She combines this daring sensibility with clean lines, interesting focal points, textures and details to create spaces that are Gillian Ley originals. She has a look that is all her own and her loyal clientele keep coming back for more.
Gillian's fine art has been well received; her paintings and illustrations can be seen at the Art Gallery of Greater Victoria, The Gallery at Sooke Harbour House and her work is in private collections across North America. Her diverse abilities have included teaching Watercolour and Interior Design courses at the University of Victoria and Camosun College. Her vibrant work is full of bold colours, strokes and combinations. Mostly still-life works, common illustrative subjects are flowers, fruits and vegetables, and still lifes. Her mediums of choice are watercolour, acrylic, ink and gouache.
Gillian is an associate member of the IDIBC, and a graduate of the three-year interior design program at Algonquin College in Ottawa. Her inspiration is fuelled by regular world-wide travel and regular trips to Italy to Design Shows which include the Salone Internazionale Del Mobile in Milan and Arbitare Il Tempo in Verona .
I am always interested in learning more about my local colleagues and was very pleased that Gillian agreed to an interview. Please read on to learn more about this talented local interior designer/artist…
---
Iván Meade – What is your favourite design find?
Gillian Ley – Well this has to be an exquisite handmade 19th century altar cloth that I found in the bottom of a pile of old tattered textiles about 20 years ago in an antique shop in Bordeaux. It adorns the wall above my canopy bed.
---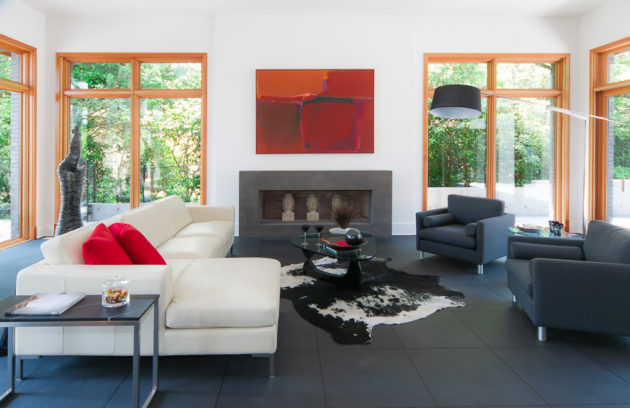 ---
Interiors by Gillian Ley
---
Iván Meade – Why is it important/inspirational to you?
Gillian Ley – It is a part of the history of textiles. It had been neglected and tossed in the bottom of a bin. It needed restoration and I love revitalizing objects. The texture and complexity of this work is unfathomable in our mass merchandised world today. The detail in the embroidered tulle, the sutache work and the hand dyed and handmade silk tassels create an astonishing composition. Combined with the texture and the tone on tone coloration results in richness and beauty.
---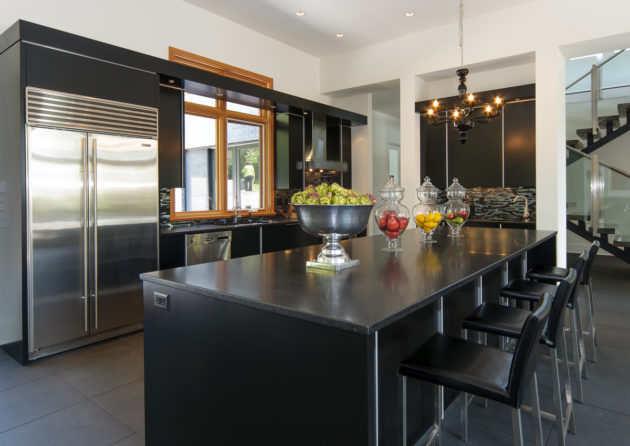 ---
Interiors by Gillian Ley
---
 Iván Meade – How does this item reflect upon your personal design philosophy?
Gillian Ley – Emphasis, texture and attention to detail are key elements in my work. In the most modern environment introducing something from the past can add visual punctuation to an environment. I believe in mixing the unexpected to create drama and interest.
---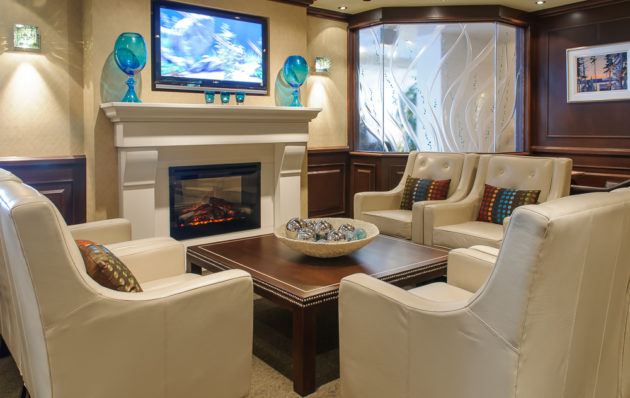 ---
Interiors by Gillian Ley
Iván Meade – What was your first experience with design/art?
Gillian Ley – I was encouraged at an early age to participate in painting, theatre and gallery visits. There is not one thing that stands out. Visits to live theatre in London with the fabulous sets were mesmerizing to me as a child. I have fond memories of traveling at an early age to museums and galleries in different countries. Design influences included pressies from my mother's travels which included Mary Quant cosmetics (oh I loved that iconic flower on all her glossy black packaging) and a further introduction to fashion and design came from dresses and hats from Carnaby St.
---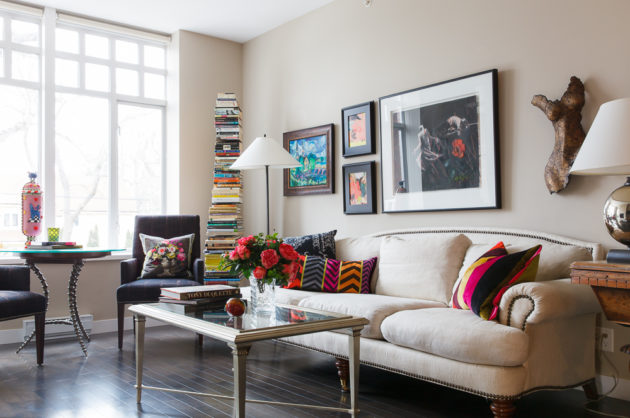 ---
Interiors by Gillian Ley
---
Iván Meade – Who or what has influenced your style/art?
Gillian Ley – Fashion, art, antiques, history, architecture and travel have been and continue to influence my work. Icons like Coco Chanel, Philippe Starck, Peter Max, Peggy Guggenheim, Tony Doucette, Marciano Fortuny, Andrew Wyeth, William Morris, Jamie Drake, Ilsa Schapperelli, Marcel Wanders and far too many others to list here.
---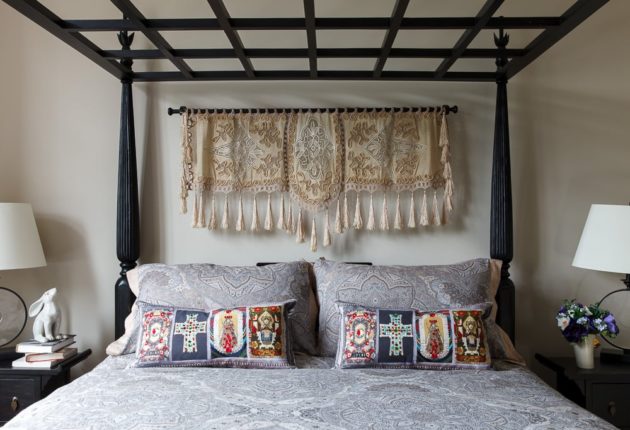 ---
Interiors by Gillian Ley
---
Iván Meade – How would you describe your style/art?
Gillian Ley – Eclectic, elegant with an 'edge', vibrant, textured, warm and approachable.
---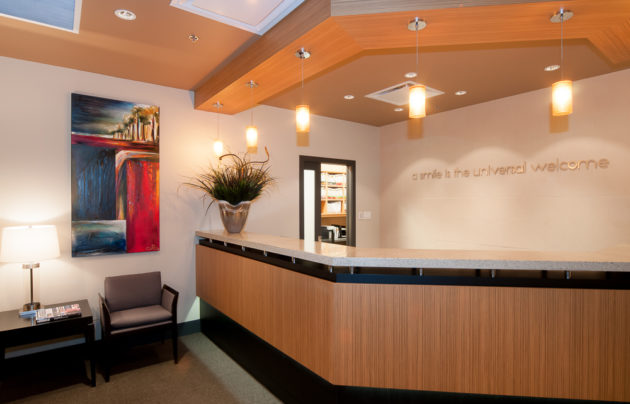 ---
Interiors by Gillian Ley
---
Iván Meade –What is a must-have element in any room?
Gillian Ley – Emphasis and texture or a design can end up looking anaemic and lifeless.
---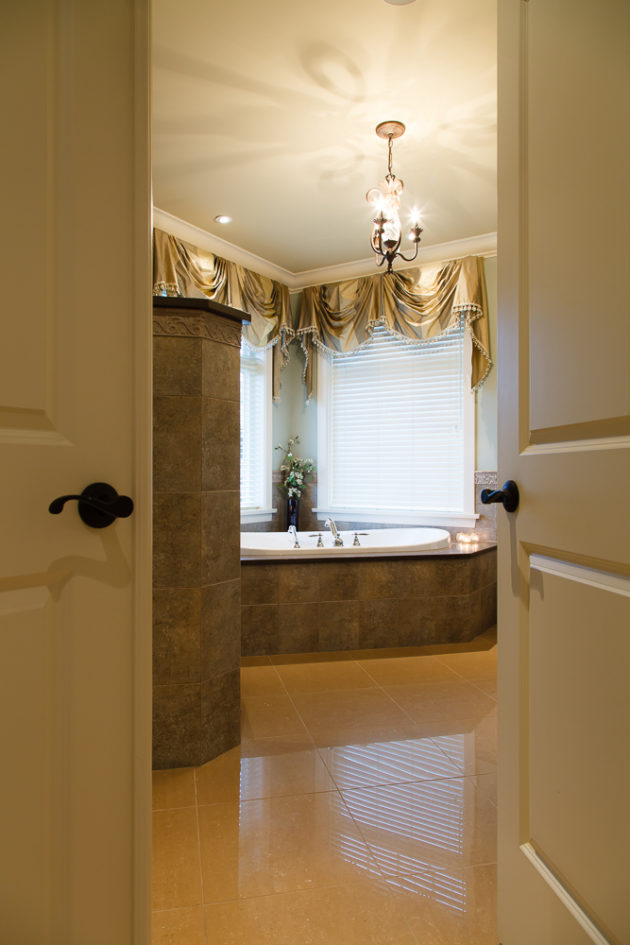 ---
Interiors by Gillian Ley
---
Iván Meade – What is a must-have element in any painting?
Gillian Ley – That's a tough question Ivan. My work's dominate characteristic is my use of color and shape. That is what draws the viewer to my work.
---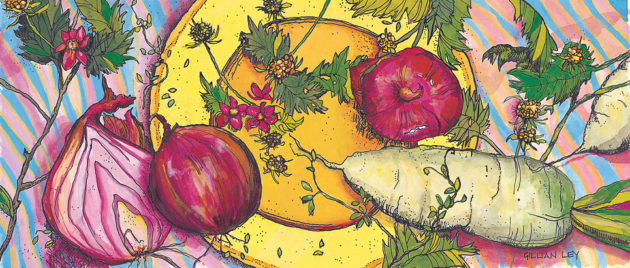 ---
"Unnatural State" by Gillian Ley
---
Iván Meade – What is your design philosophy?
Gillian Ley – The end result is that the environment I have designed must reveal its purpose, be functional, uplift the occupants, be approachable and reflect the client.
---
---
Interiors by Gillian Ley
---
Iván Meade – Since your firm has almost reached its 20th year in business, you must have seen plenty of design trends come and go; do you have a favourite trend? And one that you would like never to return?
Gillian Ley – I am interested in this current period of design particularly. Everything is accessible on a global level. Everything can be personalized and customized with ease. Whether it is custom sneakers, monogrammed linens, custom furniture and kitchens or slogans on your walls, people yearn to connect more personally with their surroundings in their own signature way. The explosion of fabulous spas and cutting edge hotel design draws me as a traveler and designer. Phillipe Starck and hotelier Ian Schaefer, the founder of the boutique hotel concept has revolutionized hotel, bar and restaurant design worldwide.
A trend that I hope doesn't resurface, well, it would have to be those insipid pink-gray and forest green-peach colour combos!
---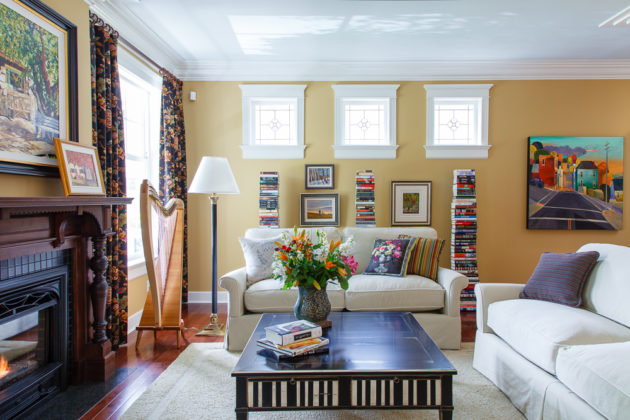 ---
Interiors by Gillian Ley
---
Iván Meade – How else has Victoria and its style changed over the years?
Gillian Ley – Victoria's English influence and charm has kept it very comfortable in its more traditional surroundings. Modern developments and influences by architects like Arthur Erickson have had a profound and welcome modern visual impact on our streetscapes.
---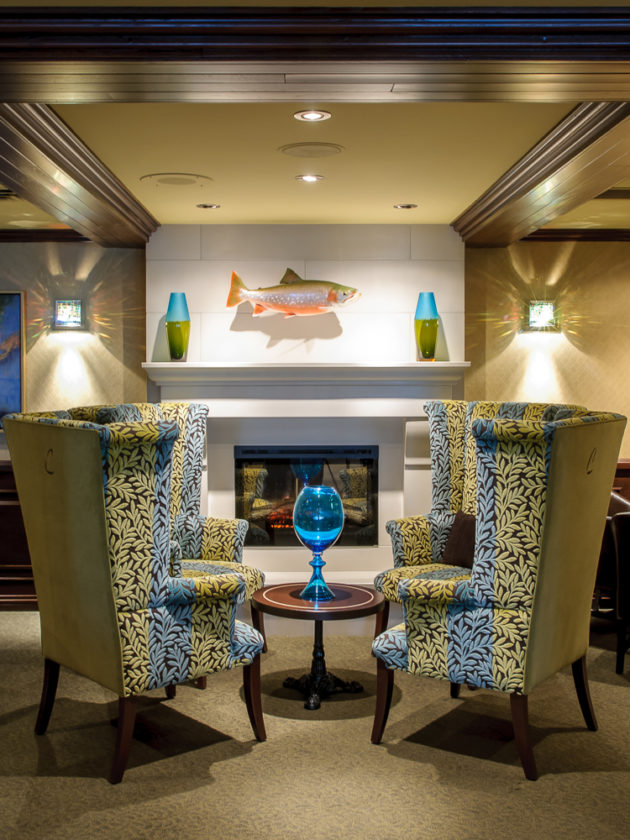 ---
Interiors by Gillian Ley
---
Iván Meade – What are 3 things you can't live without?
Gillian Ley – Design Books and Mags, travel and art!
---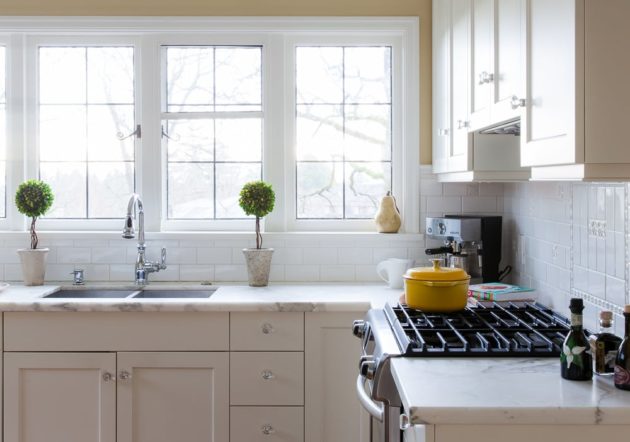 ---
Interiors by Gillian Ley
---
Iván Meade – What are you excited about right now in the world of art/design?
Gillian Ley – The global collaboration and merger of artists, architects, filmmakers, interior designers and industrial designers. The avant garde Yoo Design Studio and their collaborations with designers like Marcel Wanders are invigorating and are leading interior trends globally.
---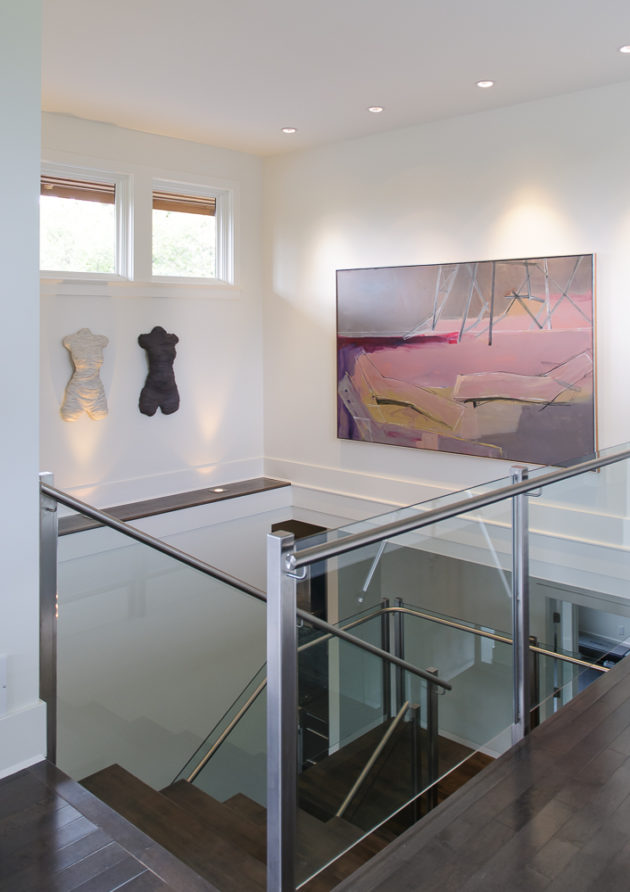 ---
Interiors by Gillian Ley
---
Iván Meade – What does "design value" mean to you?
Gillian Ley – Self expression in combination with understanding and reflecting my client's needs, responding to a projects criteria, utilizing the elements of design, with the environment and health also play key roles.
---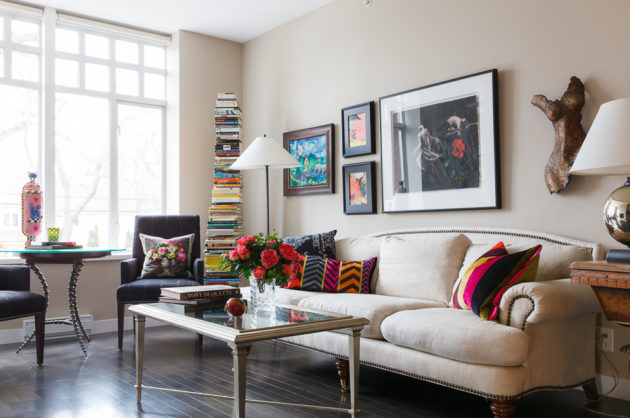 ---
Iván Meade – What would be your dream project?
Gillian Ley – A luxe boutique hotel and spa.
Iván Meade – What project or piece has given you the most satisfaction?
Gillian Ley – A project which overlapped 2008 -2009 where we designed a high end dental practice and also worked on this client's new and extraordinary Upland's residence at the same time. These were exceptional clients with a deep appreciation for design, quality and craftsmanship, with open minds. It was a privilege to work with them.
---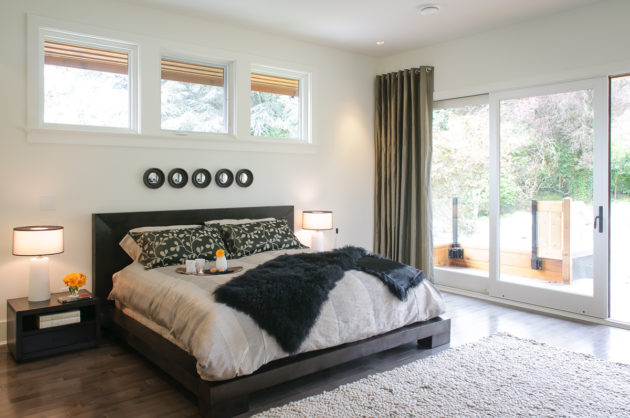 ---
Interiors by Gillian Ley
---
Iván Meade – You have had many successful exhibitions (both solo and group), media features and illustrations throughout your career as an artist. Was there a pivotal moment that was exceptionally rewarding for you? Or that made you feel as though you had "made it" as an artist?
Gillian Ley – I studied with the late Fleming Jorgensen in his night classes at the University of Victoria. He was able to reach me in a way that I took notice. His guidance, honesty, humour and charming teaching style gave me confidence with my art. A funny experience happened in one class where I was struggling. He looked at the piece I was working on and held it up for the class to see, and announced, "Gillian this looks like a bad party that won't end". Luckily I have a sense of humour and this spurred me on to keep pushing the edge with my work to find my style.
Iván Meade – As an artist and creative individual, is there any medium or style that you haven't experimented with that you would like to try?
Gillian Ley – I would love to explore textural elements and collage with my acrylic work.
---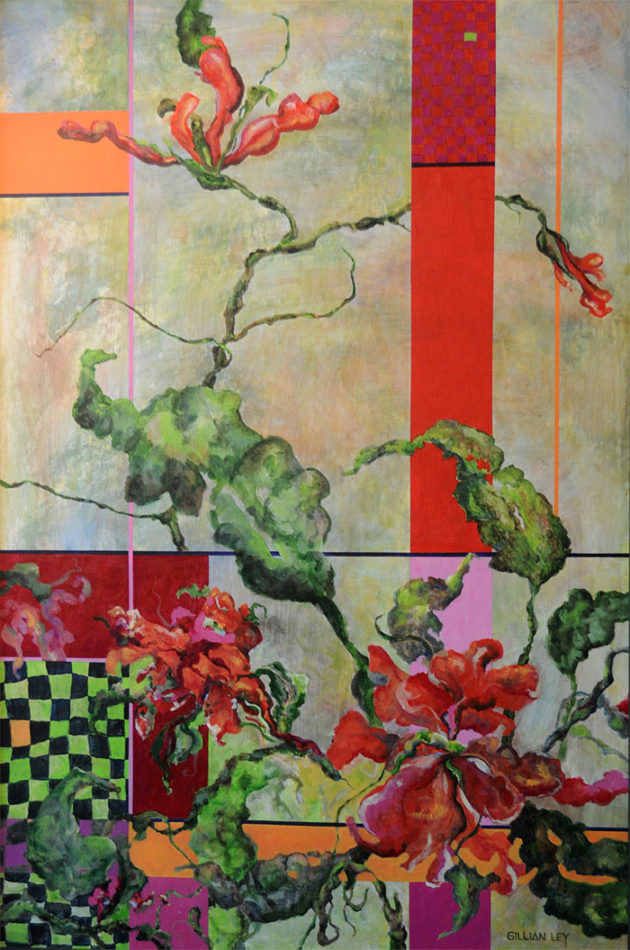 ---
"Unnatural State" by Gillian Ley
---
Iván Meade – What is your next art/design venture?
Gillian Ley – With my busy Interior Design practice my objective is to carve out more time for painting and to participate in more shows. It's a delicate balance.
Iván Meade – Lastly, you have already created a diverse body of work with many mediums and styles. What would you like your legacy to be?
Gillian Ley – To be a respected and fondly remembered business woman, who contributed to younger up and coming artists and interior designers.
---
I invite you to visit Ley Art & Interiors Website for more information about Gillian Ley's stunning body of work.