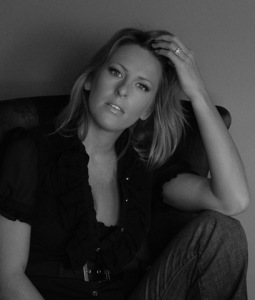 Jenny Martin
As seen in SNAP, February 2010.
Jenny Martin is a local design talent here in Victoria, BC; she combines her education at U of M (for Architecture) and VIU (for Interior Design) with years of experience and travel to form a beautiful fusion of classic elegance and West-Coast style.
Her firm, Jenny Martin Design (or JMD), has completed many residential projects including custom and seasonal homes in addition to commercial endeavours such as offices, developments, retail shops and restaurants. Many of these projects have been featured in national and international publications including Style at Home and Kitchen Trends.
.
I wanted to learn more about this talented designer and get to know her, so I asked her for an interview to get her input on current trends and her personal take on design. Please read on to learn more about Jenny and her firm…
Iván Meade – What is your favourite design find?
Jenny Martin – I don't think I can pick just one! I have a favourite design find everyday! We are constantly sourcing the globe for the perfect piece or material for each project. But if I had to pick just one… I would have to say it's the work of local artist Laura Harris.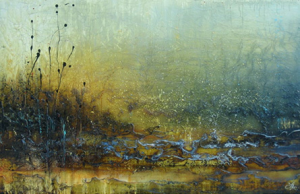 Art by Laura Harris
Iván Meade – Why is it important to you?
Jenny Martin – Laura's artwork is such a source of inspiration, her abstract use of colour, light and texture is absolutely stunning.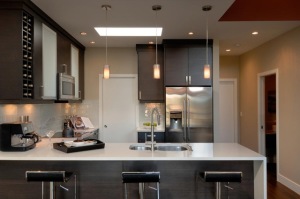 Interiors by JMD
Iván Meade – How does this item reflect upon your personal design philosophy?
Jenny Martin – I like to create spaces that are calm, comfortable and inviting. Our lives are hectic enough, Laura's artwork works perfectly in simple inviting spaces, her paintings are strong and vivid while still serene and peaceful.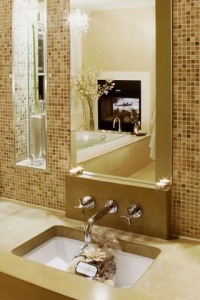 Interiors by JMD
Iván Meade – What was your first experience with design?
Jenny Martin – I grew up with parents who owned a company that built stage scenery, window displays and casino interiors; from around the time I could walk I've been surrounded by creative problem solving artists!! My parents were, and still are, a great source of inspiration.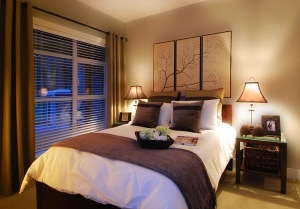 Interiors by JMD
Iván Meade – Who or what has influenced your style?
Jenny Martin – Nature, fashion and photography. I love watching how spaces photograph, it makes future designs even stronger knowing how light responds to forms and textures.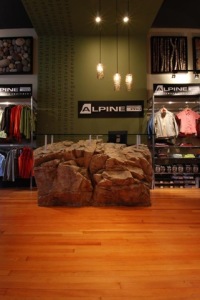 Interiors by JMD
Iván Meade – How would you describe your style?
Jenny Martin – Ever evolving. My goal as a designer is to really understand my clients' desires and create spaces that reflect their personal style and life experiences while solving their design challenges. I think you get to see more of my personal style when asked to design show suites and lottery homes. Its inevitable when given cart blanche!! That being said, deep down I'm an artist and doing the same thing twice isn't appealing so I guess that's why my taste is constantly evolving!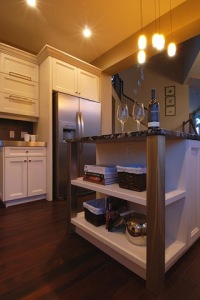 Interiors by JMD
Iván Meade – What designers of past and present do you admire most?
Jenny Martin – I love the work of Barbara Barry and Kelly Hoppen. I love the sophisticated elegance Barbara Barry brings to her work (furniture, fabrics and interiors.) Kelly Hoppen does a incredible job of marrying east and west to create simple contemporary spaces which she accessorizes fearlessly with repetition of vases, silks, linens and velvet to create a calm Zen aesthetic.
Design Icons.. There are so many that I Admire; Corbusier, Coco Channel, Mies Van Der Rohe, Charles Eames, Aalto, Frank Lloyd Wright…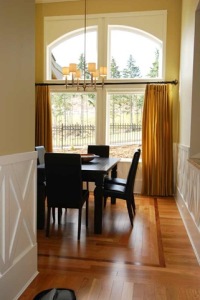 Interiors by JMD
Iván Meade – What do you consider to be your greatest strength and your greatest weakness?
Jenny Martin – My greatest strength is my ability to understand what a client wants. I (knock on wood) have never had a client say, "no, that's not at all what I was thinking.." It's about listening and actually understanding what they're thinking, not about selling them something.
My greatest weakness – Perfectionism… To some people the details are unimportant, to me they are key elements that bring the vision to life.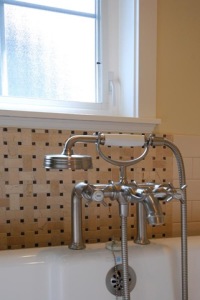 Interiors by JMD
Iván Meade – You began your career in hospitality design, but seem to have shifted more into residential in recent years. Do you have a favourite sector of design that you like to work in? If so, what is it that you enjoy about that type of project?
Jenny Martin – I really enjoy working with residential clients, from small renovations to huge custom homes, working with the end user is so much more personal. That being said, retail design is high on my list too. The turn around for retail design is fast and exciting and we can get really creative with the design concept!!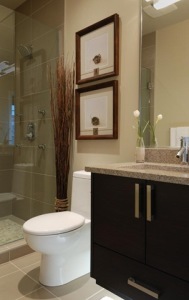 Interiors by JMD
Iván Meade – What are 5 things you can't live without?
Jenny Martin –
1) Light – I have a fascination with how light makes everything come alive. It doesn't matter how beautiful a space is laid out, designed or decorated if the lighting isn't there it will all fall flat.
2) Travel – I love collecting inspiration from around the globe, a couple months ago I was lucky enough to go to Israel and visit the historic cities of Jerusalem, Masada and the Port City of Jaffa. Its inspiring to see building that are still absolutely stunning thousands of years later.
3) Design Books and Magazines.
4) Knowledge – I am always learning about the latest and greatest innovations in design materials, applications and environmental options. It's inspiring!!
5) The Sun – It re-charges my soul!!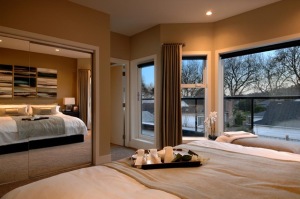 Interiors by JMD
Iván Meade – What are you excited about right now in the world of design?
Jenny Martin – I love designing with light! I love the way spaces can be transformed with properly layered architectural lighting mixed with accent lighting.
Relying on decorative fixtures to light a room is a mistake; you should be able to dim those fixtures to a level that highlights them as the art pieces and fill the room with ambient light from an alternate source.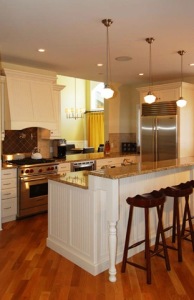 Interiors by JMD
Iván Meade – I noticed in your portfolio that you worked with a graphic design studio on their new offices, what was it like to work with a graphic designer on their interior? Were you able to feed off of each other's creativity?
Jenny Martin – It was a fabulous experience! Graphic designers, like us, are visual people with the same obsession for colour, form and composition so it was a lot of fun helping them shape their ideas into a work environment that was both functional and funky and with a tight budget!
We were working with a historic building downtown and wanted to keep it edgy and open. By incorporating air-line cable and suspended plexi-glass panels we were able to create division while still keeping areas open for collaborating ideas.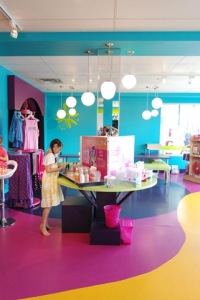 Interiors by JMD
Iván Meade – What would be your dream project?
Jenny Martin – I would love to work on another Lottery Home, a "W" hotel, or a Las Vegas Casino!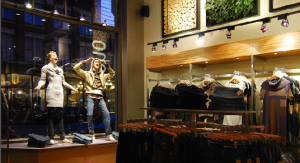 Interiors by JMD
Iván Meade – What project has given you the most satisfaction?
Jenny Martin – We've recently been working with Innovative Access Solutions renovating homes to make them more accessible for the people living with disabilities. One of the latest projects involved designing a space station kitchen for a young man living with autism. It's rewarding to see how the right design elements can make such a difference in the quality of their lives.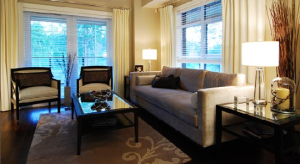 Interiors by JMD
Iván Meade – Just because I feel as though we need to get to know each other little better as colleagues, I thought it would be fun to ask you a fun fact about yourself; what is something about Jenny Martin that our readers won't know?
Jenny Martin – I love cooking, and lately I'm addicted to Thai! In the New Year I'm hoping to make it to Thailand to take an authentic cooking course.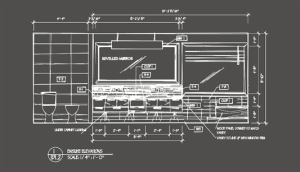 Drafting by JMD
Iván Meade – Can you tell me what your next design venture is?
Jenny Martin – After working with so many great clients on so many incredible projects, I'm really excited starting construction on our house this spring.
I'm just putting the finishing details on the constriction drawings and I hope to have them in for permit in the next week or two. We're going to incorporate as many environmentally responsible design elements as possible to comply with "Built Green."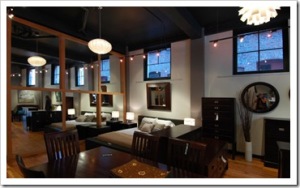 Interiors by JMD
.
Iván Meade – Lastly, you have already created a stunning body of work with many mediums and styles. What would you like your legacy to be?
Jenny Martin – I would like to be remembered for designing spaces (and furniture) that stand the test of time and are as beautiful 50 years from now as they are today.
I invite you to discover Jenny Martin work at her website :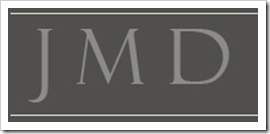 Ivan Meade is a local designer and principal of Meade Design Group, a multidisciplinary interior and graphic design studio in the heart of downtown Victoria – www.themeadegroup.com