---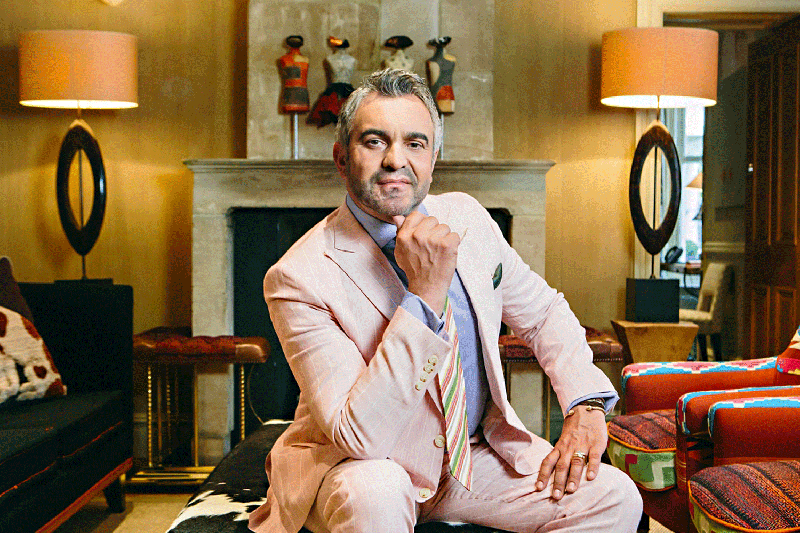 ---
Martyn Lawrence Bullard
---
Martyn Lawrence Bullard is currently one of my favourite interior designers, we feel very fortunate that we got an interview with him for our blog. His work and his creativity thrives on diversity. Martyn Lawrence Bullard can navigate comfortably in any style from contemporary to traditional. He has a quality that I have always admired. He works for the client and brings the client's vision to reality while maintaining a sense of style in each of his projects.
" Martyn Lawrence-Bullard Design, the multiple award-winning Los Angeles based interior design Company is renowned for their broad range of styles and eclectic, sophisticated yet always comfortable interiors. Martyn's extraordinary attention to detail and commitment to quality has won him international clientele and acclaim. His work has appeared in over 70 publications worldwide including Architectural Digest, Elle Decor, House & Garden, Interior Design, W, Vogue, House Beautiful, both the New York Times and the Los Angeles Times and currently 10 coffee table books.
His clientele includes Cher, Emmy winner, writer, producer Aaron Sorkin, Edward Norton, Christina Aguilera, Mr. and Mrs. Vidal Sassoon, Kid Rock, Rebecca Romaijn, Roca Fellas Records and Rocca Wear CEO Damon Dash, Felicity Huffman, William H Macy, both Residential and Corporate commissions for Jimmy Choo CEO Tamara Mellon, executive offices at both Warner Brothers and Paramount Studios, Patti La Belle, the Colony Palms Hotel, jewelry designer Loree Rodkin, Cheryl Tiegs, David Furnish and Sir Elton John ".
I am so happy to share Mr. Barnes' thoughts on design with you…
---
 Iván Meade – What was your first experience with design?
Martyn Lawrence Bullard – My first design experience on a professional level was when I was 18 my sister and I decided to open a unisex designer fashion store called Temptation. I had always loved interior design so my sister looked to me to design the 2 floor shop. I chose to tent the ladies floor in cream Irish muslin and had hand wrought iron rails made to display the clothing. For the mens floor I had it paneled in walnut and a 19th century row boat hung from the ceiling with antique shop fittings and brass accessories.
---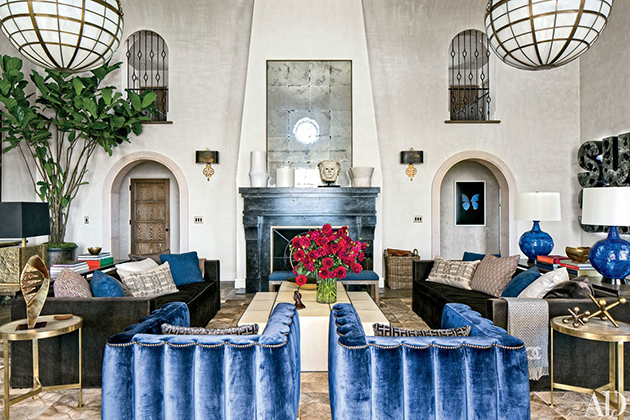 ---
Interiors by Martyn Lawrence Bullard
---
Iván – Who or what has influenced your style?
Martyn – My style has been influenced mostly by my travels. I was very lucky as a child to vacation around the world with my parents and I believe that had truly inspired me to take up design in my adulthood. I believe to see new countries and experience new cultures is the finest design education one can get.
---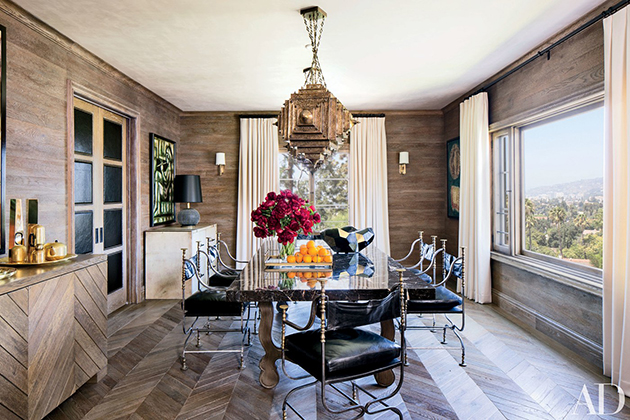 ---
Interiors by Martyn Lawrence Bullard
---
Iván – How would you describe your style?
Martyn – My Style is very much eclectic. I love, as Oscar Wilde once said " all beautiful things belong to the same time ". I truly believe to mix up styles and periods can produce the most beautiful results. For my work though I try to find my clients personal style and help them build from that and realize there personal design aesthetic , thus giving them their own interior that reflects their personality.
---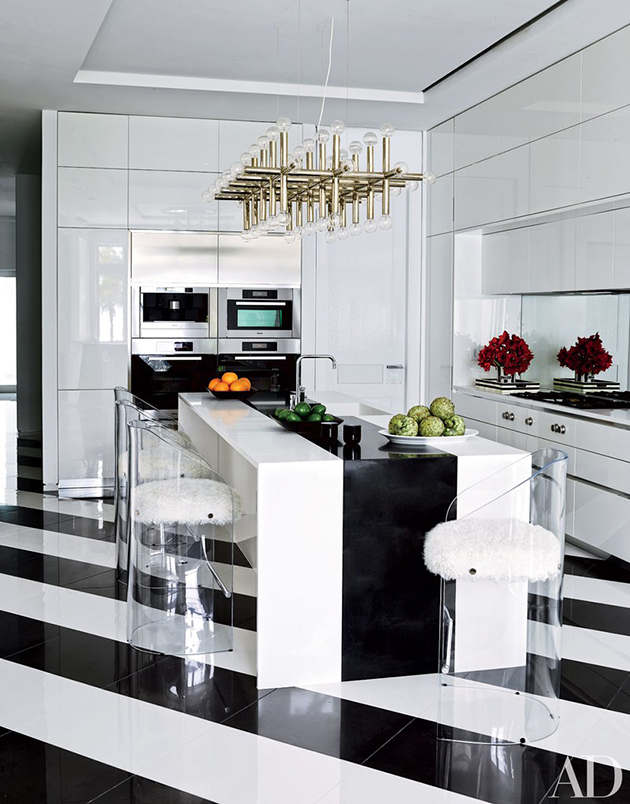 ---
Interiors by Martyn Lawrence Bullard
---
Iván – What is the most unusual request you have received from a client?
Martyn – The most unusual request I ever had was to ' gold leaf ' the interior of a garage for a new client. I actually believe a garage should look clean and as stylish as a utilitarian space can be , but to gold leaf it , well it was a little too over the top for me so I declined the job!
---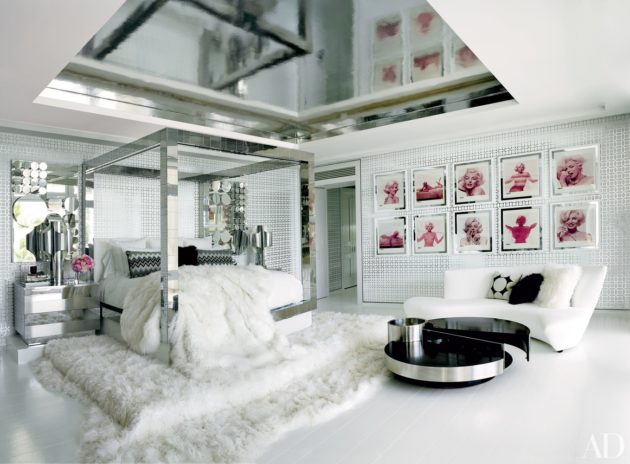 ---
Interiors by Martyn Lawrence Bullard
---
Iván – What do you consider to be your greatest strength and weakness?
Martyn – I think my greatest strength is the ability to design personal spaces for my clients that reflect their design style and personality rather than my own. I am bored with seeing designers only doing one look which they sell to all their clients. A job should be personal to the client. A tailored fit to them.
My weakness is my love of Photography. If I see a magnificent piece I just have to add it to my collection , even though I have no where left to hang anymore.
---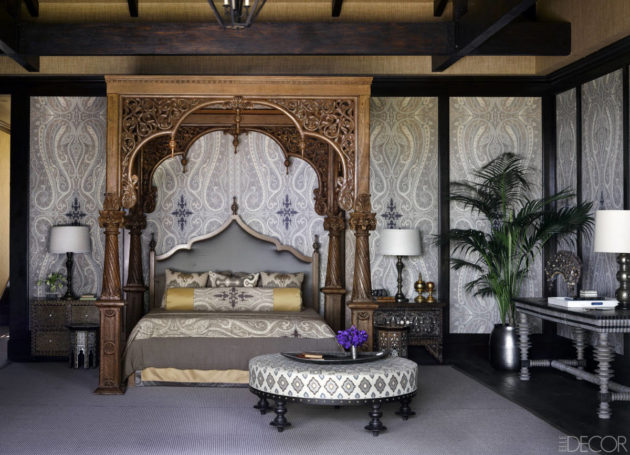 ---
Interiors by Martyn Lawrence Bullard
---
Iván – What will be your next venture in design?
Martyn – My next 2 projects are in Europe. I am restoring a 12th century castle in Umbria and turning it into a luxury boutique hotel which is a ravishing project. Then in London I am designing an exclusive designer fragrance store that was once a 19th century apothecary. The fragrances will be one off creations made exclusively for each client , so the store interior must match the rarity of the product.
---
Interiors by Martyn Lawrence Bullard
---
Iván – What designers of past and present do you admire most?
Martyn – I have always admired the extraordinary work of the Italian master decorator Renzo Mongiardino. His designs were so theatrical yet breath taking in their scale. Of course the work of the great David Hicks is always inspirational. His use of color and quirky twists were always wonderful and have taught me much. A current favourite of mine is the New York designer Steven Gambrel. I think his choices are always so beautifully thought out and his color palette always fresh and crisp.
---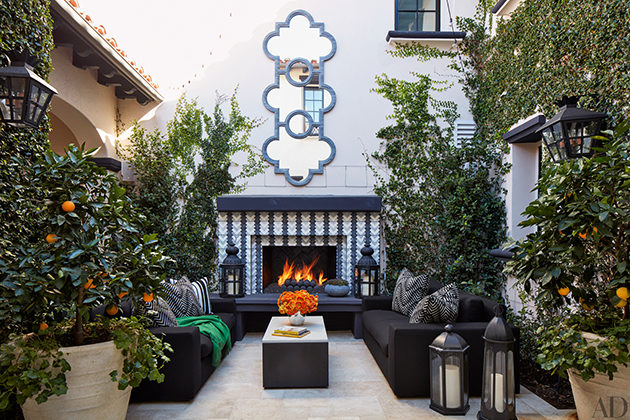 ---
Design by Martyn Lawrence Bullard
---
Iván – You have had the opportunity to work with several celebrities, have you ever been star struck?
Martyn – I have worked for Many celebrities of many kinds over the years however I have to say that growing up in a theatrical family has allowed me to avoid being star struck. That being said I consider myself so lucky working for such luminaries at the moment as Sir Elton John and Cher. Both of whom I admire and enjoy there work enormously and am happy to include them both as close friends now.
---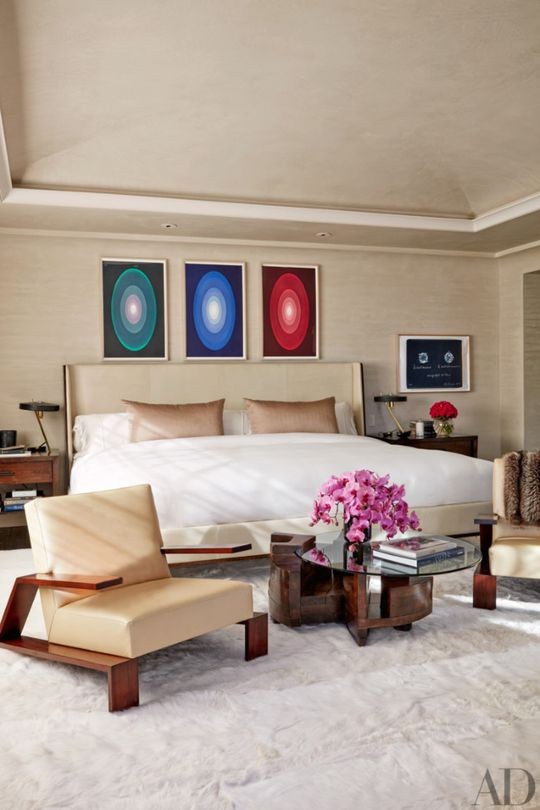 ---
Interiors by Martyn Lawrence Bullard
---
 Iván – Who would you like to design something for?
Martyn – I have just launched my first fabric collection which I am very proud of as well as the fragrance candle collection I launched earlier in 2008. As such I think it would be marvelous to design custom fabrics exclusively for my clients and their individual projects. Now that's a true custom interior when you can weave or print a one off for each project.
---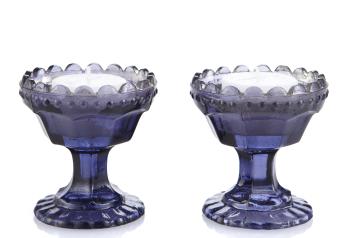 ---
Martyn Lawrence Bullard Glass Tealight Holder
---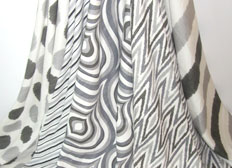 ---
Martyn Lawrence Bullard Indoor Fabrics
---
Iván – What project has given you the most satisfaction?
Martyn – Still my first ever real design job is I believe my favourite , not only because I cut my teath on the job ( a Balinese pavilion for Cheryl Tiegs ) but also because I learned so much from doing the house and was so proud of the finished results. The house although completed 12 years ago now still feels as fresh and exotic today as it did then.
---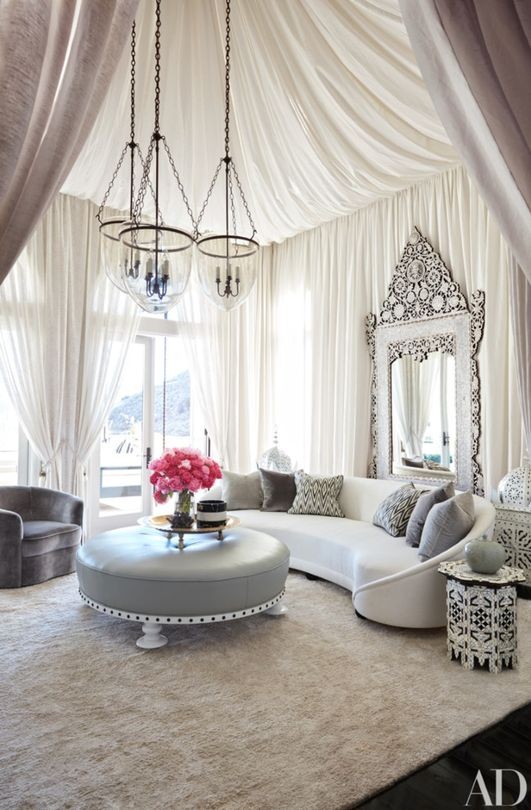 ---
Interiors by Martyn Lawrence Bullard
---
Iván – What books are currently on your bedside or coffee table?
Martyn – My favourite books of current include ' follies of Europe ' a wonderful book on the 18th century architectural fantasy of the landed gentry and aristocracy. I also love the assouline book ' so far , so Goude ' a fantastic compilation of the works of Goude including his marvelous studies of Grace Jones. The new photographic retrospective book of the works of Mathew Rolston is really beautiful and would grace any coffee table with style.
---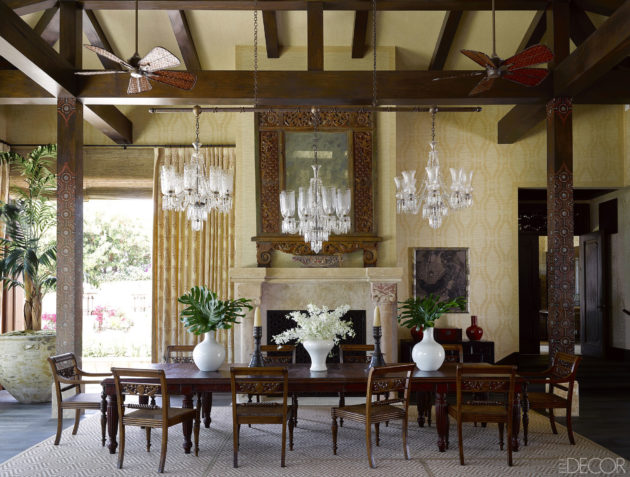 ---
Interiors by Martyn Lawrence Bullard
---
Iván – Name 5 things you can't live without…
Martyn – For the 5 things I can't live without :
1. Music would be the most important , it relaxes and inspires me constantly. I never tire of Mozart , Al Green and Seal.

2. I always keep with me a bottle of Vetiver cologne by Guerlain. I've worn it since I was 15 and it has become my trade mark.

3. My Lieca camera goes with me everywhere to record all things beautiful and inspirational.
4. I am permanently attached to my blackberry. It has become my life force as I can always be in touch with my office anywhere I am in the world and can send pictures of objects I may want to buy for a project directly to my clients for approval to purchase. Its the best tool.
5. Lastly as I travel so much I always take with me a Duxiana travel pillow. Its the greatest luxury to have ones own little down pillow on a plane or to make familiar an otherwise strange hotel bed.
---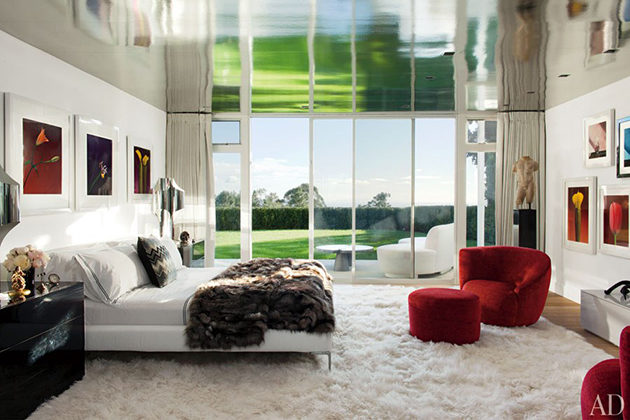 ---
Interiors by Martyn Lawrence Bullard
---
Iván – What is the most practical thing you own and what is the most rare?
Martyn – The most practical thing I own really is my blackberry. It has become my work horse and instant communicator in a business where speed and efficiency are key to delivering a quality product.
The rarest thing I own is probably a 17th century branch of red coral mounted on a silver and ebony base. Completely useless , but utterly beautiful.
---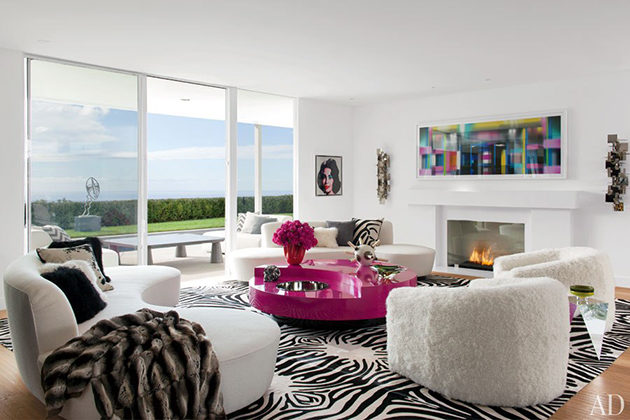 ---
Interiors by Martyn Lawrence Bullard
---
Iván – What are you excited about right now in the world of design?
Martyn – The world of Design right now is a very exciting place with all the new materials and inventions appearing almost daily. I think one of the most exciting developments of late is the re introduction of wallpaper into the home. Although greatly popular in the 50's and 60's we had not seen it used for a while and now many companies have re introduced them into their collections with many applications and new textures brightening up the interior design world with a never ending realm of possibilities for the otherwise bland wall.
---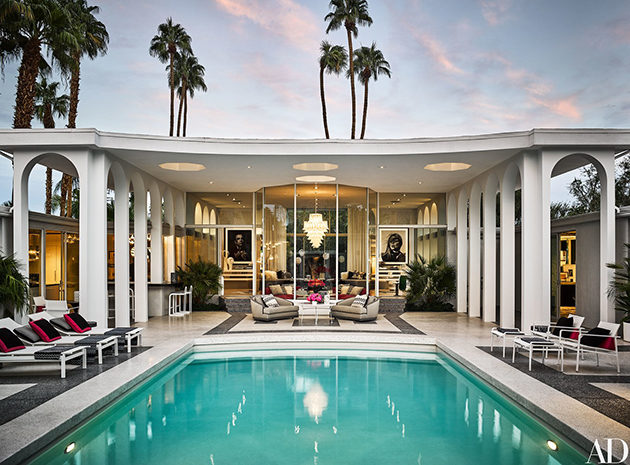 ---
Design by Martyn Lawrence Bullard
---
Iván – Lastly, you have already created a stunning body of work with many mediums and styles, what would you like your legacy to be?
Martyn – I would hope my design legacy will be the body of work I have created over the years. Some important restoration on famous properties , the assorted styles of design I have incorporated and the work in so many countries now. Of course I would hope my fabric and furniture collections will become both design classics and house hold collectibles to be enjoyed by generations to come.
---