As part of our 100 entries celebrations I am posting a fun and interesting interview from Woodson & Rummerfield's House of Design. Enjoy!
Ron Woodson and Jaime Rummerfield are interior designers, co-owners of the boutique Woodson and Rummerfield's House of Design in Los Angeles, as well as designer of fabrics, furnitures, and home goods. Their interior design clients include The House of Versace, John Travolta and Kelly Preston, Courtney Love, Christina Aguilera and many more.
Ron Woodson, named one of House Beautiful's Top Young Designers for 2005, is a Los Angeles-based design talent with an unusual mix of skills. He uses both sides of his brain resulting in a unique ability to combine experienced business acumen and a high level of design creativity.
Jaime Rummerfield shines as one of LA's hottest Interior Design talents. Jaime's accomplishments have been published extensively in a variety of design magazines. With a Bachelor of Science in Design from Arizona State University's College of Architecture, Jaime cut her teeth with such renowned clients as Herman Miller, Steelcase and California Bank & Trust.
Opening her boutique design firm, Jaime hit the ground running with several high-end and celebrity clients. With home design shows on MTV, HGTV and the Style Network, she was also named to House Beautiful Magazine's list of "America's top 25 young designers." In 2004, she kicked it up a notch and began the process of merging creative forces with Ron Woodson. In June, 2005 their design partnership expanded into Woodson & Rummerfield's House of Design, a fabulous retail store and Design Studio on La Cienega Boulevard.


Iván Meade

– What was your first experience with design?
Jaime Rummerfield –As a teenageer my bohemian mother let me paint a graffiti mural on my bedroom wall.

Ron Woodson – My design experience goes back to when I was 8 or 9, I would rearrange my room and my parents living room every chance I got.

Iván – Your interiors are not just beautiful and contemporary but they are also very liveable. How do you achieve that?
Jaime – Comfort is a part of living. An inviting room is key to a successful design. We really take into consideration the textures of the fabrics, color, scale and proportions of the elements in a room and create a harmonious balance.
Ron– We also take lots of cues from our clients and what they envision their space to be. Our clients come to us because they know we're going to give them a cohesive design that will be both aesthetically pleasing and very livable.
Iván – I believe one of your strengths is styling; your vignettes are always exquisitely well done –Any words of styling wisdom? Where do you get your inspiration?
Jaime – A good understanding of composition is important. We gather inspiration from fashion, jewelry, vintage furnishings yet we always mix in a modern element.
Ron – Jaime and I have both studied design and we really take it to heart and we collect inspiration from all of our surroundings i.e. Nature, fashion, and old Hollywood.
Iván – I read that you have created a new term in interior design "modage" can you elaborate on its meaning?
Jaime – Literally the word just came out when we were admiring an installation — Oh that is so "Modage"! We tend to discuss our process and theories quite a bit and we were examining this hallmark of ours which is the combination of modern and vintage, hence Modage.
Ron – We like to have fun with design and the word came from working on installations and it just stuck. People always try and put us in a category and we generally refute their assumption so modage was also a great way to describe us and our style.
Iván – Is there any designer and/or architect from the past, you appreciate a lot?
Jaime – Elsa Schiaparelli, Tony Duquette, Charlotte Perriand.
Ron – Paul Williams, David Hicks, Billy Haines, Albert Hadly.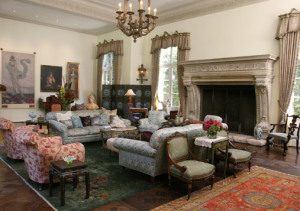 Beverly Hills Landmark Estate
Photograph courtesy of Woodson & Rummerfield
Iván – and those still working?
Jaime – Vivienne Westwood, Jamie Drake, Diamond Baratta, Ron Woodson.
Ron – Oswald Boateng, Vicente Wolf, Jaime Drake and my partner Jaime Rummerfield.
Iván – What project has given you the most satisfaction?
Jaime – Christina Aguilera's Estate.
Ron – Christina Aguilera's Estate.
Iván – Who would you like to design something for?
Jaime – Pharrell Williams.
Ron – Tina Turner.
Iván – How has technology (such as your website) affected your business?
Jaime – Huge — We seem to have a global outreach now.
Ron – technology has allowed our clients and the public to become more savvy about design and it keeps us on our toes to keep design fresh and interesting.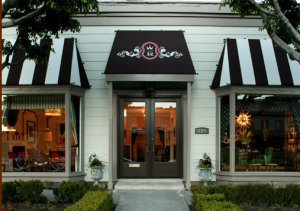 Showroom
Iván – What is your newest venture in design?
Jaime – Our coffee table book "High Style" is a delicious diary of us as Los Angeles designers.
Ron – Our new book and our new furniture line that debuts at High Point this fall.

Iván – What is next on your design journey?
Jaime –We are diving into the world of product design and licensing.
Ron– Boutique hospitality design is something we would really like to embark upon.
Iván – Lastly, you have already created a stunning body of work with many mediums and styles. What would you like your legacy to be?
Jaime – Tastemaker that made this world a beautiful place in which to live.
Ron – I would like my legacy to be that I left the world with enduring timeless style and elegance that people would talk about for generations.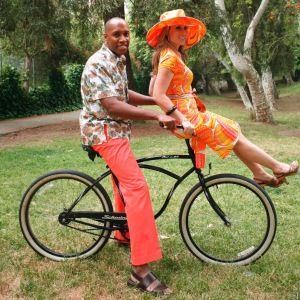 Ron Woodson &
Jaime Rummerfield

Photograph courtesy of Woodson & Rummerfield