---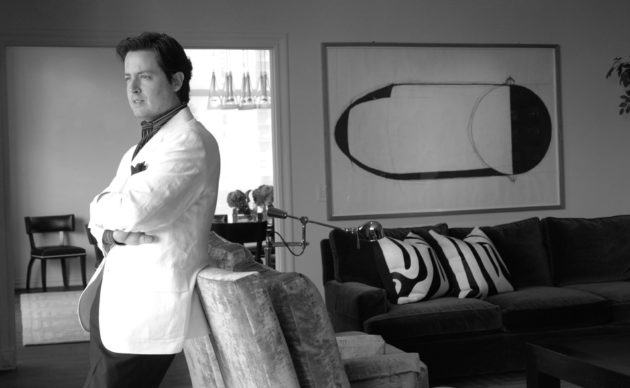 ---
Ricardo Barroso
---
Three words could easily describe and define the work of Mexican Architect and Interior Designer Ricardo Barroso – Elegance, Timelessness and Class.  As one of the most recognized interior designers in México, Barroso is a household name and renowned among the elite Hollywood stars, including Eva Longoria who wrote the preface in his latest interior design monograph.
Ricardo Barroso was born in 1973 in Mexico City. While he was growing up he traveled the world sourcing antiques with his mother, who is also a well recognized decorator. In 1999, Barroso established his own firm and ever since has been creating projects in Mexico and abroad, imbuing every interior he designs with his exquisite personal taste.
The Ricardo Barroso Studio currently works worldwide, and has completed many projects not just in Mexico City, but in Acapulco, Cancún, Los Cabos, New York, Miami, and Madrid for his select list of clientele.
One enters into a Barroso project and all prior expectations disintegrate until nothing remains but astonishment at the beauty and comfort. Barroso's signature style always prevails with the perfect mixture of furniture and an artistic verve that, combined with decorative objects, creates spaces that are not just beautiful but equally sophisticated and comfortable.
I invite you to read this interview and discover why he is one of the most established names in the current Mexican design scene.
---
Iván Meade – What was your first experience with design?
Ricardo Barroso – I've always been surrounded by great design. My mother was a designer herself, and I used to go as a child around the world with her, shopping for antiques, furniture and fabrics… My parents had several homes and each of them was a work in progress…
---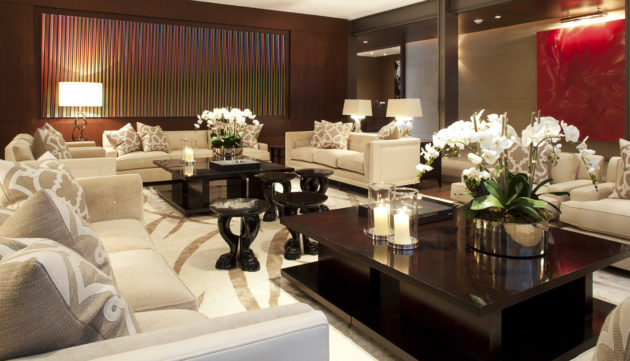 ---
Interiors by Ricardo Barroso
---
Iván Meade – The Barroso design style has been wildly celebrated, especially with the fact that you have a monogram book in which you talk about your design and the experience of working with you – We know what Eva Longoria thinks about your talent and style when she wrote the foreword, but how would you describe the Barroso style in your own words?
Ricardo Barroso – I always say, its all about feeling comfortable in your surroundings. To me, there's no better luxury than comfort, and of course it has to be appealing and sexy; it's about each clients' rich personality, so I think of myself as a tailor of spaces, where each room must fit like a glove and must make you dream and feel inspired.
---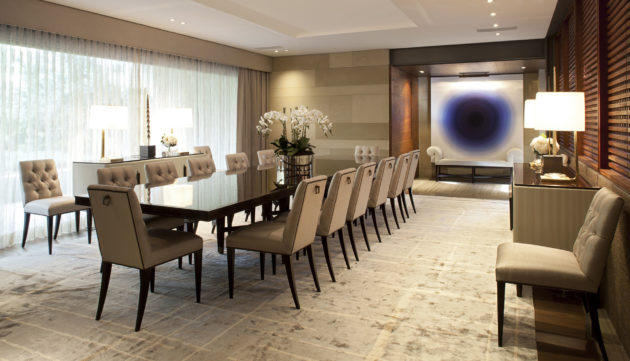 ---
Interiors by Ricardo Barroso
---
Iván Meade – What do you love the most about being an interior designer?
Ricardo Barroso – Being creative for me is priceless. My family wanted me to go into law school or business school, but for me it felt like being tied up to an idea or a cliche, what I should become in life, like having my life all decided for in advance. So after 5 semesters, I decided to quit business school and instead went to study architecture …and finally specialized in Interior design.
I see my work as a way of life, of being civilized, and also as a form of language so that I can express myself. I love making every client's life more beautiful. My philosophy is…if the first thing you see in the morning is beautiful, you will see the world outside in a different light.
---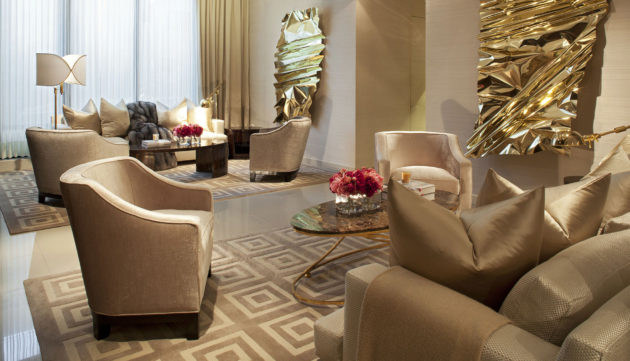 ---
Interiors by Ricardo Barroso
---
Iván Meade – Clients nowadays are becoming more sophisticated and design-conscious. How has that influenced you?
Ricardo Barroso – Well, my international clients always have been sophisticated, but in markets like the Mexican or Latin-American ones, IN GENERAL it's harder, because clients are not always willing to spend on design. It has been considered superfluous in certain societies… even sinful!!! They LOVE to copy furniture and goods, and some of them are very cheap.so one immediately recognizes them.
So, it's been a double job for me, first educating them on why design is important in everyday life, and second selling high quality goods and services.
I remember when I did one home, the husband did not want to spend on art. He didn't understand the concept of art or collecting, so I took him to art fairs and auctions, and then suddenly he realized what the whole world was going crazy for…and now he's an amazing collector.
I was the first formal interior designer in Mexico back when I established my business in the 1990's. Since Mexican designer Arturo Pani died, there was a void for almost a decade that no one was filling. Sure there were some wives of local architects that would do it as a hobby, they would copy furniture from design magazines with their local carpenters or upholsterers and use really bad and cheap polyester fabrics…. but there was no one serious or established.
Now 20 years later I find myself surrounded by an explosion of young new talents, but sadly not enough educated clients… work is still a tough road ahead, for this new generation, it's not easy.
---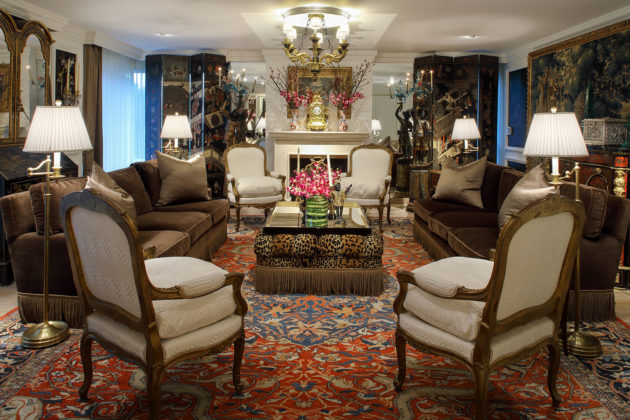 ---
Interiors by Ricardo Barroso
---
Iván Meade – The selection of your furniture pieces is always elegant and exquisite at the same time – What inspired you to include antique pieces in your projects that are no longer commonly used in today's homes?
Ricardo Barroso – To me antiques are an indelible part of our souls of our previous generations; I see them as masterpieces that instantly  uplift a room, give it personality, sexiness, and glamour!! To me they're basic in every home, and in every room!!! I think more and more these days, we see them take over. I see instagram profiles and i see a LOT OF ANTIQUES going in style! I love them!!
---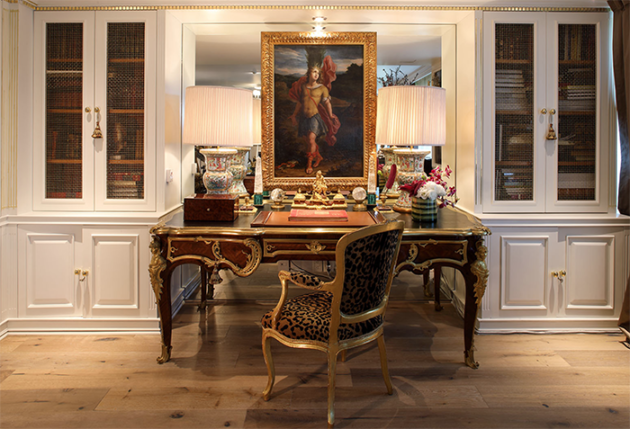 ---
Interiors by Ricardo Barroso
---
Iván Meade – When do you buck the trends and break the rules?
Ricardo Barroso – I think to break the rules you must first know them by heart, I think you need to break them to avoid making every room flat or boring, to give it a bit of whimsy, that extra spice. Sometimes I paint small rooms really dark, the general rule says lighter colours make bigger rooms, but i find darkness and perfect lighting make a small space magical and huge!
---
---
Interiors by Ricardo Barroso
---
Iván Meade – You are based in México City, but have had the opportunity to work in the USA with many projects – How do you adapt your design aesthetic to the country or clients' culture?
Ricardo Barroso – I always say my design style is global, it works everywhere. My style is very out there, since I am both European and Mexican and was educated in America, so I'm constantly evolving, updating and absorbing everything I see in Europe, USA, Brazil, Costa Rica or Mexico.
---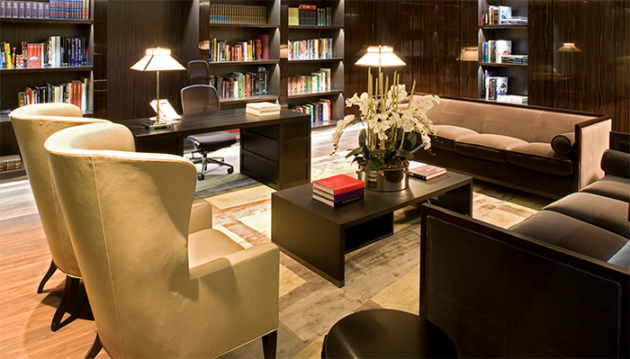 ---
Interiors by Ricardo Barroso
---
Iván Meade – As a Mexican I have to ask this question.  What are your thoughts about the Mexican design aesthetic of today – What do you like and what you dislike about the current Mexican design style?
Ricardo Barroso – I love Mexico, a wonderful magical land, filled with colours, spices, flavours, landscapes, nature, and wonderful warm people, but I think we haven't seen anything new since Luis Barragán when he introduced all these colours and textures to the modernist movement. Ricardo Legorreta took his legacy (Luis Barragan) and brought it to the 21st century. Now I see a reinterpretation of the same song …in an abstract, derelict-"hipster"-industrial-moderny-austere way, which I find cliche, cheap and rancid… 
I think Mexican design should move forward to more sophisticated clean lines, smooth glossy surfaces, exotic woods, exotic stones, style, substance, and glamour!!!
---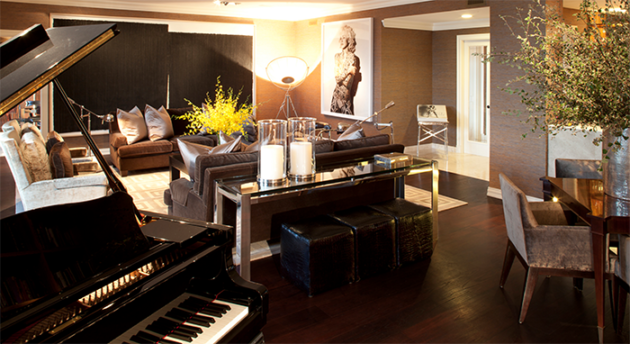 ---
Interiors by Ricardo Barroso
---
Iván Meade – Many of our readers are design students – What would be the best advice you can give to somebody who is starting a career in design?
Ricardo Barroso – Work in a design firm!! Get to know the business, the clients; its not always a glamorous job out there, it's a hard job that you need to dedicate your life to. I read somewhere that to be a good designer you had to be "a great actor, a great lawyer and a great psychologist to be a good designer," and I totally agree.
---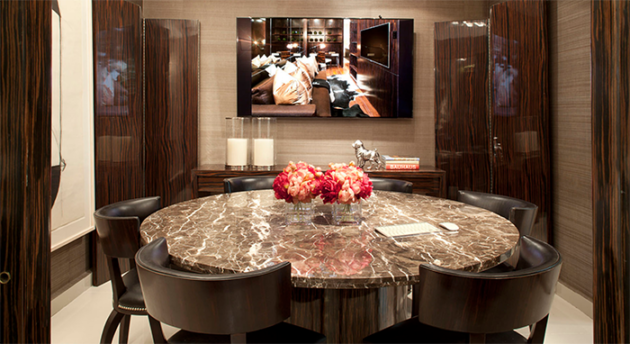 ---
Interiors by Ricardo Barroso
---
Iván Meade – What is for you the value of design?
Ricardo Barroso – Design makes everyones life beautiful, and life with beauty in it makes it easy to look forward to new days, even Mondays!
It makes you want to get up in the morning , have that hot coffee in a great cozy sofa, read your favourite book in a patio by a nice fireplace. To me, thats what life is all about, a quality of living where every moment is enjoyed in every part of ones home.
---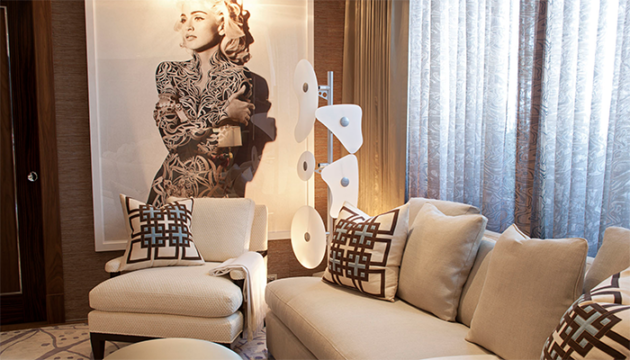 ---
Interiors by Ricardo Barroso
---
Iván Meade – What has been your most fulfilling project?
Ricardo Barroso – My first Luxury Yacht! Ever since I was a kid in math class I would draw boats and planes, and I would dream away that I would someday design a great boat. Then it happened, one of my clients called me one evening and said… "Ricardo, I just bought a boat in Livorno Italy, I want you to decorate it, can I fly you there tomorrow to see it?" I immediately said "YES!" Then came the nightclubs and restaurants, its been a dream come true, I feel so blessed.
---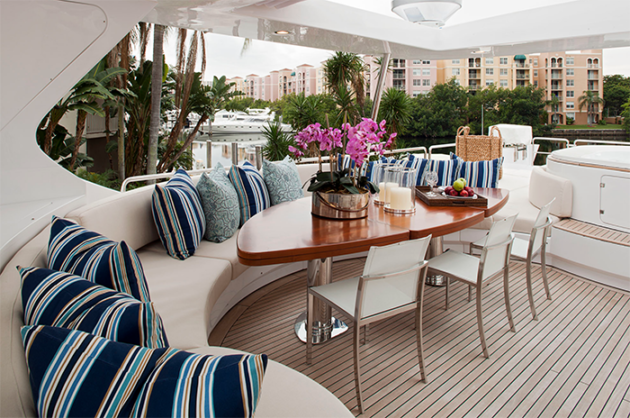 ---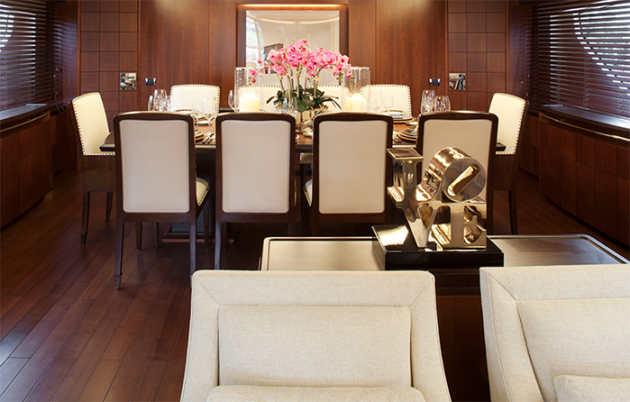 ---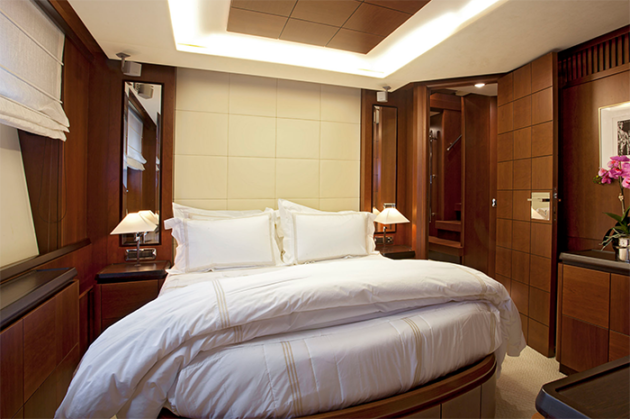 ---
Yacht Interiors by Ricardo Barroso
---
Iván Meade – Describe what you like most about your own home?
Ricardo Barroso – That I can experiment everyday with new things, combinations, colours, everything! I love seeing how many personalities I can get out of each room, one day Victorian, the next  Art DECO.
---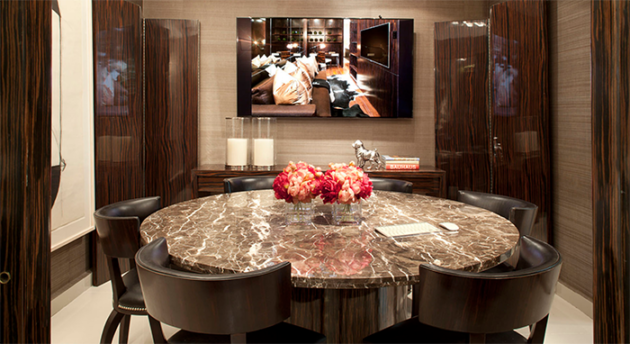 ---
Interiors by Ricardo Barroso
---
Iván Meade – Five things you cannot live without?
Ricardo Barroso – 18th century French antiques, Music, ART (both Classic masters and Contemporary art), a comfy sofa, and air conditioning!
---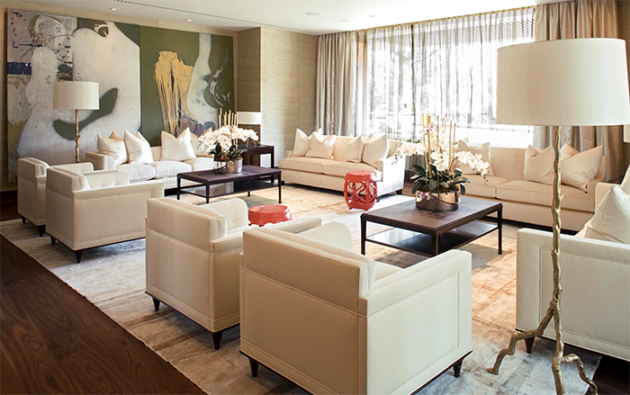 ---
Interiors by Ricardo Barroso
---
Iván Meade – What do you think that every house should have?
Ricardo Barroso – Every home should reflect the best it can, be the best version of it, be a joyful one, bring peace and happiness to its owners, and be comfortable.
---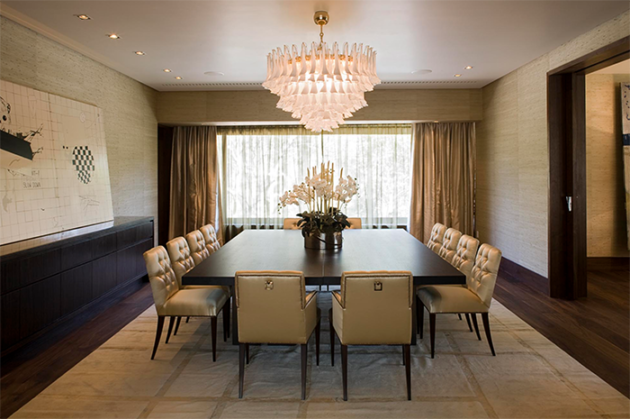 ---
Interiors by Ricardo Barroso
---
Iván Meade – What is next for Ricardo Barroso? 
Ricardo Barrroso – Well, I've now published 6 books together with other designers, and then I published my first Monogram book, and now I'm working on publishing a second one. I'm also opening an office in Madrid, Spain, and who knows …maybe one day I'll become based in New York too (if times allows it).
---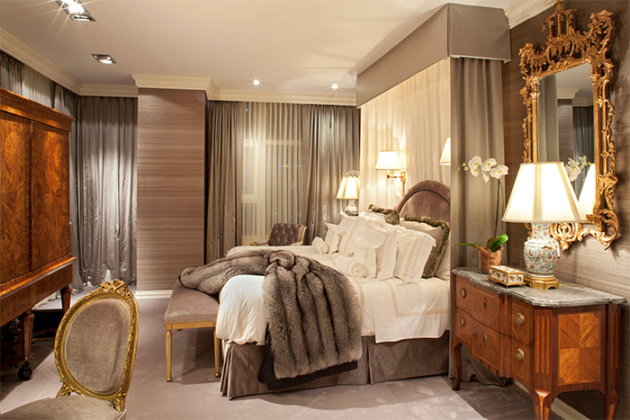 ---
Interiors by Ricardo Barroso
---
Iván Meade – Lastly, you have already created a stunning body of work with many mediums and styles. What would you like your legacy to be?
Ricardo Barroso – Wow, great question…. I guess I would like to be remembered as an intrepid explorer in a senseless jungle who married looks and comfort and created something wonderful and magic that made people happy and left a beautiful mark in their lives.
I would also leave some books behind… since nothing lasts these days, I see great work from amazing designers in the past, and now everything's gone except for the pictures.I think designers' works should be preserved and restored but never remodelled.
I invite you to visit Ricardo Barroso's website to discover his stunning body of work:
---

---