As seen in SNAP magazine, February 2012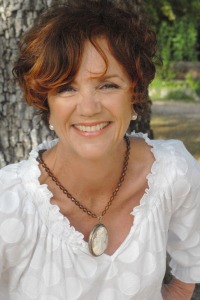 Barbara Gergel
Barbara Gergel is a very talented and recognized local stylist. I had the pleasure of meeting her years ago at a friend's party.   Since then we have shared a great friendship, and an appreciation for one another's style.
From residential to landscape design, Barbara's ability to mix styles, deep knowledge of the design elements and a clear understanding of her clients needs are evident in each of her projects. Barbara's designs have always been characterized by the elegance of their lines and a sense of uniqueness. Her work is often transitional with a perfect blend of classic and contemporary elements."I love design. Design is Art but it has to work harder. Design must serve many masters…. function, budget, and of course, your aesthetic" Barbara says.
I have always found what my design colleagues treasure very intriguing, so I had to ask Barbara what her favourite design find was and the story behind it.
Iván Meade – What was your first experience with design?
Barbara Gergel – My first experience with design was when I was a teen (in the 70's) when all I wanted was a black and white bedroom. I managed to cajole my parents into giving me free rein to do as I wished and even they were surprised how three white walls, a white painted wooden floor and a black feature wall looked. What stuck out the most was the apple green Panasonic transistor radio that hung from a chain in the window.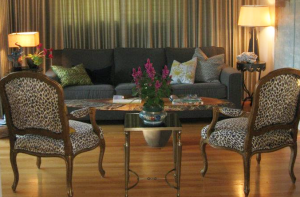 Interiors by Barbara Gergel
Iván Meade – What is your favourite local find?  Where did you get this item?
Barbara Gergel – My favourite local find was an old couch I found at Kilshaws. Now I'm an Auction junkie, but this couch was elegant and it had a wonderful curve to it and it felt solid., I had it upholstered in a rich teal mohair fabric and sitting in it is like a great big hug.
Iván Meade – Why is it important/inspirational to you?
Barbara Gergel – It is important because….it has a story and I'm not sure what it is, but at that time I was missing my father in law who had just passed away and who had been such an important man in my life. Interestingly the teal colour I had it upholstered in  was the colour of his eyes, it has been with me a long time and as much as great finds come and go, this one's here to stay.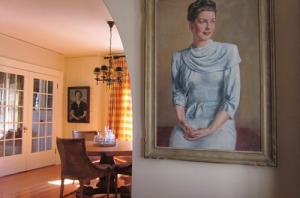 Interiors by Barbara Gergel
Iván Meade – You always respect the traditional with a fusion of vintage and a sense of modernity.  I believe this is what makes your style.  How do you achieve this?
Barbara Gergel –With the use of paint, fabrics and furniture I try to create a living canvas, a place where my clients can breathe, a place that is nurturing as well as exciting for them. We live with a lot of traditional shapes (in our houses)and,I love vintage, so combined there's a modern twist; an element of surprise.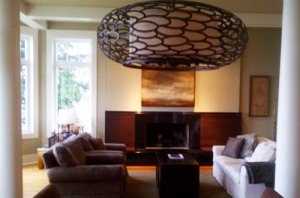 Interiors by Barbara Gergel
Iván Meade – I noticed how much you love all things Vintage.  How do you find all these great pieces?  How is the reception from your clients when you present a Vintage piece to be part of your designs?
Barbara Gergel – I'm always on the hunt for furniture. I scour auctions, second – hand shops, attics and basements. I'm happy in a room that others would walk away from, so someone's clutter excites me, I like to make order out of that. When I find a piece it may not be used right away but eventually it will end up in a house with new fabric and look amazing.
Often clients want something that is different. It's not uncommon for a client to have a piece of furniture that they're attached to and once it's been reworked it takes on a whole new look. It creates an element of surprise, or delight, and that is worth so much in the overall scheme of the design.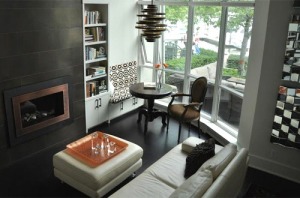 Interiors by Barbara Gergel
Iván Meade – Who would you like to design something for?
Barbara Gergel – I'd like to design a glass house for a particular piece of property that I love. It is a pastoral setting looking out over gently undulating fields with trees and ponds sloping towards a lake. This is a magical setting that I'd like to capture within a room where one's not sure if there are walls, it's a very surreal dream, but I see it very clearly. It's creating the outside – inside.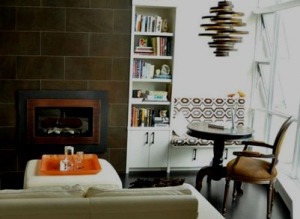 Interiors by Barbara Gergel
Iván Meade – We also know that your gardens are amazing – What kind of things do you have to keep in mind while creating a landscape that the client might not realize is important for you to know?
Barbara Gergel – I need to find out if my client is a gardener, if not, then we don't want a garden that will burden them. I want them to choose a garden lifestyle, what do they want to do in that garden, what do they want of the garden? I need to know if they have an aversion to particular plants, or colours, or whether or not they want a multi season garden or just one season. I want it to flow easily from the inside of their house to the outside, I want them to be excited by that possibility.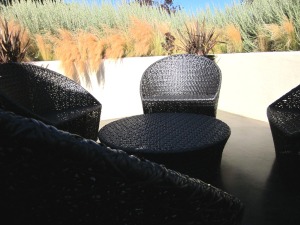 Exteriors by Barbara Gergel
Iván Meade – What are gardens for?
Barbara Gergel – They're for dreaming in, they're a place to lose oneself. They're a place for friends and neighbours to meet and to talk in. Great gardens attract people who appreciate them, so neighbourhoods with nice gardens come alive. They inspire, elevate, calm and nurture our senses. I am grounded in the garden.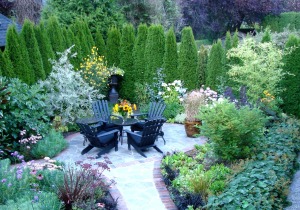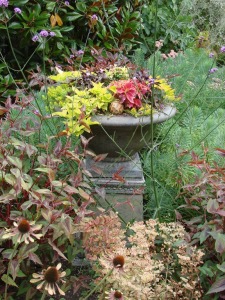 Exteriors by Barbara Gergel
Iván Meade – Is there a product, material or plant that you cannot wait to use in one of your future projects?
Barbara Gergel – A fantasy of mine would be to work with Patrick Blanc's amazing team on his vertical living garden installations. They are truly amazing, inspirational works of art, to be a part of that would be a dream come true.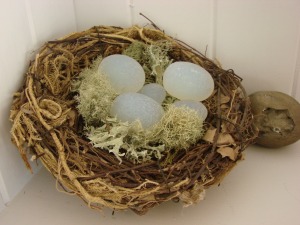 Vignette by Barbara Gergel
Iván Meade – You just successfully re-launched your career as a designer in the city – What's next for Barbara Gergel?
Barbara Gergel – Give me a room, or a house, full of furniture. I love to make sense out of chaos, so would welcome the challenge to edit, edit, edit and to turn straw into gold.
I invite you to visit Barbara Gergel's website at: