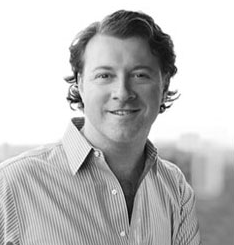 Philip Mitchell
I first came across Philip Mitchell and his design work in House & Home Magazine. I was so pleased to see these beautifully designed spaces have helped Philip receive success and praise throughout Canada. I came to learn that Philip and his projects have not only appeared in House & Home (where he was selected as one of Canada's Top 25 Designers in the magazine's 25th Anniversary issue), but also in the National Post, Dream Kitchens & Baths, and Renovation Style.
Philip does not limit his designs to a particular style, but they always have this one linking element: a sense of calm and beauty. They are spaces that one feels they can walk into and feel right at home. It's also most common to find classic elements throughout his creations, whether it be the furnishings, finishes or architectural details. The result is a series of elegant, timeless and functional spaces.
Philip Mitchell opened his namesake firm over seven years ago after gaining experience working with two of Canada's largest interior design firms. Since its inception, Philip has experienced great success. The firm has had the opportunity to work not only in Canada, but also in the US, Europe, and the Caribbean. In addition to the magazine appearances, Philip also has his own line of furniture which has recently been launched: 'The Philip Mitchell Design Furniture Collection', which encapsulates his style to a tea.
I can't wait to see what's next for Philip Mitchell, so to tide us all over, please read on to get in on the conversation…
Iván Meade – What was your first experience with design?
Philip Mitchell – I was exposed to great design from a very young age. My mother and her family always had wonderfully decorated homes. Every detail from comfortable upholstery and unique linens to fine bone china and interesting artwork were always considered in these spaces. As a young boy I remember being encouraged to develop my interest in design by her and given the opportunity to participate in the decoration of my own bedroom.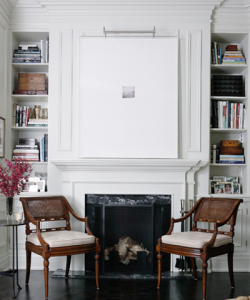 Interiors by Philip Mitchell
Iván Meade –  Who or what has influenced your style?
Philip Mitchell – I would say it was my mother who was my greatest influence. My mother, who helped decorate her family and friends' homes, taught me to value the quality associated with antique and custom furnishings and how objects can be displayed or arranged to create a beautiful yet personal reflection of one's taste.
Also my partner Mark, an ongoing source of inspiration and support, pushes me to create new and innovative designs for our own personal residence as well as my clients.
Finally, all forms of design interest and influence my personal design style. Everything from my library of historical and current design books, to my travels, to new dining experiences, to the environment around me, it all inspires me.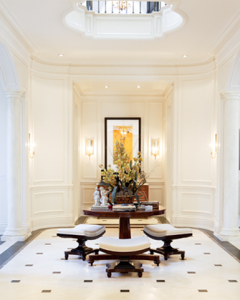 Interiors by Philip Mitchell
Iván Meade – What is your approach to life style and design?
Philip Mitchell – I think they go hand in hand. It's important to me to create comfortable and personal interiors for my clients that are a stylish and attractive reflection of their everyday lives.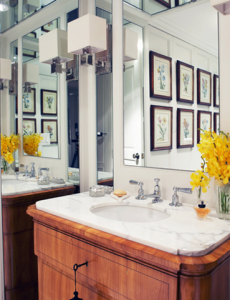 Interiors by Philip Mitchell
Iván Meade – Your design philosophy is to remain true to the spirit of the structure and location of the project – How do you achieve this?
Philip Mitchell – Before I start a new project, I always research the historical styles, environment and local character of the home that I will be working on. This research inspires the interior architecture, trim details, colour palette, fabric and furniture selection. I utilize local trades/craftsman and source local artists work who represent the spirit of a particular location or region.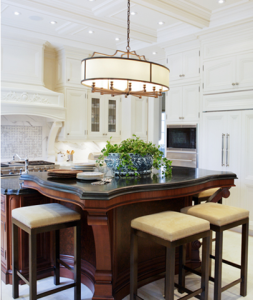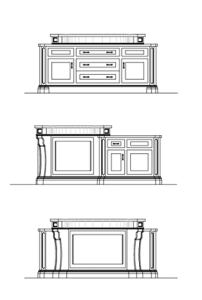 Interiors by Philip Mitchell
Iván Meade – I have noticed that in your interiors you paint the wood paneling with a crisp coat of white paint and this has become one of your signature styles. I definitely agree in painting wood paneling because the change leads to a cleaner, brighter, and more elegant room. However, designer to designer, I just have to ask this question– How do you convince your male clients to paint the wood paneling?
Philip Mitchell – We often encourage our clients to paint existing less superior woods (gumwood or naughty pine) to achieve a lighter more contemporary feel and have always presented it to the husbands very delicately. I present many visual aids from tear sheets with a similar feel to before and after examples of previous homes where we have painted the wood. And sometimes the compromise in the form of some additional AV equipment (usually a larger TV) does the trick!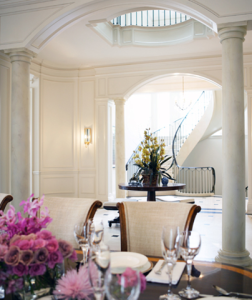 Interiors by Philip Mitchell
Iván Meade – While I was reading your blog, I found out that you have designed a new furniture line – When is coming out and what are you bringing new to table?
Philip Mitchell – It was released in the fall and available at the trade showroom Primavera in Toronto as well as through their reps across Canada. The pieces range from a cleaner contemporary aesthetic to those with a more traditional style, yet they all work together.
I am excited because the entire collection is made in North America.
It's important to me because we have incredible artisans and craftsmen here, I have hands on control of the quality and construction, and we support our local economy.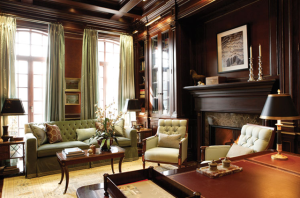 Interiors by Philip Mitchell
Iván Meade – What do you look for in a furniture piece, alternatively what do you consider as being important factors when designing a furniture piece ?
Philip Mitchell – functionality, scale, material and definitely unique detailing.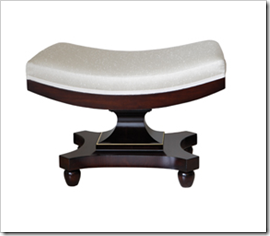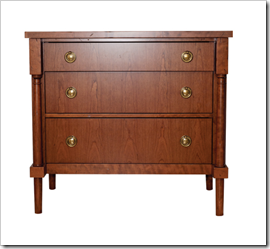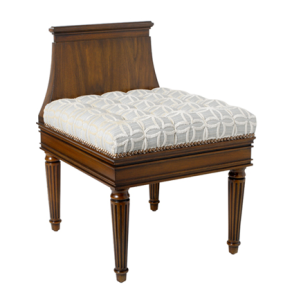 Furniture Design by Philip Mitchell
Iván Meade – Who would you like to design something for?
Philip Mitchell – Anyone at all who appreciates and understands what I bring to the table.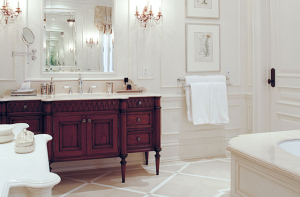 Interiors by Philip Mitchell
Iván Meade – What is your guilty pleasure?
Philip Mitchell – Great food! (because I love all of it). And time! (because there never seems to be enough of it).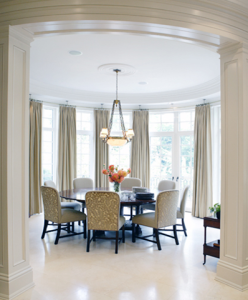 Interiors by Philip Mitchell
Iván Meade – You have already created a stunning body of work with many mediums and styles, what would you like your legacy to be?
Philip Mitchell – I would love for my legacy to be a design aesthetic and furniture collection that stands the test of time.
I invite you to visit Philip Mitchell's websites at: