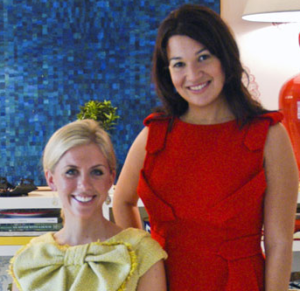 Tilton Fenwick
Tilton Fenwick co-owners Suysel dePedro Cunningham and Anne Maxwell Foster have recently had their New York based firm named as one of Traditional Home's "20 New Traditionals". The team expertly blends whimsical elements, recurring motifs, layered patterns, contemporary, vintage, and traditional pieces with bold art and colour selections. The pair met through a mutual friend and couldn't believe their shared love of both Boston, and interior design. It was inevitable that they would become business partners and dear friends.
Suysel was born in Puerto Rico and was brought up immersed in culture and design (she is the daughter of a fashion designer and architect). She graduated from Tufts University and in 2001 began working with well-known decorator Markham Roberts. Roberts opened up a whole new world of design for Suysel with a range of influences and styles, as well as echoing the words of her father that 'life is infinitely more beautiful when you pay attention to detail'. Four years later she found Anne, and the rest is history.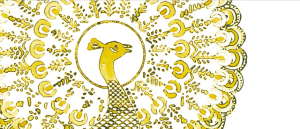 Tilton Fenwick – Curators of Chic
Anne's design career began after her time at Boston College, where she graduated with a degree in Art History. She climbed the ladder of design opportunities all the way to New York where she gained experience at two renowned firms: Ashley Whittaker Design and Brockshmidt & Coleman. Here is where she fully cultivated her style and passion. She then went on to graduate architecture coursework at Pratt Institute and subsequently formed Tilton Fenwick with Suysel.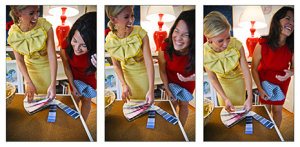 Suysel dePedro Cunningham & Anne Maxwell Foster
I am delighted to have the opportunity to interview both Suysel and Anne for our blog, read on to get in on the conversation…
Iván Meade – What was your first experience with design?
Suysel dePedro Cunningham – I was born into a world of art & design.  My late father was an architect and a fashion designer in Puerto Rico.  I grew up amidst blueprints, pageant gowns and carnival costumes.  My father taught me that beauty in design is in the details.
Anne Maxwell Foster – While I didn't know it at the time, insisting upon a black and white styled bedroom at age 7 (complete with black – not white- painted walls) was one of the more concrete indications of my future career as an interior designer. My parents could not have been more supportive of my creative instincts and unique "taste" and allowed me to forge ahead with a truly black and white schemed bedroom.  They did, however, negotiate for just one black accent wall and the little designer in me was thrilled!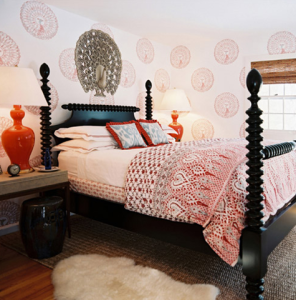 Interior Design by Tilton Fenwick
Iván Meade – Who or what has influenced your style?
We are constantly looking through our collection of design books for inspiration and love a wide array of designer from past to present ranging from – Dorothy Draper, Madeleine Castaing & Billy Baldwin to Kelly Wearstler, Celerie Kemble and the Novogratz.
Living in Manhattan has also hugely influenced the Tilton Fenwick style – walking around the streets of this incredible city, we are always soaking up our surroundings, brainstorming about projects and merging the two!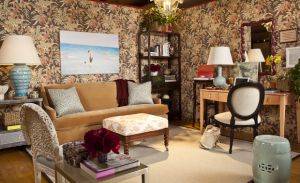 Interior Design by Tilton Fenwick
Iván Meade – How would you describe your style?
We hope our style is both a reflection of our interior design backgrounds but also clearly our specific point of view.  We are grateful for an extremely educational experience at three prestigious design firms where we learned formal design principles in space, color, proportion and lighting.  From this starting block, we inject our own flair for color & pattern.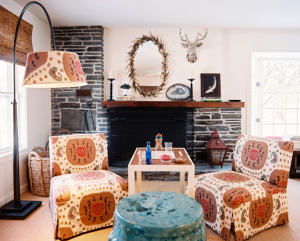 Interior Design by Tilton Fenwick
Iván Meade – What does it feel like to be announced as one of Top 20 Young Designers in America by Traditional Home?
Thrilling! We are still pinching ourselves. We are really the "new kids on the block" being in our infancy as a company. We had been in business together a mere 7 months when we were chosen.  The honour gives us the confidence to continue to follow our instincts and take joy in all milestones – no matter how small!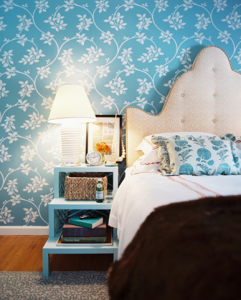 Interior Design by Tilton Fenwick
Iván Meade – Browsing through your portfolio one can see that you are not afraid of colour or pattern. What is your favourite colour and pattern to design with right now?
When asked what his favourite color was, Marcel Proust brilliantly answered "Beauty lies not in colors but in their harmony."  As decorators it is our job to uncover those hidden harmonies; to put together things that may not (at first glance) go together.  Merging, blending, and layering unexpected colors and patterns is where we start the design process.
We are currently loving Pierre Frey wallpapers – their patterns can be both bold and intricate. We actually chose one of their wallpapers to decorate our own office in a pink color way! While we typically don't decorate with a lot of pink, we love it in our office paired with a beautiful Prussian blue that is always a favourite.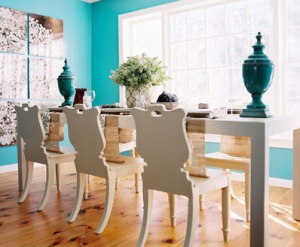 Interior Design by Tilton Fenwick
Iván Meade – I believe one of your strengths is styling; your vignettes are always exquisitely well done –Any words of styling wisdom? Where do you get your inspiration?
Such a compliment – thank you! We are certainly detail oriented and just plain have fun when it comes to accessorizing and styling a room!  Without this final layer an interior, however beautiful its bones, can look unfinished and bare. Our best advice is to have fun with this part of decorating your home and not get tied to the predictable! We certainly use plenty of "expected" home accessories which can be beautiful – books, trays, candles – but we love infusing personal items that feel unexpected (a statement necklace hung on the corner of a stack of books, a kitchy painting of a squirrel hung on the front shelf of a bookcase, a glass container filled with wine corks as a bookend!)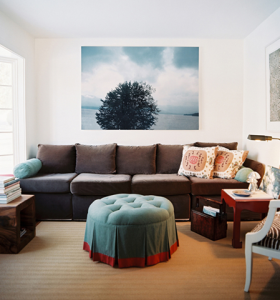 Interior Design by Tilton Fenwick
Iván Meade – What are you excited about right now in the world of design?
In purely the sharing of information, the internet has really changed our business.  From reading blogs and online magazines to making connections with people (like yourself!) via Twitter (@tiltonfenwick) to discovering new products and sources, much of our day is spent researching, reading and connecting on the web.  Our first real exposure and design project publication was through the new online magazine, TradHome, so we are especially grateful and connected to this new medium growing so rapidly for shelter magazines.  We are also always trying to maintain an awareness of new eco-friendly products available in the home category.  For our own office, we used Venetian plaster finishes on the walls and water based stain for our floors.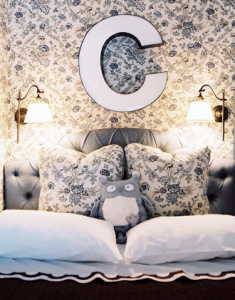 Interior Design by Tilton Fenwick
Iván Meade – As a blogger myself, I was very excited to find your blog and to see the personal side of your knowledge and opinions in interior design. How has the creation of your blog benefitted you?
Our own blog is just another source of expression that we take very seriously and very much enjoy.  Our premise for the blog content is simply to share what's going on in our everyday as NY designers: from new (or timeless) sources we can't get enough of, to design work we're loving, to events. It's a forum to quickly share what's going on behind the doors of Tilton Fenwick.  We truly enjoy sharing what's going on for us and reading each day what's happening in the global design blog community!  The connections and relationships created through blogging is such a valuable forum for us.  We have connected with bloggers from all over the US and Canada, to places as far as Israel and Singapore.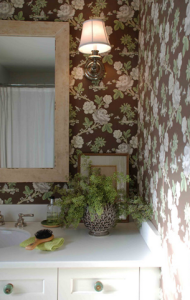 Interior Design by Tilton Fenwick
Iván Meade – What is your next design venture?
Right now we're working on designing a room in this summer's Hampton Designer Show house (www.hamptondesignershowhouse.com) sponsored by Traditional Home to benefit Southampton Hospital.  We're creating a family lounge (formally named the "Rec Room" in the basement) that's comfortable, lounge-y and (of course!) bright and colourful for a Hamptons beach house!  We are so honoured to be considered peers with incredible designers also participating in this year's show house, including Katie Ridder, Haus Interiors, Tobi Fairley, and Meg Braff.
Iván Meade –  Lastly, you have already created a stunning body of work with many mediums and styles. What would you like your legacy to be?
Our website says "there's nothing we'd rather be doing" and it's entirely true! We love what we do each day and hope that joy and gratefulness will always be reflect through into our design work and for our clients.  To be known for not only aesthetically beautiful but joyous and fun interiors would be an incredible legacy to create for Tilton Fenwick.
I invite you to visit Tilton Fenwick's – Curators of Chic website at: