---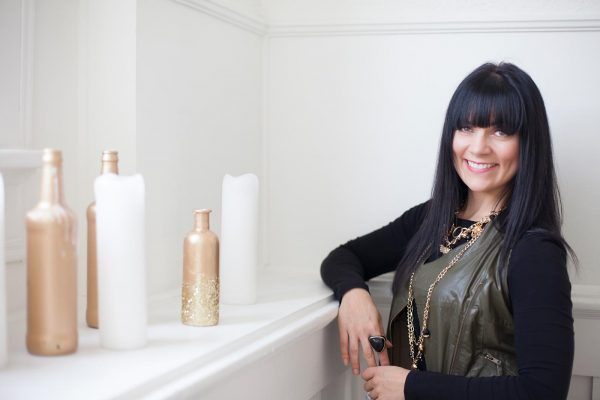 ---
Josee Lalonde
---
Josée Lalonde is the principal at Josée Lalonde Design in Victoria B.C. – one of the most fresh and innovative staging companies in Victoria B.C. In 2007 Josée successfully completed her Canadian Staging Professionals Course and was granted her CSP designation. Josée's success speaks for itself. It is clear that she is going places and her sexy French accent doesn't hurt either.
I had the pleasure of meeting Josée a couple of months ago when she approached Meade Design Group to create the graphic identity for her new venture as a Residential Stager. Since then we have shared a friendship and a common interest in interior design. I have always admired the "Je ne sais quoi" and the enthusiasm that Josée brings to any of her projects.
---
Iván Meade – What was your first experience with design?
Josée Lalonde – I first fell in love with the art of home design in my mid-teens.  My parents had given me "carte blanche" to redesign my bedroom and my creative juices just went bananas… I don't think Mom and Dad knew that they had created this 'design monster'!! It was such a positive experience; I invented a really novel bed space with stairs leading up to the mattress and all sorts of fun stuff like that. I had constructed new bedside tables, they let me choose new bedding, and then I finished it all up with a fun paint color.  That was probably the moment when I realized that I had a true passion for design. I was just hooked, I guess!
---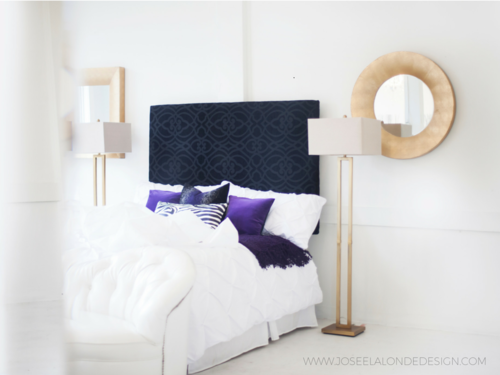 ---
Interiors by Josee Lalonde Design
---
Iván Meade – Can you tell me more about your services and how they may be beneficial to our readers?
Josée Lalonde – One of our favourite services is "Staging for Living" whereby we redesign the home using as much of the existing furnishings and accessories as possible, but getting rid of what needs to be removed, then recommending the adding-on of new items to really freshen things up.  It's a simple, economical, and effective way of reinventing your home; updating the look even if you are not selling. It's funny how sometimes I get to provide that service to clients who hired me to help them sell one property, but were so impressed with the outcome of the staging that they say they want "something like that" done to the home in which they live. Also, we offer "sourcing out" as a service that interests a lot of people; I am so familiar with what's out there in the home design market that I can quickly find and purchase that certain something that is missing in a person's home to make it more special. Another of my favourite things to do is what I call "Staging for Occasions"; if you are having a party or hosting a special occasion or just want to give your home a more 'seasonal' flair, I'll go in and reconfigure your space, add or remove furnishings and then decorate it for the occasion. I guess it's just my personality but I get really excited for holiday events and I really love to go 'all out' to make a place look festive, whatever the occasion.
---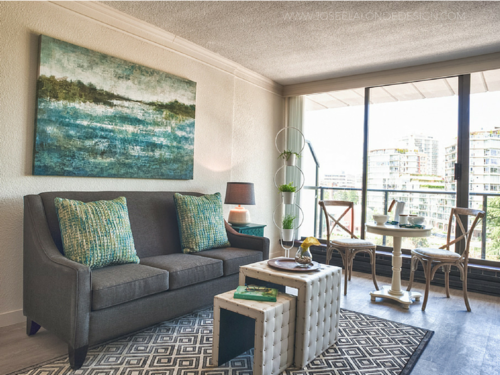 ---
Interiors by Josee Lalonde Design
---
Iván Meade – What is unique about Josée Lalonde from other Real Estate Stagers?
Josée Lalonde – Hah! I've been so flattered by what people have said about my work but I've always considered myself as 'just Jo'. And that's pretty much what I bring to the table. So I guess I am as unique from other Real Estate Stagers as I am from you, Ivan! I look at this job as not really a job. It's something I think about constantly anyway! The creations pretty well happen in my head. Once I've got the bits, parts, and pieces together, the rest is just a matter of getting it done. Everyone is unique. This is just a labour of love for me
---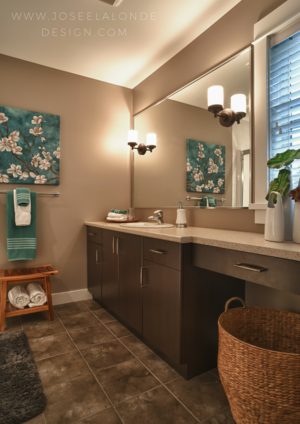 ---
Interiors by Josee Lalonde Design
---
Iván Meade – What is your design philosophy?
Josée Lalonde –  Every house as a soul and a personality; my goal is to bring it out.  When I do a walk through with the client I always ask about the history of the house, old or new. From there, I can begin to "design" the space to capture its soul and personality.   Just like people, all homes are very different from one another and in staging we try to make the homes more appealing to a broader array of potential buyers by making them more mainstream. But I think the key is to bring out the home's true character.
---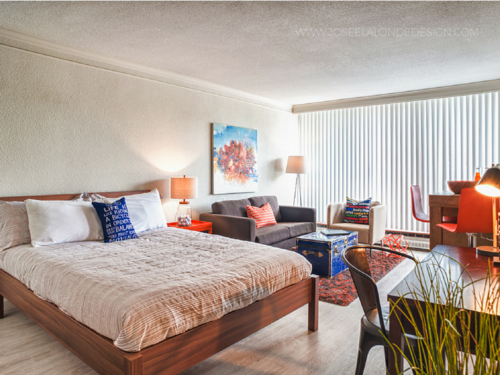 ---
Interiors by Josee Lalonde Design
---
Iván Meade – How do you describe your style?
Josée Lalonde –  I would describe my personal style as 'Bold Elegance'.  That's a bit of a tricky question to answer because, in home staging, you can't really limit yourself to one specific style.  But my favourite is bold with elegance as I always like a bright punch of color, or big and funky items, and then I try to mix it with soft clean lines.
---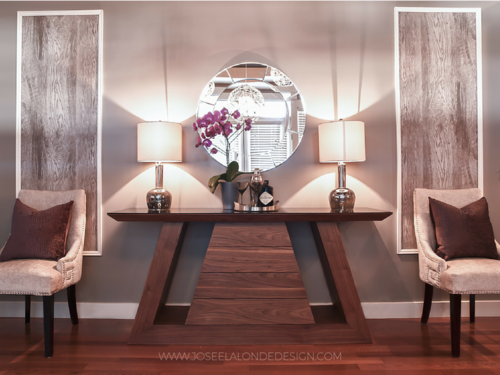 ---
Interiors by Josee Lalonde Design
---
Iván Meade – Who or what are your greatest design influences?
Josée Lalonde –  There are so many things and people that influence me in design!  What influences me the most is fashion; if you can see it on the catwalk you can definitely see it in home design.  The mix of different textures, the bold accessories, the combinations of colors, the marriage of different styles – I'm influenced by it all!  I truly think they go hand in hand.  As for who, I am a big fan of Jonathan Adler.  I appreciate his use of bold colors; but what I really love is that he adds a lot of fun and humour with his accessories. I see him as I see myself; he is obviously serious about his work so he is a well-respected and extremely successful designer, but at the same time, he doesn't take himself too seriously.
---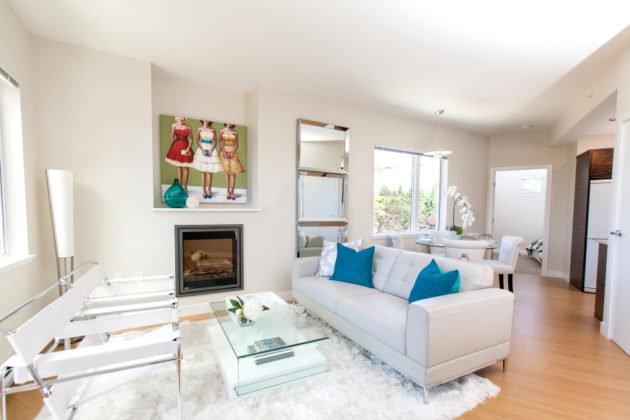 ---
Interiors by Josee Lalonde Design
---
Iván Meade – Can you tell us why it is important not only to have a well-staged place but also a well-stylized place?
Josée Lalonde –  A combination of both is extremely important to present the result that both the client and the potential buyer is looking for.  Not only is it important to highlight the space of a property when purchasing a home, but there must also be a strong emotional connection to it.  The potential client needs to feel like "I could easily live here". It needs to encapsulate them the moment they walk in and stylistic "eye candy" is the way to do it!
---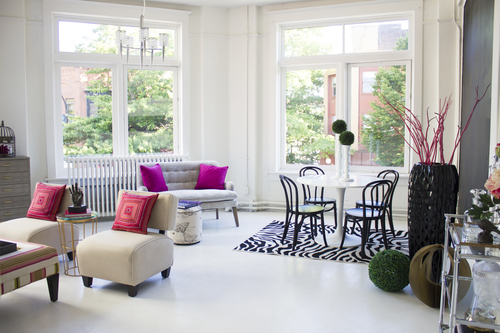 ---
Interiors by Josee Lalonde Design
---
Iván Meade – What is the one thing in life you cannot live without?
Josée Lalonde –  Colour!  I need colour in my life!  Without it, it is lifeless.  It gives me my energy, my positivity and my inspiration to create.  In home staging, "neutral" is a key word but there is always place for a colour!!
---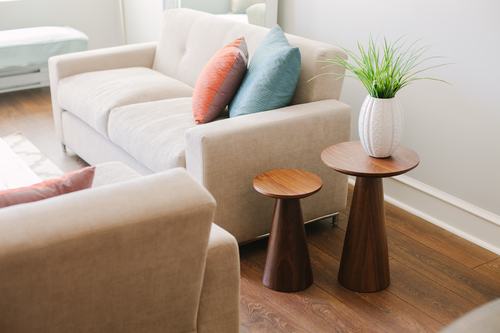 ---
Interiors by Josee Lalonde Design
---
Iván Meade – What motivates you to do your best on the job?
Josée Lalonde –   In my work, I am a hopeless perfectionist. I can't help it. I'm always learning and I love to push myself to be the very best that I can be. But I suppose what ultimately motivates me is the approval of the client.  Although in staging, the end result is directed towards the potential buyer and not the owner, it's just so gratifying to see the look of stunned amazement on the owner at 'the big reveal'.
---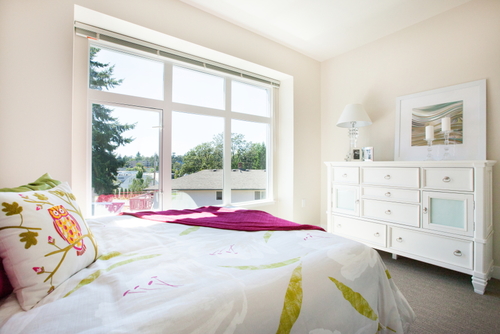 ---
Interiors by Josee Lalonde Design
---
Iván Meade –  What are you excited about right now in the world of design?
Josée Lalonde –  Sustainability.  It's so encouraging to see how much the design world has progressed in the aspect of sustainability. I love being a part of that sort of awareness. The recycling and reusing of furniture, the eco-friendly paints and fabrics and the new technologies that surround all of it are really refreshing.  It's exciting to think we are able to design or redesign our spaces and feel good about it by being mindful of the need to minimize our carbon footprint.
---
I invite you to discover Josée Lalonde's work at her website: