Carrie Fundingsland of HousePlay Inc. is a recent recipient of House Beautiful Magazine's list of the next 20 designers to watch, her portfolio is filled with warm, lively, and beautiful spaces that have been admired by clients, celebrities and critics alike. She also maintains an online store called "House and Wear" and is launching a new line of eco-friendly fabrics in late 2010, drawing inspiration from nature and her cultural influences from being raised on a reservation in her hometown of Montana.
Carrie went to U of M to study Art History, she then found her passion and continued her education at the Art Institute of Seattle for the interior design program, graduating in 1995. She began her career at Pindler and Pindler where she developed her fondness for fabrics, in 1999 she moved to LA and became the head of the interior design department at an antique and custom furniture store, where she has said that she was able to develop her customer relations skills and furniture manufacturing. It wasn't until Carrie became pregnant with her first daughter that she branched out on her own to form HousePlay Inc., and she has never looked back.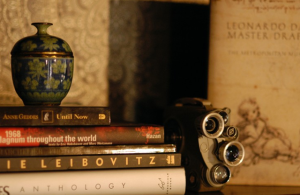 Vignette by Carrie Fundingsland
Carrie has been fortunate enough to design around the world, in her hometown of Montana, Tel Aviv, Shanghai, Park City, Palm Springs and of course, locally in LA. She works with a range of clients in a variety of styles, most are repeat clients who as Carrie to assist them with their office or second home after their pleasant first experience. Her designs are fresh, warm, comfortable, chic and refined. Her combinations of rustic elements, style periods and textures maintain her personal aesthetic while adapting to different client needs and styles; one can see that she never forces her style on her clients homes, each space is uniquely tailored to the needs of the home and its inhabitants.
Please read on for this talented designer's input on design…
Iván Meade – What was your first experience with design?
Carrie Fundingsland – My earliest memory is from when I was about 8 or 9 years old. I remember completely rearranging my parents' living room while they were both away at work. I grew up in the country and as kids, my brother and I were left alone to our own devises. I was always moving art or furniture, and creating vignettes from whatever had caught my eye that day while meandering in the mountains behind my parents' property.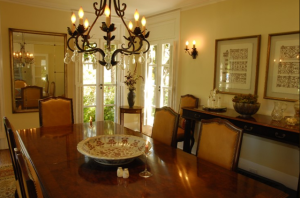 Interiors by Carrie Fundingsland
Iván Meade – Who or what has influenced your style?
Carrie Fundingsland – I get a lot of inspiration from textiles. Whenever I start a new project the first thing I do is pull fabrics. A whole house can fall into place for me if I find that one perfect piece. I may never even use it in the project – I'll just draw color combinations or vibe from it and go from there.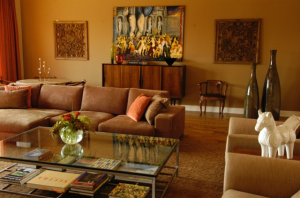 Interiors by Carrie Fundingsland
Iván Meade – How would you describe your style?
Carrie Fundingsland – I like no fuss. And balance. I can stand in an empty house and within a few minutes, I'll know by the energy of the home where and what colors should be used, how the furniture and flow of the house should be, even down to the artwork and accessories. This can get me in a bit of trouble sometimes, making it hard to find what I saw in my "vision", but at the end of the day, my initial instinct has never done me wrong.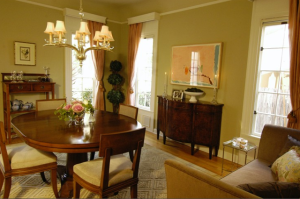 Interiors by Carrie Fundingsland
Iván Meade – Your website mentions that you started your own firm after becoming pregnant with your first daughter, have your children inspired your work/career in any other ways?
Carrie Fundingsland – I have two girls and they both inspire me in different ways. Anika, my oldest, loves color. Her goal is to wear "every color of the rainbow" at any given time. She has no fear when it comes to mixing patterns and colors and this helps remind me to take risk. Afton, on the other hand inspires me in a whole different way. Everything for her has to be exactly how she imagines it to be, no deviation. She's stubborn and will fight you tooth and nail until she gets what she wants. I admire her confidence and her determination.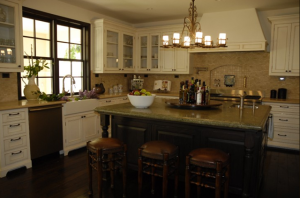 Interiors by Carrie Fundingsland
Iván Meade – I enjoy that you feature children's rooms you have designed on your website (not many designers do), which I think is so fun. Are they a favourite room of yours to design?
Carrie Fundingsland – I do enjoy working on children's rooms. I like getting in the room and sitting on the floor, looking at the space from a child's perspective and designing it according to how they'll see it. I also love when the parents are open to letting their child participate in the design process. They usually have definite ideas on how there space should be, down to the color and where they want their furniture. Of course, I don't always go with all of their suggestions, but I will design around a lot of their thoughts and input.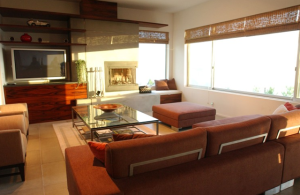 Interiors by Carrie Fundingsland
Iván Meade – What is your design philosophy?
Carrie Fundingsland – It's very important to me to design around my clients' taste and style, rather than my own. I want the house to reflect whom they are and what their lifestyle is, not how I would live in the space. I think that's why I've been so successful. You can see by my website that I am comfortable doing any type of house, whether it being a Spanish Revival, a Mid-Century Modern, or a Traditional. It's important to me that I don't have a "signature" style. It would be my worst nightmare if someone could walk into a home and know immediately that I am the one that designed it. I love it when my clients or colleagues walk into a new space I've created and they say "wow, I had no idea you could do ______." It keeps them guessing and interested in what I do.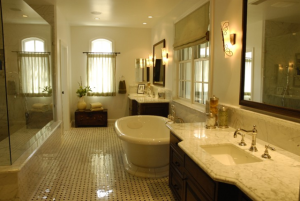 Interiors by Carrie Fundingsland
Iván Meade – In addition to your design firm, you also run an online store with many unique lines. Any plans to sell your own line of home or fashion accessories?
Carrie Fundingsland – I've thought about it, but honestly enjoy finding the up-and-comers and giving them exposure. There are so many talented people out there. I really just use the online store as my own personal, little jewelry box. Everything on the site, are items that I love and would use in my own home.
Interiors by Carrie Fundingsland
Iván Meade – What are 3 things you can't live without?
Carrie Fundingsland – Good lighting – lamps, sconces, recessed, natural, you name it. I'm very particular about lighting. I also couldn't survive without natural linen. Something about the texture, the color, the way it drapes – for me it's essential. And, last but not least, my family. Without their love, support and encouragement, I'd be nothing.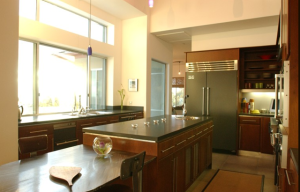 Interiors by Carrie Fundingsland
Iván Meade – What are you excited about right now in the world of design?
Carrie Fundingsland – I love what's happening in landscape design – people using indigenous plants, growing their own food, creating outdoor living spaces. I think it's so exciting. I'm working on a project right now that has an entire kitchen, dining and living room in the garden. It's so much fun!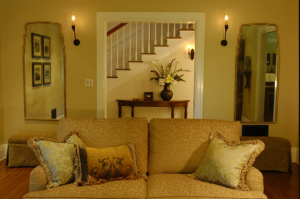 Interiors by Carrie Fundingsland
Iván Meade – What would be your dream project?
Carrie Fundingsland – I have an idea for a project in Montana that would incorporate everything I love – fine food and drink, nature, art, and gathering of friends and family. When I'm working long hours, I use that dream of mine as my motivation.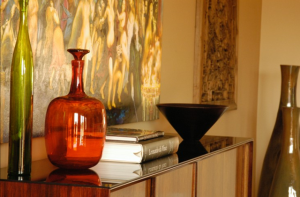 Interiors by Carrie Fundingsland
Iván Meade – What project has given you the most satisfaction?
Carrie Fundingsland – I take pride in everything I do, whether big or small. I treat every project the same, regardless of size or budget. To me it's about forming long lasting relationships and trust. I do have to say, my own home is what gives me the most satisfaction though. Creating a space that reflects all that I am and is a comfortable space for my friends and family to relax in is by far my proudest achievement.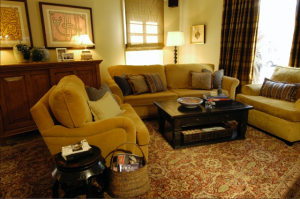 Interiors by Carrie Fundingsland
Iván Meade – Oftentimes designers have other creative hobbies, you also have an art history background – do you partake in any creative pastimes?
Carrie Fundingsland – It's funny that you ask. Just last night I was running through my head all the things that I miss doing – hobbies I did before running my own business and raising a family. I am really interested in fashion design, nothing to mass market, just unique pieces I can wear myself. I also miss painting. I've barely picked up a brush since I left art school. I'd love to find the time to take some fine arts classes, perhaps in oils or charcoal.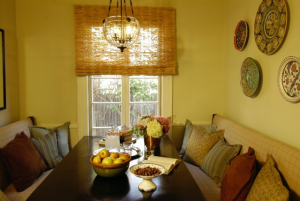 Interiors by Carrie Fundingsland
Iván Meade – Designing your first line of fabrics must be an amazing experience. The news section of your website states that it will be inspired by nature and your culture from growing up on a first nations reservation – could you elaborate for us?
Carrie Fundingsland – It's actually a collaboration with my mother. She's a fine artist and sculptor, and has a long history of working with leather. We have very different visions – she's very detailed, where I am more loose and free flowing – which has made it a bit challenging working together. The line is going to be a modern take on Western and Native American themes. I've also incorporated a lot of plants native to the area I grew up in. We're starting with prints and then hope to add in some textures.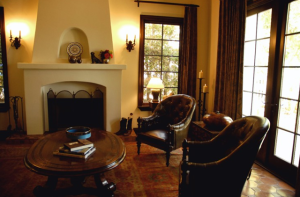 Interiors by Carrie Fundingsland
Iván Meade – What is your next design venture?
Carrie Fundingsland – I am just starting a new project in Hancock Park, a Historical District located here in Los Angeles. It was built in 1914 and architecturally is one of the most stunning homes I've ever been in. It's only on its third owner, so the home is mostly untouched. The new owners are young and hip, but want to keep the integrity of the home. We're going to use a fresh palette and give it a bit of a modern edge while still staying true to the architecture and details. What's also fun about this new project, is it is one of my husband's favorite homes in Los Angeles. We've been driving by it for years so he could just ooh and aah. He used to be an architect, so this project is just as exciting for him as it is for me.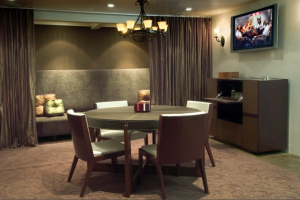 Interiors by Carrie Fundingsland
Iván Meade – Lastly, you have already created a stunning body of work with many mediums and styles. What would you like your legacy to be?
Carrie Fundingsland – I don't think good interior design is going to save the world, but I do hope what I do can inspire people to look at things a little differently. I like a bit of whimsy – or the unexpected – just enough to keep one's interest, or get a reaction. So many people are on auto-pilot that if what I've created can shake them loose, even for a minute, I feel like I've succeeded.
I invite you to visit Carrie Fundingsland's beautiful portfolio at:
.