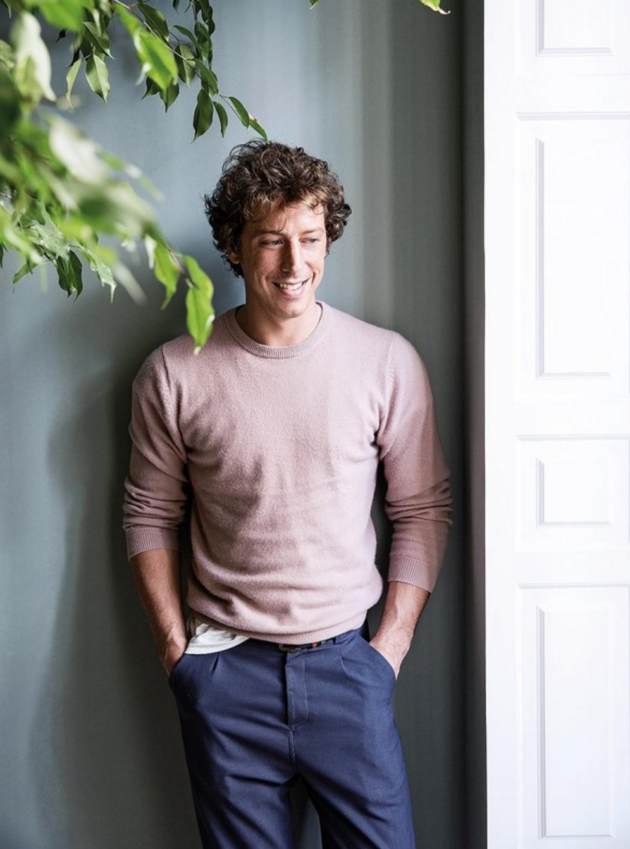 ---
Tristán Domecq
---
Tristán Domecq is a renowned interior designer from the region of Galicia in Spain.  Since childhood, he found interest in architecture, construction, design and decoration.  His unique approach to design is fresh, relaxed, and comfortable with a sense to harmony. Always a sense of timelessness goes into every spaces he creates.  Domecq loves to design homes that you can feel and enjoy!
Tristán is known for his ability to create spaces that reflect the inhabitant's needs and taste, spaces that are comfortable, yet sophisticated.  Spaces that live well, and showcase every design element in the best light.  Speaking of light – as you will see in his projects, his use of this element is stunning.  Light always becomes  the main protagonist of his designs.
For Tristán Domecq the use of 100% natural materials is a must!  His approach to design not only relies on the quality of the materials, but how these materials will look/work in the years to come.   Natural materials will always stand out, withstanding the test of time.
Since I first saw Tristán's work, I knew I wanted to have an interview with him and have the opportunity to  learn more about his incredible approach to design.   That day is now here, and I am so happy to share Mr. Domecq' thoughts on design with you.
---
Iván Meade – What was your first experience with design?
Tristán Domecq – My first experience in design was helping my mother (who also is a decorator), she was decorating a hotel in Galicia at the time.
---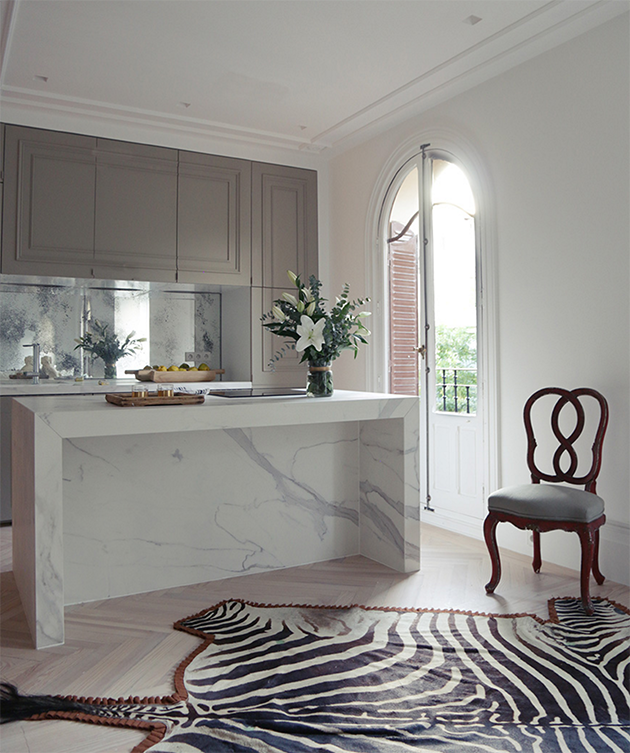 ---
Interiors by Tristán Domecq
---
Iván Meade – How would you describe your design style?
Tristán Domecq – I would like to define my style as atemporal.  A great mix of the classic, modern and contemporary styles.  I am a firm believer that a mix of styles gives you the most comfortable and unique spaces.
---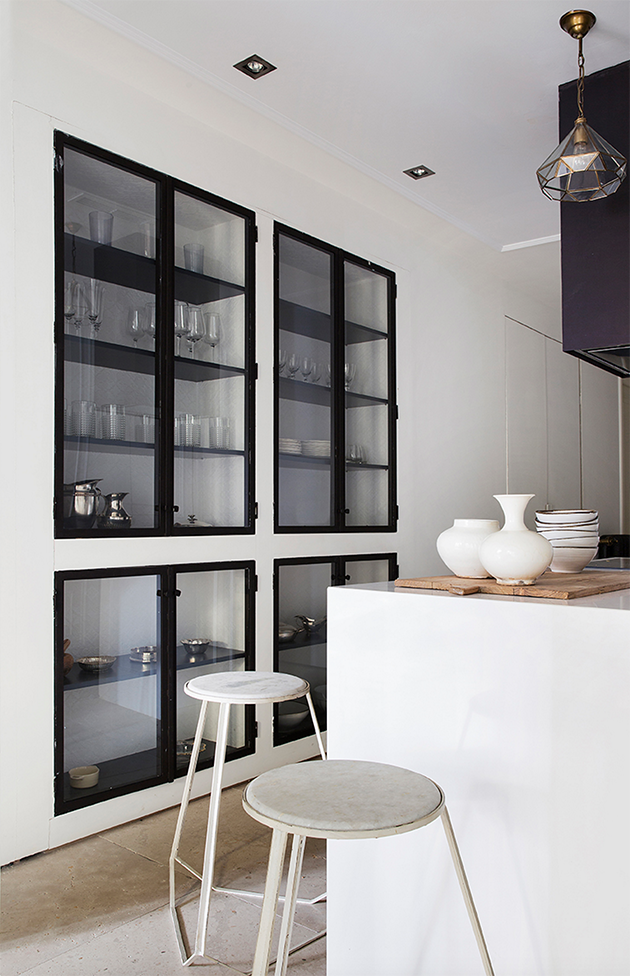 ---
Interiors by Tristán Domecq
---
Iván Meade – Your site describes how big of an influence your family has been; that you grew up surrounded by Architects, Contractors and Designers and that thanks to them, you have developed a very solid place in the design world.  What has been the best lesson you have learned from your mother and other family?
Tristán Domecq – The best lesson I have learned from them is everything about proportions.  The know-how to fill a space with the adequate elements so a room doesn't feel overdone.
---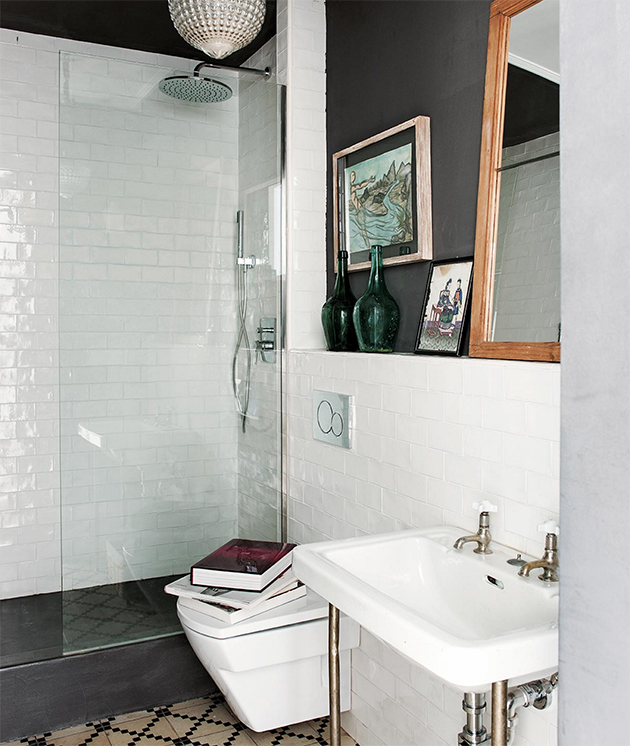 ---
Interiors by Tristán Domecq
---
Iván Meade – You have had the opportunity to study business at the prestigious University of Wolverhampton, England – In order to have a successful design studio, you need to have the talent to create beauty – which you have, but I am also a firm believer that you need to know how to run a business in order to have a successful practise.  How has your degree helped you in your life as a designer?
Tristán Domecq – Thanks to my professional background I now have the ability to direct a wonderful team of 20 people without going out of business.  What I am trying to say is that sometimes creative people, with a lot of talent don't make it in this business. They can be amazing as designers, but they are awful at running the financial aspects of the business.  We have a great creative team at our studio, but I am the one who coordinates, supervises the projects and runs the numbers so everything works seamlessly.
---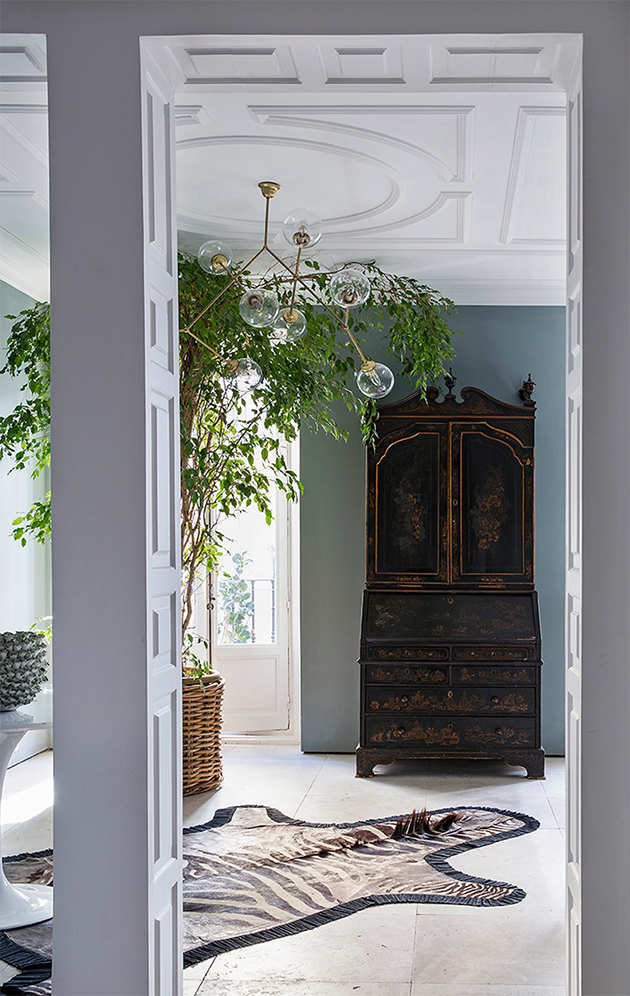 ---
Interiors by Tristán Domecq
---
Iván Meade – Who are you favorite designers and why?
Tristán Domecq – I don't follow any designers per say;  I am more the type that looks for projects or spaces with interesting compositions.  Honestly, when I find a project on the internet, social media, magazines or books; I never see who the author is – Maybe because I am really bad at remembering names… lol
---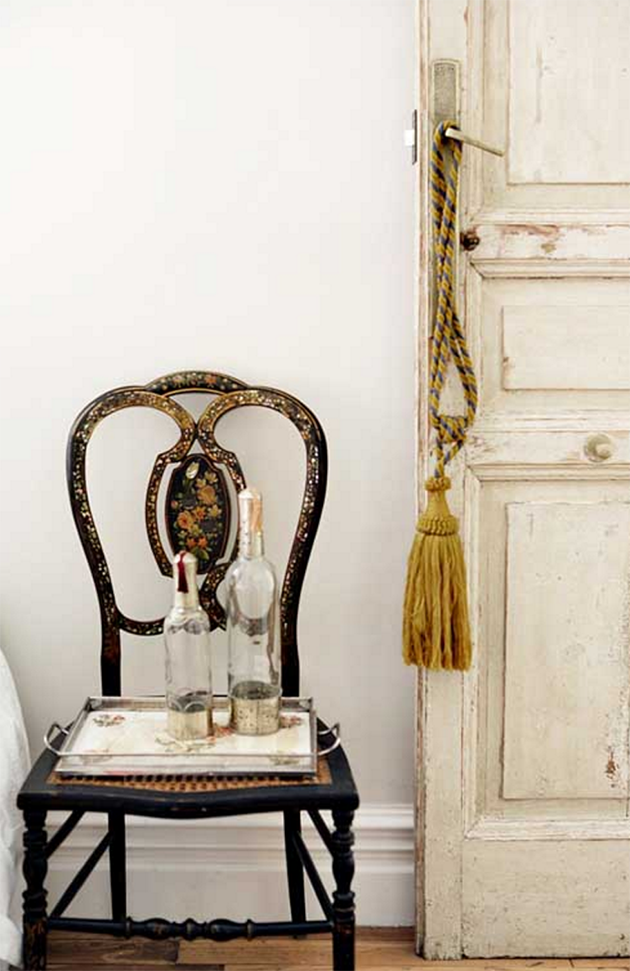 ---
Interiors by Tristan Domecq
---
Iván Meade – Many of our readers are design students – What would  be the best advice you can give to someone who is starting a career in design?
Tristán Domecq – I believe that you need to have the capacity to be able to create the design that the client is expecting with their budget.  I believe a designer needs to have the general knowledge to mix these 2 prerogatives into the end result.  This way, the client will not feel frustrated because they do not have the budget to make their dream project.
---
---
Interiors by Tristan Domecq
---
Iván Meade – Maybe you don't know this, but your work is highly appreciated in North America.  I have seen your projects on many blogs and often on Instagram.  How do you feel about the fact that you have so many design fans on the other side of the world, and that you have achieved this with your work?
Tristán Domecq – Really! – lol  – This really surprised me.  I didn't have a clue that this was happening! –  I am humbled and excited to know that my work is appreciated in other parts of the world.
---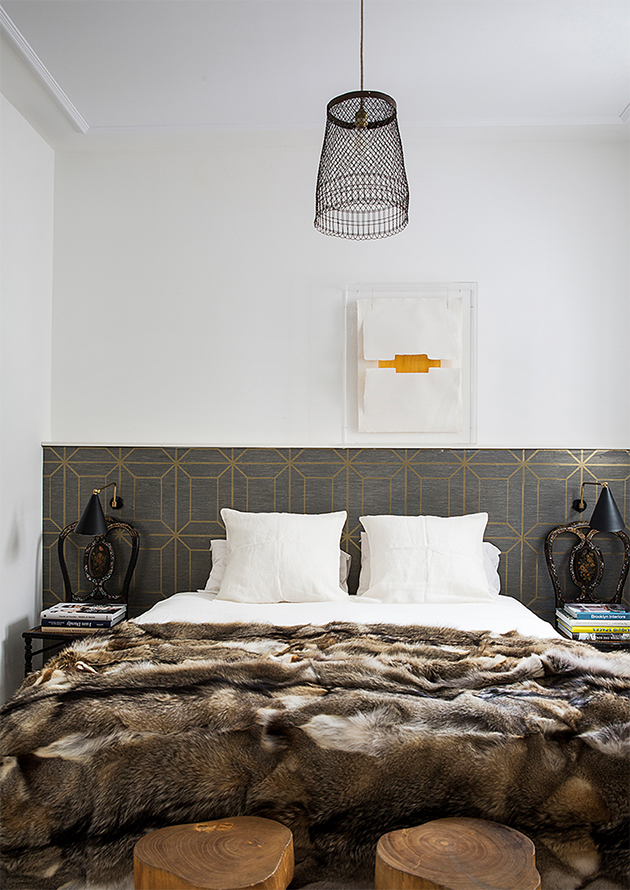 ---
Interiores by Tristán Domecq
---
Iván Meade – One of your first individual projects was the renovation of your own home, which was a very successful one.  This opportunity gave you your own design voice and the opportunity to showcase your design abilities.  This renovation was a hit, and I believe was at the beginning of your life as a designer – What was the best lesson you learned about that project?
Tristán Domecq – I started with nothing, but have since learned how to work with floor plans, find contractors and trades people, and learned so much about materials and finishes.  Without all this experience I got and the lessons I learned from this opportunity, it would never had my own design studio.
---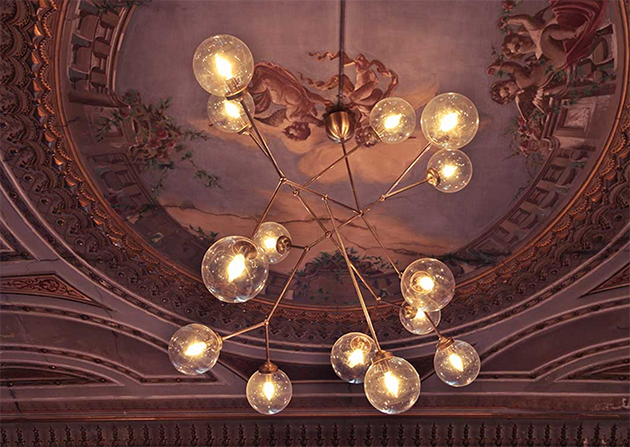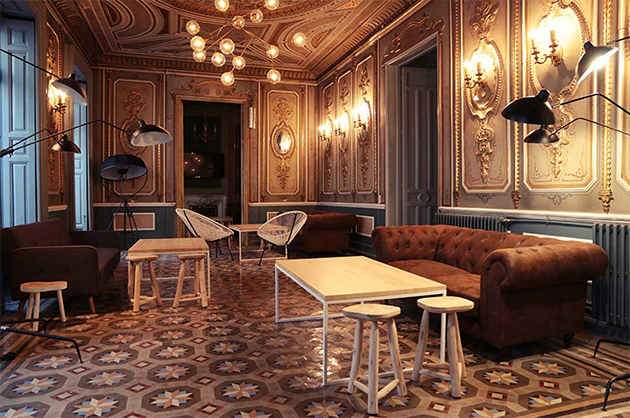 ---
Interiors by Tristán Domecq
---
Iván Meade – What is your favourite place to source your inspiration  from and why?
Tristán Domecq – To recharge my energy, the best place is without a doubt Galicia – Las Rías Bajas is my ideal place.  This is a place where I can reconnect with myself and I can truly get rest when I need vacations.  Inspiration strikes me at night, when nothing is distracting me I find that to be the idyllic moment to start developing new ideas.
---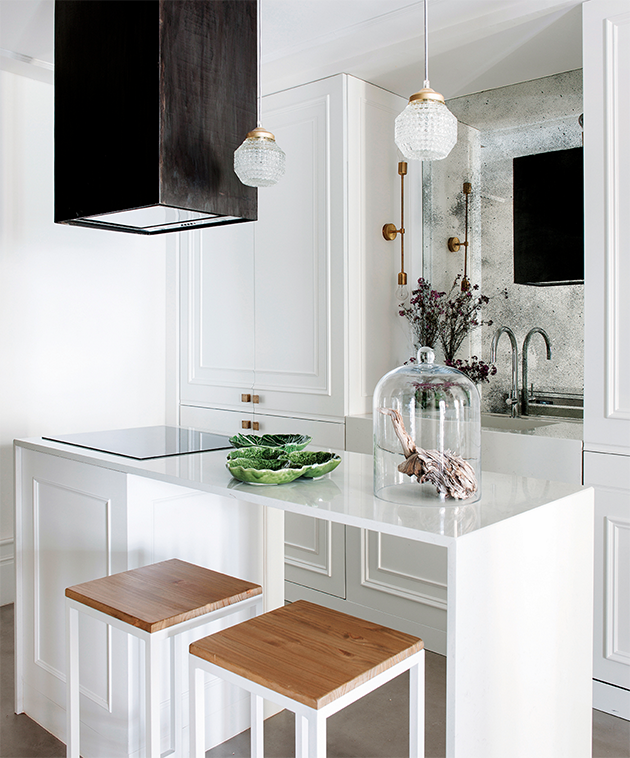 ---
Interiors by Tristán Domecq
---
Iván Meade – The selection of materials in your projects is always exquisite – What inspired you to include materials that are 100% natural in your projects? These products are no longer commonly used in today's homes.
Tristán Domecq – I almost believe that this part of a project is like a religion to me (lol) – When you see buildings with more than a hundred years of history; buildings with wood or marble floors that after many years of use, the only thing that they really need is a quick clean up.  This type of work, the work that endures time is the kind of work that I like.  A good material can survive 100, 200 years just by taking care of them.  My design approach needs to be timeless.
---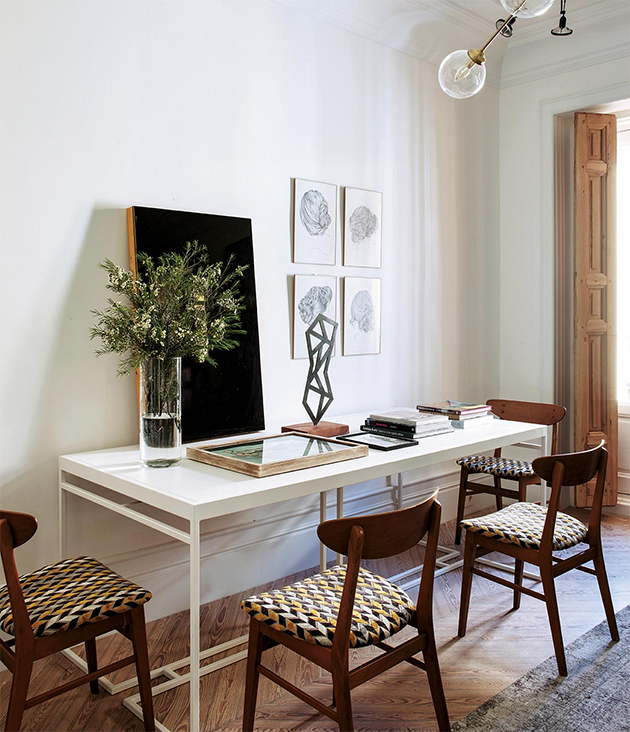 ---
Interiors by Tristán Domecq
---
Iván Meade – Your projects are extremely sophisticated, but relaxed at the same time.  I believe this is because you are a master of constraint, as well as the texture juxtaposition you create with materials and furnishings.  How do you achieve this while maintaining your signature style?
Tristán Domecq –I believe that the trick here is not to be afraid, and to have the courage to mix pieces from different styles, eras, inclusive colouring or textures.  When you achieve this mix correctly, I believe you can reach the results that you are describing in your question.  You need to remove any aesthetic prejudice or preconceived ideas.  To do this successfully that step is very important.
---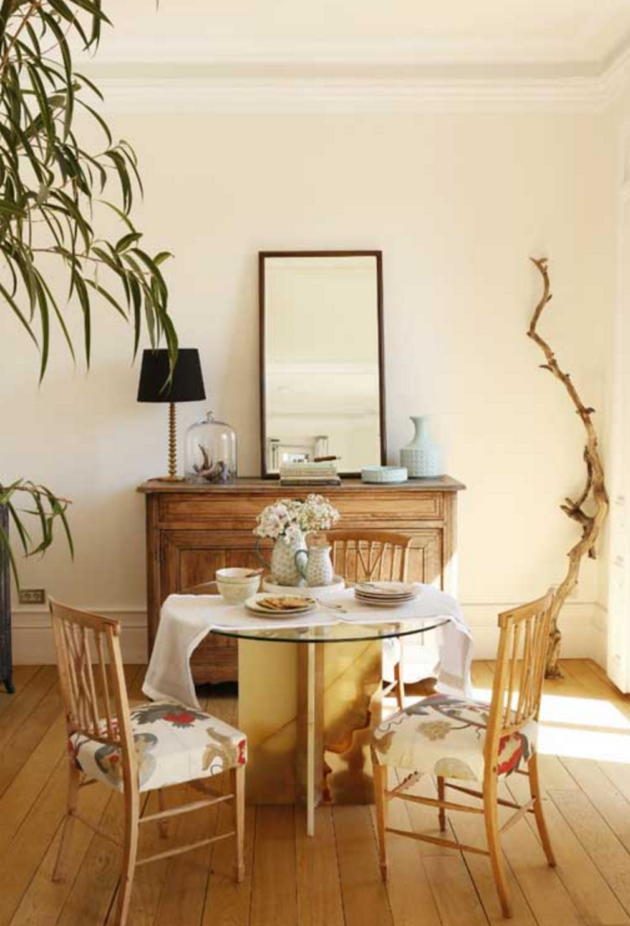 ---
Interiors by Tristán Domecq
---
Iván Meade – What has been your favourite project so far, and what would be your dream project?
Tristán Domecq – My favourite project is the first one, where everything started; I remember everything about it with a lot of excitement.  An ideal project is the one in which you have a client that trusts you and an unlimited budget…
---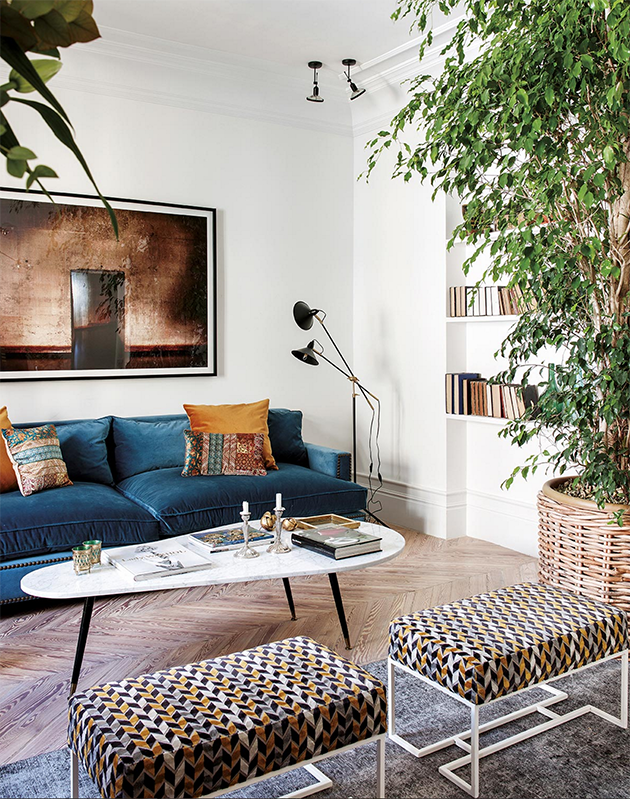 ---
Interiors by Tristán Domecq
---
Iván Meade – What is next for Tristán Domecq?
Tristán Domecq – Right now we are working on many residential homes, and currently we have the opportunity to design our first restaurant which is going to give us more presence.  I am excited about designing this particular place.
---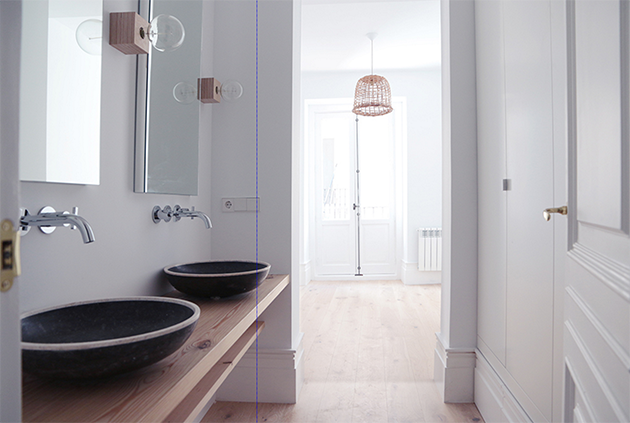 ---
Interiors by Tristán Domecq
---
Iván Meade – Lastly, you have already created a stunning body of work with many mediums and styles. What would you like your legacy to be?
Tristán Domecq – I would like the general public to be able to understand that a well designed space, even if it is contemporary; in order to survive for future generations, you need to use good materials.  I believe that a good interior can be a great envelope and that you don't need to change it with every season.  Project shouldn't be disposable after 10 years of being designed. This brings us back to our discussion about good materials.
---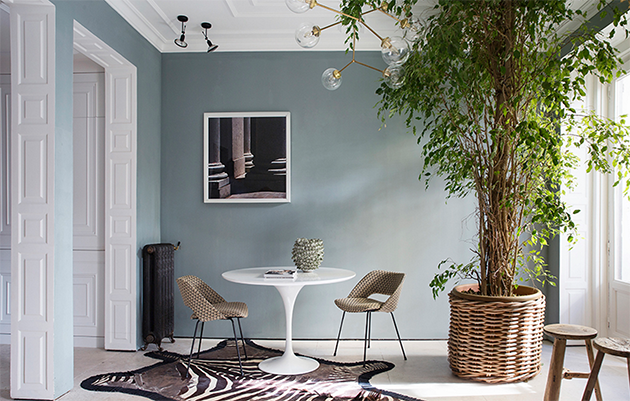 ---
Interiors by Tristán Domecq
---
I invite you to visit Tristán Domecq's splendid body of work at his website:
---

---