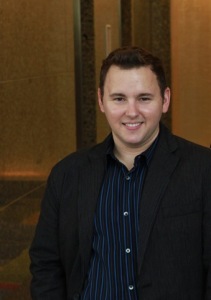 Dale Kosowan
I had the pleasure of meeting Mr. Dale Kosowan at one of my dear friend Patricia Gray's blogging parties. I am blown away by his insight on hospitality design – he not only has an amazing talent for creating beautiful hotel spaces, but also for scouting them out world-wide; his blog "HD Inspirations", features stunning hotels from around the globe that are incredibly stylish and (as his blog promises,) inspirational.
Dale graduated with a bachelor's degree from the University of Manitoba's FIDER Accredited Interior Design program, and is currently an associate with one of Vancouver's top architectural/interior design firms in hospitality design. He has had over 11 years of experience in Canada, the US, and even China. In addition to a multitude of boutique hotels, Dale has had the opportunity to work with big name clients such as Delta, Westin, Sheraton, Hyatt, Fairmont and Hilton Hotels. His designs are beautiful and well thought out, you can tell that Dale's work is certainly his passion.
Dale's work has not gone unnoticed; he has been the recipient of several awards including honours from IDIBC (Interior Designers Institute of British Columbia) and IDA (Interior Designers of Alberta), not to mention his features in Calgary Magazine, Western Hotelier Magazine, and Hotelier Magazine. Not to mention the prestige that comes with his very well maintained blog; he has been studiously posting away since 2007.
Please read on to learn more about this talented designer…
Iván Meade – What was your first experience with design?
Dale Kosowan – I remember when I was about 8 or 9, I'd watch ruruns of "I Dream of Jeannie" on TV after school, and then afterwards I'd start sketching out new bottle layouts for Jeannie.  I remember thinking her bottle was so cramped that she could use some extra storage space as well a new color scheme involving way less pink and purple!  I now know that was a very obvious sign that I entered the right field.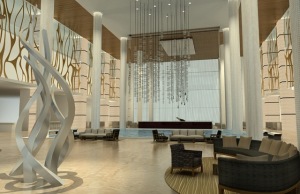 Design Concept by Dale Kosowan
Iván Meade – Who or what has influenced your style?
Dale Kosowan – My first boss in the industry, the late Ms. Delcy Walker, was a huge influence on my design aesthetic.  As a new graduate venturing out into the design world, she not only taught me the basics such as proportion and scale, but also how to challenge the rules and to always think a little bit outside the box.
Interior Design by Dale Kosowan
Iván Meade – How would you describe your style?
Dale Kosowan – When it comes to project work, the "style" is my best interpretation of the style requested from the clients, who often have definite ideas of their own.  Each project can vary tremendously, and I have come up with designs from very fussy traditional to very minimal and contemporary.  My personal style is contemporary, with traditional infusion.  I love punches of warm colour and pattern mixed with cool, neutral backdrops.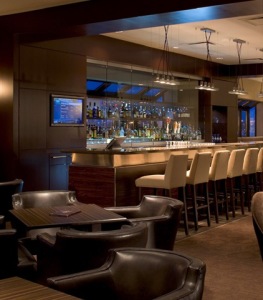 Interior Design by Dale Kosowan
Iván Meade – What is your design philosophy?
Dale Kosowan – Keep it simple, keep it uncluttered, and let beautiful materials speak for themselves.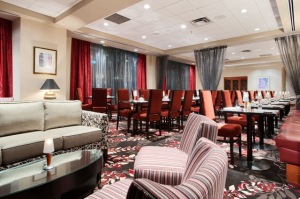 Interior Design by Dale Kosowan
Iván Meade – Who is Dale Kosowan? (Outside of being Dale Kosowan – the designer)
Dale Kosowan – I'm not one of those over the top, Diva, designer type personalities.  I'm actually a fairly shy and quiet person who enjoys simple times with family and friends.  I love to paint (abstract art), go for long walks on the Seawall here in Vancouver, travel, metaphysical study, and going shopping in my spare time.
Iván Meade – Have you ever forayed into another facet of design?
Dale Kosowan – As part of interior design, I've been lucky to be able to design custom furniture pieces, graphics, custom fabric and carpets, and signage.  But outside of interior design, I have not had the opportunity yet.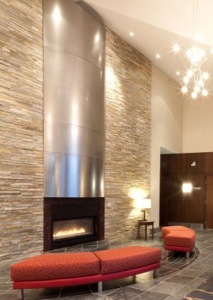 Interior Design by Dale Kosowan
Iván Meade – What have you found to be the most challenging part about hospitality design, and what to be the most rewarding?
Dale Kosowan – The worst part about hospitality design is the long project schedules and often tight budgets passed down from corporate headquarters.  Long project schedules mean that you don't' see the completion of your project sometimes years later, and tight budgets really limit you to certain materials and vendors.  At the same time these challenges stretch your creativity, so that it is also rewarding is to see projects can be successful after all the work and changes you've endured along the way.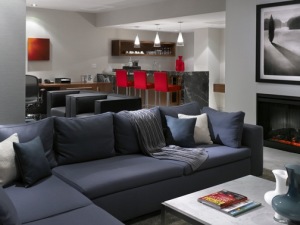 Interior Design by Dale Kosowan
Iván Meade – What are you excited about right now in the world of design?
Dale Kosowan – Clashing colour combinations.  Ugly Pretty (as Tyra Banks of America's Next Top Model) would call it.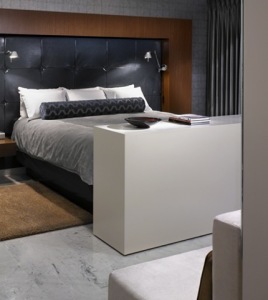 Interior Design by Dale Kosowan
Iván Meade – What would be your dream project?
Dale Kosowan – A high end, fashion forward and avant garde boutique hotel in a big, cosmopolitan city like New York or Mexico City where I can push the limits of what is traditionally considered "normal".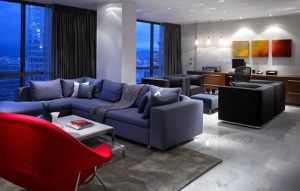 Interior Design by Dale Kosowan
Iván Meade – What project has given you the most satisfaction?
Dale Kosowan – Believe it or not, it was the Hotel Indigo Pittsburgh concepts we came up with, which was a project that was actually cancelled last year due to the recession.  It was the first time a client had embraced such strong color, pattern, and design recommendations.  We had designed a glowing behive inspired ceiling in the lobby lounge with multi coloured stretch nylon poufs randomly scattered about, and back lit hot pink chain link drapery behind a paisley upholstered curvy banquette.  It would have been truly outrageous.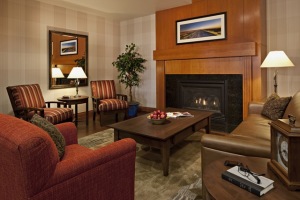 Interior Design by Dale Kosowan
Iván Meade – What is the best advice (design related or otherwise) that you have ever received?
Dale Kosowan – Of the three (Value, Time, and Quality) you can only have 2 without sacrificing the third.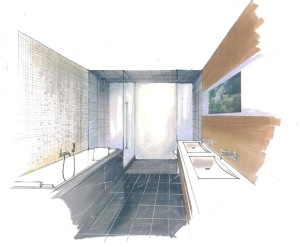 Design Concept by Dale Kosowan
Iván Meade – What are 3 things you each can't live without?
Dale Kosowan – My family (husband and 2 dogs), chocolate, and my iphone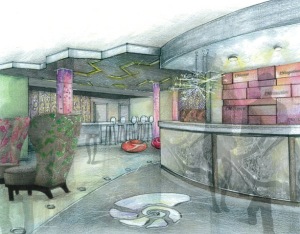 Design Concept by Dale Kosowan
Iván Meade – What is your next design venture?
Dale Kosowan – I'm currently working on the design of some meeting and ballroom spaces at two different hotels in downtown Vancouver, as well as a large renovation to a shopping mall, and a very modern, architecturally design vacation home in Whistler.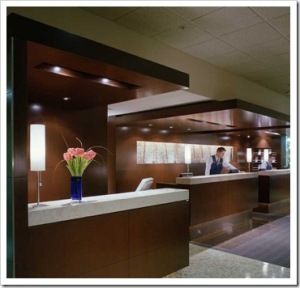 Interior Design by Dale Kosowan
Iván Meade – Lastly, you have already created a stunning body of work with many mediums and styles. What would you like your legacy to be?
Dale Kosowan – As a selfish wish, I would love one of the hotels I've designed to make it to one of the exclusive "must go to" hotel lists, like Hip Hotels or Design Hotels or Conde Nast Top 100.  As a more inclusive legacy, I would just hope that I can design as many spaces (rooms, restaurants, lobbies, etc.) as possible so that guests have positive and memorable experiences in them.
I invite you to follow Dale's blog at: