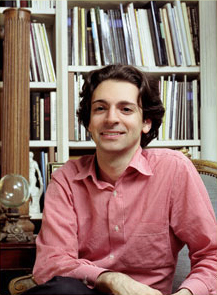 Garrow Kedigian
Canadian-born designer Garrow Kedigian has been working in New York with his self-titled firm for the last eight years and has found great success in the fields of both interior design and architecture. He has designed urban boutiques, stylish residences and beautiful office spaces for his clients and has been recognized by the media for his efforts. Garrow has been featured in Architectural Digest, House Beautiful, Elle Décor and the New York Times. He was also named one of Traditional Home's "20 Young Designers to Watch", and was included in the exclusive Kips Bay decorator show house for 2009.
Garrow's spaces are varied in style but always show great taste and flair. His sense of proportion, drama and sightlines are the staples of his designs; I love the statement he has included on his website "The architecture is what sets the tone and tells you what you need to do with a space" because I agree with that wholeheartedly. I also enjoy seeing the array of artwork Garrow includes in his spaces and the unique ways he showcases it. His work always appears refined and well put together but not too put together – they seem comfortable and eclectic, the furniture does not look like it was chosen from the same page of a catalogue, each piece has been carefully chosen and has character.
Mr. Kedigian attended McGill University's architecture program in his hometown of Montreal, Quebec. After completing his formal education Garrow moved to Boston, Massachusetts followed by his current locale, New York, to gain experience with some of the top designers in North America. He now runs his company from his Upper East Side studio/apartment.
If you are looking forward to hearing more about this talented designer as much as I was, please read on…
Iván Meade – What was your first experience with design?
Garrow Kedigian – At age 7, I had an inkling that my parents living room felt off-balance. After carefully studying the room, I decided to try the piano at the opposite side of the room, and surprised even myself at how such a decision made such a giant impact on the space. That opened up my mind to the importance of design, layout, and planning for a room.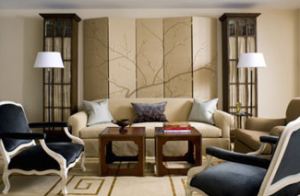 Interiors by Garrow Kedigian
Iván Meade – Who or what has influenced your style?
Garrow Kedigian – After graduating from McGill Architecture, I was fortunate enough to get a job working at the office of William Hodgins, one of the best in the Interior Design business. Working for Mr. Hodgins for 6 years certainly shaped, refined and influenced my work: I am often complimented by people who learn I've worked with him when they remark 'I can see that….' Other noted design influences are Marjorie Shushan, who I worked with when I first came to New York- her calm gracious and extensively thought-out rooms capes are un-paralleled, Jeffrey Bilhuber, who I consider to be one of the greatest design talents of our time, and the Architect Alex Gorlin (the latter two designers I have more recently had the pleasure of collaborating on a few projects with.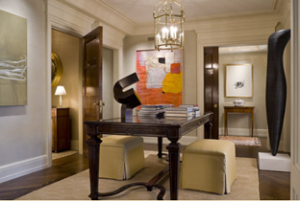 Interiors by Garrow Kedigian
Iván Meade – How would you describe your style?
Garrow Kedigian –  Often, when first meeting with new clients, this is one of the first questions they ask me; and I find it a complex one to answer. I guess if I have to give a definitive reply it would be 'streamlined classic'. I feel good design is sustainable and lasting, and principles which have been learned over the development of a design tradition are rooted in classic principles. This does not necessarily mean the room has to be fussy with florals and chintz, I think even successful modern rooms are based on simple classic principles of organization. My work is definitely founded in the classic, but paired back, and finds itself defined somewhere in between traditional and contemporary, simplified and addresses the fact that we are working today and not in the past.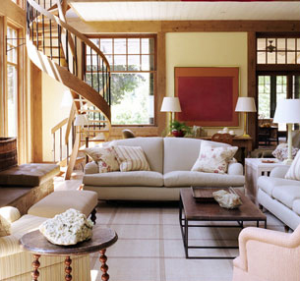 Interiors by Garrow Kedigian
Iván Meade – What is your design philosophy?
Garrow Kedigian – A well planned space is based on a combination of design inspiration, which is the initial 'first response' to a room/ space when walking through if for the first time; this coupled with the culmination of that inspiration using a well structured process of design development. I often start with inspiration sketches, and build upon those with more intricate design drawings, studying massing, scale, proportion. I feel the architecture of the room is symbiotic with the interior design and the two cannot be independent of one another, a successful space is a marriage between the two, and I feel my background trained as an architect helps me in the design development phases of all my projects. A successful room is always defined by a well organized and thought through furniture layout plan,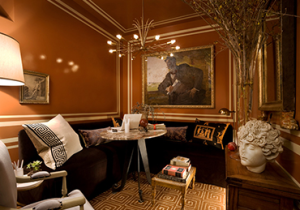 Interiors by Garrow Kedigian
Iván Meade – How do you feel that growing up in Canada has influenced your style and career in New York?
Garrow Kedigian – Canadians are very European in a way, inherently stylish and understand the importance of quality over quantity. I feel like Montreal was a really lucky place for me to grow –up; the city has distinctive French and British influences in its architecture and design, a very unique place; growing up I took all that for granted, and it's only now starting to reveal itself as great fortune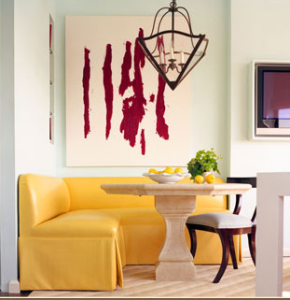 Interiors by Garrow Kedigian
Iván Meade – I admire the range of artwork that you feature in your projects, what attracts you to a piece?
Garrow Kedigian – Artwork is often a window into the personality of the client, which is why there is a varied range of works in my projects as you describe- I always leave art to the end of the project, that way I've had a chance to get to know my client during the interim of the design/ development stages of the project, and the last shopping expedition is usually the one for art, since it's such a personal thing. Sometimes clients have their own collection of artwork, which is a consideration in the design phases, but when I have the opportunity to select their artwork, I always select the pieces that I feel reflect the client and (maybe a little selfishly) compliment the design of the space the best!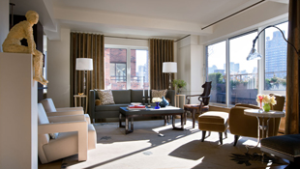 Interios by Garrow Kedigian
Iván Meade – I'm not going to sugar-coat it, I am very jealous that you got to work on the Kips Bay show house! What was that experience like?
Garrow Kedigian – Kips Bay was an eye-opener- the thing I enjoyed most was watching all the other designers work in their rooms and seeing how everyone does things; similarities in design strategies are comforting and differences are curious and enticing! I had the smallest room at the 2009 Kips Bay Show house, and I wanted it to pack a punch. I gave the space some simple architecture by painting lines/paneling at the walls throughout, which helped pull the space together and dictated the organization of furniture and artwork…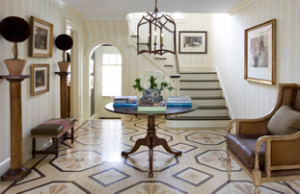 Interiors by Garrow Kedigian
Iván Meade – What are you excited about right now in the world of design?
Garrow Kedigian – I've seen many trends in this business, and I've tried to avoid them, because I feel trendy isn't always sustainable; but recently I've noticed fabric showrooms commissioning designers to design their fabric lines, which I think is a great idea, since I'm always shopping and thinking 'if only that came in a larger scale, or if only that one was available in a green color way'… etc. I've loved everything I've seen in these designer lines so far!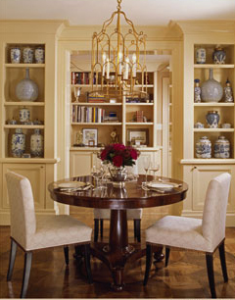 Interiors by Garrow Kedigian
Iván Meade – What would be your dream project?
Garrow Kedigian – I think giving a classic Georgian house a 'streamlined- make-over' would be the perfect job; I saw a house a few months back when visiting another client in the suburbs which would be perfect to renovate and create in (of course the dream aspect would include an unlimited budget, and a client who said 'just do it, and I'll be back in 6 months'…)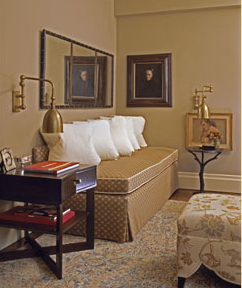 Interiors by Garrow Kedigian
Iván Meade – What project has given you the most satisfaction?
Garrow Kedigian – I would say the Kips Bay Showhouse, since I had a clear and underlying concept for the space, and so many of my designer colleagues appreciated it so much! I felt so fulfilled by this appreciation…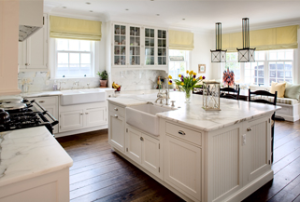 Interiors by Garrow Kedigian
Iván Meade – What is the best advice (design related or otherwise) that you have ever received?
Garrow Kedigian – I think the best advice, both related to design and perhaps can be applied to life in general, was by Marjorie Shushan who told me 'always be careful to make sure you don't overdo things…' which resonates true in everything.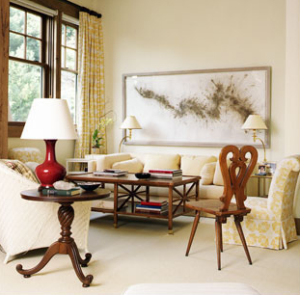 Interiors by Garrow Kedigian
Iván Meade – What are 3 things you each can't live without?
Garrow Kedigian – the three things I can't live without are 1) a measuring tape in-tow all the time; 2)Sketching paper and a good pen to sketch/ draw with, 3)My scale ruler…I can't live without my measuring tape and I always make sure I have one handy, I always measure things when I find something with a pleasing proportion; I'm always sketching and drawing, and I could never leave home without a pen and paper to sketch with, and my scale ruler (which I had a woodworker of mine cut down to fit neatly in my pen case) as I'm always studying plans and measuring dimensions on things…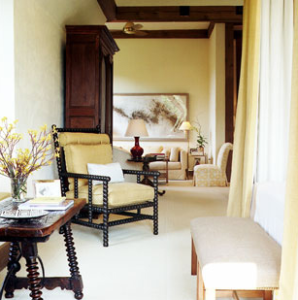 Interiors by Garrow Kedigian
Iván Meade – What is your next design venture?
Garrow Kedigian – I've recently been hired by a client who purchased the apartment of Jaimie Drake (a very well know New York City Interior Designer), Jaimie's vision and color sense are amazing, and I am excited to see how the client will have me reshape and redesign the space to meet her requirements. It's an amazing space, with a tremendous and gracious living/ dining room ensuite, with tremendously high ceilings, enormous windows, and the best part is that it is in an old Piano Factory building (!!)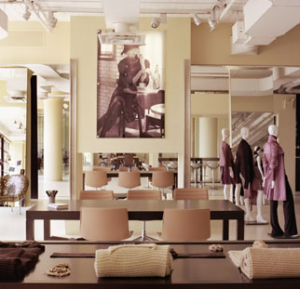 Interiors by Garrow Kedigian
Iván Meade – Lastly, you have already created a stunning body of work with many mediums and styles. What would you like your legacy to be?
Garrow Kedigian – I guess at the end of all this, I'd like to publish a book featuring some of my work and my sketches and drawings, which will hopefully, someday, be inspiring to others who have this passion for design!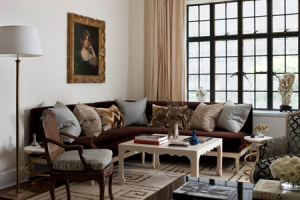 Interiors by Garrow Kedigian
I invite you visit Garrows Kedigian's webiste to discover more of his stunning body of work.

.