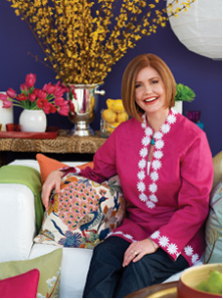 Cobi Ladner
Cobi Ladner was the editor of Canadian House & Home magazine for over 15 years (beginning in 1992). During her time at the magazine, Cobi and her team catapulted it to the forefront of the Canadian design scene. Canadians look to the magazine for inspiration, tips, tricks and resources with trust and confidence; readers are both enthusiastic and loyal – and with good reason – Cobi is a true pioneer of interior design in Canada.
Cobi's talent is well warranted; she holds a degree in Radio and Television Arts from Ryerson University.  Prior to her career at Canadian House & Home, she honed her editing skills at two of the countries largest magazines:  Chatelaine and Canadian Living. Currently she is also a board member of the Mississauga Living Arts Centre.
Cobi's new venture is www.cobistyle.com, where she not only promotes her design services, but also has developed a "Cobi Brand" – a style that is both "fun and personal". This new company involves three facets, which is an excellent business model allowing cross-promotion and the makings of an empire. They consist of: cobi Comunications (a blog and website where fans can chat and be inspired, live appearances, and future plans of printed media), Cobi Creative (interior design services and events), and Cobi Collection (a line of comfortable, classic and chic home and lifestyle products).
Iván Meade – What was your first experience with design?
Cobi Ladner –  Oh gosh, you know, I was just at my 20 year Ryerson reunion party and a few of the women told me they always thought my dorm room was decorated so great – who knew?  I was only using hand-me-downs from mom and dad!  But I would say my first apartment not far from Yorkville, Toronto in the 80's.  I was junior decorating editor at Chatelaine which meant we could use it for all kinds of photo shoots and makeovers.  I had a bubblegum pink bathroom with a custom-made candy stripe fabric shower curtain, bird of paradise bedding (like I said, it was the 80's 😉 grass cloth in the dining room, Marimekko wallpaper in the kitchen, I thought it was all very chic.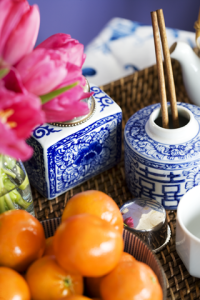 Vignette by Cobi Ladner
Iván Meade – What designers of past or present have inspired you?
Cobi Ladner –  So many, it's hard to choose.  But I have to say that it isn't always the designers who knocked me out – it's the creative homeowners with no experience.  I like it when a home really reflects the owners rather than just a design style.  Often the personal elements can go missing in professional residential designer work and I think it's a shame when they do.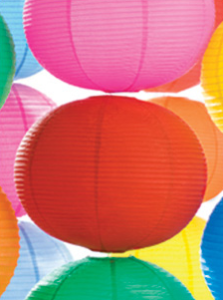 Inspiration by Cobi Ladner
Iván Meade – One of the things that I found you brought to Canadian House & Home was that you presented interior design as not just aesthetics, but a lifestyle. How does this reflect in your design philosophy?
Cobi Ladner –  Well my philosophy is pretty simple.  I believe that homeowners should feel happy and comfortable in their home when they use it, and it should showcase their unique journey through life to others when they entertain.  Your home is a wonderful place for self expression but through mass production of goods, it's becoming harder and harder to make your home reflect your own taste.  I think the best interiors happen when someone has not only great taste, but the creativity and confidence to show their personality in their choices.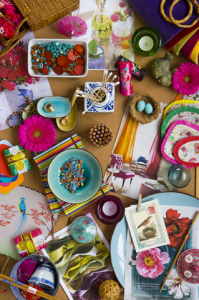 Inspiration Board by Cobi Ladner
Iván Meade – As the editor of a very popular design magazine, you must have seen several interior design trends come in and out of fashion. Do you have any that you miss? Or, any that you are very glad have not returned?
Cobi Ladner –  I don't mean to sound like a contrarian, but I just don't really think that trends should have a lot to do with how someone decorates their home (and I've been preaching that for a while).  Although fashion trends are fun to watch come and go,  I would never invest in something trendy for my home beyond the odd accessory or lamp.  Of course things should look fresh and current and I love to find something 'new' but I would never buy something trendy just because it is.  But now I feel badly that I didn't answer your question!  You know what I don't miss?  Big ruffly bedskirts.  They always seemed dusty to me and I couldn't find all the stuff I pushed under my bed.  A bed with legs is so much more elegant and clean looking (because I can't shove all that stuff underneath – it is cleaner!).  Same goes for sofas.  I don't like skirts.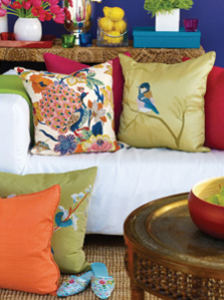 Interior by Cobi Ladner
Iván Meade – What was your favourite experience as the editor of Canadian House & Home?
Cobi Ladner –  Oh, now you're going to make me feel nostalgic.  It would have to be having people stop me on the street – anywhere in Canada – and tell me that they felt like they knew me.  Everyone was always so nice and seemed to really want to connect with a real person in the sometimes intimidating world of design.  I felt so lucky to be that person.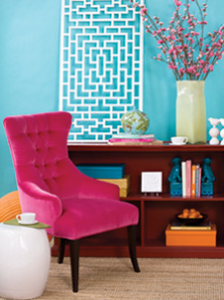 Interior by Cobi Ladner
Iván Meade – One of the highlights from your time as editor at Canadian House & Home was the article that featured your own kitchen renovation. Was it daunting to open your home, personal style and private life to the public?
Cobi Ladner – It was very daunting!  I always felt vulnerable when my own home was showcased.  For one thing, I'm a real person with a real budget and restrictions just like anyone else.  And for another, I worried about being judged (since I was in a position where many thought I could judge).  You know, people often told me they were intimidated to invite me to their home – would it be 'good' enough? – but I always turned the tables and said, 'how do you think I feel?  Everyone expects my house to be perfect!".  Isn't it crazy what we do to each other?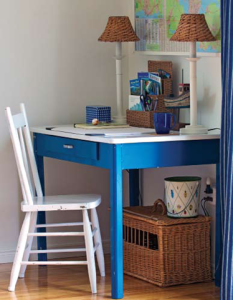 Cobi Ladner's Cottage
Photograph by Hello Magazine
Iván Meade – The "Cobi Style" design philosophy is described on your website as "…built not only on a unique style but a unique attitude" it goes on to say that "The attitude is lively, approachable, charming and fun". How do you apply this mantra to your interiors?
Cobi Ladner –  Well I can't do anything that's too serious or stuffy.  I just can't imagine living that way.  I think homes should be lived in and enjoyed.  It makes me sad if I see a picture perfect home that has no signs of real life.  I think interiors should reflect the owners – their past, present, loves, interests, passions…all the things that make their life unique.  We all have a story – our home should tell it.  The other thing I feel strongly about is feeling grateful.  We should all be so grateful to have a warm home to complain and deliberate over, don't you think?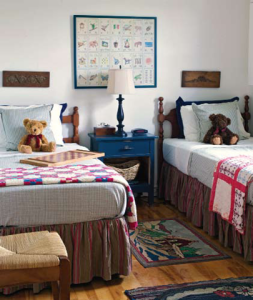 Cobi Ladner's Cottage
Picture by Hello Magazine
Iván Meade – As a blogger myself, I was very excited to find your blog and to see the personal side of your knowledge and opinions in interior design. How has the creation of your blog benefitted you?
Cobi Ladner –  Well I'm so used to blabbing on about my life…how could I stop now? 😉  I'm kidding, but I suppose there is some truth in that.  Even though it often causes me angst, I seem to enjoy writing about the trials and tribulations of 'life at home'.  Now that I'm just writing for myself and not another brand, I feel quite free to just tell it like it is.  That's the great thing about blogs, they're so real.  Imperfections and all.

.
Iván Meade – As a graphic designer, in addition to my work in interior design, I noticed that your website is very fun, unique and colourful which is refreshing and reads very well with your design philosophy. Is this fresh new look going to be carried throughout the "Cobi brand" (ie. the products and print work to come) as an image that will be immediately recognized as your own? If so, great strategy and Kudos to you!
Cobi Ladner –  That's an interesting question.  I have used a lot of colour because I do believe that colour is one of the quickest ways to put personality into your home (and your website ;).  I speak a lot about colour, but not because I'm a 'colour freak', in fact my own home is a real mix of neutrals and colours, but because I think colours have been forgotten over the past 10 years or so.  We've been so concerned with creating things in 'good taste', we've forgotten about creating things that are fun to look at, or even pretty.  You would think 'pretty' was a bad word in many design circles.  I don't think that's true however for most homeowners.  I think people respond to pretty things and colours and frankly feel starved for some juice in their interiors.  We've been beiged to death!  In the new year I plan to show more interiors on my site that show what I'm talking about but in a nutshell, I love neutral interiors that have shots of strong colour to wake things up.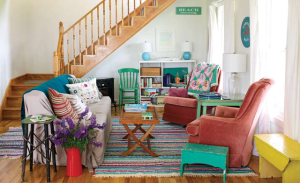 Cobi Ladner's Cottage
Picture by Hello Magazine
Iván Meade – What is your vision for the future of the world of interior design?
Cobi Ladner –  My vision is for there to be more diversity and life in our homes.  Just like a party that doesn't have any music, I think things have gone a little flat in the last while and I'd like to turn up the volume a bit.  I think we all need to loosen up a little and have some fun.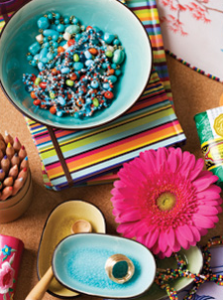 Inspiration by Cobi Ladner
Iván Meade – I read that you wrote a children's book once you had your own children that was published through McArthur and Company – "Why is an Orange Called an Orange?". I believe that the personal accomplishments are often the most rewarding, what was this experience like for you?
Cobi Ladner –  It was a wonderful experience to do a children's book.  You'll never get rich doing books in Canada but few things can compare to the feeling of accomplishment you get from having something bound on paper forever.  It's funny that the book was about colours and goes so well with my site.  I did it many years before I had 'cobi' on the brain.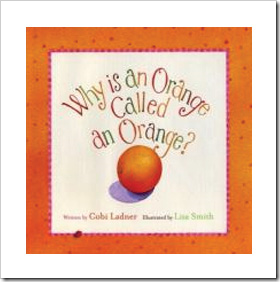 Iván Meade – Lastly, your work has done wonders for the interior design industry in Canada. What would you like your legacy to be?
Cobi Ladner –  Just to help people be happy and comfortable in their own home – I figure that shouldn't be hard. 😉
I invite you discover and learn more about Cobi Ladner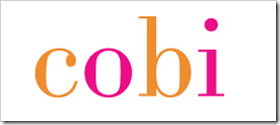 .