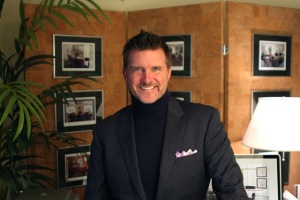 Scot Meacham Wood
Scot Meacham Wood is a fellow designer/blogger with whom I have established a great rapport. His blog, The Adventures of TartanScot, features all of the images, events and design tidbits that inspire him as an Interior Designer/Stylist.
Scot is an expert at comfortable, transitional, interiors. I think he has a real strong-point in lodge and smoking room style inspired interiors. When one browses his portfolio an instant sense of warmth, cozy comfort and welcoming is sure to follow. However, that is not to say that Scot is not a master at creating a more modern interior, his contemporary spaces are every bit as well done. His sense of balance with multiple patterns and colour palettes is superb, he also tackles asymmetry very well. I also admire Scot's ability to create an instant mood for each space he designs.
His company, Thane Studio, also styles events; from dinners, to garden parties to – my favourite, – holidays. He continues his lavish design ideas throughout the venue, no detail is overlooked, creating a truly memorable event for anyone on the guest-list. With "M events" being the latest addition to Meade Design Group's service offerings, I am finding Scot and I have more in common the more we learn about each other – aside from our outstanding taste in all things related to design!
I greatly look forward to sharing my wonderful connection with you, please read on to learn more about this talented designer and blogger…
Iván Meade – What was your first experience with design?
Scot Meacham Wood – Well, as a professional, it was an amazing four bedroom home in the Atherton area, near San Francisco.  The homeowners had known me from my days at Ralph Lauren and we were a perfect match.  They had just finished a complete re-model of the house and needed my assistance to re-imagine the existing furnishings and completing the styling of the house.  It was just terrific fun – and the house looked (and still looks!) absolutely stunning.  And best of all, we are all still great friends.
And as an amateur, my mom allowed my brother and I to design our own bedrooms when I was about 12 years old.  Looking back now, it must have looked like something from Mount Vernon when I was finished.  Very traditional.  Very proper.  Then I switched rooms with my older brother several years later . . . and spent the rest of my childhood in the room he decorated with tiger printed wallpaper.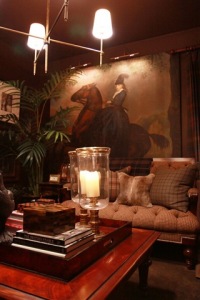 Interior Design by Scot Meacham Wood
Iván Meade – Who or what has influenced your style?
Scot Meacham Wood – I would have to say that travel has been one of the strongest influences on my design.  I lived in Asia for a short time during my childhood, and have traveled extensively through Europe as an adult.  Seeing how other cultures view their lives, and their styles, truly inspires me.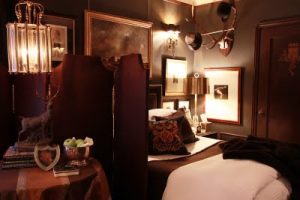 Interior Design by Scot Meacham Wood
Iván Meade – How would you describe your style?
Scot Meacham Wood – A modern take on European style but, with a bit of Southern hospitality.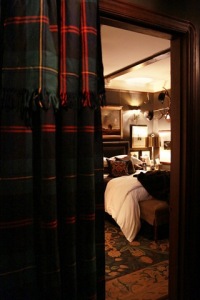 Interior Design by Scot Meacham Wood
.
Iván Meade – What designers of past and present do you admire most?
Scot Meacham Wood – I would be completely remiss not to mention the 13 years I spent working with Ralph Lauren as a huge influence on my style.  I can still remember seeing those first Home Collection ads in the mid 80's and practically swooning.  It was one of the main reasons that I decided to work for Ralph Lauren.  As far as other designers, well, I'd have to start with Michael Smith, Vicente Wolf, Phoebe Howard, Miles Redd, Ken Fulk, Roger Banks-Pye, and Suzanne Kasler.  And though I love each of them for differing reasons, the one aspect of their design that I most respect is their great attention to detail.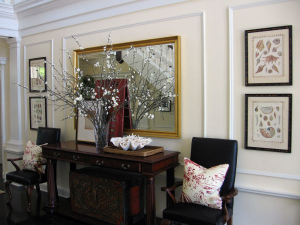 Interior Design by Scot Meacham Wood
.
Iván Meade – What inspired you to begin a blog?
Scot Meacham Wood – I was taking part in a marketing seminar in early 2008 and the speaker was asking about people's interest in social media.  "Who has a facebook page?  A twitter page?" and I was proudly raising my hand with each question . . . until "Who has a blog?" – and then, seriously, you could have heard a pin drop.  The only blog that I was familiar with was "The Sartorlialist."  But, I went home that night – dug around a bit – and discovered the myriad of design blogs . . . and I wanted to be part of it.  And the next night, at around midnight, "The Adventures of Tartanscot" was born.  I think like all bloggers, it was started simply to document things that happen in our lives, but the community of bloggers and blog readers has really inspired me.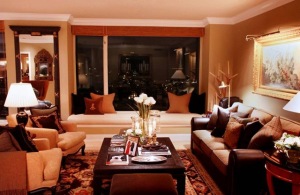 Interior Design by Scot Meacham Wood
Iván Meade – How has the blog influenced your designs and your career?
Scot Meacham Wood – It's been kind of a two pronged effect.  One of the reasons for my blog is to share the "things that inspire me."  Which means I need to find something that "inspires me" four to five times a week.  I has certainly made me much more diligent about seeking out inspiration.  "Eyes wide open.  All the time."
And as a businessman, it has clearly raised my visibility with the design world with new 'fans' around the country and the world.  I've worked on a few consults for local fans of the blog, and it's amazing to meet people who already have such a strong sense of who I am.
I'm always amazing and humbled when I meet someone who says, "Are you Tartanscot?  I love your blog!"  And it happens with alarming regularity.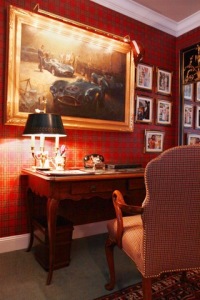 Interior Design by Scot Meacham Wood
Iván Meade – What do you consider to be your greatest strength and your greatest weakness?
Scot Meacham Wood – Strength? That would have to be my imagination.  I have a weird gift for walking into a new space . . . and seeing the entire, completed project in my mind.  Sometimes it's just about finding those pieces and completing the puzzle.  I'm also frighteningly organized – and with the endless supply of tiny pieces of paper, fabric samples, and spec sheets that accompany the design business, it's a true asset.  As far as weaknesses go, there's a bad habit for procrastination that I have to fight against almost regularly.  I can usually win that battle with a hyper-focused 'to-do-list' each morning.  Answering these interview questions was actually on my 'to-do-list' this morning.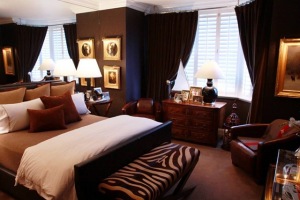 Interior Design by Scot Meacham Wood
Iván Meade – What has been your favourite tartan find?
Scot Meacham Wood – There's a few treasures – A great pair of custom-made Blackwatch tartan slippers from Crockett & Jones in London.  I also have a copy of the works of Scottish poet Robert Burns with a Dress Stewart tartan binding from the late 1800's.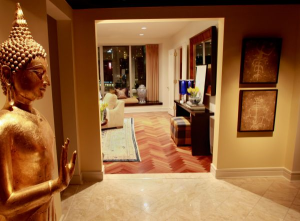 Interior Design by Scot Meacham Wood
Iván Meade – Knowing that you favour all Scottish things – I have a personal question to ask.  Do you like haggis?
Scot Meacham Wood – Yes, I've had some.  But, no – I won't be having it ever again.  Does that answer the question?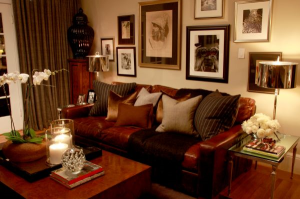 Interior Design by Scot Meacham Wood
.
Iván Meade – What are 5 things you can't live without? (other than tartan –lol-)
Scot Meacham Wood –
Fresh flowers in my office and at the house.

Hearing voices singing in perfect, luxurious harmony.

Home-made scones.

My collection of antique portraiture.

A cold, foggy San Francisco night, curled up in bed sleeping in an old cashmere sweater.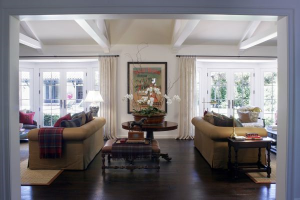 Interior Design by Scot Meacham Wood
Iván Meade – What are you excited about right now in the world of design?
Scot Meacham Wood – The thing that excites me the most at the moment is the complete lack of rules and 'trends' in design right now.  There is such abundance and endless variety.  All of my clients are looking for something very specific to their lives and not feeling any need to confine the 'look' of their home to any specific trend.  Seeing that design has no boundaries, no restrictions, is a thrilling place to begin each project.
Iván Meade – What is your favourite type of event to plan/design?
Scot Meacham Wood – I always love the boundless joy of holiday parties. And there is little on the Earth that makes me as happy as preparing a beautiful home for the holiday season.  The sight of the van parked in the driveway filled with fresh greenery, some great dance music on the stereo, and seeing a beautiful home transform into the 'stage-set' for entertaining.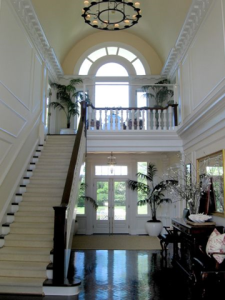 Interior Design by Scot Meacham Wood
Iván Meade – What would be your dream project?
Scot Meacham Wood – I know that someday, someone, somewhere – is going to ask me the design the new interiors for a castle in Scotland.  Fingers crossed.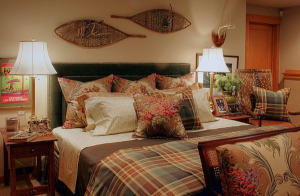 Interior Design by Scot Meacham Wood
Iván Meade – What project has given you the most satisfaction?
Scot Meacham Wood – I truly find satisfaction in each of the homes I've created.  Each project is so collaborative, and so specific to that one client.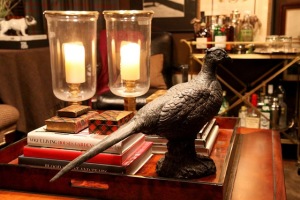 Interior Design by Scot Meacham Wood
Iván Meade – What is your next design venture?
Scot Meacham Wood – I've been designing a huge re-branding of my business for a goodly portion of 2009.  "SMW Design" will be launching this Fall.  For the new brand, I had been toying with the idea of launching a product line this year, but my residential projects have been keeping me too busy.  So, really, I can't complain.  Keep an eye out – there's going to be an exciting future.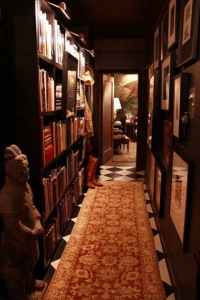 Interior Design by Scot Meacham Wood
Iván Meade – Lastly, you have already created a stunning body of work with many mediums and styles. What would you like your legacy to be?
Scot Meacham Wood – Obviously, I would want my work to be an important part of my legacy.  But, I also hope that my clients truly enjoyed the process of transforming their home.  That they felt heard.  That they felt understood.  And when they walk through their house, that they look around and smile.
I invite you to discover Scot Meacham Wood stunning body of work on his website and to follow his adventures in his blog.
UPDATE: Since receiving this interview with Scot Meacham Wood he has officially won 2nd place in the SFERRA/All the Best Bedroom Contest. Visit ALL THE BEST Blog to see the other beautiful rooms. The judging was done by a panel of note -worthy designers – Michael Devine, Kelly Wearstler, Vicente Wolf, Todd Romano, Amanda Nisbet, Nathan Turner, and Ronda Rice Carman.