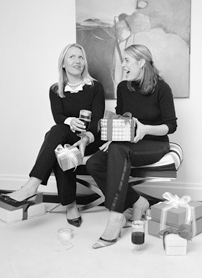 Susan Bednar Long & Christina Sullivan
Tocar Interior Design was founded by Susan Bednar Long and Christina Sullivan in New York in 1998 and have since become a very successful firm, including being named one of "America's Top Young Designers" by House Beautiful magazine and Traditional Home. These talented ladies focus on touching the lives of their high-end residential and commercial clients, just as their name implies (Tocar means "to touch" in Spanish). Both Susan and Christina have a history in the field of fashion which is quite evident in their designs; they enjoy the finer things and pay close attention to the details.
Tocar Interior Design produces spaces that are consistently elegant with a well-thought-out approach to combining different styles of furnishings. This methodology has been successfully applied to a vast range of client tastes and applications throughout the Tocar Interior Design portfolio.
Please read on to learn more about this talented design team…
Iván Meade – What was your first experience with design?
Susan Bednar Long – As a child of about 7 years old, I would draw elaborate floor plans on paper and do pen and ink sketches of elevations of homes that I imagined.
Christina Sullivan – My first experience with design was grade school.  My sister and I would put on neighbourhood variety shows during summer break while channelling "Captain & Tennille" for multiple performances of "Shop Around".  We would design the costumes and sets by using old patio furniture, kitchen utensils and our mother's drapes.  The entire neighbourhood would be involved in this Sullivan production.
My favorite "home" was an underground space accessed through a giant round pine bush in my backyard.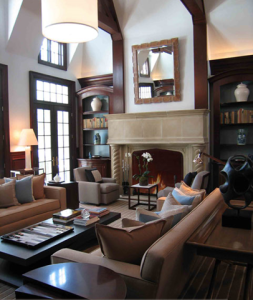 Interior by Tocar – Interior Design
Iván Meade – Who or what has influenced your style?
Susan Bednar Long – Bliss Blass's interiors and his masculine, tailored style. More specifically, how he mixed formal American antiques in a modern, graphic way at his former country home in Connecticut.
Christina Sullivan –  Travel, Music, fashion and old Hollywood have all influenced my style a great deal.  From the designs of Edith Head to the streets of Paris anything that was visual appealing was always attractive. All of the above influences the way I design today.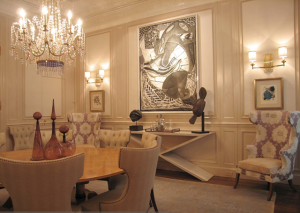 Interior by Tocar – Interior Design
Iván Meade – How would you describe your style?
Susan Bednar Long – Modern traditional. It's definitely a push and pull between both depending on the project and the inspiration.
Christina Sullivan – My style is modern traditional, depending on the project I gravitate towards one or the other.  I constantly find inspiration in TH Robsjohn Gibbings and mid century modern design. Every time I view furniture pieces from that time period,  it appears that the furniture was created through a combination of modern design while extracting elements from a more traditional past. This is the way I design when completing interiors.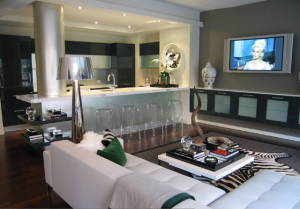 Interior by Tocar – Interior Design
Iván Meade – What designers of past and present do you admire most?
Susan Bednar  Long – I love Stephen Gambrel's work now – it's so classic American and I love the complex, neutral hues of his beautiful rooms. Also, Dorothy Draper was one of the main reasons I entered the field of Interior Design. My dad gave me a book about her when I was younger because I loved interiors and design so much. Her work was so graphic and bold and fantasy-like. It was so inspiring to me at a young age.
Christina Sullivan – I admire Billy Baldwin, David Hicks, Dorothy Draper, Chanel and Yves St.Laurent.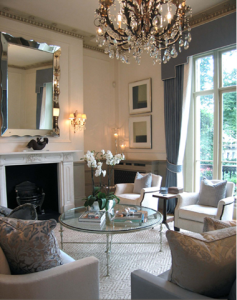 Interior by Tocar – Interior Design
Iván Meade – What do you consider to be your greatest strength and your greatest weakness?
Susan Bednar Long – Greatest strength is my ability to be both highly creative and highly organized. It's a rare thing to have both. Greatest weakness is that I hold everyone else to the same standard.
Christina Sullivan – My greatest strength is the ability to create a vision for our clients and complete the project in a reasonable time line through a series or organized installations and follow-ups.   My greatest weakness is the disappointment when others do not follow-through with the same ideology.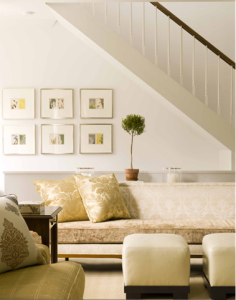 Interior by Tocar – Interior Design
Iván Meade – What books are currently on your bedside or coffee table?
Susan Bednar Long – Coffee table: Weekend Retreats by Susanna Salk; Passion for Parties by Carolyn Roehm. Bedside: God in the White House by Randall Balmer; What to Expect Your 1st Year (baby book).
Christina Sullivan – I must edit because there are so many, "The Russian Concubine" by Kate Furnvall, "Edward Wormley, The Other Faces of Modernism", a vintage copy of House Beautiful, July 1936 and a vintage 1962 edition of "House & Gardens, Interior Decoration".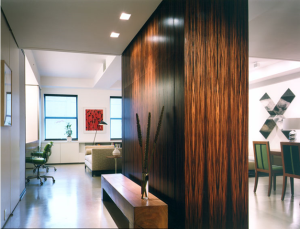 Interior by Tocar – Interior Design
Iván Meade – What are you excited about right now in the world of design?
Susan Bednar Long – That the world's design is more accessible to us with the internet, international publications, blogs, etc. It's great to see what is happening all over the world and be able to actually incorporate it in our design work here.
Christina Sullivan – Great photography mixed with art and the ability to research new artist via the web.  Also design blogs are a wonderful source of inspiration as well.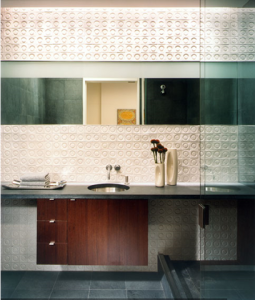 Interior by Tocar – Interior Design
Iván Meade – You both have a strong background with the fashion industry; what design cues do you take from the runway to incorporate into your interiors?
Susan Bednar Long – I don't have much runway experience, more retail store and showroom design experience. There I learned the importance of visual merchandising and creating "moments" as the Ralph Lauren Creative Services group would call them. It's these tricks of the trade to make spaces complete, layered and give it that personality that sets it apart from most interiors.
Christina Sullivan – When viewing what's on the runway, classically tailored looks that are modern and fresh like Ralph Lauren collections are always an inspiration to our interiors.  The overall feel of a look can influence the interiors through color and texture.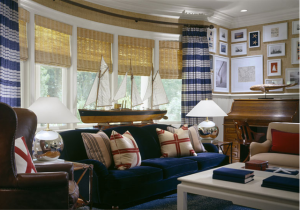 Interior by Tocar – Interior Design
Iván Meade – What would be your dream project?
Susan Bednar Long – Doing a modern interior within an old Venetian Palazzo. I think the most exciting interiors have that mix of old/new, modern/traditional. It would allow us to shop in Europe, travel frequently to Venice (where I got married 5 years ago) and use wonderful craftsman from Italy to restore the space. I can't thing of anything better!
Christina Sullivan – To design the interiors of a Mega Yacht and Private Jet and give the clients the "Tocar" stamp.  How exciting to create interiors that literally will travel all of over the world.   That's Amazing! and of course Extremely FUN!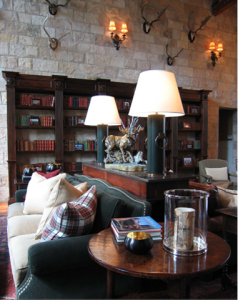 Interior by Tocar – Interior Design
Iván Meade – What project has given you the most satisfaction?
Susan Bednar Long – Our recently completed London townhouse. We had to do it really fast within 6 months from start of design to installation. It was designed for existing Clients – a family of 7 that were moving from the US to London. The townhouse is beautifully formal, about 6000 square feet on 5 levels. It was a great challenge – not only for the timeline but to give the formal English space an American sensibility while maintaining its existing level of elegance.
Christina Sullivan – We recently completed a 1910 limestone townhouse on the upper eastside, NYC.   The architecture alone was extremely beautiful and our clients art collection extraordinary.  We completed this in two phases are per our clients request and the end result was superb.  Each room had a purpose and we not only created beautiful interiors but they were functional for a young family of 6 as well.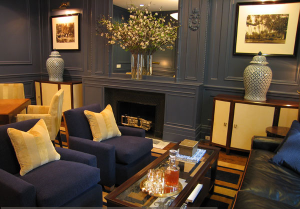 Interior by Tocar – Interior Design
Iván Meade – What is your next design venture?
Susan Bednar Long – The interiors of a beautiful Georgian style stone mansion in Greenwich, Connecticut and a French brick estate also in Greenwich.
Christina Sullivan – We have just started a wonderful Georgian style stone house in Greenwich CT.  The interiors are going to be chic, sophisticated and friendly.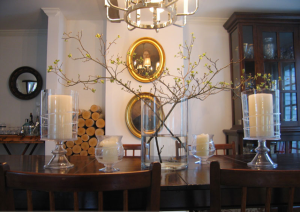 Interior by Tocar – Interior Design
Iván Meade – Lastly, you have already created a stunning body of work with many mediums and styles. What would you like your legacy to be?
Susan Bednar  Long – A Designer that consistently created beautifully classic, understatedly elegant interiors specific to her Client's individual style.
Christina Sullivan – I would like my legacy to be that I designed sophisticated, elegant modern traditional interiors that are timeless.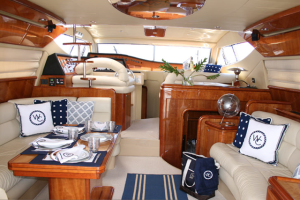 Interior by Tocar – Interior Design
I invite you to visit Tocar – Interior Design site and enjoy their stunning work.