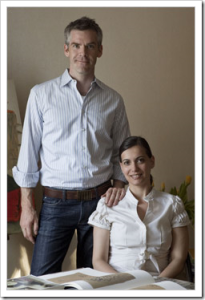 Jesse Carrier & Mara Miller
New York based interior design firm Carrier and Company has been beautifying high-end interiors since 2005. The principles, husband and wife team Jesse Carrier and Mara Miller, have over 25 years design experience  between them and have worked with such notable clientele as Vogue, Anna Wintour, Jay  Fielden, Bob Pittman and Jane Rosenthal.
Carrier and Company's specialty is comfortable interiors that have a country or cabin feeling yet embrace the style of today's contemporary tastemakers. I love how they describe what they do on their website:
"Connecting people to place is the key to developing a successful interior that is not only beautiful, but a deeply personal reflection of its occupants."
Using a confident mix of history, contemporary design, comfort and grace we are able to achieve interiors that are chic and timeless — both familiar and fresh at once. A truly personalized interior takes shape when you add to the mix clients' collections, artwork, heirlooms, taste and personality.
Ultimately, interiors are not just spaces for living, but living spaces — and by grounding them in layers of color and texture (some rich, some subtle) we help them to be comfortable and forgiving so their inevitable use and age are advantageous."
Please read on to learn more about this talented design duo and their firm, Carrier and Company…
Iván Meade – What was your first experience with design?
Jesse Carrier –  An internship @ Aero Studios while it was still a partnership between Thomas O'Brien & Bill Sofield in that incredible  space on Spring St. in SOHO.  I was still a design student at FIT, and could not believe my good fortune, which only got better when the internship turned into a full time job upon graduation.
Mara Miller – All those post-war movies were my first glimpse at really designed residences, whether it was Carey Grant's cliff side residence in TO CATCH A THIEF or the Irish cottages in THE QUIET MAN – that world was so much more beautiful than the suburban life that I knew.  Thank you, Hollywood!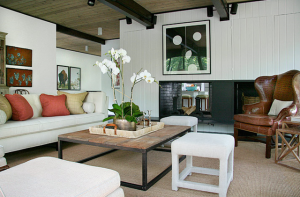 Wilton House
Iván Meade – Who or what has influenced your style?
Jesse Carrier – I find that I'm most influenced by my clients.  They all bring such strong and diverse senses of taste and style to the table.  It makes every project unique, and we finish each project with a broader perspective and appreciation.
Mara Miller – It is the foil of location/structure mixed with the clients' taste and personality that informs me.  More abstractly I love texture and patina – it creates so much atmosphere.  I can't deny that I love nostalgia – a little fantasy is good!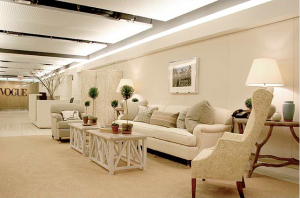 Vogue Lobby
Iván Meade – How would you describe your style?
Jesse Carrier – Engaged, timeless, tailored.  Its such a collaborative process, each project is its own style.  Some are traditional, romantic, others are clean and modern, some fall between the two extremes in the "eclectic" category.  We're all of these styles.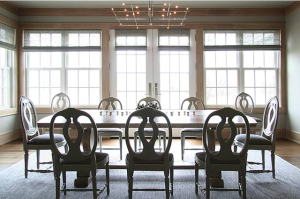 Washington CT
Iván Meade – What designers of past and present do you admire most?
Jesse Carrier – Frances Elkins, Hugh Newell Jacobsen, Bunny Williams,  Albert Hadley, Billy Baldwin, Jacques Grange, David Hicks….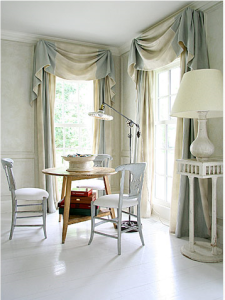 Forge River
Iván Meade – What do you consider to be your greatest strength and your greatest weakness?
Jesse Carrier – Strength: Understanding & delivering client's needs / Weakness: Thrift Shops
Mara Miller – Strength: Pragmatism/ Weakness:  Pragmatism (sometimes I'm a kill-joy)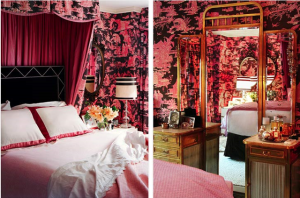 West Village
Iván Meade – I love that you had the opportunity to convert a barn to a residence, what an amazing conversation starter for the clients. Did you experience any unusual obstacles with this project?
Jesse Carrier – …only the 500 lb soapstone sink, which we ultimately rehabilitated and left as the bathroom sink!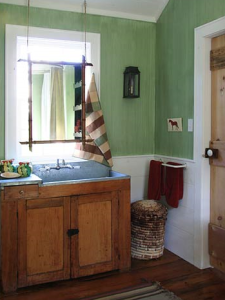 Forge River – Guest Barn
Iván Meade – What books are currently on your bedside or coffee table?
Jesse Carrier – Mostly children's books… its my job to read bedtime stories to our son at night.  I tend to fall asleep before he does.
Mara Miller – I'm devouring Mishna Wolff's  memoir,  I'm Down.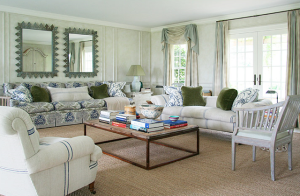 Forge River
Iván Meade – Jesse is also a stylist and contributing editor for both Vogue and Men's Vogue magazines. What effect has this had on your design sense and your career as a designer? – I imagine it can't be anything but positive effects!
Jesse Carrier – Editorial work can be a wonderful creative outlet.  It allows for more fun & fantasy that you might otherwise experience in the day to day.  Professionally, it gives a certain amount of credibility to what we do.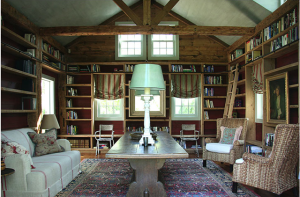 Forge River Guest Barn
Iván Meade – What are you excited about right now in the world of design?
Jesse Carrier – I'm excited that "green design" is becoming more popular and prevalent.  For a long time, it was impossible to be both "stylish", and "ecological".  Now, it seems, there is an abundance of beautifully designed products that are both.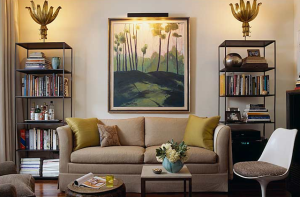 New York Apartment
Iván Meade – What would be your dream project?
Jesse Carrier – The White House
Mara Miller – Give me a European villa – the shopping, the meals!  Does that make me unpatriotic?
Iván Meade – What project has given you the most satisfaction?
Jesse Carrier – Our son
Mara Miller – I get excited when I look back on our portfolio and really like what I see.  While working on a project you are "in-the-moment" with the client and the process – we are able to really work together without compromising our design integrity.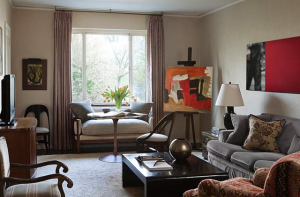 Gracie Gardens
Iván Meade – What is your next design venture?
Jesse Carrier – The 2009 Hampton Designer Showhouse.  It should be a lot of fun!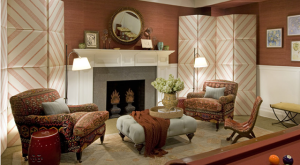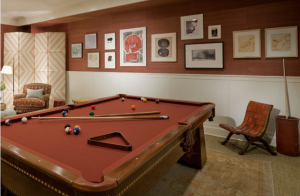 The Den – Hampton Designer Showhouse
Iván Meade – Lastly, you have already created a stunning body of work with many mediums and styles. What would you like your legacy to be?
Jesse Carrier – Legacy?  We're much to focused on the here and the now to think about what we might leave behind some day.  We're just along for the ride, and excited to see where the path will eventually lead.
I invite you to visit the work of this talented team:

.