Phorm is an interior design firm based in Brisbane Australia. Their style is impeccable, they have a great eye for blending modern classics with their own pieces.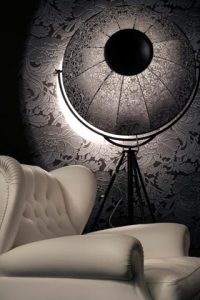 Phorm Interiors – Studio
Owners Ian Wrightson and Steven Stewart completely embrace the fact that design is ever-evolving and ever-changing. They work on both residential and commercial interiors as well as maintaining a great blog. Subtle palettes, clean lines, modern conveniences, classic furnishings, dramatic lighting and flawless textile combinations are consistently well executed in Phorm interiors; although their projects convey a broad range of styles and client needs.
Their style is extremely adaptable but always a great representation of their own aesthetic. The Phorm blog – "Phorm Design Life" is a great tool for them to share their project installation photos, favourite designers and architects as well as fun posts like where they stayed and what books they planned to read during their Christmas break. They are also sure to promote awareness for global issues such as their moving post for World AIDS Day.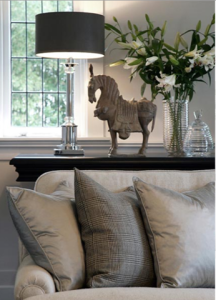 St.Lucia Residence – Phorm Interiors
All-in-all this design team is definitely worth the time it takes to view their gorgeous portfolio and blog and I highly recommend both to my readers.
Please read on to learn more about this talented team from the land down under…
Iván Meade – What was your first experience with design?
Ian Wrightson – Probably The Brady Bunch… mesmerized by timber wall paneling, stained feature glass, teak furniture, shag carpeting and stone walls.
Steven Stewart – Rearranging furniture on family vacations to make the space more livable for the duration of our holiday.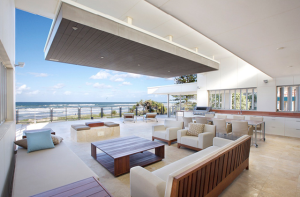 Phorm Interiors
Iván Meade – Who or what has influenced your style?
Ian Wrightson – Growing up in the 70's & 80's I was really influenced (and still am) by the work of great Australian decorators of the time, like Yvan Methot & Babette Hayes. Their work always seemed so glamorous to me.
Steven Stewart – I always found my parents sense of style very inspirational. Growing up we always had the latest wall covering or the newest chair from Italy. I am still influenced by them today – in fact, my mother actually works in our firm.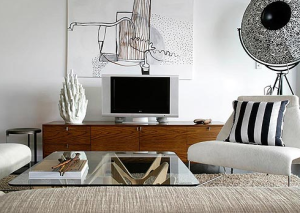 Red Hill Residence – Phorm Interiors
Iván Meade – How would you describe your style?
Ian Wrightson – Ideally I like furniture to have strong lines and rooms that incorporate mood and layering. I also love the juxtaposition of antiques with designer lighting and modern furniture.
Steven Stewart – Paired back maximalism. Neutral and tonal colours featuring old pieces, designer lighting and modern art and sculpture.
Kangaroo Point Penthouse – Phorm Interiors
Iván Meade – What designers of past and present do you admire most?
Steven Stewart – David Hicks (past) and Vicente Wolf (present) and Iain Halliday of Australia's Burley Katon Halliday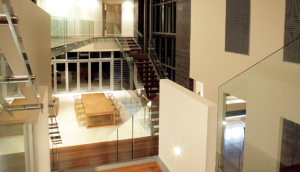 Ascot Residence – Phorm Interiors
Iván Meade – What do you consider to be your greatest strength and your greatest weakness?
Ian Wrightson – Strength – responding to each client brief on an individual basis, without any preconceptions. Weakness – Being a perfectionist…something everyone in this industry can relate to.

Steven Stewart – Strength – listening to and interpreting clients needs and wants. Weakness – Even though I love fabric I tend to leave the choosing to Ian.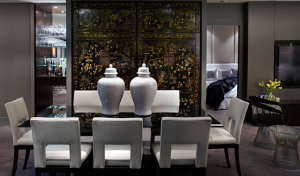 New Farm – Penthouse
Iván Meade – What is unique to Australian style?
Ian Wrightson – Definitely the idea of a living space that blurs the indoors and outdoors. We are constantly working with our suppliers on upscale outdoor furniture that is really comfortable.
Steven Stewart – An integration of internal living space, the blend with outdoor areas.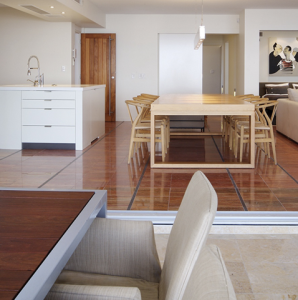 Phorm Interiors
Iván Meade – Some styles are a matter of fashion or trends, or a nation's tradition and history, others are from sheer practicality. Is this a direct result of the Australian culture or the Australian landscape/climate or is it mostly just the visual appeal?
Steven Stewart – As designers we always strive to work within the existing architecture certain design styles seem irrelevant to us as a majority of our architecture is uniquely Australian.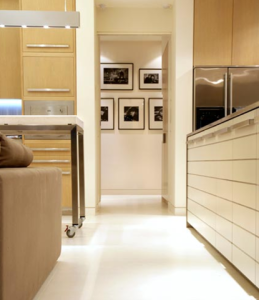 Iván Meade – What books are currently on your bedside or coffee table?
Ian Wrightson – I am a huge reader and am currently re-reading an old favorite – The Confederacy of Dunces by John Kennedy Toole
Steven Stewart – I am currently reading The Four Hour Working Week by Timothy Ferriss – just having trouble applying my newly found knowledge.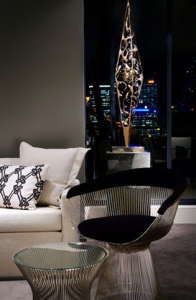 New Farm Penthouse – Phorm Interiors
Iván Meade – You always create great combinations of worldly or antique accessories with modern spaces and furnishings. What is the key to this mix?
Ian Wrightson – I think the key to this mix starts with the client. I love to tap into great memories that the client has and find pieces that represent some of these memories and experiences, whether it be a holiday in Morocco or family lunches around a linoleum kitchen table.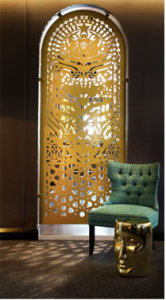 Port Office Hotel – Phorm Interiors
Iván Meade – What are you excited about right now in the world of design?
Ian Wrightson – We are both really excited about the great furniture design that is happening here in Australia. As budgets get tighter and import costs inflate it is good to look at Australian manufacture and see so much great, solid design. These pieces are destined to become the new classics.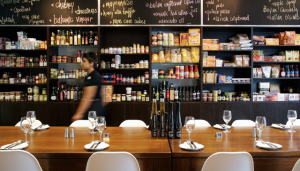 Cucina – Phorm Interiors
Iván Meade – What would be your dream project?
Steven Stewart – I think that for both of us our dream project would certainly be an inner-city boutique hotel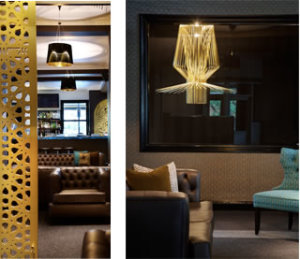 Port Office Hotel – Phorm Interiors
Iván Meade – What project has given you the most satisfaction?
Ian Wrightson – Interestingly, it was our smallest ever budgeted project. Cinco Bistro, a restaurant refurbishment we completed in 6 days (over the Easter holidays) in 2005. We wanted to represent the 'Cinco' idea without looking like a Mexican theme restaurant and after hours of trawling through every fabric collection we could lay our hands on, came across a collection from Australian designer, Florence Broadhurst, with a great 70's-style Aztec motif. This became the basis of our design custom printed in a stunning navy – and appeared as a bold wall paneling throughout the restaurant.
Steven Stewart – Upon completion of a recent river front, inner city penthouse apartment I felt an overwhelming sense of completion. It was one of those wonderful projects where the client really trusted our vision completely absolute synergy.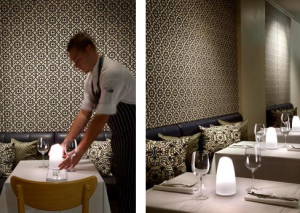 Cinco – Phorm Interiors
Iván Meade – What is the most unusual request you have ever received from a client?
Ian Wrightson – The unusual requests usually come from me…and then I have to sell the idea to the client.
Steven Stewart – To design (as part of bespoke custom made joinery) a display space for a small grey river rock with 'I Love You, Daddy' painted in white paint.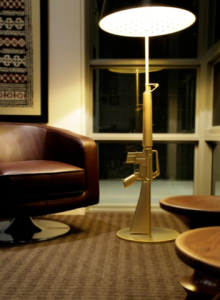 Ascot Residence – Phorm Interiors
Iván Meade – You appear to have a great eye and attention to detail, from the nail heads and monograms on your upholstered pieces to the seams of a wall treatment or the way you handle the artwork in your projects. These are the things designers notice and clients may not always grasp the importance of – the little things that can easily be lost in translation. What impact has this attention to detail had on your projects?
Ian Wrightson– This is our way of personalizing the project for the client, and you are right, these small touches and details are sometimes undetectable to the client. For us, as designers, we are constantly challenging ourselves with bespoke finishes and get very excited over these small details.
Steven Stewart – We also agonize over our selection of artworks, but for me the most fulfilling thing is finding the perfect match between artist and client.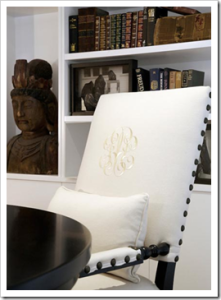 St.Lucia Residence – Phorm Interiors
Iván Meade – What is your next design venture?
Ian Wrightson – Believe it or not, I am starting work on our own project – a 120 year old inner city cottage. We both want to experiment with working within the homes original footprint – so lots of very small rooms. I must say though, I'm not looking forward to having myself as a client…
Steven Stewart – A Miami-Vice inspired house with a gangster edge.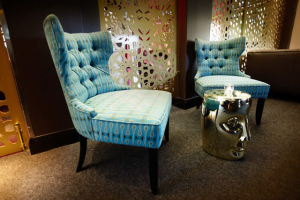 Port Office Hotel – Phorm Interiors
Iván Meade – Lastly, you have already created a stunning body of work with many mediums and styles. What would you like your legacy to be?
Steven Stewart – Rooms and interiors of lasting quality that offer our clients useable spaces. One of the best compliments I can receive from a client is that they use every room and each room works as we had originally intended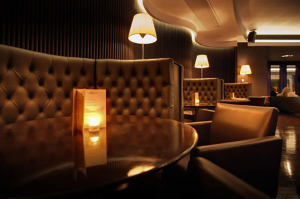 Port Office Hotel – Phorm Interiors
I invite you to visit Phorm's stunning body of work: