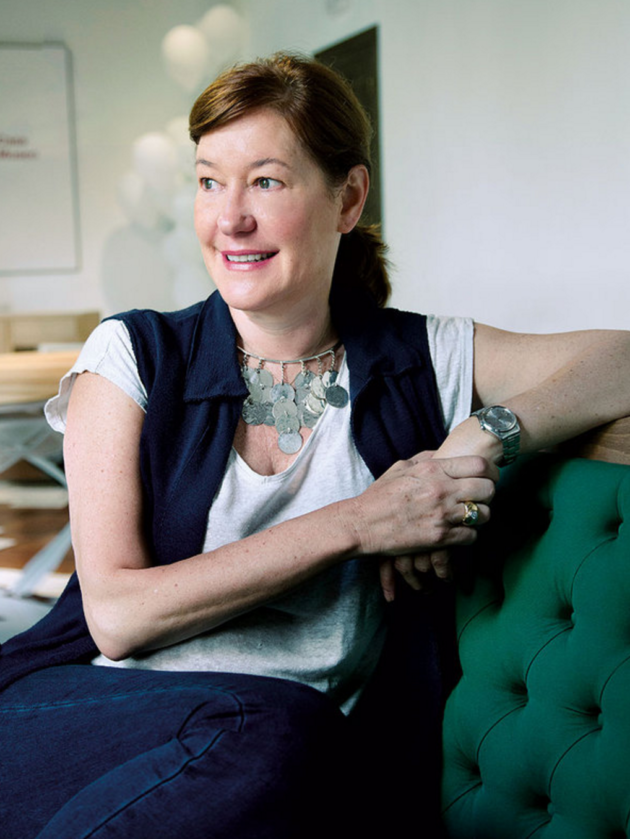 ---
María de la Osa
---
María de la Osa's projects have a virtuosic eye for colour,  an adventurous sense of style,  a generous application of art history; all of which are synonymous with de la Osa's signature style.  With the conviction to only create spaces that seamlessly marry contemporary influences with important historical references, blending high and low, old and new with soulful sophistication and a unique and iconic grace; De la Osa is one of the most important references for the design scene in Spain.
De la Osa's  projects are very well received and have been published in some of the best Spanish magazines such as Architectural Digest, and Nuevo Estilo.  Her design curiosity doesn't end there, she has also had the opportunity to conduct interviews for Nuevo Estilo, with 3 of the most iconic designers of our time: Axel Vervoordt, Jacques García and Paul Fortune – the invitation was a true recognition of her design knowledge, from a top design publication.
Without a doubt, María de la Osa has earned a great place in the design industry in Spain under her own merit, and a voice as well through her involvement with the organization of Decor Acción, a three day event that takes place in Madrid every year in the fall. It features the leading Interior Designers, Architects and Antiques dealers of the city, taking to the streets and shops of the "Barrio de Las Letras" and turning them into a city attraction.
Are you ready to see some of the most beautiful, lived-in interiors? – well I am!  – I'm also eager to start my chat with María…
---
Iván Meade – What was your first experience with design?
María de la Osa –If I think back, it is was probably when my parents constructed a new country house in l' Ampurdán, and I helped decide where each piece of furniture should be placed. I realized that I very much enjoyed doing it and that the result was not bad!
---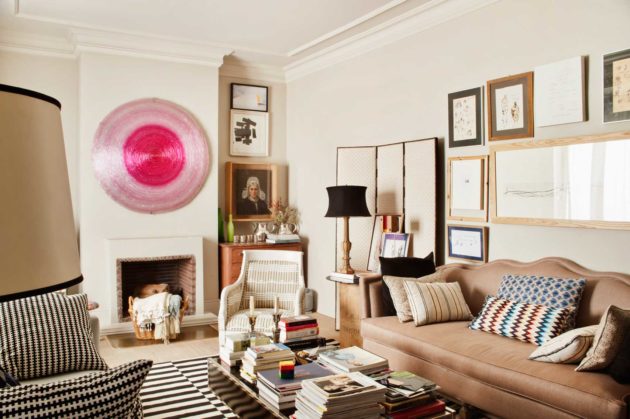 ---
Interiors by María de la Osa
---
Iván Meade – How would you describe your design style?
María de la Osa – If I had to use just one word, it would probably be cozy. I love to create warm atmospheres that make you feel calm and easy. Colour is also a must in my projects !
---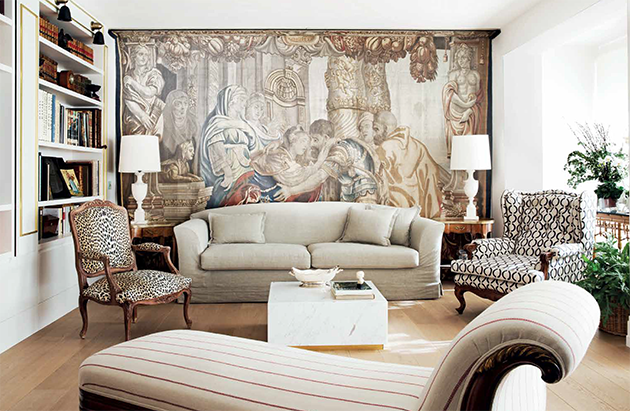 ---
Interiors by María de la Osa
---
Iván Meade – The illumination in your projects is very detailed.  The brilliant use of natural light is evident, as well an appropriate use of artificial light.  This is an aspect that generally is forgotten in interior design.  How do you approach it?
María de la Osa – I believe that one of the most important things while decorating is the light. " a pretty space that has the wrong Illumination can completely destroy it, while an ugly space with the right illumination can cheat your eye and pretend to be a nice place!
Let's say that, with a small budget,  I would rather spend more on the illumination than  on order matters. I am always looking for lamps!!
---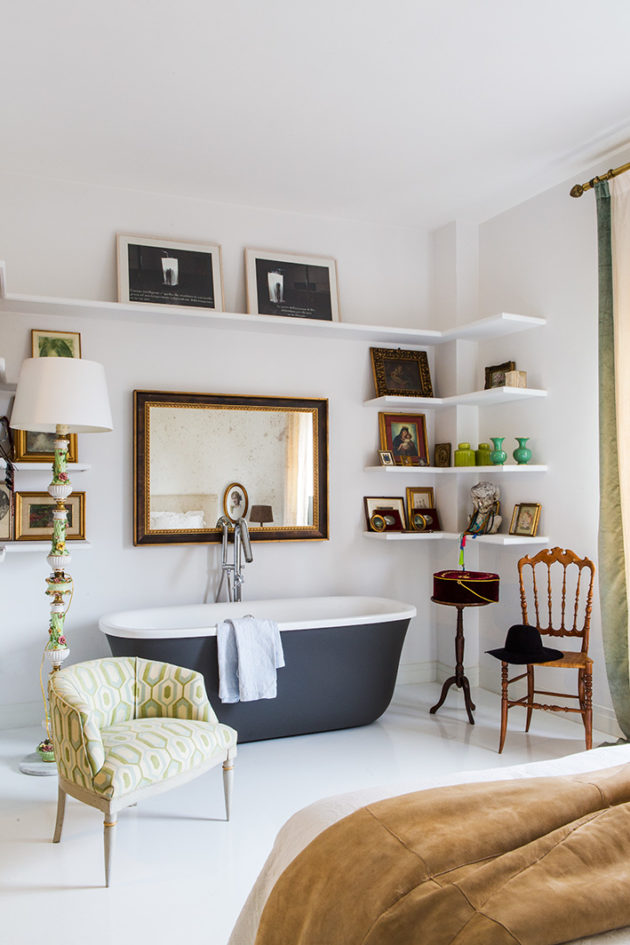 ---
Interiors by María de la Osa
---
Iván Meade – The selection of your furniture pieces is always exquisite – What inspired you to include pieces in your projects that are no longer commonly used in today's homes, like character pieces or antiques?
María de la Osa – Each piece has to have character and a dialogue with the rest of the pieces. It is important to find a balance so as to give each piece it's space without competing with the others. While doing this, I try to look for pieces in different antique shops or stores and a piece that takes me directly to others.
When starting a new project, I always try to spot a piece of the client's that reflects their personality (either because it has been in their life for a long time, because they had inherited it, or because they bought it during travels, or because it was a special present), keeping this piece in mind, I start looking for others. I disapprove that everything needs to be new in a house!, I think that your past life has to have space in the future.
---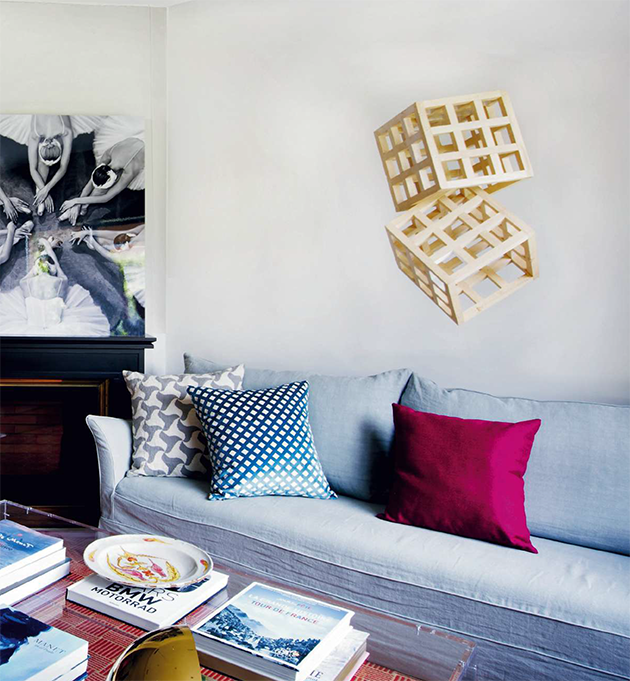 ---
Interiors by María de la Osa
---
Iván Meade – Another aspect that I find very interesting in your projects is the fact that the art is extremely well selected.  Do you work around the clients's collection? Or, do you suggest specific art to your clients?
María de la Osa –I have always thought that buying Art is something very personal and that you have to listen to your interior and let your feelings speak !
There are two kind of projects; the ones where the client has Art and you have to create the project for those pieces,  or the projects where there are no pieces of Art at all, and I suggest to first make the house and then find the right pieces of Art to go in it. In this case, I suggest that the client visit Art fairs or Auction houses, (keeping in mind the size needed) and I ask them to let themselves go !
---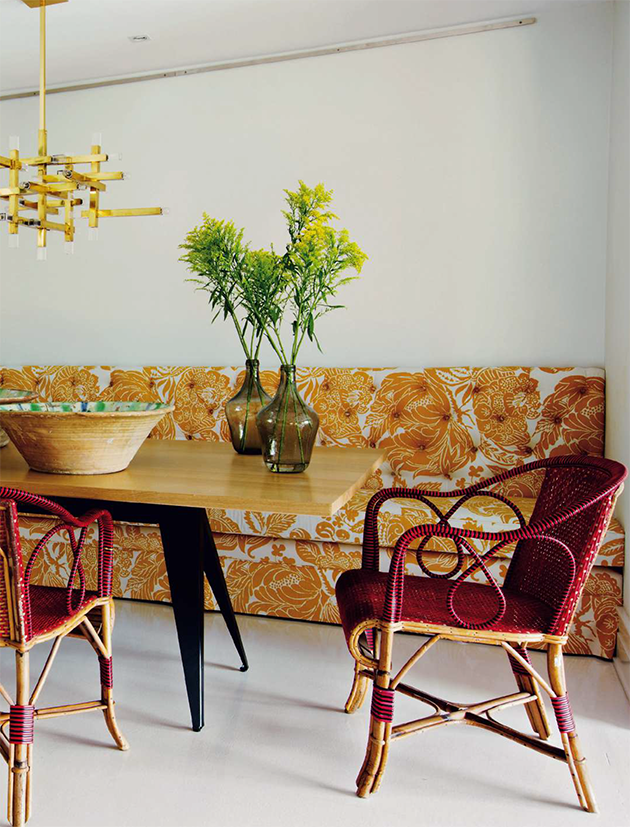 ---
Interiors by María de la Osa
---
Iván Meade – You are not just a designer, you are also a reporter of some sorts, as you had the opportunity to interview great names in the world of design such as Axel Vervoordt, Jaques García, and Paul Fortune – What has this experience been like? Why is it important for you to interview great names of design?
María de la Osa – I was asked by a Spanish magazine Nuevo Estilo, to create a questionnaire of 25 questions and interview 3 of the world's top Interior designers. It was an honour, and a great opportunity  to do so, and I very much enjoyed listening to their answers. It is incredible how in asking the same question, the answers were always so personal and different and yet so coherent -and smart,  all of them !!
I loved learning from all of them !
---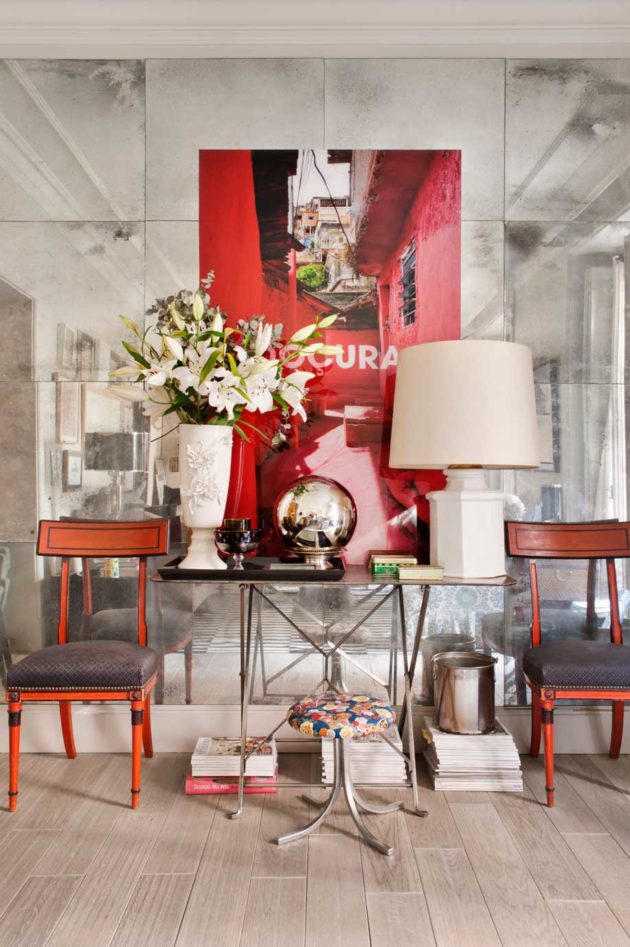 ---
Interiors by María de la Osa
---
Iván Meade – Many of our readers are design students – What would be the best advice you can give to someone who is starting a career in design?
María de la Osa – I believe that we can teach the eye and the more we see, the more we learn !!
There are great books not only of Interiors but also of Art, Couture,  Pottery, Fabrics ….., exhibitions to go and see …. there are films where the interiors are sublime ( American films from the fifties, English, Italian an French films with great palaces ….). Take the time to learn and improve while enjoying all of them, for sure it will come back to you while thinking how to resolve a project !!!
---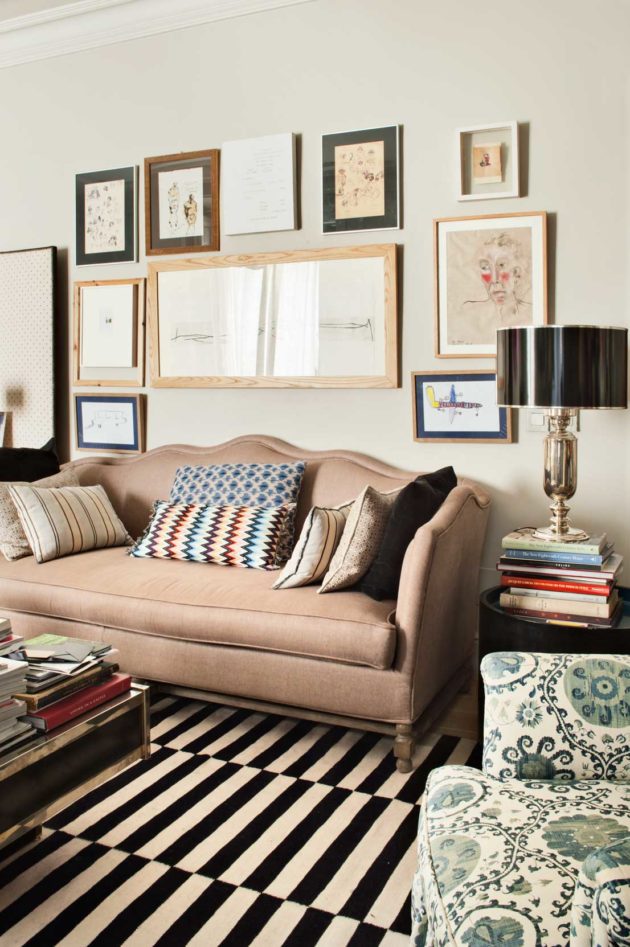 ---
Interiors by María de la Osa
---
Iván Meade – What is for you the value of design?
María de la Osa – It is for sure a way to make your life happier!
A good atmosphere brings peace to your soul and makes you a better person!!
---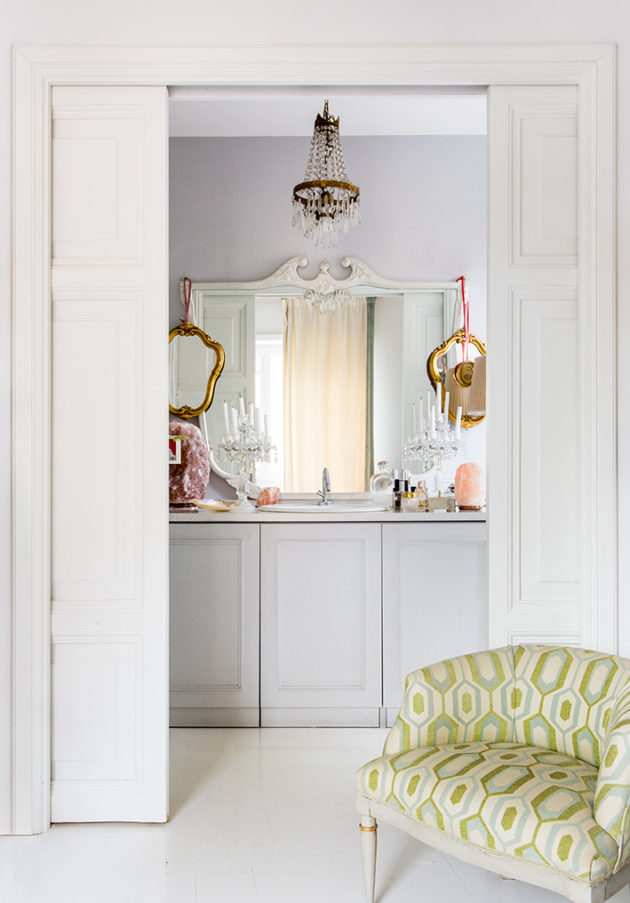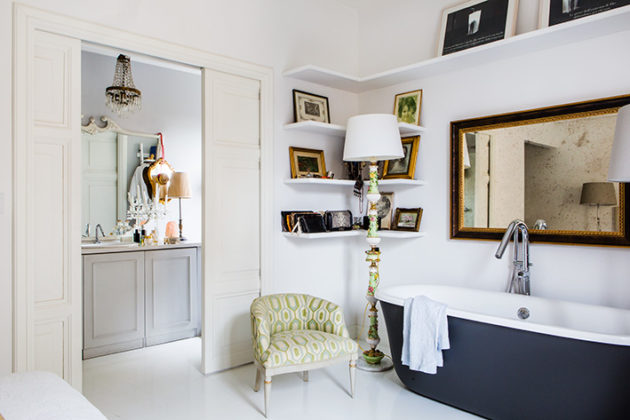 ---
Interiors by María de la Osa
---
Iván Meade – You have been involved with Décor Acción for many years.  Could you please explain to our readers what Décor Acción is, and why it is important for you to participate in these types of projects?
María de la Osa – Eight years ago, Nuevo Estilo Magazine decided to do an event that would put together top Interiors designers of Spain, as well as young designers, and by doing so, advocate Interior design to the public. It was decided to do a street event of 4 days and it would take place in El Barrio de Las Letras, Madrid ( where many interior designers have their Studios). I was asked to collaborate on the production of the event, and with great pleasure I did so! It was fun inventing ideas and convincing not only designers to participate in making an ephemeris  project for those days, but also bringing antique dealers into a street market we created for those days ! It was a great success, the city was on fire, everyone walking in the streets enjoying the event, the Mayor of Madrid came to do the opening of the event, we were in the news on TV and in all the newspapers !. It has become THE event in Spain regarding Interior Design !
---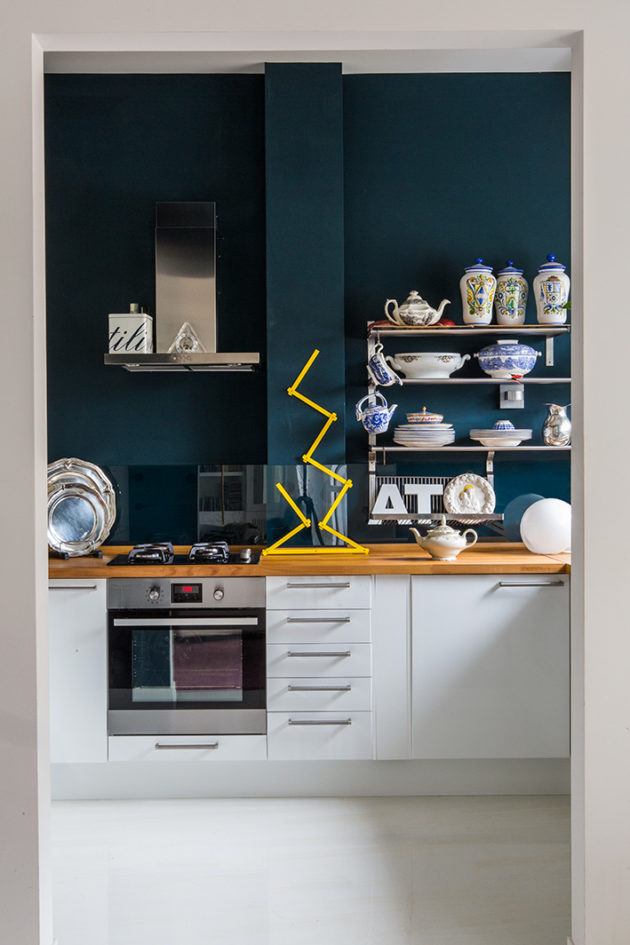 ---
Interiors by María de la Osa
---
Iván Meade – Describe what you like most about your own home?
María de la Osa – I love the location, it's in el Barrio de Las Letras in Madrid, our Soho area in Madrid !
Although it's not very big, 100 m2 , it has the prefect size for my kind of life (I am not married and have no children ) and I enjoy all of the house every day !!
I dislike houses that have areas that are not used and are only required when guests visit you !
---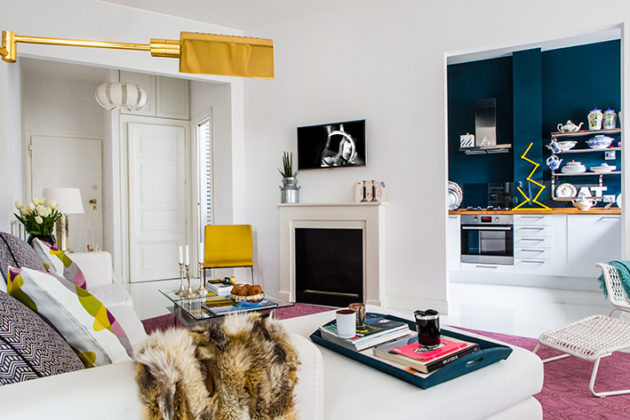 ---
Interiors by María de la Osa
---
Iván Meade – What do you think that every house should have?
María de la Osa – A comfortable sofa, an inviting kitchen, a bed full of pillows, soft lighting, music,  fresh flowers and books!!!
---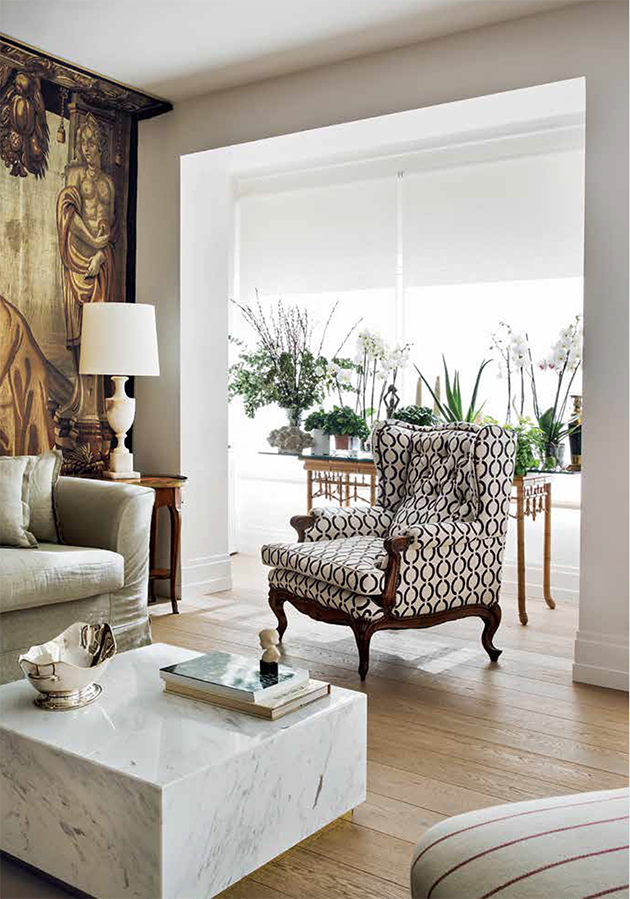 ---
Interiors by María de la Osa
---
Iván Meade – What would be your dream project?
María de la Osa – All of my work has been in residential design, I would very much like to do a project with a restaurant and a hotel!! And my dream would be to design fabrics in the future!!!
---
---
Interiors by María de la Osa
---
Iván Meade – What is next for María de la Osa?
María de la Osa – I am working on several residential projects: Canary Island, several projects in Madrid, Cordoba and this year I am collaborating on a project with the top Interior designer in Spain, Pascua Ortega. It is an honor and a pleasure to be part of his team and I hope to learn a lot from it !!!
---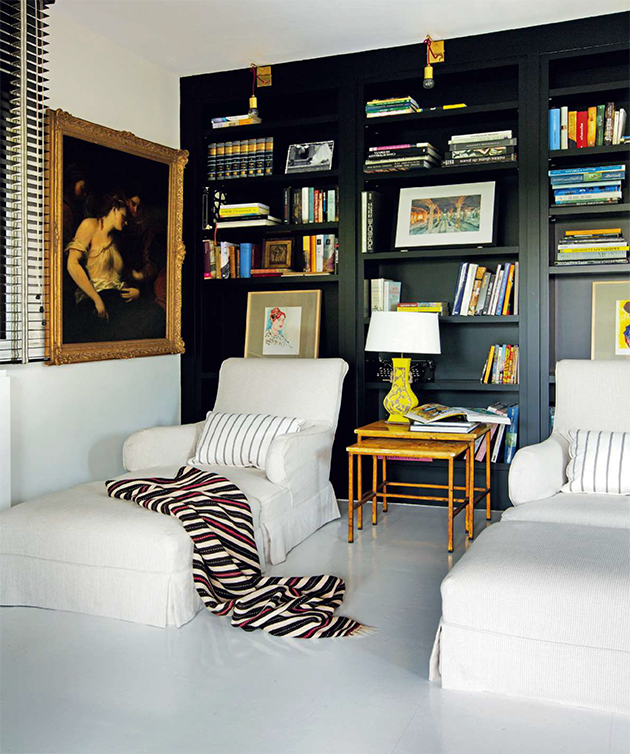 ---
Interiors by María de la Osa
---
Iván Meade – Lastly, you have already created a stunning body of work with many mediums and styles. What would you like your legacy to be?
María de la Osa – Legacy is too big of a word, but if I am capable of making people happier in their homes, that is already something that makes me feel satisfied with myself !!
---
I invite you to visit María de la Osa's website and enjoy her amazing body of work: